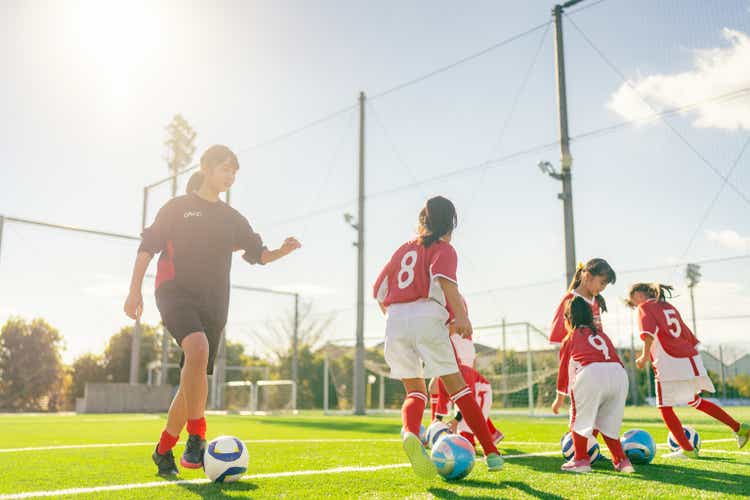 Description
Academy Sports and Outdoors, Inc. (NASDAQ:ASO) is roughly fairly valued at its current share price as of the date of this writing, and I recommend staying neutral for the time being.
ASO offers a wide range of sporting and outdoor recreation products to consumers. A number of favorable trends, the majority of which resulted from the COVID-29 pandemic, are contributing significantly to the growth of ASO. ASO also has a number of partnerships with certain brands that make them different from other retailers. They also offer a website that enables them to reach a wide range of customers. All of these and more will, in the long run, contribute to the progress of ASO.
Company overview
In the United States, Academy Sports and Outdoors, Inc. is a comprehensive sporting goods and outdoor recreation retailer. ASO is keen on being a retailer that continues to offer quality sporting goods and outdoor recreation. They have strengthened their position as a leader in rapidly developing product categories as well as providing a wide, value-oriented selection with strong and regional client affiliations.
The market is evolving
Change is a constant in the U.S. sporting goods and outdoor recreation industries. There is the undeniable fact that fast-growing trends are becoming well known. During the COVID-19 pandemic, where everyone was forced to stay at home, athleisure wear, insulated coolers, cups, and outdoor recreation were also trends that became popular.
In addition, one thing that is highly beneficial to Academy Sports and Outdoors, Inc. is the latest shift of customers spending more on in-home health and wellness as well as devoting time to memory-making experiences. Not too long ago, the advent of COVID-19 led to consumers staying more at home and participating in isolated recreation and leisure activities that ASO promotes. I anticipate that this trend will continue and that ASO's customer base will continue to grow over a longer period of time.
Academy Sports and Outdoors, Inc. has demonstrated that it can thrive even in the face of major industry transformation. Although e-commerce disruption and consolidations have led to the end of some of ASO's peers, ASO, on the other hand, has leveraged these changes by taking market shares. Many factors have contributed to their success, including their value-based operating strategy and extensive assortment that extends far beyond traditional sporting goods.
Partnerships with brands and strong own brand
Academy Sports and Outdoors, Inc. is able to offer a more comprehensive selection of value-based and diverse products across a range of price points because of their access to national brand and owned brand merchandise. A lot of other stores would have a hard time matching their particular combination of product categories, name brands, and price points.
It is safe to say that ASO has a significant impact nationally. As a result, many established brands are turning to them for help expanding their customer bases, which is good news for ASO in the long run from both a financial and product selection standpoint. Since mall-based retailers are facing additional headwinds and the industry is consolidating, ASO plays an especially important role in driving customer volume to these brands. Their brand selection, which includes products in each brand's price range, is unrivaled by their competitors, in my opinion. In addition, they gain an upper hand due to the fact that they have monopoly rights to sell certain products from reputable manufacturers (source: S-1).
Though it's helpful and even preferred to have many brand partnerships, ASO must also have their own brands. Many of ASO's unique products, like the folding chair and wagon with the Academy logo, are best-sellers. This means that these brands have strong brand equity and a lot of loyal customers.
ASO positions the brand image and reputation to attract their targeted audience
It is a belief of mine that ASO is in a very favorable position in terms of customer demand. They offer different types of sporting goods and outdoor recreation products that enable their customers to enjoy themselves and get involved, regardless of their profile. All of this has resulted in sporting goods shoppers consistently rating them as the best retailer for sporting and outdoor recreation products (according to management in the S-1 filing). More importantly, it is not just the number one retailer but also a retailer that offers products to a large number of diverse customers and is a one-stop shop. ASO does this by meticulously putting together products that bring about great varieties that are attractive to beginners, families, experts, and even random participants.
To put it mildly, ASO is the largest sporting goods and outdoor recreation retailer in terms of value. Academy was also voted the best value retailer among all sporting goods retailers by their customers, who also ranked value as the most important factor when deciding where to shop (source: S-1). They've been successful for so long because they focus on what their customers value most: a wide range of products at reasonable prices, easy-to-use omnichannel solutions, a one-stop shopping environment, and helpful support staff.
As a whole, their wide range of products and focus on value allow them to serve customers who are both price-conscious and picky.
Omnichannel strategy
Customers want to be able to choose from a variety of options when they are shopping. This has spurred the increased need for omnichannel offerings. In the S-1 filing, it states that ASO omnichannel customers spent 43% more than their store-only customers, and these customers spent 197% more than ASO online customers. Ever since the buy-online-pickup-in-store program was launched, ASO has been able to infiltrate e-commerce and it has led to the generation of higher average order value and incremental in-store purchases.
There are a number of advantages that ASO's omnichannel platform has to offer. Some of which are the capacity to be able to offer a channel where return-to-store can be available for online orders, curbside fulfillment, the ability to order merchandise online in cases where it is not currently available, and the ability to ship online orders from their retail locations. All of these enable them to mitigate the risks of lost sales and make deliveries faster than normal while making sure that inventory productivity is advancing. They have also launched ship-to-store capabilities to give their customers a wide range of options on different ways they can shop at Academy.
The ASO website doubles as a directory of their brick-and-mortar shops. Customers often check the website before heading out to an Academy location to familiarize themselves with the selection, read reviews written by previous buyers, compare prices, and make sure their neighborhood Academy location carries the items they're interested in purchasing. The website also serves a vital role in luring in customers who live in areas without any of their physical locations. With ASO's omnichannel offerings being strengthened and supported, I expect an uptick in sales.
Valuation
I believe Academy Sports and Outdoors, Inc. is worth USD59.37/share in FY24, representing a 2-year return of 14% upside from the date of writing. This suggests that ASO is roughly fairly valued to undervalued if discounted at 9 to 10% over the next 2 years.
This value is derived from my model based on the following assumptions:
FY22 revenue and earnings will follow management's guidance
Revenue will grow in the mid-to-high-single digit range as what consensus estimates. This is supported by ASO continuing to capture share from smaller players, along with industry growth
Since ASO is a relatively mature company and margins are more or less in the mature stage, although there are still some room to grow, I assumed margins would stay within the same range moving forward. If margins were to increase, it would only be good news.
ASO currently trades at 7x forward earnings, and I expect no changes to this
KEY RISKS
Low bargaining power against large brands
ASO is just as good as any other distributor; they are just bigger. As a result, because large brands have the most negotiating power during price negotiations, there is a limit to how much ASO gross margin can expand because large brands are unlikely to give up too much of the unit economics.
Trend is hard to predict
There is literally no human on earth that can confidently, assertively, and rightly predict future consumer trends. ASO cannot predict these trends, and as such, because of the type of industry that it operates in, its growth and success will be highly dependent on these trends. If ASO makes a miscalculation in their prediction, they might underperform during those periods.
Conflict of interest
Even though ASO has a brand of its own, situations might arise where brands will complain of conflict of interest. Because of this, ASO may not be able to move up in the ranks as much as it could, because other brands will be turned off by the idea of a distribution channel competing with their products.
Summary
There are a number of trends that have evolved over the past years as a result of the pandemic, and these trends have put Academy Sports and Outdoors, Inc. in a thriving position in the market. As these trends continue to put them in the spotlight, I strongly believe that the continuation of these trends will spell success for ASO. That said, I believe Academy Sports and Outdoors, Inc. stock needs to be revalued lower before it becomes an attractive investment target.