Coca-Cola Consolidated: Look At It With How Cheap It's Becoming
Summary
I've written about the bottler COKE a few times in the past because I found it to be an interesting, cheaper and "alternative" play to traditional soda companies.
A bottler like COKE is a superb choice under the right fundamentals because it has the same "basic product" as the beverage business, but with different dynamics and valuation.
As the company drops, I am now seriously starting to add COKE shares to my portfolio.
Looking for more investing ideas like this one? Get them exclusively at iREIT on Alpha. Learn More »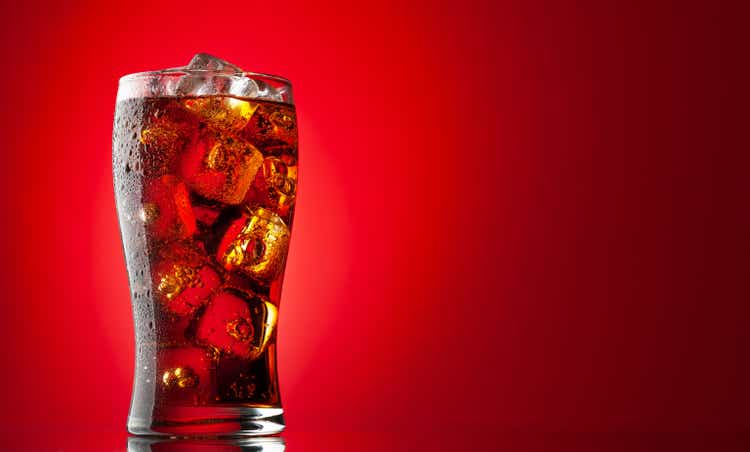 Dear readers/subscribers,
In this article, we'll take a new look at Coca-Cola Consolidated (NASDAQ:COKE). This is an American, independent bottling operation that happens to be the largest bottler of Coca-Cola (KO) in the United States - not to mention a whole host of other products being bottled and distributed through the company's plants.
We've previously looked at company fundamentals and upsides, and we're now set to look closer at the current valuation - because now COKE is valued well enough "to drink" - or to invest in.
Coca-Cola Consolidated - Updating on the company
A bottler is a different investment than the straight-up soda business, as you might know. Such is the case for COKE. COKE is not in fact owned by KO, though KO does have around a 5% stake in the business - but if all KO was to cease existing tomorrow, the company would still be merrily (or maybe not so merrily) bottling away product in its 10 plants and 60 distribution centers around the United States.
These are the products that the company bottles.

And the company most often has exclusive bottling and distribution rights in key regions - that's why the company is so attractive.
Remember though, you can't, and shouldn't expect any sort of massive DGR from COKE. This is more of a "growth"-type stock, and you should know how significant it is that I write about it given that I very rarely invest in companies like this. The company quite recently doubled its dividend, but before you go all up in excitement, that's still only a sub-0.4% yield, and even that special dividend of $3/share won't really do that much to move the needle in terms of the company's appeal as a dividend investor's stock.
No, the continued appeal here remains capital appreciation.
The reason for the very infrequent dividend increases is the company's shareholder structure. Through various trusts and legal structures, the company's voting power is controlled by 86% by the Harrison family. This shareholder structure may prove the company to be an unattractive investment to most investors, given that this structure means that the company's yield is likely to remain relatively low.
They make up for this shortfall by being investment-graded and with a relatively high equity ratio or low debt.
So, COKE's business idea is simple. Buy raw materials and input/feedstock like plastic bottles, aluminum cans, sweeteners, carbon dioxide, and packaging materials. Bottle the products that they have agreements for and distribute them. Because the feedstock or input is usually sourced from cooperatives that in turn are owned by other bottlers for similar products, this company's ties to the soda companies with which they operate/work is very close.
The company's products are sold through various distribution channels such as retail stores, supermarkets, DTC channels, club stores, convenience stores, drug stores, and direct on-location sales (such as restaurants, schools, amusement parks, etc.) as well as vending machines. The companies that buy COKE's bottled products are companies like Walmart (WMT), Kroger (KR), and others, and there's a half-year seasonality to this company's operations - summer and Christmas usually.
So, why COKE instead of KO?
First of all, COKE has delivered substantially better returns than KO has on a 20-year basis. KO has given investors a 20-year RoR of just south of 200% - which is of course very nice, even if it's slightly below market. Despite recent drops, COKE has instead delivered 20-year returns of well over 1,000%, which means that from a purely investing standpoint and a very binary sort of thinking, there's no ambiguity here.
For the past 20 years, COKE has been better.
However, just as it was 20 years ago, the key is investing at a good valuation. That's harder because the company doesn't have the same volume (trading) and garner the same interest that KO does. That means the drops - and climbs - tend to be more volatile. Like yesterday's trading, when the company dropped 7% mostly due to what I assume was block trading - because there was no soda-related news item that could cause the company to drop like that.
Operational results remain absolutely stellar. The company's 3Q22 results, published in early November, confirm top-line increases in net sales of 12%, and a physical volume growth of 0.6%. That means that it was both significant price increases as well as a slight growth in volume contributed to this number.
Also mostly due to pricing, the company's gross margins improved by 260 bps in 3Q22 YoY to above 38.1%, and income for the company's operations improved by over 38% YoY, and 33% for the 9M22 period.
There is very little lack of clarity to this company. The outstanding volume, better margins and strong FCF that comes from increasing prices and a solid demand means that COKE has been able to deliver significant performance despite a near-lethal mix of headwinds going out of the pandemic.
The company has also considerably reduced its overall debt, and it's close to going down below 40% LT debt/Cap. The company remains BBB+ rated, making it one of the best-rated companies in the industry, barred/inferior only by/to the A-rating of the key soda companies KO and Pepsi (PEP).
The company's strategy for 2022 has been pretty much a one-string guitar. Increase prices to overcome the cost pressures and improve volume profitability both for retail partners and COKE. The short end of the stick is, naturally, handed to the consumers - but so far things seem to be going the company's way because demand isn't down.
Because COKE is in no way immune to the increased cost risks. SG&A alone was up 13% YoY, and as a percentage of net sales increased by 0.4%, which isn't insignificant. This is mostly due to labor/wages and inflation.
Still, in the end, and to the company's bottom line, we're looking at a net income increase of over 30% for the company YoY, and I expect the company to continue doing well in 2023 (as I believe 4Q22 will come in equally positive).
And I am far from the only one expecting improvements from the company. What few analysts give forecasts for COKE expect the EPS to grow - slightly both in 2023 and 2024E.
These expectations are echoed by the one FactSet analyst following COKE, expecting 6-7% EPS improvement beyond the 14% expected this year. Despite these trends, the stock has been trading negatively for some time at this point, influencing valuation.
Let's take a closer look.
COKE's valuation and upside
To say I believe there is a significant upside to COKE would be, at this point, to understated the case I believe there is to be made for this business. COKE is a soda play that's being valued at 12.99x P/E as of the drop yesterday, and it seems set to drop further as we open the markets today. The company, on a longer historical basis, trades closer to a pure-play soda company, meaning 25-27x P/E is not at all unusual for the company to see.
I won't go that high, because valuation has more or less disconnected since the massive set of EPS bumps in 2018-2020.
So we might not see that 20-25x P/E for some time - but I believe valuing this company below 15x P/E, based on current near-double-digit growth rate estimates, is incorrect.
I've been bullish on COKE for some time - but the time has come to either prepare for a bigger drop to maybe trough levels at 9-10x or take advantage of the undervaluation that the market is presenting to us here.
Even forecasting KO's largest bottler in all of the US at only a 15x P/E means that you're potentially getting an RoR of 30%, or 14.25% per year. To get the same RoR from KO, PEP, or even Keurig Dr Pepper (KDP) which I reviewed only yesterday means going for a far higher multiple.
So why go for a higher multiple, when you can get BBB+ returns from an equally solid (as I believe this to be) play in soda?
Yes, there is some uncertainty to the forecast accuracy - but this is mostly due to a specific period back in 2016-2018 when analysts expected the company to pretty much boost profits by 40-50%. What happened instead was that the profit boost came later, by 1-2 years. So what we have now is a lag in forecasts records, resulting in both misses and beats that probably could have lined up closer as simple "hits" if things had been adjusted differently. Remember, it's also only one analyst here.
So, my view is that there is a significant upside to the company here. At least 14% annually, based on a conservative long-term 15x normalized P/E forecast until 2025E. But that 14% can easily go up to 20-25% at 16-18x P/E multiples, and if we do see a full reversal for what is essentially a soda company categorized in the same "soft drinks" sector as all of these giants, then the outperformance could be massive.
This is the normalized 5-year P/E with current estimates.
Likely? Maybe in the very long term, but not until 2024E, as I see it.
Still, no matter which way you end up slicing or deconstructing this thesis that I hold, I firmly stand by my stance and view here: COKE is incredibly undervalued for what it is, and it's time to load up more.
I'm ignoring bad FX here and I will be adding more to my COKE position today. it's very rare that I take a "Strong Buy" stance, but if COKE should drop below 12x P/E, that's what this company will be. A strong buy. Remember, that even after the current drop, this company is still outperforming the broader market since my last article.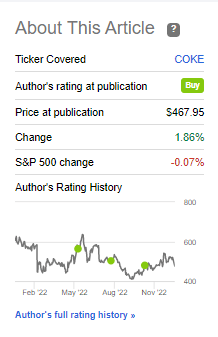 So, with COKE, here is my current thesis.
Thesis for the common share
COKE is an advantageous soft drink/beverage investment with bottling and manufacturing capacity across 5 attractive US regions. This makes the company a "guaranteed cash cow", "with exposures to things like input inflation, CapEx, and risks associated with companies like this - including customer concentration.
However, the company has a superb track record of delivering value to its shareholders, almost quadrupling KO 20-year returns, and is well managed, even if its dividend leaves something to be desired.
At a slight premium, I still view COKE as a worthy "Buy" with a 20X P/E long-term target, indicating a PT of $650/share. I refuse to shift my PT here - I view the trends as longer-term noise.
Because of that, I'm going with a "Buy" here.
Remember, I'm all about:
1. Buying undervalued - even if that undervaluation is slight and not mind-numbingly massive - companies at a discount, allowing them to normalize over time and harvesting capital gains and dividends in the meantime.
2. If the company goes well beyond normalization and goes into overvaluation, I harvest gains and rotate my position into other undervalued stocks, repeating #1.
3. If the company doesn't go into overvaluation but hovers within a fair value or goes back down to undervaluation, I buy more as time allows.
4. I reinvest proceeds from dividends, savings from work, or other cash inflows as specified in #1.
Here are my criteria and how the company fulfills them (italicized).
This company is overall qualitative.
This company is fundamentally safe/conservative & well-run.
This company pays a well-covered dividend.
This company is currently cheap.
This company has a realistic upside based on earnings growth or multiple expansion/reversion.
COKE fulfills every single one of my investment criteria.
This article was written by
Wolf Report is a senior analyst and private portfolio manager with over 10 years generating value ideas in European and North American markets.
He is a contributing author for the investing group
iREIT on Alpha
where in addition to the U.S. market, he covers the markets of Scandinavia, Germany, France, UK, Italy, Spain, Portugal and Eastern Europe in search of reasonably valued stock ideas.
Learn more
.
Analyst's Disclosure: I/we have a beneficial long position in the shares of KO, PEP, KDP, WMT, COKE either through stock ownership, options, or other derivatives. I wrote this article myself, and it expresses my own opinions. I am not receiving compensation for it (other than from Seeking Alpha). I have no business relationship with any company whose stock is mentioned in this article.

While this article may sound like financial advice, please observe that the author is not a CFA or in any way licensed to give financial advice. It may be structured as such, but it is not financial advice. Investors are required and expected to do their own due diligence and research prior to any investment. Short-term trading, options trading/investment, and futures trading are potentially extremely risky investment styles. They generally are not appropriate for someone with limited capital, limited investment experience, or a lack of understanding for the necessary risk tolerance involved. The author's intent is never to give personalized financial advice, and publications are to be viewed as research and company interest pieces. The author owns the European/Scandinavian tickers (not the ADRs) of all European/Scandinavian companies listed in the articles. The author owns the Canadian tickers of all Canadian stocks written about.
Seeking Alpha's Disclosure: Past performance is no guarantee of future results. No recommendation or advice is being given as to whether any investment is suitable for a particular investor. Any views or opinions expressed above may not reflect those of Seeking Alpha as a whole. Seeking Alpha is not a licensed securities dealer, broker or US investment adviser or investment bank. Our analysts are third party authors that include both professional investors and individual investors who may not be licensed or certified by any institute or regulatory body.