AbCellera Biologics: My Updated Current Valuation Estimate
Summary
In this article, I will provide my valuation model for AbCellera, building on an article I wrote over a year ago.
In the last year, many of my inputs I previously used have changed, given the greater transparency of the company throughout 2022. Some for the better, some for the worse.
Terrible market sentiment is unlikely to change anytime soon; however, the sheer amount of good things happening at the company, I believe, will be rewarded in time.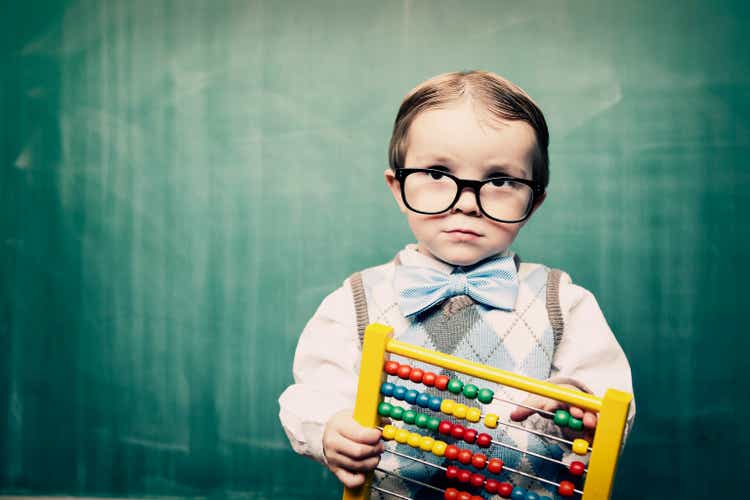 Roughly a year ago, I published an article on AbCellera Biologics (NASDAQ:ABCL) arguing that the company was potentially worth $41 a share. In the article, I used information released by the company at the time to come up with a rough framework of the potential of the discovery programs over the next decade and applied a 10% discount rate to reach my conclusion.
Since this article was published, obviously quite a bit has happened in the world, thankfully, one of those things is that the company has released quite a bit more data on the royalty rates the company has negotiated, along with other data that allows me to put together a more complete picture of the potential of the company.
In this article, I would like to revisit valuing the company based on current and I would argue, conservative assumptions.
What has changed?
During 2022, AbCellera released quite a bit of information regarding its portfolio of compounds in which it has ownership. A key disclosure from the company is that currently the median royalty rate on the portfolio as a whole is 4.2%.
If you'll remember, we disclose kind of aggregate royalty rates and how they've moved over time in the 10-K. From in the earlier years, up to 2018. They averaged about 2.5% and in the 2020-2021 timeframe, they went up to 4.2%, I think was the median royalty.

Source: CFO Andrew Booth during Q3 Conference Call
This 4.2% royalty rate has been trending rapidly higher in recent years as the company has taken on more of the discovery work for its partners so clearly the royalty rates the company is currently demanding is significantly higher than this figure and is likely to continue to trend upwards in the future; however, for purposes of this valuation exercise, 4.2% royalty rates will be used.
In addition, AbCellera has mentioned on multiple calls and conferences that they are purposely targeting high value targets and that peak sales from compounds that it takes on will be larger than the average drug.
In the corporate presentation issued by the company in July of 2022, the company has estimated that peak sales of the average compound in its portfolio is likely to be $1.7 billion.
You will notice that the company itself is estimating a 5% royalty rate on the above slide, which is likely appropriate, however, I will be valuing current programs that have already been started, so for my valuation, I will use the 4.2% royalty and $1.7 billion in peak sales.
In my prior valuation attempt, I was using the total discovery programs in my calculation, which was clearly an error, the proper way to value the current state of the portfolio is to use programs that have been "started". A program start, to AbCellera, occurs when the partner company indicates to AbCellera, that they wish to move forward with the compounds development and subsequently, AbCellera discovers, develops and turns over all validated targets, provides lead optimization and in certain cases, performs preclinical work, giving the partner company a compound that is nearly ready for the clinic.
Currently, AbCellera has started 92 programs for partners and I am guesstimating, based on the below slide, that roughly 67 programs that have been started have downstream participation, also known as royalties. I will be using 67 programs in my calculation of the current value.
One key area where we still do not have much clarity is regarding the extent that AbCellera is able to improve the clinical outcomes of the compounds that it delivers to its partners. This number will certainly become clear over time, however, it is certainly the most important (and controversial) piece of information that we must take a guess at to come up with a reasonable valuation.
Using historical data, it appears that over the last 20 to 30 years, the average success rate of a compound entering the clinic is somewhere between 10 and 15% using legacy technology.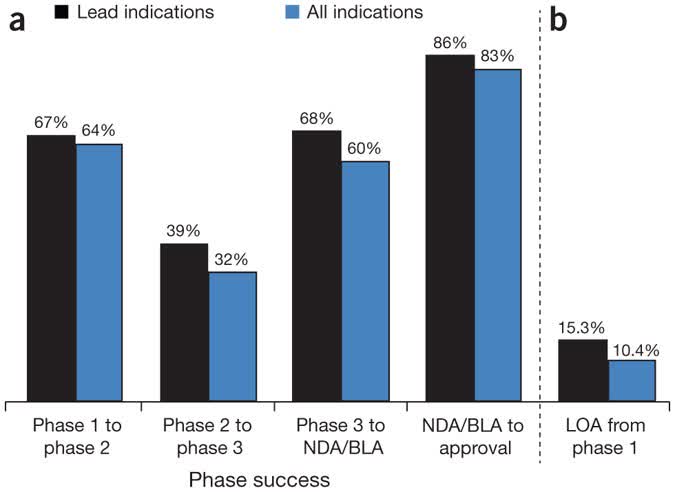 Of course, AbCellera was created for the exact purpose of vastly improving upon legacy technology, processes and success rates, so if the company is doing its job well, the company's success rate should be dramatically higher than 10-15%, however we must also remember that quite a large number of compounds fail in the preclinical portion of the process, so if AbCellera achieves a 15% success rate on compounds delivered to partners, this is actually a much higher success rate than legacy technology.
AbCellera has already proven, beyond any doubt, that its process is leaps and bounds better than legacy methods, not only from the lightning quick development of COVID-19 antibodies, but with the recent announcement from Regeneron (REGN) of an AbCellera developed GPCR molecule entering preclinical development.
For reference, the company only signed this partnership with Regeneron in mid-2020 and was able to complete target validation, compound screening and lead optimization on a notoriously hard class of drugs to develop in only 1.5 years. Using legacy methods, this feat would have taken 4.5 years on average for a run of the mill target. AbCellera out performed legacy methods three times over whilst developing one of the hardest classes of drugs possible.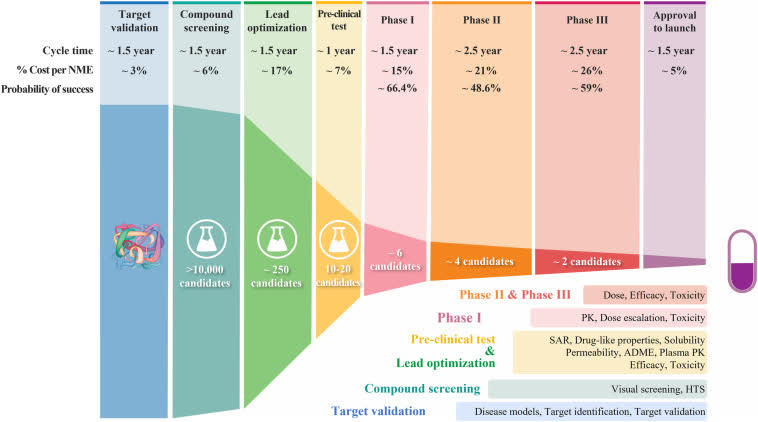 With all of that being said, I plan to use a 15% success rate as a conservative estimate in my valuation.
Of course, coming up with a timetable to discount from is also vitally important and as naturally each of these potential drugs will have variable timetables both to and through the clinic, so be warned, this is another "best guess" estimate. I will admit, this date is not perfect, however I will be using 2030 as the time period from which to discount from. Yes, I know that peak sales for any compound out of the clinic will likely be later than that, however I will note that most of the valuation increase in biotech's generally occur well before peak sales are reached as the stock market is forward looking. I get it, 2030 is not perfect, however it is a reasonable period of time for nearly all information on the 67 compounds that have royalties to AbCellera to be well known.
In addition, I will be using an 80% net profit margin to account for general expenses and tax along with 330 million shares outstanding to account for roughly 1.5 million shares issued per quarter in stock comp expense dilution. Also, I will be assigning a 25 PE ratio, which I believe would be quite low for a rapidly growing biotech only beginning to inflect, however it should be a relatively conservative number to use.
Ok, enough talk, let's get to the numbers!
Valuation Estimate
Using the 67 programs currently started with royalties payable to AbCellera and applying a 15% chance of success, I see 10 current programs potentially reaching approval.
Using peak annual sales of $1.7 billion per approved drug, multiplied by 10 programs, I see $17 billion in total partner sales.
$17 billion in partner sales multiplied by a 4.2% average royalty rate, I see $714 million in annual royalty revenues to AbCellera.
Using an 80% net profit margin on royalty revenue, accounting for general expenses and income taxes, I come up with $571 million in net profit.
$571 million in net profit, multiplied by a 25 PE multiple equals a $14.3 billion market capitalization.
A $14.3 billion market cap divided by 330 million shares outstanding equals a valuation of $43.33 per share.
Discounting a year 2030, $43.33 valuation, using a 10% discount rate gives us a present value of $22.24 per share.
Using these inputs, I can run this calculation multiple different ways, for instance, using a 20% chance of success, I come up with a present value of $29.75. Using a 10% success rate, I come up with a present value of $14.88. Using this method, I can look at a variety of potential outcomes by changing the PE ratios, sales per drug etc.
Only using the most conservative of potential outcomes, such as a 10% success rate and a, in my opinion, unrealistic 15 PE ratio, can I approach a current value estimate that mirrors the present day, real world price of $9.37.
Bottom Line
This model is far from perfect and is highly unlikely to give an accurate picture given the sheer number of incalculable variables present in a company such as this. I believe this model uses a relatively conservative set of assumptions but I may be proven to be wildly incorrect. As I state in each AbCellera article, this company is not for conservative or for short-term investors, patience and appropriate risk tolerance are a must with this company.
In this valuation exercise, I purposely avoided discussing or attempting to value assets such as the CD3 panel, or the multiple partnerships in which the company currently owns a 50% stake in compounds discovered, along with the multiple equity stakes in venture stage partner firms.
In addition, I did not discuss the manufacturing and lab facilities slated to come online in late 2024-25, which is likely to provide a path forward for immediate revenues and continued royalty rate expansion.
I did not discuss the $868 million in cash on the balance sheet with no debt, nor did I discuss the multiple in house "pre-partnered" programs in the GPCR and Ion channel categories, which are likely to garner significant royalty rates and or up front cash payments by future partners.
I did not discuss the 72 other discovery programs that AbCellera already has on the books that, to date, have not yet been started and may have royalty rates much higher than the 4.2% used.
I also did not discuss that the company believes that it has discovered a new COVID antibody therapy, ready for the clinic, to treat all current and foreseeable variants of concern that is simply awaiting an FDA pathway to accelerated authorization.
Frankly, I wanted this exercise to prove my ultra-bullish sentiment wrong by only valuing part of the company by way of using only the programs that have been started to date. The result of my exercise was that by only valuing part of the company and completely disregarding all of the other positives, of which there are a great many, I still come up with a present value that is a full 137% higher than the current price.
The bottom line here is that I remain fervently bullish, and while I do not expect the company to reach my $22.24 valuation anytime soon, given the simply terrible market sentiment in the sector, AbCellera remains my largest single position, by quite a wide margin. My cost basis is currently $10.52 and I look forward to lowering that cost basis even further in the near future.
Thank you for reading and I look forward to your comments below and good luck to all!
This article was written by
I work in the financial and property management industry for a well known, publicly traded "mini Berkshire" Insurance company. I focus on portfolio structure, value, reasonably priced growth, tech and biotech spaces. I passed the series 6 and 7 exams at age 18 but do not at this time have active licenses.My passion for investing and personal finance education began at a very early age. I opened my first brokerage account at the age of 12 and have invested through crashes, crises, recessions and bubbles. I have made many mistakes in both my personal and investing lives, however, each mistake I have made has taught me valuable lessons on my journey, both in life and towards financial independence. As of March 2023, my total portfolio has compounded at 10.2% per year since 1993, beating the S&P 500's return of 9.87% over the same time period. I do not currently hold active licenses and I am not a financial advisor and do not give out or publish investment advice. Articles I write are my opinion only and are not solicitations, please seek guidance from a licensed financial advisor before investing in any security. Opinions expressed in my articles are my own and do not reflect or indicate any positions or opinions held of my primary employer.
Analyst's Disclosure: I/we have a beneficial long position in the shares of ABCL either through stock ownership, options, or other derivatives. I wrote this article myself, and it expresses my own opinions. I am not receiving compensation for it (other than from Seeking Alpha). I have no business relationship with any company whose stock is mentioned in this article.

"I am not a licensed financial advisor. This is not a solicitation to buy or sell a specific security nor is it to be construed as investment advice, please contact your licensed financial and tax advisor for advice to your specific situation. This article is an opinion piece only and should not be construed as fact or be represented as such, please perform your own due diligence prior to investing in this or any equity."
Seeking Alpha's Disclosure: Past performance is no guarantee of future results. No recommendation or advice is being given as to whether any investment is suitable for a particular investor. Any views or opinions expressed above may not reflect those of Seeking Alpha as a whole. Seeking Alpha is not a licensed securities dealer, broker or US investment adviser or investment bank. Our analysts are third party authors that include both professional investors and individual investors who may not be licensed or certified by any institute or regulatory body.