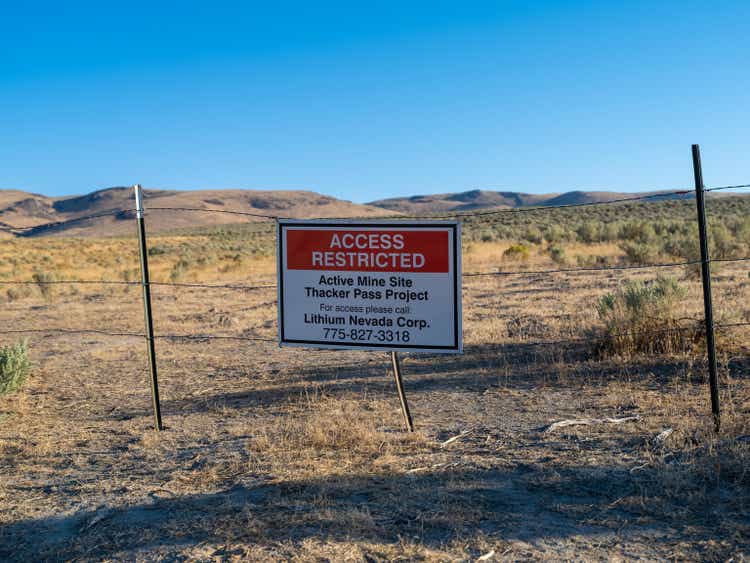 Lithium The Next Big Thing
In this game that is the markets, it has been my experience that you only see sea change opportunities about once a decade or so. Granted, since 2008 the markets have not really operated correctly in my opinion, but in a typical market, industry game-changing opportunities are rare.
The ones that come to mind during my investing voyage are buying Atari at $1 and 1/16 when the Super Nintendo / Sega Genesis (and dare I say it Turbo Graphics) dominated. I made quite a sum when Atari released the (arguably) 64-bit Jaguar console with the help of IBM (IBM).
The graphics card revolution of the mid 1990's was the next big game changer. I was introduced to hardware acceleration via the game 'Half-Life' for the first time at my cousin's house. The sheen on that .357 revolver in game: mind blowing. I saw the future and bet hard on Nvidia (NVDA). Needless to say, I did well.
In the early 2010's or so, AMD (AMD) imploded, going all the way down to the high $1's by 2015 after its ill-fated 'bulldozer' CPU. Given the patents, Jim Keller designing a new CPU; the new but solid Lisa Su as CEO; I suspected if a man bought and held it would be lucrative with a few years' time. I wrote on this quite obsessively at Seeking Alpha.
Now this is not to say I did not have disasters, but I had entered the game pre-internet when all I had was a newspaper for my quotes and info. You could not ask someone how X worked. Maybe books existed on investing, but at the time I never saw one. It was trial & error by fire.
All that aside, now I'm looking at the next big thing. It will be a feast or a famine and if you have read my writings, you know where I'm going... geopolitics, electric cars, and lithium.
Follow The Lithium Money
I've heard the nay-sayers preach the anti-gospel concerning EV: They do not work well in the cold; range is limited; too expensive; they still pollute. I say, "Guilty as charged" and frankly it does not matter. Much like any technology, EV will evolve and overcome the cold weather issues. Maybe you use a heater like one does with a diesel engine. Range will improve as the technology improves as well (energy density). Prices will come down as innovation reduces costs. This will open up price points that will allow the masses to then afford EV's. EV's will improve. Currently the thing to consider is which chess pieces are being set into place? Where is the big money moving? What are the politicians banking on? Are the battery makers and car producers investing billions into EV? If they were not, then I would forecast that EV might not be ready for prime time. However, what if we see that the battery makers ARE investing? What if the car producers ARE spending billions to build the infrastructure needed? What if the politicians ARE realizing that China dominating lithium refining might not be a good long-term thing and thus appropriate steps are being taken?
Let's poke around just a little bit and see if any real money is flowing into lithium projects, be it battery companies, carmakers, or politicians' actions.
Lithium Eco System Shift
Energy costs in Europe impact future EV projects in Europe. Meanwhile, North American governments are supporting the EV industry. This is a perfect storm for North American EV plays, as we might expect additional consideration from companies to move future projects to North America. Europe has realized this and has sounded the alarm that if they do not match the Inflation Reduction Act with a European act, companies can and will locate projects to North America instead of Europe. Volkswagen has voiced these concerns.
Europe Energy Crisis
Volkswagen Passenger Cars CEO Thomas Schaefer put out some rather grim news for future EV production in Europe, but this is great news for the United States when it comes to projects locating to the U.S. rather than Europe. Per LinkedIn via ZeroHedge:
"Unless we manage to reduce energy prices in Germany and Europe quickly and reliably, investments in energy-intensive production or new battery cell factories in Germany and the EU will be practically unviable,"
and
"The value creation in this area will take place elsewhere."
How bad is the energy crisis in Europe? Switzerland is pondering limiting EV use to conserve power, which brings us back to where we might see EV projects located to more favorable shores.
Favorable Shores for EV and Lithium
Canada is not idly sitting by. They are at the forefront of pushing EV via a very supportive and aggressive government push.
One might ponder where capital flows for future EV expansions and one of the most likely targets is Canada and the United States. Add government support via various bills to the mix and you have a very favorable environment for anything EV related, be it near-term cobalt refiner Electra Battery Materials (ELBM) or near-term lithium miner Lithium Americas (NYSE:LAC).
Obviously, if the rate of EV related industry shifts to North America this will bode well for lithium / cobalt demand and we can already monitor the shift happening via the various projects locating in North America:
Tesla to build a Gigafactory in Mexico.
$4.9 billion in EV upgrades for Ontario per Stellantis & LG Energy Solution.
$3.5 billion via Redwood Materials for a SC plant.
$2.36 billion in a Michigan battery component plant via Goition.
$1.6 billion per the Canadian gov.
$1.5 billion for Ottawa and Ontario per Umicore.
$1.4+ billion over five years for Ontario per Honda.
$1 billion CDN per General Motors.
$400 million for a GM / Poscho CAM plant in Canada.
$180 million via Albemarle (ALB) for a NC lithium research facility.
Ford (F) and CATL pondering a battery plant in the US.
While the above paints some of the big picture demand for lithium that is coming, let us see what Benchmark Mineral Intelligence projects.
Lithium Demand
Looking at Benchmark, we see the estimation for 2022 lithium demand is 678,000 tonnes and the projection for 2035 is 4,000,000 tonnes: A 590% increase if it pans out.
Cobalt stands at 2022 demand of 177,000 tonnes while the 2035 estimation is 489,000 tonnes: A 276% increase. That is quite a bit of demand; on the flip side, a lot can change in a decade plus. One thing to observe are actions that are occurring right now that might hint at demand and the overall lithium / cobalt ecosystem. We need to study where the big money is locating and how much capital they are throwing at our choice metals.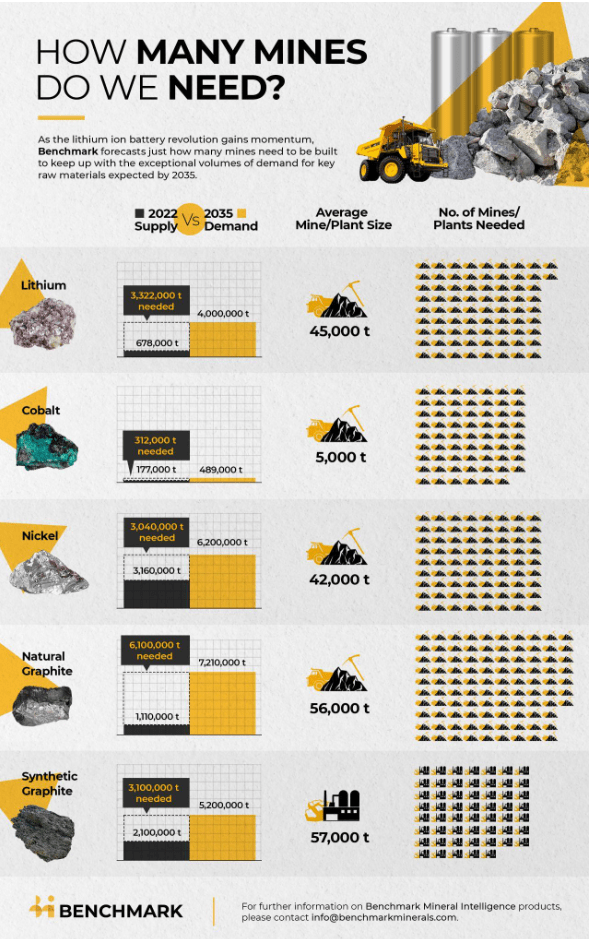 A Choice Lithium Selection
This market is gravitating towards lithium producers that are either in production (such as Albemarle (ALB)) or near-term producers. By now, you have been reading for months about the upcoming lithium demand. You might have even seen Goldman Sachs 'shake the tree' by putting out questionable doom and gloom reports, only to later disclose they are, in fact, buying lithium.
This is GS 101. Normal and expected. Why the SEC allows this is beyond the scope of this discussion, but the point remains that GS is bullish on lithium. So are we, but we have to be realistic. Some lithium companies are not going to pan out for quite some time (if ever). Others (such as LAC) might pan out sooner as they are nearer to production, with the inherent caveat that LAC is in a dangerous period of time given its court case.
Goldman Sachs has stated they think prices will come down for lithium. Guess what, supply will increase in 2023 via LAC and SGML, yet demand is also rocketing off. Could lithium come down in price some? Sure. Could it go up as well? Why not. We have seen some price decreases in the spot market (as opposed to contract prices --- will have to wait for SQM to update us on those).
My overall consensus is IF lithium were to come down, this is not a bad thing for the broad industry. More and more carmakers will continue to adopt lithium as well as battery companies, but I'll bet that Benchmark is correct and I think GS knows this. They have been guilty in the past of playing fun and games via spreading FUD (fear, uncertainty and doubt) to push a price down and then (per SEC documents) they buy. I've covered this in past articles.
Lithium Americas Risk: Legal Issues
While I think LAC will become a very large company, it is not to say they do not have issues: All companies have issues. Let us explore some risks.
1. Legal - As most readers know various tribes, environmentalists, and a rancher are taking the BLM to court and LAC is acting as an advisor. At risk is the very mine that LAC has spent over a decade to try to bring into being. From a national strategic standpoint this mine makes sense and both Trump and Biden have supported it. The state of Nevada supports it as well. Some locals support: Some do not. Also involved are a few out of state actors.
I was asked about my opinion on the new court documents. Not being a lawyer, I can only make a guess, but I would venture this is the Judge acting impartial. If the Judge does not address the obvious issues ruled on in the past by other environmental cases, then the Court of Appeals would have to. It is better to air out the case now at the lower courts and then wait for any potential Court of Appeals case to kick off to further explore issues.
No matter who wins, I would expect an appeal and the associated delays, but does it end with the Court of Appeals? Possibly no. If we look at a Rio Tinto case for any basis, we see the lower court ruling (this is where LAC is currently at legally), then the appeals court, followed by talk of going to the Supreme Court (assuming they agree to hear it). The point being this could continue for an unknown amount of time or maybe it all wraps up and the opposition throws in the towel based on what the Judge rules. The takeaway is this could be far from over for either party. I do not know the timeframes for this phase of the legal dance. I do not think it will resolve on day one. I would guess it takes some time so plan any options trades accordingly.
Conclusion
Concerning Geopolitics, Canada has told various Chinese players that they will divest of holding small Canadian resource miners. With China becoming very bold concerning Taiwan, the long-term thinkers in Canada are obviously concerned of the implications of China holding sway over domestic North American lithium.
Something to remember is no matter the outcome for Nevada's Thacker Pass, the South American plant is coming online with the associated output along with future expansion plans AND they have additional property per the acquisition of Millennial Lithium and Arena Minerals (OTCQX:AMRZF).
Risk adverse investors might do better to just wait and see what happens. Avoid potential risk and pain. Granted, if the decision is favorable, the stock could do quite well and risk adverse investors might miss an opportunity. If the Thacker Pass wins in court, I suspect we will see a financing deal sometime after to push the project forward along with government funding. This might have a favorable impact on neighboring clay-based projects such as Cypress Development (OTCQX:CYDVF) who are also seeking government funding pending a Q2 DFS, having produced enhanced grade lithium carbonate.
Our Play - Not Financial Advice
We are buying the January 2024 $25 calls as well as buying the common stock.
Editor's Note: This article discusses one or more securities that do not trade on a major U.S. exchange. Please be aware of the risks associated with these stocks.