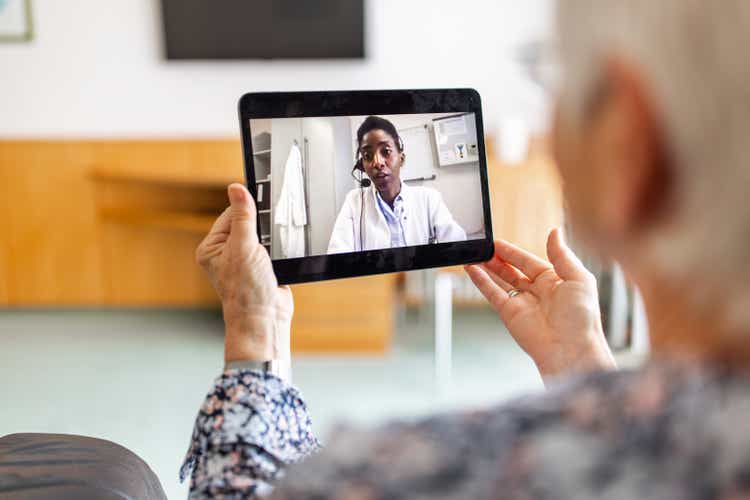 Doximity: Managing headwinds in a profitable fashion
2022 was, simply put, a disastrous year for investors in high growth IT stocks - the software ETF fell by 36% and the WCLD ETF fell by 52%. Why might 2023 be any better, some might ask? There are 3 basic answers to that question. One, of course, is that valuations have been shredded. Whether they were too high or not is a moot question; Of the 120 some companies on which I keep estimates and calculate valuations, over 95% have seen their valuation metrics compress substantially. A second factor relates to profitability. I look at profitability in terms of free cashflow margins. Essentially all of the high growth software companies have gotten the message that they will be evaluated on their ability to generate substantial free cash flow margins. And that shows up in the numbers. The average projected free cash flow margin - projected in terms of company guidance - for the most part, has risen 800 basis points since the start of 2022. And finally, expectations regarding Fed policy, which turned out to be misplaced at the start of last year when the consensus for interest rate forecast showed a gentle, moderate increase has been altered. At this point, concerns about interest rates and inflation are now front and center amongst investor worries.
That said, however, investors currently are extremely concerned about a recession. The latest concern in that regard has been fueled by reports that Apple (AAPL) is cutting orders to its suppliers for some key products as well as Salesforce (CRM) announcing a substantial layoff, while Amazon (AMZN) has increased the size of its cull. Most forward looking economic indicators have turned negative. While looking at weekly data is perilous at best, the most recent reports with regards to unemployment claims shows deteriorating trends. And thus, while most IT vendors have been projecting higher free cash flow margins, almost universally, they are also projecting slower growth.
One company, however, Doximity (NYSE:DOCS), which is the subject of this recommendation, while early in projecting slower revenue growth, has recently indicated that it is seeing stronger business trends. Stronger doesn't necessarily mean strong - Doximity has reaffirmed its forecast for growth and profitability; it didn't raise it. But it also spoke to improving business trends which is dramatically different from much of the other commentary recently being reported by IT companies. The latest comment by the company's CEO and CFO is quite different, at least in tenor, from what is currently being heard when many other IT vendors report their results. The foregoing was from the company's latest earnings conference call.
That said, demand has returned in recent months, and we are encouraged by the traction we're seeing in the midst of our clients' annual buying cycle. We see digital budgets among our clients growing, and it's clear to us that they view their high ROI generating, marketing programs on Doximity as core to their overall marketing strategy.
For readers unfamiliar with the company, Doximity provides a platform targeting physicians and other health care professionals. This platform provides pharma brands, hospitals and other classes of health care vendors an opportunity to run highly targeted marketing campaigns that achieve exceptional levels of ROI. The company also sells other services targeted toward physicians and other health care professionals. While it is sometimes referred to as LinkedIn for physicians, its employment solutions have been less than 20% of revenues. The pharmaceutical industry, by far the largest source of Doximity's revenues, is far less cyclically sensitive than most other classes of IT buyers so it makes sense that Doximity's growth prospects are relatively strong and growth trends are showing positive as opposed to negative development.
While Doximity shares are not scraping yearly lows, their performance in 2022 has been less than salutary. The shares lost about 35% of their value in 2022, which is less than average for most IT shares, but are down by almost 70% from their peak value set in September 2021. About the best that can be said about share price performance recently is that the shares have gained over 30% since they made a low just before the most recent quarterly earnings were reported. I initially wrote about the company and the outlook for the shares shortly after their IPO in the summer of 2021. While the shares spiked thereafter, they are down by more than 40% since the summer of 2021, actually a little better than the WCLD ETF which is down just less than 60% over the same span.
Doximity does use share based compensation, although the ratio of SBC to revenue at around 11% is below average for most software companies. The company's fully diluted share count has been stable/down; the company has been buying back shares and continues to do so. The company generated free cash flow of $80 million in the first half of its fiscal year, and used some of that in repurchasing shares, and announced a further repurchase authorization at the time of the last earnings release.
I think anyone writing about investing in the hi-growth IT sector at this point needs to acknowledge that regardless of the specific investment merits of a company, shares are likely to see constrained performance until investor sentiment changes. And, of course, investor sentiment is a function of the Fed, economic macros and inflation expectations. This is NOT an article trying to forecast a Fed pivot. Of course, I would like to see one, at some point in 2023, I expect to see one, and I believe one is necessary, but I cannot forecast when one might occur. And while I believe Doximity shares have lots of upside potential it is not likely to be realized until either a pivot is announced, or expectations for a pivot become overwhelming. I own shares in Doximity and have done so for a considerable time, but I realize that patience is going to be necessary before the specific investment merits of this company are recognized by the market.
Why is Doximity able to grow in this environment?
Doximity is particularly fortunate in that its services are focused on enabling healthcare enterprises to migrate their marketing spend from in-person contacts to a digital experience. Pharma companies have been relatively slow to embrace digital marketing solutions. They have stuck with in-person marketing and their percentage of marketing spend that has gone to digital solutions is in the bottom quintile of any major vertical.
Doximity's platform is used by 80% of physicians, and a significant proportion of other healthcare practitioners - 50% of Nurse Practitioners and Physician Assistants; the platform is being accessed by about two million members. These practitioners receive articles and other content that is highly specific for the specialties in which the members have interest. I have linked here to some of the articles published on what the company calls its Op-Med platform. Using the readership profile of the articles that Doximity publishes is a key component in the targeting of campaigns that pharma companies, hospitals and other customers use on the Doximity platform. At this point, all of the 29 largest pharma companies, and all of the 20 largest hospitals use Doximity. Last quarter, Hospitals were the most rapidly growing segment of the company's business, but the opportunity in big pharma is doubtless larger as these businesses have multiple brands and generate huge revenues.
It is the growth of the largest pharma companies that has driven the rapid revenue growth for Doximity with a net expansion rate still over 135%. Doximity's platform has become a market place in which health care professionals share knowledge of various kinds and find services and make connections that are useful to improve the economic and professional results of the care they provide to patients.
At the end of the day, the success that Doximity has enjoyed is because the ROI of its platform is so high. During the last conference call, the CEO, Jeff Tangney, said that the latest ROI analysis by a 3rd party source, showed a 15X return on investment within the pharma space. The case studies in the link outline just how campaigns on Doximity have led to such substantial economic returns. The hospital ROI, again based on a 3rd party study, was reported to be 17:1.
While some pharma customers pulled back from expanding their campaign spending on Doximity at the time the prior quarter was reported, the latest data is that the so-called business air-pocket has passed. The growth of pharma digital revenues as projected by E-Marketer has been in the high-teens percent, less than in prior years, but still fairly healthy.
The other reason why Doximity continues to grow rapidly despite an environment that has seen the growth estimates of many other IT vendors show declines, is the success of its new offerings. The company has an e-sign product specifically tailored to the needs of doctors. It has a physician scheduling tool which it acquired through the acquisition of Amion. Perhaps of most interest to many investors is the success of the company's telehealth offering. Telehealth has not been the happiest place for IT investors - the Teladoc (TDOC) narrative simply hasn't played out as anticipated. Doximity does have a telehealth solution based in part on the technology of its physician dialer offering. That tool has seen a 100% renewal rate, a signal as to the utility it provides to its health provider customers. A basic version of dialer is free; smaller practices wind up paying about $20/month for a more enabled version, and there is an Enterprise tier as well. The dialer product has been widely accepted and some of the largest health systems are using it; it has provided a new and lower price point in the telehealth market.
I would never recommend Doximity solely based on the success of its telehealth offering. I have used the Doximity telehealth offering personally, and have found it to be far less cumbersome with fewer delays than the other telehealth offerings on the market although admittedly the solution I have used for remote health care is not necessarily dispositive when it comes to the utility and functionality of all of the other solutions on the market.
Doximity hasn't quantified the revenue contribution of these newer additions to its solution portfolio. It does provide some usage metrics; its physician scheduling tool, for example grew by 57% in terms of usage but its annual revenues were estimated to be just $5 million when it was purchased this past February. I believe its dialer product is a greater component of revenue. The company is doing 200k/telehealth calls per day and the service is being used by 370k physicians. Again, it would be helpful to have some more quantification than provided, but overall, these newer offerings are likely a significant tailwind in terms of the company's TAM and its CAGR. The company's most recent investor presentation, linked here, shows that the TAM for pharma marketing is 40% of the total for all of Doximity, while the telehealth solution represents about 25% of the total. I believe that pharma marketing currently is well more than half of the company's revenue followed by the marketing programs of hospitals and health practitioners.
Just how rapidly can Doximity grow? The company is forecasting sequential growth of 9% and 11% for the next 2 quarters and that translates into 14% and 31% for year over year growth respectively, and 25% for the entire fiscal year. It is basically forecasting that it will be able to grow faster than the market as a whole; in other words, a growth of high-teens in digital marketing spend in the health care marketing space is yielding a 25% growth in Doximity revenues. Currently the consensus estimates for Doximity growth for its fiscal 2024 period are just 22%. So far data the company presented on its latest conference call has suggested that pharma has led all other industries in ad dollar growth.
I don't have a crystal ball when it comes to tracking the likely growth in pharma ad spend in a period that doesn't start for another 6 months. I probably don't have all that better of a crystal ball even if I was trying to forecast for a shorter period. I think it is reasonable to expect that pharma will continue to grow far more rapidly in terms of its ad spend than most other business segments - it is a far more resilient and less cyclically sensitive business than most other business segments. Doximity's pricing is somewhat correlated with the ROI that its clients achieve on its platform. With the very strong recent ROI numbers, Doximity is going to be able to charge its clients more. The combination of a relatively resistant market space, rising prices, market share gains and new product growth suggest to me that the current consensus numbers for the company's revenue growth in its fiscal 2024 period are likely to prove quite conservative. My expectation for the company's 3 year CAGR is 31%; the potential impact of the company's dialer product and its concomitant telehealth offering could help growth to accelerate growth beyond than that expectation, but most of the growth will be coming from increasing penetration of additional brands in the big pharma space.
Competition
Competition is less of a factor for Doximity than it is for many other high growth IT companies. There are other platforms that have content about developments in health care and about new treatment paradigms. But these platforms are far smaller in reach than Doximity's audience of 80% of physicians and 50% of total clinicians. I have linked here to the appropriate listing, but competition in this segment is simply not robust.
Doximity does have an employment module. Hospitals and practices advertise for staff and use the Doximity platform as a means of targeting individuals with specific interests who might be looking for a new job. At one point, Doximity was broadly described as the LinkedIn for physicians. The Doximity platform, and its articles, is a way for physicians to keep updated on trends in specific areas of interest to them and this has made its utility as a recruiting tool rather unique. Of course, it competes with LinkedIn for the recruiting component of the company's business - but that is not anywhere close to the major revenue driver for this company.
In terms of telehealth, obviously the 600 lb. gorilla in the space has been Teladoc. I have linked here to a KLAS report comparing the two offerings as well as other entrants in the space. KLAS is somewhat like Gartner within the healthcare industry. In addition to platforms specifically enabled for telehealth applications, both Microsoft (MSFT) Teams and Zoom Video (ZM) are often used to supply telehealth solutions. My own experience using the latter two offerings for telehealth has been far from positive.
Many providers will have multiple telehealth solutions enabled. I don't think it likely that Doximity is going to take over the telehealth world. There are just too many alternatives for any one company to dominate the space.
Doximity's dialer app also has plenty of competitors as can be seen in the link. The war in dialers is basically focused on features. Doximity claims that its solutions are seeing rapid growth and have not experienced churn. Again, there are simply too many competitors in the space to suggest that there will be a single standout vendor. That said, the following link to the KLAS analysis of physician dialer solutions places Doximity in the #1 position in this particular space.
Competition is usually one of the key factors in evaluating a company as an investment. As Doximity operates in multiple segments, it has multiple competitors. But the company's overwhelming revenue drivers are the use of its platform by pharma and hospitals. And those segments of its business have fewer competitors than is typical in the enterprise IT world. It is one of the reasons to anticipate that the company will be able to continue to achieve the elevated margins I discuss below.
The Doximity business model
Doximity ranks as one of the most profitable companies in the IT space. Most of the discussion regarding costs and expenses is based on non-GAAP calculations. The company has been reducing its capitalization and its current buyback is likely to continue to result in an outstanding share count that is stable or declining. Last quarter, the company's SBC was $11.4 million or 11% of revenues compared to about 8% of revenues the prior year. 11% of revenues is a relatively low SBC ratio for a rapidly growing IT vendor. That said, I do not see that ratio declining materially from current levels in the foreseeable future. On the other hand, this company's profitability is so great, that it is GAAP as well as non-GAAP profitable.
Last quarter, the company's non-GAAP operating margins reached 43.5%. That is an enviable level by just about any standard. The company's non-GAAP gross margin is and has been around 90%. As mentioned, the very high ROI the company is able to achieve for its pharma and hospital clients has created a pricing tailwind that in turn has enabled gross margins to be maintained at these levels.
The most striking difference in cost ratios between Doximity and many other high growth IT vendors is its sales and marketing spend ratio which is less than 24%; it would be more typical for a company of this size to see sales and marketing non-GAAP expenses in the mid 40% range. The CEO of this company, Jeff Tangney, has been quoted as to his belief that most IT companies do not get adequate returns from their sales and marketing investment. That is not a subject I choose to debate here. What I think is more the case is that this company is targeting a relatively small number of potential customers with a solution that has an exceptionally elevated ROI, and which has less competition than is typical in the IT business. Because of those two factors, the company simply doesn't need to invest as heavily in brand awareness as is the case for other IT vendors. The company has 20 out of 20 of the largest pharma companies, and 20 out of 20 of the largest hospitals as customers. While of course it continues to acquire new users, the sales motion to acquire new nameplates is simply less important than the company's ability to sell additional brands within its pharma space and additional departments within hospitals. Upselling existing customers who are already achieving very high ROIs is just a far less time consuming process than a typical enterprise software sale. Sales and marketing expense rose by 26% year on year last quarter, a bit less than the increase in revenue. On a sequential basis, sales and marketing expense was flat.
The company's research and development spend at 16% of revenues is also substantially less than average for a company of this size and this growth record. Again, most of the difference between Doximity and other IT vendors is that it already has a platform of 2 million members; upgrades to that platform, while perhaps noticeable to users, are relatively less substantial than the innovations that infrastructure or application software companies need to make to remain competitive. There is not some performance frontier that Doximity has to pursue. Most of its research and development spend is based on the creation of new products, particularly in the dialer area and its recently acquired physician scheduling app. Non-GAAP research and development expense rose by just 20% year on year and was flat sequentially.
General and administrative expense for Doximity at less than 6.4% of revenue is exceptionally low for a company of this size. Simply put, Doximity operates more efficiently than many other IT vendors. For example, Zuora (ZUO), a company similarly sized in terms of revenues has a non-GAAP general and administrative expense ratio of greater than 13%. Despite inflation, non-GAAP general and administrative expenses were flat year on year, and flat sequentially.
Through the first half of the year, Doximity's free cash flow margin was 43%, the same as its non-GAAP operating margin. Free cash flow rose by almost 60% year on year for the first 6 months of the fiscal year, and almost doubled last quarter. Doximity does generate some deferred revenues as a few large customers pay for their marketing programs in advance, but deferred revenue and calculated bookings are not significant metrics for this company. Basically, operating cashflow for Doximity is going to equal non-GAAP operating income and the difference in a given quarter will be mainly due to changes in other assets and liabilities.
During the course of the company's last conference call, the CFO forecast that non-GAAP operating margins and free cash flow margins would be 43% for the full year, and probably beyond. This provides a rule of 40 metric of at almost 70, and perhaps higher, perhaps the highest such valuation metric in the entire IT space at this time, although one challenged closely by Snowflake (SNOW).
Management
It can be difficult for analysts and investors to evaluate the efficacy of a management team. At best, we have but brief snapshots of corporate culture and decision making. The company has very high Glassdoor ratings which is one element in evaluating a corporate culture. The company is led by its 3 founders, Jeff Tangney, the CEO, Shari Buck, VP of operations and Dr. Nate Gross, the Chief Strategy Officer. The group has been together for 12 years at this point. Prior to creating Doximity, Buck and Tangney were together at a start-up called Epocrates, a mobile medical reverence app, which was bought by Athena Health. All of Doximity's founders, and the company's CFO, Anna Bryson, have impressive resumes in terms of their educational background.
Wrapping up: Reviewing Doximity's Valuation; recapitulating the investment case
I believe that Doximity shares are attractively valued at this point, although the EV/S ratio remains at elevated levels relative to the average IT vendor with similar growth. It is the combination of profitability, competitive positioning, and the market opportunity that have produced a favorable risk/reward ratio on a relative basis for the shares. Currently, the company's forward EV/S ratio is around 12X, the company is projecting 25% revenue growth and a non-GAAP and free cash flow margin of around 43%. Its use of share based comp. is modest, and the company is buying back shares which is reducing its outstanding share count. Its Rule of 40 metric is likely to be 70 or in the mid 70's perhaps the highest such metric in the enterprise IT space, although perhaps challenged by Snowflake.
The company has created a platform to serve healthcare professionals. Users of the platform include 80% of all physicians in the US, as well as 50% of Nurse-Practitioners and Physician Assistants. The platform serves as a marketplace in which ideas are exchanged, products are evaluated and vendors can target likely potential buyers. The platform has facilitated the migration of healthcare marketing from an in-person paradigm, to a digital alternative. This has enabled Doximity to establish customer relationships with the 20 largest pharma vendors and the 20 largest hospitals In the US.
The growth of the company has mainly been animated by these customers who have expanded their usage of the Doximity platform at rapid rates over the last several years; the company's DBE ratio, despite the recent speed bump described earlier in this article is still 135%.
The company has products in adjacencies such as an e-sign app tailored for physicians, a physician scheduling app and an automated dialer that has seen significant acceptance. As part of the dialer app, the company has a telehealth solution that is cheaper and easier to use than what is offered by Teladoc, although one that perhaps does not encompass all of the features offered by some telehealth competitors. While telehealth heretofore has been a sexy investment space, it no longer is so in the wake of the implosion of Teladoc and some other companies in the space, and investors should look at Doximity's business in the space more as lagniappe than as a principal reason to own the shares.
The company is exceptionally profitable, in part because its platform occupies such a strong competitive position in terms of its usage by health care professionals which in turn has enabled it to assemble relevant data that is very useful to vendors looking to target marketing. Its cost ratios show significant divergence from the cost ratios of almost all other high growth IT vendors, with particular divergence in terms of sales and marketing spend. The CEO has been vocal about his philosophy on ROI for sales and marketing spend, and overall, the company just seems to operate at a high level of efficiency.
Notionally, given the company's focus on the health care space, and in particular the proportion of revenues coming from pharma and hospital enterprises, demand for the company's services should prove to be relatively recession resistant. However notionally sometimes fails in the real world. The company indicated that as macro skies were darkening last spring, its pharma clients adopted a more conservative stance in terms of making mid-year commitments to expand the size of their spend on Doximity solutions. This led to the company reducing its expectations for growth in the current fiscal year and despite some indication of a return to normal buying patterns, the company's guidance for the 2nd half of the fiscal year was unchanged when the company held its latest earnings conference call. Consensus expectations, despite the company's commentary about the state of its business, are for growth of just 22% in fiscal 2024 (ends 6/30/24). The company is unlikely to provide its own forecast for that period for another 7 months.
It is going to be difficult for just about any high growth IT company to achieve meaningful share price appreciation without a more risk-on bias on the part of investors. Trading on 1/3/23, which showed the market reacting negatively to issues of Apple and Tesla (TSLA) demand, is just another symptom of risk-off sentiment. Obviously, the analog between demand for Apple Macintosh and other Apple products and Tesla vehicles is really not correlated with demand for Doximity services, but investors are looking at sectors more than individual companies. While IT shares were somewhat positive on 1/4, layoff news from Salesforce and a Microsoft downgrade pressured some cloud stocks.
Investing in Doximity shares is likely to require some patience and fortitude - well worth it in my opinion given the substantial upside. I think over the coming year Doximity shares are likely to produce significant positive alpha.