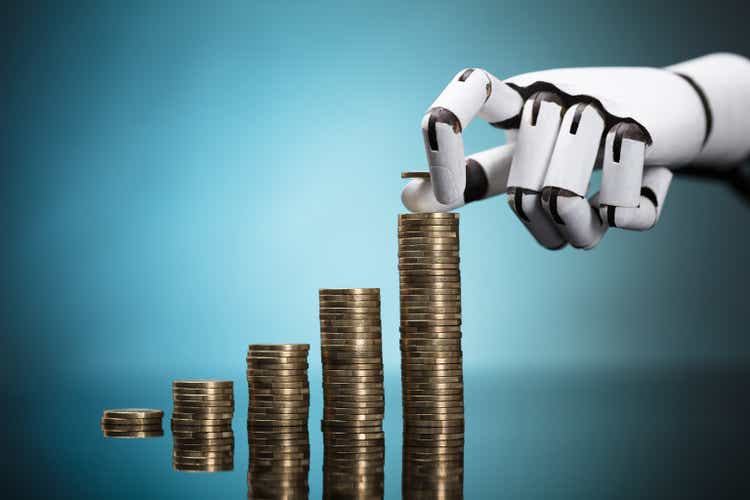 ChatGPT has taken the world by storm, and rightly so. In the last month, entrepreneurs, tech enthusiasts, and investors alike have shared snippets of their conversations with ChatGPT, as well as their thoughts on its future.
For investors, one clear conclusion has been that Google's (GOOG) (GOOGL) search engine moat is up for debate. Since ChatGPT's launch on November 30th, Alphabet has lost 15% compared to a 7% drop for the S&P 500 (SPY). As ChatGPT is able to answer one's question in a direct manner (i.e. instead of referring to a website, where the answer *should* be explained), one could see a future in which we look for answers on ChatGPT, instead of Google. Over time, habits are only so strong, and in my opinion, people might start shifting away from Google's search engine. We don't know whether that will be 0.1% of search traffic, 1%, or even 10%.
But who will benefit?
I believe there is one small cap in particular that will do so, Perion Network (NASDAQ:PERI). Let me explain.
Perion Network
Perion Network is an Israeli-American ad-tech small-cap. It performed great last year, even in light of the recession, and its stock is up more than 12% in the last 12 months - as compared to huge drawdowns for its peers.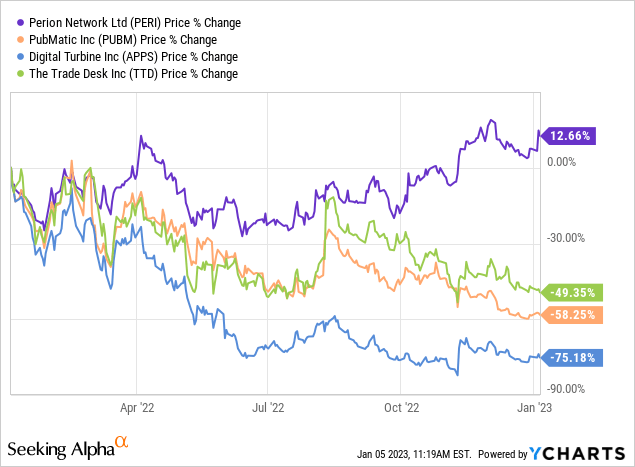 The stock is one of my personal darlings, and I have written a good amount on it. I first tipped it as an alternative to META (META), then tipped it by comparing it to Microsoft (MSFT), and finally tipped it after it had published its Q3-results.
Obviously, I have been bullish on this stock for quite a while. Yet, even after its strong performance, I've never been more bullish. And that has everything to do with its partnership with Microsoft.
Microsoft partnership
Perion is Microsoft's strategic partner with regards to search advertising on Microsoft Bing. If you want to advertise on Bing, you go through Perion's CodeFuel.
Of course, there is a risk involved that Microsoft won't continue its relationship with Perion. However, just last year, Microsoft named CodeFuel its ad supply partner of the year: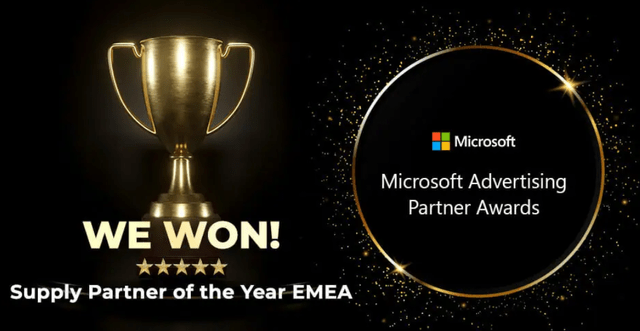 Upon which it also extended and deepened its relationship by 4 years, while even increasing its revenue share:

So, for at least the coming 2 years (renewed partnership ends at the end of 2024), Perion will be in an extensive relationship with Microsoft Bing to let publishers buy search-ads.
At the same time, CodeFuel is, one could say, Perion's cash cow: around half of Perion's revenues & profits are generated by this division. It uses these funds to invest in other ad-tech companies not involved in search, but rather in video & display advertising.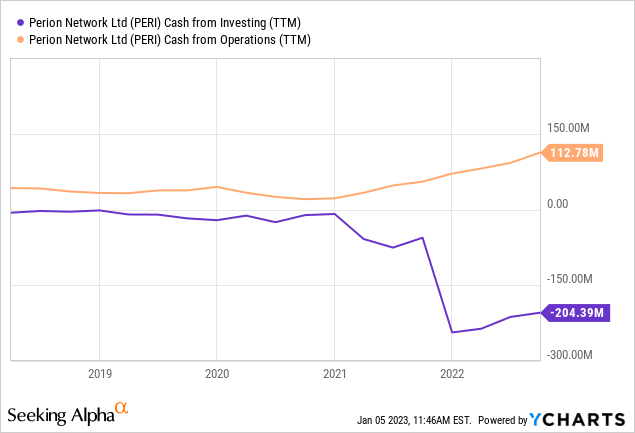 This has turbo-charged its results over the last 2 years: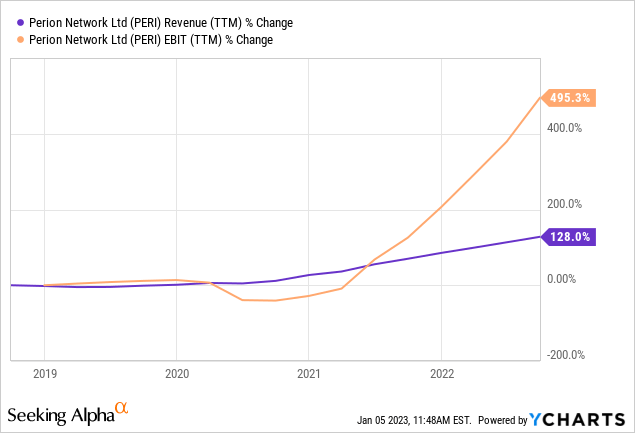 Effect of ChatGPT
Understand that the popularity of Bing is crucial for Perion. The more Bing gets used, the more publishers advertise on the platform, the more Perion makes.
It has gone quite a bit under the radar, but ChatGPT might dramatically increase Bing's popularity in the coming months and years: Microsoft has, after it invested $1B in OpenAI all the way back in 2019, struck a deal to integrate ChatGPT with Microsoft Bing.
Indeed, the search engine no one uses except those who don't know how to change their default browser, may actually become a really interesting AI-powered search engine in the coming months.
I believe that many users will start using, or at least try out, Microsoft Bing once ChatGPT has been integrated. Given the low penetration rate of the search engine, the relative increase in usage will be dramatic. Hence, the integration of ChatGPT with Microsoft Bing has the potential to really benefit Perion's ad sales.
Conclusion
I am very bullish on the medium-term outlook of Perion Network. As ad networks are getting commoditized, the importance of relationships increases. Perion has a great relationship with Microsoft and will be one of the leading ad networks behind Microsoft Bing for at least the coming 2 years. At the same time, Microsoft has just partnered with OpenAI to integrate their ground-breaking ChatGPT software into Bing, potentially driving millions of new users toward the web engine. Perion will welcome them with open arms and fresh advertisements!
At a current valuation of 9x TTM P/E, and a third of its market cap in cash, I believe this is a bet worth taking. Worst case, Bing's popularity does not increase and Perion's revenues continue growing by only... 30%.