A Mostly Clean Quarter Drives A Better Valuation For AngioDynamics
Summary
AngioDynamics posted a pretty clean fiscal second quarter that was a little better than the sell-side expected, and that seemed to drive a meaningful relief rally for the beaten-down shares.
Lackluster results from AngioVac/AlphaVac bear watching, given that they're important growth drivers, but Auryon continues to grow very well and gain share.
AngioDynamics has multiple growth markets that can drive meaningfully better revenue growth and margins, but execution has been a recurrent challenge and remains a factor in the otherwise seemingly-low multiple.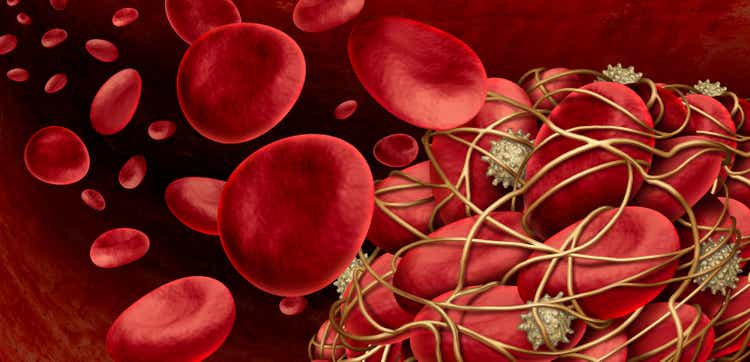 At least some of the sharp decline in AngioDynamics (NASDAQ:ANGO) after its disappointing fiscal first quarter report in October of 2022 could be tied to fears that there was another shoe to drop, and likewise, the solid rebound in the shares on basically in-line fiscal second quarter results likely has at least something to do with relief that there were no similar surprises this time around. With that, the shares are up a strong 20% since my last update.
It doesn't take particularly demanding assumptions to get to a $20-plus fair value for AngioDynamics (35%-plus upside from here), and there are legitimate growth opportunities here. There are still risks, though, including a single-digit revenue growth rate that falls short of what the Street often demands of smaller med-tech names and a history of inconsistent execution on once-promising opportunities in a range of markets. In my last article, I acknowledged that it was likely futile to downgrade when the damage had already been done; while I do still see upside here (potentially meaningful upside), another quarter of in-line or better results would be welcome.
Fiscal Second Quarter Results - Not Perfect, But Good Enough For Now
Given the sharp share price reaction on a relatively modest beat (about 1% at the revenue line and $0.02/share at the bottom line), I think the rally in the shares was driven more by relief that trends in and around the business haven't worsened and that guidance seems more achievable at this point.
Revenue rose about 9% as reported and closer to 10% in constant currency terms, with the high-growth Med Tech businesses up almost 30% and the slower-growing Med Device unit up a little less than 3%.
Gross margin improved a point from the year-ago period and almost a point from the prior quarter (to 52.8%), and it would seem that the company's efforts to mitigate supply chain challenges are paying off. Adjusted EBITDA did improve 69% from the year-ago period and more than doubled from the prior quarter, and the company also saw a smaller adjusted operating loss (a roughly $2.4M yoy improvement by my calculation).
Looking at the revenue drivers, I would call the results mixed. Auryon was exceptionally strong, growing 60% yoy and 15% qoq, and now making up 40% of Med Tech revenue. Even without seeing the results from Cardiovascular Systems (CSII) and other atherectomy companies, I can state confidently that the company is gaining share in its core peripheral atherectomy markets. NanoKnife was also strong, growing more than 50% year over year and contributing around a quarter of the segment's revenue, with strong growth in both equipment and probes.
Thrombectomy was more mixed. AngioVac sales fell 16% year over year, while AlphaVac sales fell about 11% sequentially (the year-over-year comparison isn't as informative given a small starting point). Nothing from Penumbra (PEN) or Inari (NARI) suggests any meaningful changes in the underlying markets, and AngioDynamics management once again mentioned challenges associated with hospital understaffing for AngioVac's lackluster results - this is a more complex procedure that requires trained personnel, and with staffing shortages, hospitals are instead going back to lytic therapy to manage patients that would otherwise be candidates for AngioVac.
Management also mentioned challenges associated with managing and executing the combined sales effort for AngioVac and AlphaVac. This concerns me, as it raises the ghosts of past execution issues. Maybe I'm making a mountain out of a molehill, and I hope I am, but this wouldn't be the first time that a once-promising market for AngioDynamics lost its luster on various end-market and execution challenges.
I'm also not sure what to make of the lackluster results from Med Devices before seeing other med-tech earnings reports. The dialysis access business was one of the few growth drivers, and I'm a little puzzled as to why businesses like PICCs, venous, and oncology were as weak as they were given overall trends in procedure counts in the relevant end markets. While it's true that products like PICCs aren't the future for AngioDynamics, they still matter in terms of revenue, margins, and cash flow for the time being.
A Shift In The DVT Strategy
The treatment of deep vein thrombosis (or DVT) is a key focus at AngioDynamics and a major potential use-case for AlphaVac, but management is switching up the strategy. In lieu of its former plans to pursue the development of a smaller (14F) AlphaVac system to treat DVTs in smaller vessels, AngioDynamics is instead repurposing its Auryon platform to target this market.
Management didn't really go into much detail on the reasoning for the switch, other than to note the precision and aspiration capabilities of the Auryon platform, with the implication (to me, at least) that management simply believes that Auryon can be a more effective and appealing option for that market. Given that AngioDynamics will be competing with some significant rivals in this space, it makes sense to prioritize development of the best possible approach, and it may not hurt that the Auryon laser-based approach is certainly different than the approaches used by Penumbra and Inari.
Still, this should not be read as an abandonment of AlphaVac. There are still meaningful growth opportunities for this platform as hospitals look to switch from pharmaceutical-based thrombectomy to mechanical thrombectomy, and management noted a potential expansion market (left atrial procedures) worth potentially around $400M in annual revenue.
The Outlook
The AngioDynamics story remains a "hurry up and wait" sort of story, with investors needing to have patience while Auryon and AlphaVac ramp and the company conducts clinical trials with its NanoKnife system that could pave the way to meaningful FDA approvals for use in prostate and pancreatic cancer - to that end, management did note that the PRESERVE study of the NanoKnife in prostate cancer has passed the halfway mark for enrollment, though the update on the pancreatic cancer study (DIRECT) was more cryptic and less bullish.
Management reiterated guidance for the year, and I've bumped up my FY'23 estimate very slightly (in line with the quarter's outperformance). With that, I'm looking for close to 8% revenue growth in FY'23, 9% growth in FY'24, and long-term growth closer to 6%. The ongoing success of AngioVac/AlphaVac, Auryon, and NanoKnife are all critical to this outlook, as is the maintenance of at least some worthwhile baseline business in key Med Device markets like PICCs.
Management gave no reason to expect a meaningful change in margins, so I'm still looking for high single-digit free cash flow margins in FY'24 and FY'25 (FY'23 will be hampered by net working capital items), growing to the low-to-mid teens over time and driving adjusted FCF growth of close to 10%.
The Bottom Line
AngioDynamics' valuation really remains tied to perceptions around the company's ability to drive both respectable top-line growth and improved margins. It seems optimistic to expect the sort of double-digit revenue growth that would earn the company a strong (6x-plus) revenue multiple, and the Street has a history of passing over slower-growing small-cap med-techs. To that end, I still believe 2.5x is a fair forward revenue multiple, and it's enough to support a fair value over $21.
The call on this stock really has everything to do with your confidence in management's ability to execute on meaningful opportunities in vascular health (thrombectomy and atherectomy) and oncology (NanoKnife). Execution has been a sticking point in the past, and I believe the company is still paying for that to some extent, but if management can turn over a new leaf and really drive profitable growth from its lead Med Tech portfolio, the shares could still have meaningful upside from here.
This article was written by
Stephen Simpson is a freelance financial writer and investor. Spent close to 15 years on the Street (sell-side, buy-side, equities, bonds); now a semi-retired raccoon rancher. That last part isn't entirely true. Probably.
Analyst's Disclosure: I/we have no stock, option or similar derivative position in any of the companies mentioned, and no plans to initiate any such positions within the next 72 hours. I wrote this article myself, and it expresses my own opinions. I am not receiving compensation for it (other than from Seeking Alpha). I have no business relationship with any company whose stock is mentioned in this article.
Seeking Alpha's Disclosure: Past performance is no guarantee of future results. No recommendation or advice is being given as to whether any investment is suitable for a particular investor. Any views or opinions expressed above may not reflect those of Seeking Alpha as a whole. Seeking Alpha is not a licensed securities dealer, broker or US investment adviser or investment bank. Our analysts are third party authors that include both professional investors and individual investors who may not be licensed or certified by any institute or regulatory body.