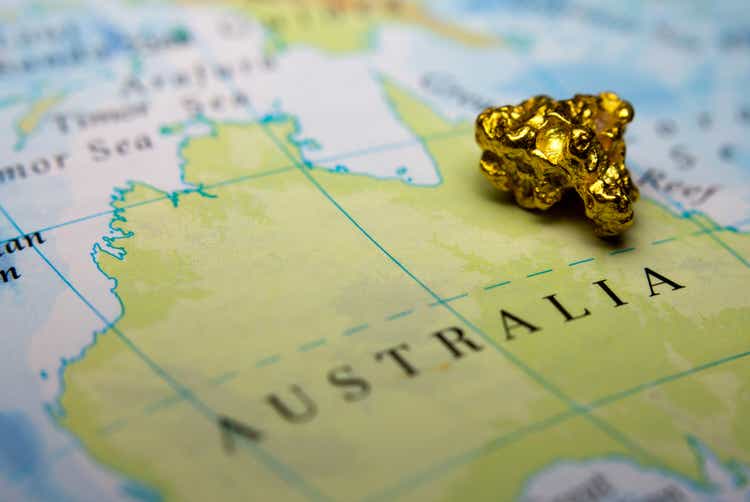 Introduction
Denver-based Vista Gold (NYSE:VGZ) is a gold exploration and development company. The company's flagship asset is the Mt Todd gold project, located in Northern Territory, Australia, which is considered a Tier 1 mining jurisdiction.
Note: This article is an update of the article published on July 11, 2022. I have been following Vista Gold on Seeking Alpha since August 2020.
The company published a new presentation in January 2023 and announced its third quarter of 2022 results on October 26, 2022.
1.1 - A quick snapshot
On March 17, 2022, Vista Gold appointed CIBC Capital Markets as its strategic advisor to assist the company in evaluating a broad range of alternatives for Mt Todd.
Unfortunately, this move has not produced anything solid, and no partner is in sight.
In the last presentation, the company referred to "unfavorable market conditions" to explain why the company could not secure an agreement while indicating interest "from a broad range of prospective parties." Consequently, VGZ dropped to a record low in December.
Frederick H. Earnest, President and Chief Executive Officer of Vista Gold, said in the conference call:
During the quarter, we continued to advance our work with CIBC to seek a partner or other form of transaction to greater -- to achieve greater value recognition for Mt Todd. Volatility in the economy and equity markets, including inflationary pressures, higher interest rates and lower gold prices, have resulted in a number of interested parties adopting a more cautious near-term business strategy as they manage the impacts of these conditions.
All major permits have been received, as we can see below. The Mt Todd project is expected to produce an estimated 6.979 million ounces of gold at 0.35g Au/t cut-offs from proven and probable reserves over 17-year mine life. The gold grade is 0.84 G/T.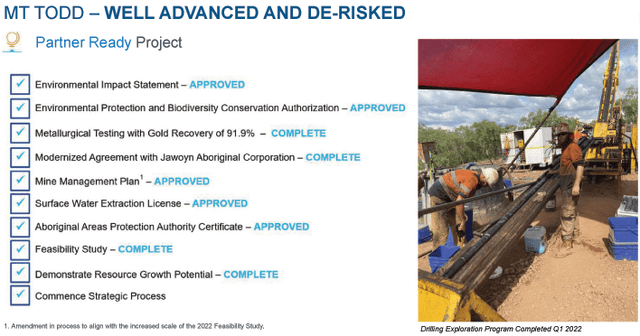 The main issues for such a project to get the final investment decision is the low gold grade, well below 1 g/T, and a significant initial CapEx estimated at $892 million with a pay-back of 3.9 years (after tax) with a cash cost of $817 per ounce, as indicated in my preceding article (NI 43-101 Technical Report issued in February 2022).
Note: Due to the US dollar strength, the initial CapEx is now estimated at $823 million.
The grade is low and not very attractive when the gold price weakens.
LoM capital cost requirements are estimated at US$1,555 million as summarized in Table 1-8. Initial capital of US$892 million is required to commence operations. At the end of operations, the Project will receive an estimated US$37 million credit for asset sales and salvage.
Average annual production of 479K Au ounces during years 1 to 7 of commercial operations, with an AISC of $860 per ounce. Yearly average production of 395K Au ounce per year over the mine life.
One attractive advantage is that the project is considered a "brownfield project" with a good quality infrastructure already in place valued at $130 million (paved roads, connection to the NT electric grid, fresh water storage reservoir, tailing capacity, etc.) which will reduce the development timeline and costs.
Frederick H. Earnest, President and Chief Executive Officer of Vista Gold, said in the conference call:
During the quarter, we advanced our work with CIBC to maximize shareholder value. In September, we participated in three industry conferences and hosted more than 40 one-on-one investor meetings.

With the completion of the feasibility study and exploration programs and management's ongoing efforts to control costs, we achieved a significant reduction in expenditures quarter-over-quarter. We ended the third quarter with a cash position of $9.6 million and continue to have no debt.
1.2 - Stock performance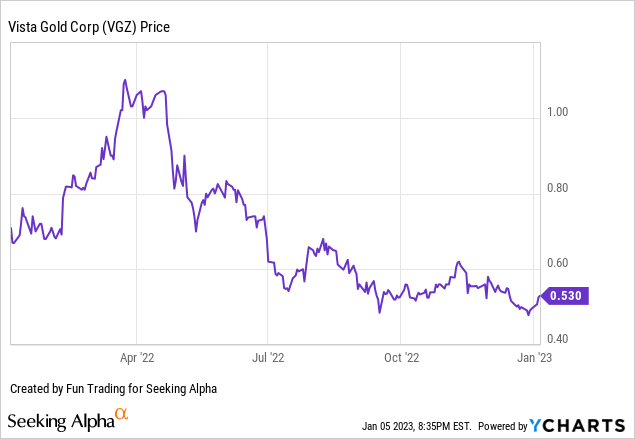 VGZ dropped significantly since April 2022 and is down to $0.53 per share after trading below $0.50 in December 2022.
1.3 - Vista Gold balance sheet history ending in 3Q22. The raw numbers
Note: The company is not generating revenue.
| | | | | | |
| --- | --- | --- | --- | --- | --- |
| Vista Gold | 3Q21 | 4Q21 | 1Q22 | 2Q22 | 3Q22 |
| Net Income in $ Million | -3.07 | -8.32 | -0.32 | -1.42 | -1.69 |
| EBITDA $ Million | -3.09 | -2.82 | -3.19 | -1.86 | -1.70 |
| EPS diluted in $/share | -0.02 | -0.08 | 0.00 | -0.01 | -0.02 |
| Operating Cash Flow in $ Million | -2.65 | -3.18 | -2.45 | -1.80 | -1.50 |
| Total Cash $ Million | 16.35 | 13.14 | 12.86 | 11.07 | 9.58 |
| Long-term Debt in $ Million | 0 | 0 | 0 | 0 | 0 |
| Shares outstanding (diluted) in Million | 115.59 | 117.27 | 117.44 | 118.08 | 118.13 |
Source: Vista Gold 10-Q
The balance sheet is not essential for a company like Vista Gold. However, it provides specific data that could help your investment strategy, notably the cash on hand.
VGZ has total cash of $9.58 million as of September 30, 2022, and has no debt. Total cash went down 41.4% since 3Q21. It is a concern for shareholders.
1.4 - Warning sign: The company used its stock to dilute shareholders and may do it again
On July 7, 2021, Vista Gold announced an increase in the size of the previous public offering and purchased 12,272,730 shares at $1.10 per share (exercised underwriters' over-allotment was 920,454 shares) for gross proceeds of ~$13.5 million. The final total shares sold was 13,193,184 shares.
Each share consists of one common share and one-half of one common share purchase warrant. The warrants will be exercisable for 36 months at $1.25 per share. The money was used for the definitive study of Mt Todd.
Looking at the cash-burn rate, the company may eventually use another public offering in 2023, which will hurt existing shareholders again. However, the company is aware of this issue and is implementing cost-reduction measures that may help.
CEO Fred Earnest said in the conference call:
We are very pleased with the results of the cost reduction measures that we have implemented during 2022. As Doug has just reported, year-to-date, we have achieved nearly a 15% reduction in fixed cost spending and expect this trend to continue through the remainder of the year. I'm pleased to note that additional spending reductions are being planned for 2023.
1.5 - Initial CapEx is down from $892 million to $823 million due to the strong US dollar
CEO Fred Earnest said in the conference call:
The strength of the U.S. dollar relative to other currencies, especially the Australian dollar, has provided some distinct advantages for the Mt Todd gold project. For example, at the current exchange rate this morning of $0.649 per Aussie dollar, the estimated capital cost of the Mt Todd project is $823 million. This is compared to the feasibility study estimate of $892 million, which should be noted as having captured a significant part of the inflation experienced prior to the start of 2022.
Assuming an 8% inflation rate, "the current estimated capital costs for the Mt Todd project are materially unchanged from the feasibility study."
1.6 - The future Gold price is of paramount importance
The gold price is turning bullish, and it is helping VGZ. However, the TA chart indicates that the gold price is about to break down short term.
A rising wedge is a bearish stock pattern, and I expect the gold price to retrace short term to $1,780-$1,750 per ounce. However, I think gold will turn bullish in H2 2023 when the Fed likely stops hiking interest.
This scenario is a strong incentive to buy VGZ below $0.50.
Technical Analysis and Commentary
VGZ forms a descending channel pattern with resistance at $0.55 and support at $0.47.
I suggest trading LIFO about 70%-80% of your position and keeping a core long-term for a more outstanding payday.
The trading strategy is to accumulate between $0.465 and $0.50, with potential lower support at around $0.455. The gold price is bullish again due to the Fed's action, and VGZ seems to have been responding well since the end of December 2022.
Also, it is important to take profits between $0.545 and $0.56, with a potential higher resistance at $0.62. The significant catalyst would be the company finding a partner to develop the project. In this case, VGZ could jump well over $1.
Warning: The TA chart must be updated frequently to be relevant. It is what I am doing in my stock tracker. The chart above has a possible validity of about a week. Remember, the TA chart is a tool only to help you adopt the right strategy. It is not a way to foresee the future. No one and nothing can.
Author's note: If you find value in this article and would like to encourage such continued efforts, please click the "Like" button below as a vote of support. Thanks.
Editor's Note: This article covers one or more microcap stocks. Please be aware of the risks associated with these stocks.