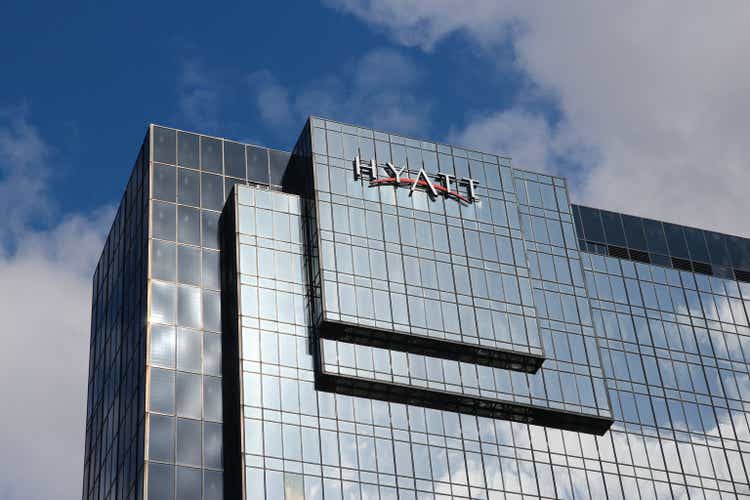 I had mixed views on Hyatt (NYSE:H) when I first covered the lodging giant at the end of Q1'22. While I felt the business was making the right moves with respect to its portfolio positioning, the stock had already round-tripped back to pre-COVID levels despite a full recovery being more a 2023 story. That ultimately drove my 'hold' rating despite generally being bullish on the company's all-round prospects.
These past few quarters have been relatively quiet for the stock, but that's no bad thing given the declines registered by its peers and indeed the wider market. Outperformance of circa 1,200bp versus the S&P 500, and anywhere between 800bp to 1,200bp against peers Marriott (NASDAQ:MAR), Hilton (NYSE:HLT) and IHG (NYSE:IHG), looks impressive in that time.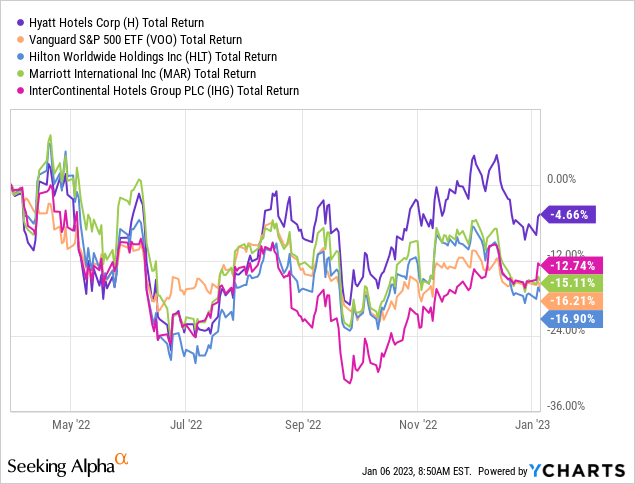 Nine months on, Hyatt's COVID recovery is now almost complete, and attention is understandably shifting from the pandemic to a potential economic slowdown brought on by rising global interest rates. The latter does muddy the water here slightly, but with FY23 still lapping some soft comps the impact on RevPar is going to be less clear cut than in prior cycles.
On the stock price front, three quarters of treading water has delivered time for the business to grow back into its valuation. Coupled with long-term gains to profitability from its asset light strategy and a peer-leading growth profile, Hyatt is netting an upgrade to 'buy' from 'hold'.
Progressing The Asset Light Strategy
As covered in the initial piece, Hyatt is in the long-term process of positioning its portfolio toward a largely franchised and managed estate, with less emphasis on owned & leased hotels. Rooms falling under the former category have increased at a circa 9% per annum clip since 2017 in the core global hotel portfolio (i.e. excluding rooms acquired under the Apple Leisure Group deal, wellness properties and so on).
Owned & leased rooms now comprise a sub-5% share of the firm's total estate, down from a circa 10% share at the end of 2015, albeit this remains well above peers Marriott (~1% owned & leased share), Hilton (~1.7%) and IHG (~0.5%). I expect this share to continue to reduce over time.
Although owning physical hotel assets has its advantages, progressing the asset light strategy has significant benefits for Hyatt's shareholders. These include on the growth front - with higher growth rates attainable and said growth also easier to fund. Hyatt's profitability will also see a gradual tailwind, as revenues from managed & franchised fees come with much higher margins and returns on invested capital versus owned assets. That will support a higher valuation for the stock, lessen the firm's exposure to the business cycle, and allow it to post higher EBITDA growth than it otherwise could.
COVID Recovery Nearing Completion
Hyatt's business has continued to recover from the impact of COVID on global travel. Q3'22 global revenue per available room ("RevPar") was already around 2% higher than pre-COVID 2019 for Hyatt's legacy portfolio, albeit that conceals a very uneven recovery across geography and business type (leisure has outperformed group and business travel, for example).
Pricing has been the driver of RevPar recovery to pre-COVID levels. For example, the Q3'22 average daily rates in the Americas region of $244 (full service hotels) and $158 (select service hotels) represents growth of around 19% and 14% respectively versus pre-COVID Q3'19. That is helping to offset occupancy levels that remain notably below pre-pandemic levels. Geographically, Americas and EAME/SW Asia are both now reporting RevPar figures above 2019 levels (the latter in both absolute and constant currency terms). Asia Pacific remains the weak spot, with RevPar still well below pre-pandemic levels.
Earnings have fully recovered and now exceed levels posted in 2019. This is in part due to the aforementioned RevPar recovery, aided by the fact that Hyatt's room count (~295K) is now around 35% higher than it was at this point in 2019. With that, Q3'22 and 9M'22 EBITDA of $252m and $676m represents growth of 55% and 18% respectively on same-period 2019 levels.
Focus Turns To Possible Recession
With COVID increasingly in the rear view mirror, focus is now beginning to turn to a possible recession following the steep rise in global interest rates. Hotels obviously depend heavily on consumer and business discretionary spending, making them more sensitive to general economic conditions. This chart from peer IHG's 2021 annual report shows domestic RevPar performance in previous downturns:
Furthermore, Hyatt's higher, albeit improving skew to owned & leased properties makes it more vulnerable to peers, as these assets are lower margin and less able to absorb declines in revenue.
While I am a bit concerned about this in the near term, this isn't really a "normal" cycle from an industry perspective. For instance, occupancy rates across Hyatt's portfolio were still around 800bp lower than before COVID - a significant portion of that due to China and its COVID lockdown policies. Put another way, there is still a bit of recovery-driven growth left in the tank here, especially now that the country seems to be moving to a much less restrictive stance on COVID. Note that Q1'23 is also lapping an artificially weak comp due to the Omicron wave.
All told, the impact of a slowdown might not be so clear cut this time around, especially if it proves to be a mild one. Peer Marriott, for example, still expects year-on-year RevPar growth in 2023, and that's a view shared by management at Hyatt as per its Q3 conference call.
Shares Now More Attractive
Hyatt shares trade for around $92 apiece at time of writing, putting the stock on a 14x EV/EBITDA multiple based on my estimates of full-year 2022 EBITDA of $0.9B (Q4 results aren't due until mid-February).
I think that makes the stock quite a bit more attractive now than it was at the end of Q1, notwithstanding a possible looming recession. If RevPar does indeed prove resilient, then we could well be looking at comfortable double-digit year-on-year EBITDA growth given that management remains bullish on circa 6-7% per annum room count expansion.
Hyatt's industry-leading pipeline (114,000 rooms, or just under 40% of its total estate) lends confidence that it can sustain that rate for many years to come. Combined with low single-digit long-term annual RevPar growth and margin expansion, I expect this to translate into double-digit annualized long-term EBITDA growth and similar levels of shareholder returns. Buy.