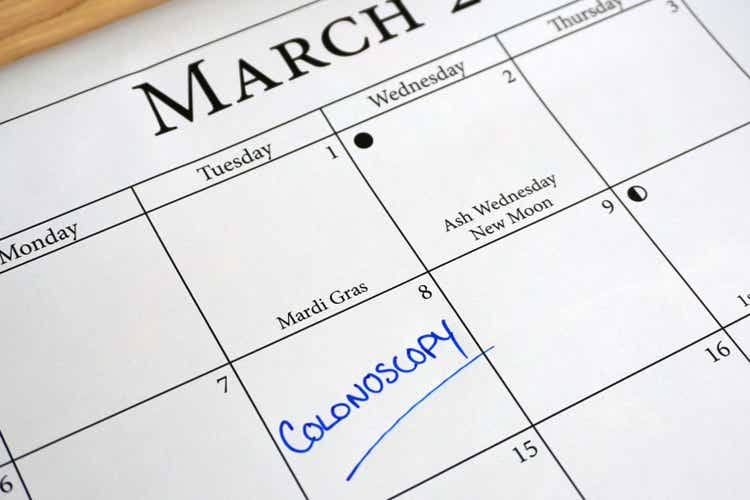 Thesis
As in my previous coverage, NuCana (NASDAQ:NCNA) continues to receive a Strong Buy rating from me given its high-value Phase 2 oncology treatment candidates NUC-3373 and NUC-7738. Both are ProTide versions of compounds with proven chemotherapeutic activity; they are much less toxic and more efficacious. One of them improves 5-FU, the standard of care for 16 out of the 25 most common cancers. The other one is an improvement of a compound that did not previously succeed in the clinic for reasons of rapid breakdown. NuCana has some potential catalysts lined up here for – presumably – the first half of 2023.
The litigation against Gilead (GILD), involving years-long multi-billion sales related to multi-billion sofosbuvir sales by Gilead in different combinations and commercial packages, is a nice add-on which the market continues to ignore. In my previous coverage, I had calculated how a reasonable 6% royalty could lead to a total of $920 million in overdue license fees / damages, and infringement by Gilead still ongoing.
After a first but unreported win before the European Patent Office, NuCana had reported a second win in Germany on infringement in July 2022. A judgment on damages had not yet been rendered. Gilead appealed against that judgment. On January 18, 2023, the UK case will be heard. Gilead filed for patent annulment, and NuCana had filed for a cease-and-desist injunction and damages pertaining to years-long infringements by Gilead in the UK. On March 27, 2023, the appeal case before the EPO on Gilead's invalidity claim should be heard – if the EPO does not postpone this to a later date. No damages are involved there, but an EPO appeal judgment should be final and should have value of precedent for national courts – and may create room for settlement. Gilead had lost both the EPO and German cases in first instance. The timing of both the UK and EPO trials may raise the chances for parties to reach a settlement or for courts to reach their verdicts.
The current coverage is a follow-up to my previous one, and focuses on latest developments with respect to NuCana's drug candidates on the one hand, and the Gilead litigation with important trial dates coming up on the other hand.
The Company
NuCana is an Edinburgh-based biotech company founded on the work of the late Prof. McGuigan, the inventor of ProTide technology. ProTides essentially improve the way the active element of a drug is delivered to the interior of a cell, improving efficacy and reducing toxicity and metabolites. ProTides have led to several blockbuster drugs, including Gilead's sofosbuvir, which is responsible for $68 billion in global sales so far.
The company's pipeline is below, showing three trials with NUC-3373, and one study with NUC-7738. NUC-3373 has two trials focusing on colorectal cancer, and the third one focuses on solid tumors in one arm and lung cancer in the other. The trial with NUC-7738 is in solid tumors, and early results show good results in melanoma. Three out of four of NuCana's studies have two arms, and the study-naming (302, 323, 303 and 701) makes things a bit complicated. Studies 302, 323 and 701 have progressed to Phase 2. Study 303 is in Phase 1.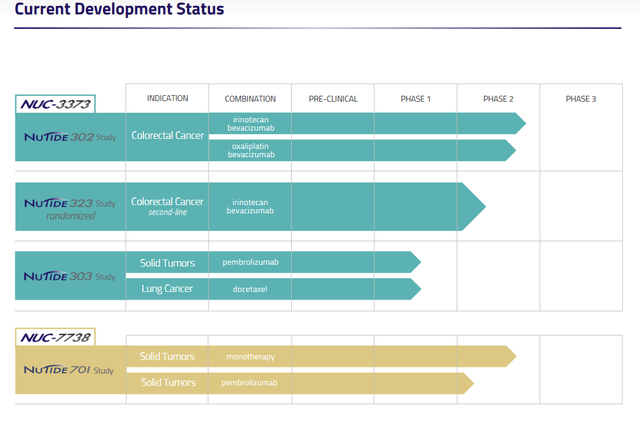 This is NuCana's 5-year stock chart.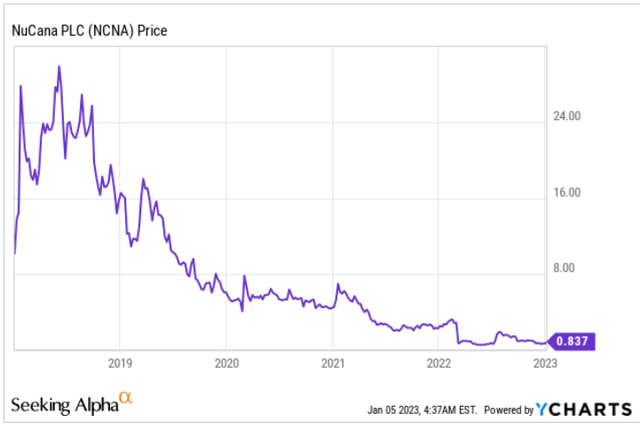 NUC-3373, a potentially safer and improved version of standard of care 5-FU
NUC-3373 for colorectal cancer
NUC-3373 is the ProTide version of 5-FU, which is a chemotherapy drug that is the standard of care for 16 out of the 25 most common cancers, being used to treat about 500,000 patients per year in North-America alone. It is also the cornerstone of treatment of colorectal cancer, where it has a 10-15% overall response rate in colorectal cancer.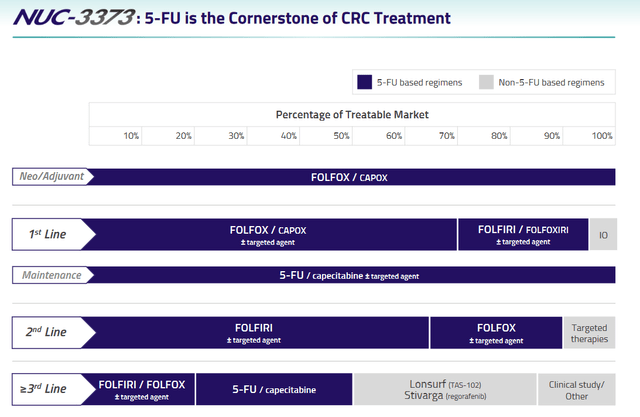 With 155,000 new US cases diagnosed annually making it the third most common cancer, colorectal cancer is a major cancer indication. It is expected to increase by 60% by 2040, and has a 5-year survival rate of 14% for patients with stage 4 cancer.
My previous coverage offered an in-depth discussion of NUC-3373. This compound is proving to be more efficacious than standard of care 5-FU, with a longer half-life, fewer potentially toxic metabolites and ultimately fewer side effects.
NUC-3373 is being tested for the treatment of colorectal cancer both in an open-label and in a randomized setting. The 302 study has an open-label setting, and the 323 study has a randomized setting. Both are Phase 2 trials. NUC-3373 is being tested in combination with irinotecan and bevacizumab in both the open-label and randomized settings, and in combination with oxaliplatin and bevacizumab in an open-label setting.
NUC-3373 is also being tested in an open-label setting for solid tumors and lung cancer, this time in combination with pembrolizumab and docetaxel, respectively.
On September 12, 2022, NuCana released favorable data coming from the 302 study, which is the open label study in heavily-pretreated colorectal cancer patients. The study combines NUC-3373 with oxaliplatin and irinotecan. Each arm of this study has 23 patients, who have exhausted all other therapeutic options, and have received 3 or 4 prior chemotherapy regimens.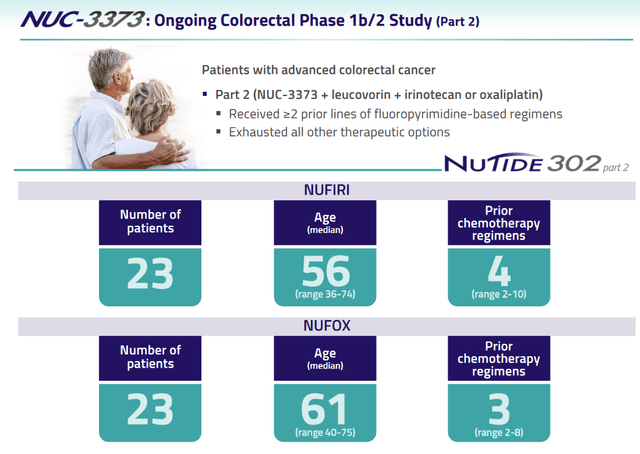 These patients have had multiple lines of therapy that included oxaliplatin and irinotecan with 5-FU, so that makes the comparison all the more interesting. Just treating them with 5-FU and these other drugs again would probably not have helped much, so it's interesting to see how the 'improved' 5-FU version can still do any good. From that perspective, results are very interesting.
Both arms had favorable safety profiles, with low rates of toxicities.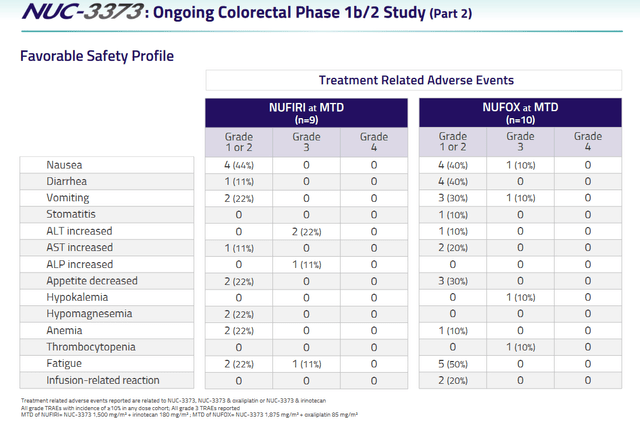 Of the 46 patients in both arms, twelve achieved progression-free survival (PFS) of greater than three months, and three patients achieved PFS of six months or longer. The twelve patients with PFS of more than 3 months were distributed evenly among both cohorts. The disease control rate in the first arm was 80% and 55% for the second arm – which is high in light of approval of Stivarga on a DCR of 44.8%.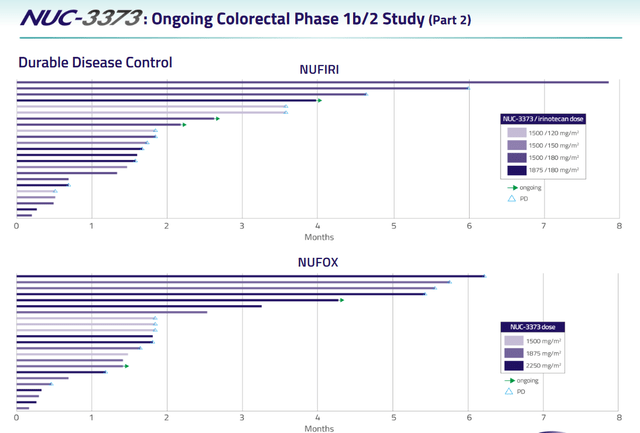 Both the high disease control rate and extended periods of progression-free survival, certainly in those who had previously been treated with the original 5-FU combination therapy, shows promise for NUC-3373 in combination with those drugs as a replacement therapy. It just does a better job with less safety issues.
These data may not look impressive at first, but colorectal cancer is notoriously hard to treat, and progression-free survival is low. In 2012, the FDA approved Stivarga based on a median PFS of 1.9 outperforming placebo only by 2 months, and disease control rate of 44.8% versus 15.3% for placebo. In 2015, the FDA approved Lonsurf based on an average PFS of 2 months versus 1.7 months for placebo. With this data, NUC-3373 performs well in that framework, and may eventually – when further data are reported in 2023 – end up in the range of 5 to 7 months of PFS.
For colorectal cancer alone, with 1,900,000 new cases annually, a 15,000 USD cost per patient and 10% worldwide market penetration would lead to $2.8 billion annual turnover. At a price of $45,000, which was mentioned by an analyst, that would be $8.5 billion.
On that basis, it made sense to move to a randomized trial with a higher number of patients. NuCana has recently initiated this trial in 171 second-line patients with advanced colorectal cancer in September 2022, as reported on September 12, 2022.
The market may not have given this much attention, possibly because it was almost hidden and mentioned as a secondary element in a press release on data published at the ESMO conference.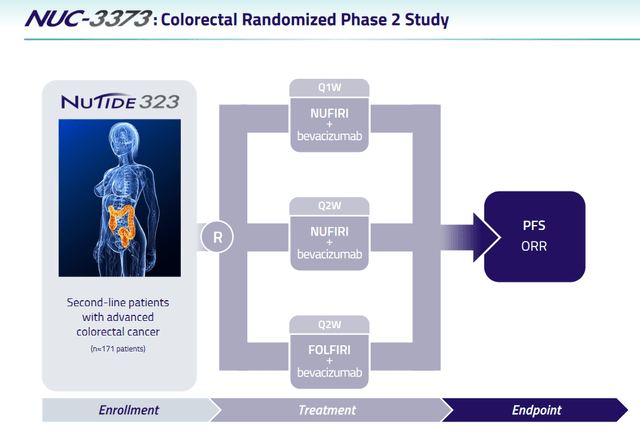 NUC-3373 for solid tumors
NuCana has also initiated a study investigating NUC-3373 in combination with either pembrolizumab or docetaxel in patients with various solid tumors or in combination in patients with non-small cell lung cancer, respectively. There has been no update on this trial over the past months.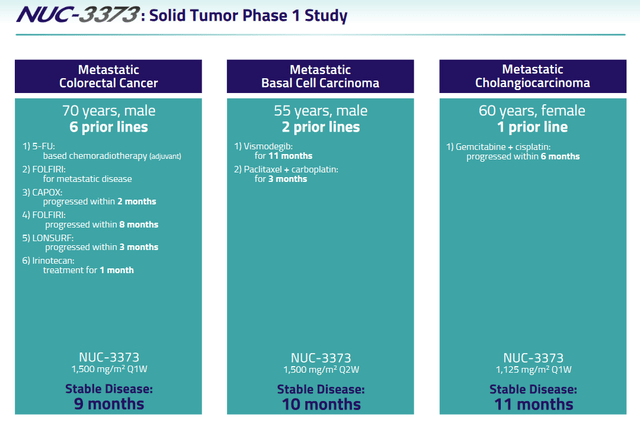 News here should be presented in the current quarter.
Preclinical data presented on October 26, 2022 showed anti-tumor efficacy in non-small-cell lung cancer which Oppenheimer analyst Leland Gershell called 'second to none', and good potential immunotherapy synergy.
NUC-7738, a potentially safer and improved version of cordycepin
NUC-7738 is the ProTide version of 3'-deoxyadenosine, a molecule derived from a Chinese plant which showed potent anti-cancer activity. 3'-deoxyadenosine has shown promising non-clinical anti-cancer activity, but failed in the clinic due to its rapid breakdown, and so it does not have a standard of care counterpart. NUC-7738 is being tested in a Phase 1/2 study in 38 patients both in a mono- and combination therapy setting with pembrolizumab in solid tumors. This is the structure of that trial.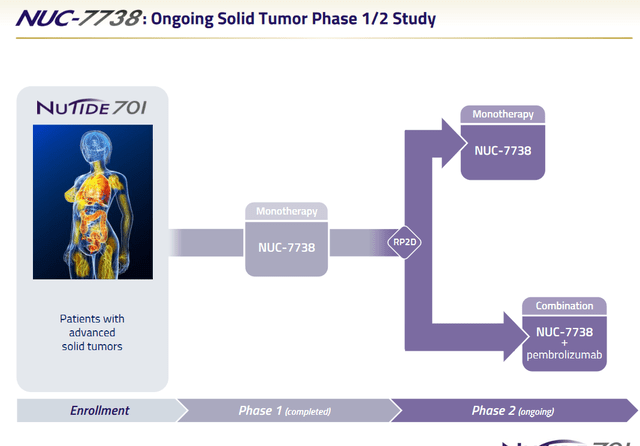 Compared to my previous coverage, this study has now moved to the Phase 2 part of its Phase 1/2 trials.
On September 12, 2022, NuCana reported that in the Phase 1 part of the trial, enrolling patients who have exhausted all standard therapies, safety was consistent with what had been seen with NUC-3373, and efficacy was seen in a variety of solid tumors. Numerous patients stayed on treatment for extended periods, as is shown below. Most of the patients with longest treatment duration – up to 18 months – are shown in the upper part.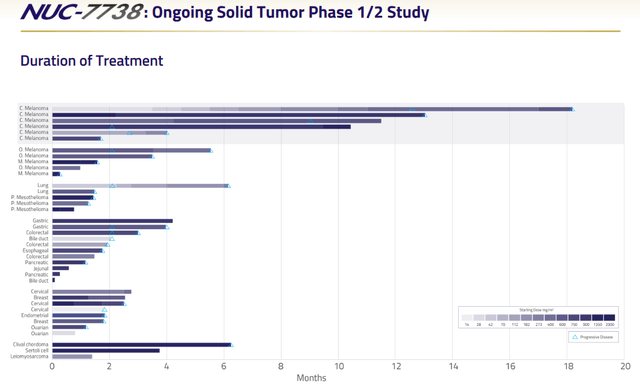 Some of these patients are highlighted below.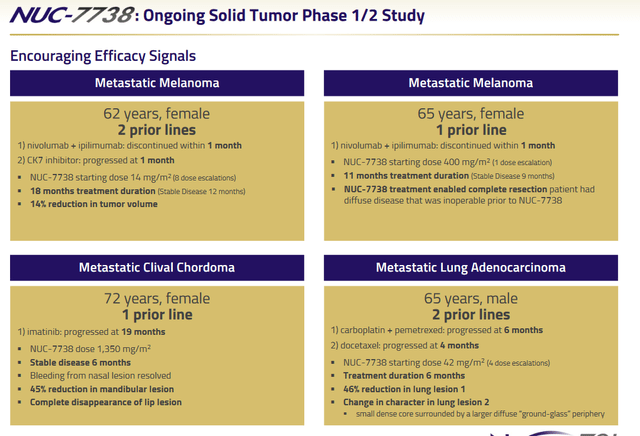 NuCana also reported that one patient with melanoma became eligible for complete surgical resection following eleven months of treatment with NUC-7738. The latter has given NuCana the incentive to enrich the Phase 2 part of the study for patients with melanoma. Given the focus on melanoma in the press release, I am going to assume we will be hearing more from this cancer in 2023.
Upcoming catalysts
This is an overview of key expected milestone readouts in 2023.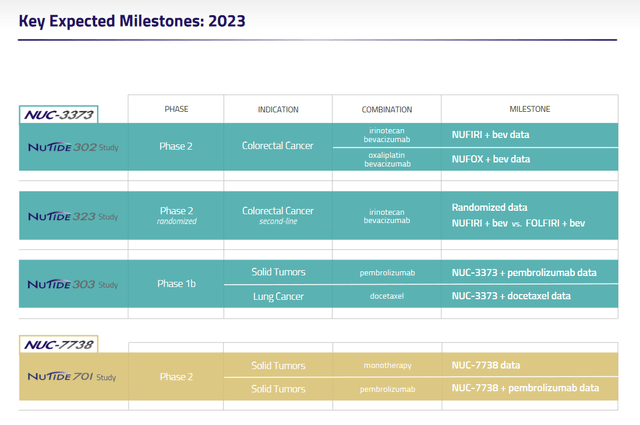 Reserved for the first half of 2023, as announced during the last quarterly report, should be:
- the announcement of data from the Phase 1b/2 study of combination regimens with NUC-3373 in patients with colorectal cancer;
- the announcement of data from the Phase 1b/2 study of combination regimens with NUC-3373 in patients with various solid tumors or non-small cell lung cancer;
- the announcement of data from both the Phase 1 and the Phase 2 parts of the study with NUC-3373 either alone or in combination with other chemotherapy drugs in solid tumors.
Update on patent litigation
Upcoming trial cases – January and March 2023
NuCana really is not your average biotech. With 893 granted patents and 337 pending applications, it is an IP behemoth and the Gilead litigation is there to prove it, yet its $56 million market cap is nowhere near reflecting that. The relevant patent EP 2 955 190 B1 is for an invention relating to nucleotide derivatives, and has a priority date dating back to 2003, even though it was granted in 2018. The 2003 date is relevant for potential infringements and damages, though in some EU countries it is 2017 as the translation date.
NuCana claims Gilead's products Sovaldi, Harvoni, Vosevi and Epclusa – blockbusters - containing active ingredient sofosbuvir infringe NuCana's patent. On the side of Gilead, worldwide sales of the relevant drugs amounted to $67 billion. One should only regard European sales, which should be about $13 billion, and as of the 2018 patent grant date, William Blair analyst Matt Phipps mentioned $2.5 billion in EU sales. Infringement by Gilead is still ongoing, and currently amount to approximately $450 million per year for the EU until patent life expires in 6 years.
There is no fully unified patent law in Europe, only a unified procedure that leads to national patents. Damage claims cannot be not dealt with before the EPO, but have to be filed before national courts. Choosing the bigger countries is the best way forward here, and NuCana has done so by choosing Germany and counterclaiming in the UK.
In April 2021, in a nuanced judgment, the EPO largely upheld NuCana's patent in opposition proceedings that Gilead had initiated there. Gilead has appealed the EPO decision, and the appeal case has been moving forward at a rather rapid pace. The initial date for the trial set by the EPO was some time in December 2023. NuCana had asked for that date to be moved forward, and the EPO granted an earlier data, namely March 27, 2023. Gilead then replied that its lead counsel wouldn't be able to attend that hearing, and asked for another trial date. Parties are still awaiting the EPO's stance in that regard. The technical board of the EPO has also issued a sophisticated non-binding opinion that seems to align with the first judgment.
On July 11, 2022, NuCana had announced that the Düsseldorf court had upheld its patent and ruled that Gilead's Sofosbuvir infringed NuCana's '190 Patent, through Gilead's sales of Sovaldi®, Harvoni®, Vosevi® and Epclusa® in Germany, and had issued an injunction to cease commercialization against Gilead. There was no ruling on damages at that time. Interestingly, the judge had rejected Gilead's argument that such an injunction would bring Gilead and patients substantial hardship, considering that Gilead itself had not made sufficient efforts to try to obtain a license from NuCana. Apparently, Gilead had been trying to reach an agreement on a license fee with NuCana only since August 2021. Apparently, license fee negotiations between Gilead and NuCana have failed – I assume because Gilead's offer was not found to be appropriate by NuCana. Gilead has appealed the German judgment, making the injunction contained in it non enforceable – if I understand correctly. I could not retrieve at what stage the appeal proceedings are.
On January 18, 2023, the UK case will be heard. Gilead filed the initial suit here, and its main line of argument is that the patent does not constitute a novel invention, is not sufficiently clear, and does not concern the treatment of other diseases than cancer – though cancer treatment is only mentioned in one of the patent's subclaims. NuCana claims Gilead had been knowingly counterfeiting – infringing its filed patent application and later granted patent – for years at this point. NuCana filed a claim for damages relevant for the UK only, but also filed a claim asked the court for an injunction blocking Gilead from selling its drugs containing sofosbuvir. If the court would grant that claim in an enforceable judgment, possibly with penalty payments due in case of infringement, then Gilead could have a problem. The UK is a big territory, allegedly counterfeit sales by Gilead in the UK since 2003 must have been meaningful, and I assume NuCana's damage claim will also be.
Then on March 27, 2023, the appeal case before the EPO could be heard – if the EPO does not postpone it.
The date of the German appeal hearing is probably set already, but I have no knowledge of it at this time. From what I read, at least on one crucial issue that was in debate between the parties, the Düsseldorf ruling was in line with case of the Düsseldorf court and Court of Appeal.
The case could get settled at any time. Hearing and judgment dates some months later are interesting moments in that regard. Obviously the two earlier losses, including the one before the EPO, do not play in Gilead's favor in the UK. I think the EPO appeal judgment may be pivotal to possible negotiations here, as national courts may look at it as a precedent.
On possible damages
Though this is guesswork as actual damage calculations are unknown, I had calculated potential damages for entire EU sales by Gilead around $920 million. I had come to this taking into account a 6% license fee. This number is for the past; as sales are ongoing at about $450 million per year, another $25 million could be due per year in my estimation until patent life expiry in 6 years.
Even if the settlement amount or court award is much smaller, it may still have a substantial impact for NuCana. Given the small market cap of NuCana, trading at cash level, the potential value for investors here is huge.
Financials
With a rather small yearly cash burn, NuCana states that it remains well capitalized into 2025. NuCana had £50.8 million in cash at the end of Q3 2022. Its net loss was £4.5 million. Its yearly cash burn went up slightly compared to 2021, and is about £30 million per year. I believe it is fair to say that at least until mid-2024, NuCana could continue operations at this rate.
Risks
NuCana's assets have moved up a bit since my last coverage, but still regulatory uncertainty and competition are serious concerns in a heavily competitive environment. The FDA could impose a clinical hold, or the competition may come up with better solutions for the cancer indications in trials. Chemotherapy may not be the preferred treatment of choice any more by the time these drugs may enter the market. The company may discontinue part of its pipeline, may not be able to raise further cash, or in the case of the Gilead litigation, may eventually lose. Those are serious risks that lead me to diversify my portfolio, when holding this stock long-term.
The company also just received a notice of non-compliance with Nasdaq listing requirements, needing the company's share price to trade above $1 for at least ten consecutive business days. There is a 180-day grace period, and at the time of writing, the company has been trading above $1 for two consecutive days again. I would say at this time, this is not a grave cause of concern.
Conclusion
I see NuCana as a Strong Buy, both for its novel chemotherapy candidates which are safe and seem to be more efficacious than the drugs they are based on, and for its litigation against Gilead.
Both of its current assets keep on bringing good results, and some of the trials have now moved up to Phase 2. The current valuation does not show that progression, nor the results NuCana has presented. I believe the market ignores that chemotherapy is still very much mainstream, and may remain so for years to come.
NuCana is pursuing huge existing markets. For colorectal cancer alone at a price of $10,000, my model sees a potential $2.8 billion annual turnover at peak sales with 10% worldwide market penetration. An analyst mentioned a price of $45,000. And this is just regarding colorectal cancer; often these drugs get approved for several cancers, and this is logical as NUC-3373 is an improvement of 5-FU. NUC-7738 shows most potential in melanoma so far.
The Gilead litigation is gaining intensity in the coming months, with both the UK and appeal trial before the EPO lined up. The commercial value of relevant sales so far by Gilead for Europe is around $13 billion, with ongoing alleged infringement around $450 million per year. My calculations show a potential license fee or damages of $920 million, with infringement ongoing at about $450 million in sofosbuvir sales per year. Even a much lower damage or settlement amount may have substantial impact for NuCana.
The coming months will be interesting. All of the above leads me to reiterate my Strong Buy rating on NuCana.
Editor's Note: This article covers one or more microcap stocks. Please be aware of the risks associated with these stocks.