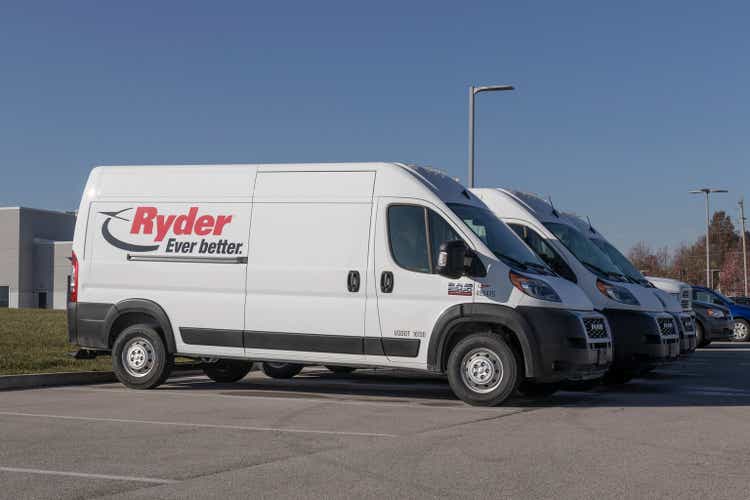 I don't know about you, but I have often taken for granted just how convenient the modern world is. I click a button to order almost anything I want and can have it delivered to my home in a fairly short period of time. This is great and has never been achievable at any point in human history up until the modern era. But one thing that's sad about this is that it can be easy to oversimplify what is truly a vast and complicated network of stakeholders dedicated to taking items from point A to point B as timely and cost-effectively as possible.
One company that plays in this space that investors should definitely be aware of is Ryder System (NYSE:R). This enterprise engages in fleet management solutions for its customers. Examples include full-service leasing and commercial rental Activities. It also provides maintenance for the trucks, tractors, trailers, and more that are used in these activities. It also provides its own dedicated transportation solutions to customers as well as supply chain solutions such as distribution management and last-mile services. Recently, the company has been on a real tear, with share price performance significantly outpacing with the broader market has achieved. This has been driven by robust fundamental data the likes of which continues to the present day. Add on top of this just how cheap shares are, and I believe that it still makes for a solid 'buy' prospect at this time.
A fantastic ride so far
Back in early July of 2021, I performed a comprehensive assessment of Ryder System to see whether or not the company made sense for investors to pull the trigger on. At the time, I found myself laughing about the nice growth history the company had seen prior to the COVID-19 pandemic taking effect. Given that the broader economy was reopening at that moment, I felt as though growth looked set to continue for the foreseeable future. Add on top of this just how cheap shares were, and I felt as though it made for a solid 'buy' prospect, a rating that was reflective of my view that shares should outperform the broader market moving forward. Thus far, the company has done just that. While the S&P 500 is down 10.6%, shares of Ryder System have generated upside of 17.4%.
This robust return disparity has not been a fluke. It has been driven, in fact, by strong financial results reported by management. Take revenue. In 2021, sales totaled $9.66 billion. That's 14.8% higher than the $8.42 billion reported one year earlier. During this time, the company demonstrated growth across the board. But the greatest growth came under its Services operations, with revenue there surging over 20% from $4.32 billion to $5.18 billion. This increase, management said, was driven by both higher volume and higher pricing imposed by the firm. In terms of specific segments though, the real growth came under the Supply Chain Solutions unit, with revenue surging 24% from $2.54 billion to $3.15 billion. This increase, according to management, was driven in part by a 14% increase in the company's fleet that allowed it to achieve higher volumes. Of course, there were other contributors to the company's upside. The Fleet Management Solutions portion of the company saw revenue increase by 10%, while the Dedicated Transportation Solutions segment reported a 19% increase in sales.
The rise in revenue had a profound impact on the company's bottom line. The firm went from a net loss of $122.3 million in 2020 to a net profit of $519 million in 2021. Operating cash flow did stay about the same at roughly $2.18 billion. But if you adjust for changes in working capital, it would have risen from $2.25 billion to $2.49 billion. Over that same window of time, EBITDA for the business also expanded, climbing from $2.26 billion to $2.43 billion.

Strong fundamental performance for the company continued into 2022. For the first nine months of the company's 2022 fiscal year, sales totaled $8.92 billion. That's 26.3% higher than the $7.06 billion reported one year earlier. As can be expected of a company that operates in an asset-intensive space, the improvement in revenue brought with it a sizable improvement in profitability. Net income of $661 million dwarfed the $338 million reported only one year earlier. Other profitability metrics also improved during this time. Operating cash flow, for starters, grew from $1.69 billion to $1.79 billion, while the adjusted figure for this rose from $1.84 billion to $2.13 billion. And finally, EBITDA for the company expanded from $1.80 billion to $2.03 billion.
When it comes to 2022 in its entirety, management was optimistic. Revenue, they said, should be about 23% higher than it was in 2021. Earnings per share should be between $16.40 and $16.60. At the midpoint, this would translate to net income of $829.1 million. The company also forecasted operating cash flow at $2.3 billion. Given the relationship historically between operating cash flow and adjusted operating cash flow, I estimated that the latter of the two will come in at around $2.63 billion for the year. No guidance was given when it came to EBITDA. But if we assume that it will increase at the same rate that operating cash flow has been projected to, then we should anticipate a reading of $2.57 billion.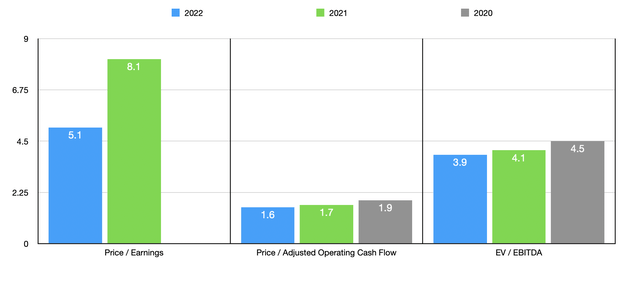 Using these figures, I calculated that the company is trading at a forward price to earnings multiple of 5.1, a forward price to adjusted operating cash flow multiple of 1.6, and a forward EV to EBITDA multiple of 3.9. I also provided calculations using data from 2020 and 2021, both shown in the chart above. When comparing the company to five similar businesses, I decided to use 2021 data for all firms in question. This is because I do think there is some chance of a weakening in economic condition in the near term. And if this does come to pass, then fundamentals should worsen at least a bit from where they have been. Following this line of thinking, I concluded that the five firms that I compared Ryder System to were trading at price-to-earnings multiples of between 7.4 and 26.3. They were also trading at EV to EBITDA multiples of between 3.4 and 11.1. In both cases, only one of the five companies was cheaper than our prospect. Finally, using the brace to operating cash flow approach, the range was between 6.1 and 12.2. In this scenario, our prospect was the cheapest of the group.
| | | | |
| --- | --- | --- | --- |
| Company | Price / Earnings | Price / Operating Cash Flow | EV / EBITDA |
| Ryder System | 8.1 | 1.7 | 4.1 |
| XPO, Inc. (XPO) | 26.3 | 12.2 | 11.1 |
| Schneider National (SNDR) | 11.8 | 8.5 | 5.6 |
| Werner Enterprises (WERN) | 12.4 | 9.7 | 5.7 |
| ArcBest (ARCB) | 15.0 | 9.9 | 7.5 |
| Covenant Logistics (CVLG) | 7.4 | 6.1 | 3.4 |
Takeaway
For investors who bought into Ryder System around the time that I wrote my prior article on the firm, the ride has been wild but fantastic. Share performance has been great, with that performance driven by strong fundamental data. I do acknowledge right now that economic conditions are questionable and that could create some pain down the road. But given how cheap shares are, it's difficult to imagine a scenario where the stock becomes meaningfully overvalued. Because of this favorable risk-to-reward ratio, I have no problem keeping it at the 'buy' rating I had it at previously.