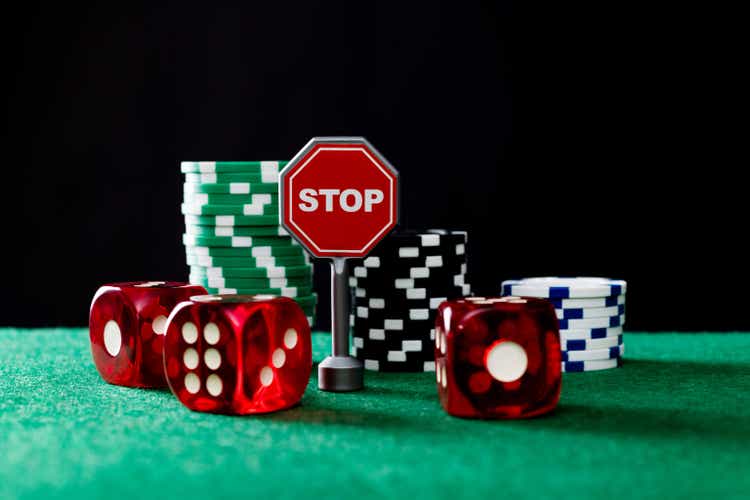 Investment Thesis
Clover Health Investments, Corp. (NASDAQ:CLOV) has been quite a disappointment in 2022, failing to reach the critical profitability milestones necessary to verify its business model. The reasons for its ticker's mediocre performance extend beyond macroeconomic trends that hit growth-oriented companies last year.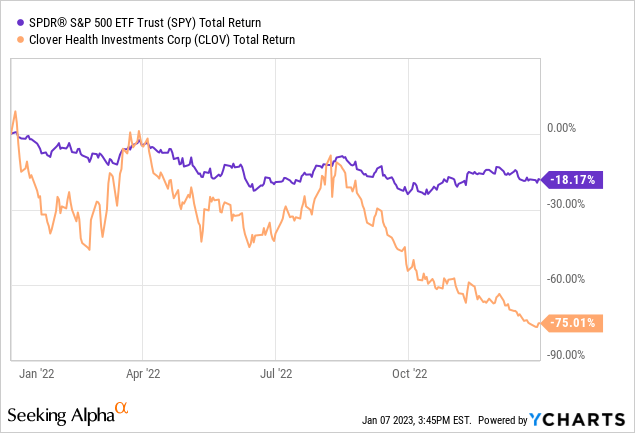 No one is feeling the heat of CLOV's misfortunes more than its Chairman, Vivek Garipalli, who, in addition to being the largest stakeholder, is the defendant in multiple lawsuits for allegedly misrepresenting the capabilities of Clover Assistant "CA," its digital patient record analysis platform. In November, CLOV announced it was terminating its partnerships with as many as two-thirds of its Direct Contracting "DCO" partners after the segment failed to turn a profit.
CLOV's success in replacing these loss-making customers during the October-December enrolment season is critical to keeping revenue stable. The question of how well it performed remains open, and investors will have to wait until late February/early March for management to shed more light on how things went during the season.
Revenue Forecast
I understand that the amount the government pays private insurers for each MA enrollee, known as Capitation, is subject to regulatory risk. However, these capitation changes have remained tolerable, and with the adoption of the Affordable Care Act, they have been buried behind other benchmarks, including risk adjustments taking into account patient health and Star Ratings, incorporating service quality. Revenue visibility remains a hallmark of the Medicare MCO sector, whether for upstarts like CLOV or industry giants like UnitedHealth (UNH) and Humana (HUM).
The window of opportunity for U.S. residents to enroll in Medicare or Medicare Advantage "MA" each year is rather narrow, which has the effect of reducing quarter-over-quarter revenue fluctuations. The "annual Enrollment Period" (also known as "AEP") runs every year from October 15 to December 7 and lasts for a total of 53 days. MCOs cannot drop enrollees in the middle of the year. Instead, opting out of particular counties is done before AEP by notifying the CMS of the organization's intention not to submit a bid for the following year. Although patients can transfer between different plans, this has yet to create meaningful revenue fluctuations, perhaps due to switching costs, manifested in the time and effort needed to compare other MA plans. Finally, the Capitated payments, including risk factors and quality bonuses, are determined annually, contributing to revenue stability.
This makes it easier to predict CLOV's Q4 and FY 2022 revenue, which, based on the factors above, is estimated to be around $850 million and $3.4 billion, respectively.
Predicting CLOV's 2023 sales is trickier. Unlike with MA, DCO enrolment is automatic and doesn't require the patient to sign up. Instead, the CMS assigns Original Medicare registrants to MCOs and sends out a notification letter after the fact. By casting a wide net of provider partnerships, CLOV was able to boost its DCO members and revenue rapidly. So far, we know that management plans to axe up to two-thirds of current DCO accounts. What we need to know is how many new ones it will board. The company will give further insight on the 2023 enrollment season during the Q4 earnings call in February/March. The forecasts above assume a net 50% decline in DCO accounts.
Growth in its core MA business has been historically more modest. Last year, CLOV expanded aggressively in new counties but could only secure about 17,000 new MA members. During Q3, management stated that it plans to focus on the existing market instead of bidding in new geographical areas. Thus, we should see some moderation in MA's new member additions.
If CLOV recruits new members at the same rate as the prior two years, 12,000 MA members will join in 2023. A back-of-the-envelope calculation shows that roughly this would translate to about a 14% increase in revenue in 2023. Based on these estimates, CLOV revenue will decline by 30% in 2023.
Profitability
In recent quarters, CLOV made significant progress in managing medical costs for its MA insurance business, but not so much in its DCO segment. Gross profit for the nine months ended September 2022 was positive for the first time in the company's short history, amounting to $17 million ($69 million gross profit from the insurance segment weighed down by $57 million gross loss in the DCO segment)
I was surprised by management's decision to give up on the DCO accounts it accumulated in the past eighteen months. In the past earnings calls, management preached patience, stating that the longer a patient stays on the CA platform, the lower their MCR and the higher their profitability. Now that we are nearly at the finish line, it is odd that management decided to axe the number of enrollees.
In establishing Q4, FY 2022, and FY 2023 profitability estimates, we assume that management achieves its goals in bringing DCO to break even on a gross margin level in 2023 while the insurance segment maintains its current levels of MCR of around 91%. Applying these figures to our revenue estimates above, we find that costs remain excessively above the gross margin levels in FY 2022 and FY 2023. Thus, it is unlikely that CLOV will create value even if it hits its break-even targets in the DCO segment.
Summary
I never put much stock in management's claims regarding Clover Assistant's capabilities, but I was wrong to speculate on its ability to leverage its revenue into profitability. For me, management's decision to axe its DCO division, which generates around two-thirds of total sales, was the straw that broke the camel's back, coming as a surprise after months of management preaching patience, citing the correlation between profitability and enrollee lifetime on its plan.
Even if Clover Health Investments, Corp. management succeeds in bringing the DCO sector to break-even levels after its restructuring, it is still far away from covering operating costs. For the foreseeable future, I believe Clover Health Investments, Corp. will continue to lose value.