Educational Development Corp.: Odious Quarterly Results Necessitate A Rethink Of Downside Risk
Summary
FQ3 results were indisputably terrible, in what historically has been the company's best quarter of the year.
Any hope of a reinstatement of EDUC's quarterly dividend in the near-term has likely been dashed.
Questions about whether investors are getting the complete picture from the company's management in a critical KPI disclosure continue.
New disclosures in EDUC's 10-Q filing reveal the extent to which the Publishing segment has been damaged.
If the company remains a going concern, EDUC's equity is fairly valued at $1.00 per share in our opinion.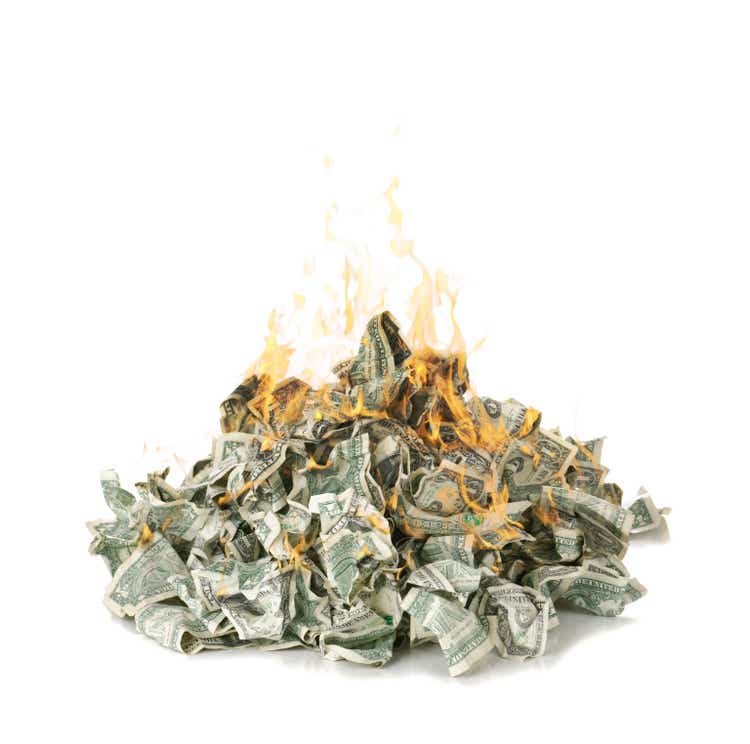 It is likely that many of our followers know that Multi-Level Marketing ("MLM") company Educational Development Corporation (NASDAQ:EDUC) is one of our most carefully and thoroughly researched stocks. The volume of our research analyses and follow-on comments published on Seeking Alpha over many years is extensive. While the degree to which we have profited from our insights into EDUC's business is quite limited, we derive satisfaction from knowing that we have helped our followers save and make a considerable amount of money buying, selling and/or shorting EDUC stock over the years through our timely and unimpeachable analysis.
After EDUC's latest quarterly earnings report published last week, we feel it is critically important to disclose that our opinion of EDUC's fundamental trajectory has shifted once again. We strongly recommend that investors who own EDUC stock consider selling their shares at prices above $1.00, as we believe that the company's latest disclosures reveal even more dramatic problems with its business than we had thought. While we are no longer convinced that there is a large risk of EDUC going out of business in the near-term, we do believe that its earnings power is nowhere near where it once was. While some readers have accused us of vacillating on our opinion of the stock, we believe that it is important as an investor not to be pusillanimous and to be open to changing one's opinion when presented with new facts.
Summary of Monocle Accounting Research's Opinions
Before diving in to EDUC's latest earnings report, we feel that it is important to summarize our latest salvo of public comments and articles over the past eighteen months:
On July 7, 2021, in response to a bullish article by another Seeking Alpha author, we commented that "What will most likely occur with EDUC stock in the coming months is a massive and punishing decline, based on a reduction of active UBAM sales consultants and negative top-line growth."
On December 6, 2021, Seeking Alpha published our article entitled Educational Development Corporation: Rapid Consultant Losses Don't Augur Well wherein we stated that "EDUC's stock price decline throughout 2021 should continue, as investor disappointment over negative growth trends will persist."
On February 2, 2022, Seeking Alpha published our article entitled Educational Development Corp. And Bloated Inventories: Tulsa, We Have A Problem wherein we warned investors about EDUC's inventory and other issues, and concluded that "EDUC stock [would] continue to fall meaningfully, as revenues and profits shrink in the quarters ahead".
On July 14, 2022, Seeking Alpha published our article entitled Educational Development Corp.: New Agreement With Usborne Could Be The Death Knell wherein we questioned the near-term viability of the company due to concerning developments in EDUC's relationship with its primary supplier, Usborne Publishing.
On November 3, 2022, in a postscript to our Death Knell article, we disclosed how we had changed our opinion on both the viability of EDUC's business as the near-term future of EDUC stock, as there was evidence that EDUC's consultant count had stopped its nauseating decline.
And finally, on December 6, 2022, we followed up on our previous comment by stating that we no longer thought EDUC's stock price reflected good value and opining that the company was fairly valued at $2.50 to $2.75 per share.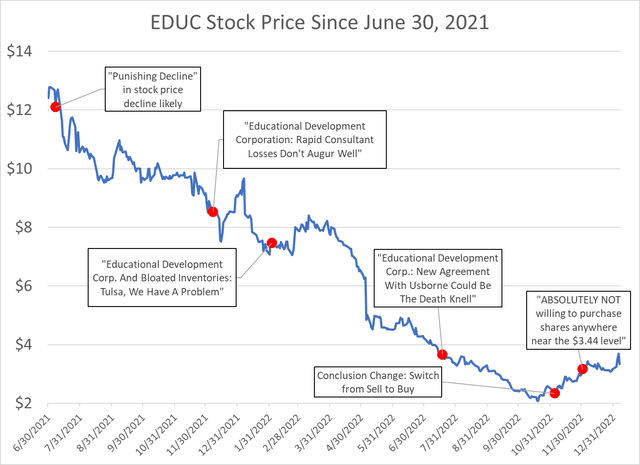 Our intent in enumerating our past opinions about EDUC's business and stock is not to gloat about the veracity of our information or the accuracy of our predictions, but to provide readers who are unfamiliar with our work with some context as we detail in the coming paragraphs our latest analysis and prediction.
Third Quarter Earnings Report
On Thursday, January 5, EDUC released its earnings report for the company's fiscal third quarter, ending November 30, 2022, and the numbers, in our opinion, were horrendous.
Every year going back to the mid-1990's at least, EDUC's fiscal third quarter has been the company's strongest revenue quarter of the year. This makes sense considering the school year starts in September and considering EDUC's end customers buy a lot of books in the months leading up to Christmas. Over the last decade for example, EDUC's fiscal third quarter has averaged more than a third of the company's full-year revenue, and more than half of its full-year operating earnings.
This year, EDUC's third quarter net revenue fell 33% year-over-year and its operating income fell an astonishing 94%. In fact, the company's miniscule operating income of $213,000 was 75% lower than the company's worst third quarter showing in the last twenty years!
And things are likely only going to get worse in the near term. Over the last decade, EDUC's fourth fiscal quarter ending February has seen net revenue 36% lower, on average, than the third quarter. Therefore, without knowing anything further, investors know that the upcoming earnings report is likely to be breathtakingly bad.
But things are likely much worse than normal. Much, much worse…
Publishing Segment
Even though the company did not disclose this within its earnings report on Thursday or during its earnings conference call held later in the day, it did reveal something quite unexpected in its financial statements the following day which should be jarring for holders of EDUC stock.
In its 10-Q filing, EDUC disclosed that "Usborne's products sold within the Publishing Division accounted for 85.6% and 89.2% of all products sold during the three and nine months ended November 30, 2022, respectively". While this sentence is not very well written, we take this to mean that 85.6% of the Publishing segment's Q3 net revenues were related to Usborne products. This is critically important, as EDUC will no longer be entitled to sell Usborne products through its Publishing division effective February 1.
EDUC's disclosure means that over the last three quarters, EDUC averaged a mere $600,000 in revenue per quarter of Kane Miller products in its Publishing segment.
In our July 2022 article, we said that "EDUC's Publishing segment's operating income has typically been a very significant contributor to the company's overall earnings. EDUC will still get to sell products from its Kane Miller subsidiary as well as other vendors, so it's not like the Publishing segment is disappearing; however, we believe it is fair to conclude that this segment's annual operating income figures will be quite a bit lower than what they have been historically." Well, now that EDUC has disclosed that almost all of its Publishing revenues come from the Usborne product line that it will no longer be able to sell, we believe that EDUC's Publishing segment is effectively going to be disappearing.
Goodbye to Any Thought of a Dividend Reinstatement
On November 3, 2022, we stated that we believed "EDUC should now be back in a position of experiencing positive free cash flow, and is likely both to reinitiate quarterly dividends (our guess: $0.05 per share per quarter initially) and to restart share repurchases in the very near future." This statement was based on our assessment of EDUC's financial condition at the time, and was generally consistent with EDUC's CEO Craig White's own public statement on May 12, 2022 when he said a dividend reinstatement is "likely to be third quarter. So we've missed the second quarter and be back in the third quarter."
It is now clear to us that this likely will not be the case.
In its latest 10-Q filing, EDUC disclosed that on December 22, 2022, several sections of its Credit Agreement with the Bank of Oklahoma were amended just four months after executing its credit agreement with the bank. First, subsection (a) of Section 6.08 Restricted Payments; Certain Payments of Indebtedness was revised as follows: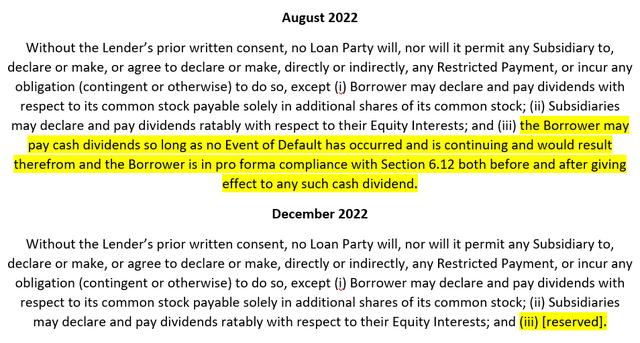 A reader unfamiliar with how legal agreements are constructed and revised might think that the highlighted subsection has been amended and redacted, but in fact what the "[reserved]" notation means is that the text in subsection (iii) has been removed in its entirety but the subsection itself has been maintained. This is done so that other sections within the agreement that refer to this subsection do not need to be revised.
In other words, EDUC's lender appears to be worried enough about the company's financial state that it has eliminated the ability of EDUC to pay cash dividends.
If one has any doubt about the Bank of Oklahoma's level of concern, consider also that a new Section 5.01 (1) was just added to the agreement that requires EDUC to furnish to the bank "within 30 days after the end of each calendar month (commencing with the month ending December 31, 2022), [EDUC's] consolidated and, if applicable, consolidating balance sheet and related statements of operations, all certified by a Responsible Officer of [EDUC] as presenting fairly in all material respects the financial condition and results of operations of [EDUC] and its consolidated Subsidiaries on a consolidated basis in accordance with GAAP consistently applied, and otherwise in a form and in detail reasonably satisfactory to [the bank]."
Consultant Count
In past articles, we have discussed ad nauseam why we believe investors are overestimating EDUC's UBAM (n/k/a PaperPie) active consultant count from the numbers EDUC discloses to investors. Our concerns continue. For instance, last week, we downloaded the names of over 1,000 PaperPie consultants from the company's publicly-available website, and based on our proprietary surname analysis (discussed extensively in our previous articles), it appears to us to there are only ~16,500 – 17,000 active consultants at the present time. This is a lower number than we were coming up with just one month ago, and a dramatically lower number than EDUC's disclosure that it averaged 27,100 active consultants in the third quarter.
Quite frankly, we do not believe investors are getting an accurate view from EDUC's disclosures of this KPI.
One datum that supports our concern that investors are not getting the full view from EDUC's management in this regard is the average net revenues per consultant per quarter. This number has steadily fallen over the years, seasonally adjusted. For instance, in EDUC's third fiscal quarter this year, 27,100 consultants were responsible for net revenue of $25.5 million, or $939.21 per sales consultant. This is down 24% from just four years ago.
Valuation and Conclusion
We do not believe eventual bankruptcy is off the table for EDUC. However, we are optimistic by nature and do see a path for EDUC to remain in business for several years at least. In fact, the introduction of toys and games to the company's product line through its recent acquisition of SmartLab Toys should provide some incremental near-term excitement for the company's sales organization. As well, the rebranding of UBAM to PaperPie should, despite the curious name choice, give the company's PaperPie consultants (n/k/a "Brand Partners") something to talk about.
Given the new information that was disclosed last week though, we have come to the conclusion that EDUC's stock is worth significantly less than the current stock price.
We will spare our readers the minutiae of our earnings model, but we can summarize our thoughts as follows. We believe that EDUC will be able to average approximately 18,000 PaperPie Brand Partners over the long-term, and we believe annual sales per brand partner will average approximately $3,000. While in the past we had thought that EDUC would generate a significant amount of revenue from its Publishing segment, we now believe that this segment will be eliminated in the near future. As a result, EDUC's annual revenues should normalize around the $54 million level.
EDUC continues to be wildly overinventoried, and this situation will continue for many quarters to come. This will result in a high level of promotional activity that will depress the company's operating margin like it did in the latest quarter. However, longer-term, we believe it is reasonable to expect an after-tax profit margin of 2.0% - this belief is rooted in a detailed analysis of the company's cost structure. On $54 million in sales, that works out to a normalized net income number of $1.08 million.
Considering both the nature of EDUC's MLM business, the company's highly indebted balance sheet, the dearth of cash dividends, and the lack of transparency from the company's current management team, we believe investors will eventually apply a multiple of 8.0x on EDUC's normalized earnings. This results in a fair value of $1.00 per share. Note that this is considerably below EDUC's book value per share, and we are very comfortable with this – EDUC's book value is only relevant in a liquidation scenario, and if EDUC did get liquidated at some point, it is tangible book value that matters.
Based on our current beliefs then, we would be sellers of EDUC stock at prices above $1.00 per share, and buyers of EDUC stock at prices below $0.50 per share.
Risks To Our Thesis
There exists a number of risks that our thesis is incorrect. For instance:
The introduction of products from SmartLab Toys could result in an increase in sales per PaperPie Brand Partner, an increase in the rate of PaperPie Brand Partner recruitment, or both;
EDUC's credit agreement with Bank of Oklahoma could be amended again to allow for cash dividends; and,
EDUC could cut its operating costs much more than we expect, allowing for its normalized net profit margin to exceed 2.0%.
Editor's Note: This article covers one or more microcap stocks. Please be aware of the risks associated with these stocks.
This article was written by
Equity research; longs and shorts. Accounting focused.
Analyst's Disclosure: I/we have no stock, option or similar derivative position in any of the companies mentioned, and no plans to initiate any such positions within the next 72 hours. I wrote this article myself, and it expresses my own opinions. I am not receiving compensation for it (other than from Seeking Alpha). I have no business relationship with any company whose stock is mentioned in this article.
Seeking Alpha's Disclosure: Past performance is no guarantee of future results. No recommendation or advice is being given as to whether any investment is suitable for a particular investor. Any views or opinions expressed above may not reflect those of Seeking Alpha as a whole. Seeking Alpha is not a licensed securities dealer, broker or US investment adviser or investment bank. Our analysts are third party authors that include both professional investors and individual investors who may not be licensed or certified by any institute or regulatory body.