GE Spins Off HealthCare: What Happens Next
Summary
GE completed its long-awaited healthcare business spin-off last week.
This gets the company closer to its long-term plan to split up into three focused companies across power, health, and aviation.
I assess the outlook for both the independent healthcare company and the remaining GE business.
Looking for a helping hand in the market? Members of Ian's Insider Corner get exclusive ideas and guidance to navigate any climate. Learn More »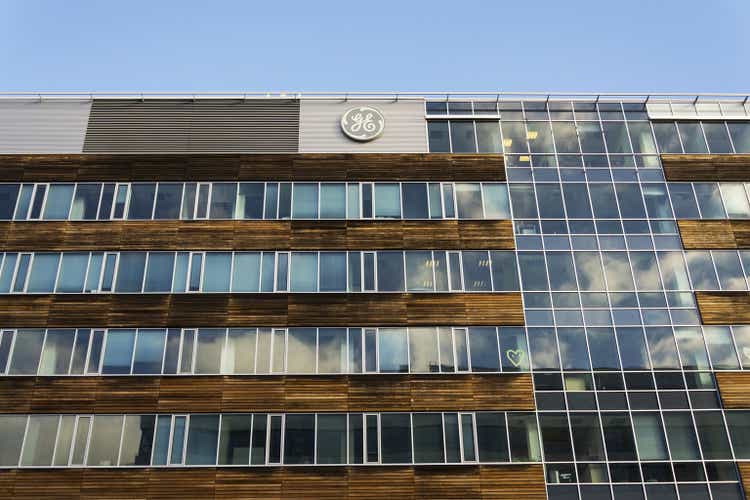 Last week, General Electric (NYSE:GE) completed the long-anticipated spin-off of its healthcare division, GE HealthCare Technologies (NASDAQ:GEHC). This is a concrete step toward CEO Larry Culp's efforts to transform GE from a conglomerate into distinct and more successful individual businesses.
Culp had a highly successful run as the leader of industrial giant Danaher (DHR), frequently buying and selling assets of that company to optimize its capital structure and deliver superior shareholder returns.
GE has been divesting assets for many years. It had already gotten rid of GE Capital, Baker Hughes, and numerous other smaller assets. 2021 brought the sale of the company's large aircraft leasing operations.
And now, with those steps out of the way, GE has continued to the bigger move, separating its remaining core pieces into three standalone companies. With the successful launch of GE HealthCare, the restructuring plan is well on its way to finally being completed.
Investors in GE stock received one share of GE HealthCare for each three shares they held of the parent company. Meaning, that, for example, an owner of 300 GE shares would now own 100 shares of the separate GE HealthCare in addition to retaining their ownership stake in the main GE company. So, what are investors getting with the new GE HealthCare firm?
GE HealthCare Spin-Off Pros
There are a couple of clear benefits to having GE HealthCare as a standalone company.
One is that the business should be worth more on its own. The market no longer rewards conglomerates unless it has absolute trust in the management team. Even Berkshire Hathaway (BRK.A) (BRK.B) arguably trades at a discount to the sum of its parts as many investors have questions or concerns about some pieces of Berkshire's wide-ranging empire. And GE's management team, to put it kindly, does not at this time deserve the same benefit of the doubt as Berkshire Hathaway.
So, in theory, there should be significantly higher valuations for GE's three core lines of business as individual companies. Aviation, power, and healthcare are very different operations, and there are not many meaningful scale benefits from having product lines across those three fields. Meanwhile, specialist investors and analysts in each individual field can now put the new GE companies within their coverage universe, whereas before, the company was too unwieldly for specialist investors to get comfortable with.
This separation also should give GE HealthCare more flexibility to pursue its own strategic agenda. Peter Arduini, CEO of the new company, in an interview with Yahoo Finance said that:
"(The spinoff has) enabled us to kind of simplify how we run the company and ultimately, it's about capital allocation over the long run."
Arduini further explained that GE HealthCare has grown its annual R&D budget from around $700 million to more than $1 billion annually as it has prepared to go independent. Arduini says that much of this has gone into building out the firm's digital capabilities and improving its imaging technologies, which could allow GE HealthCare to go on the offensive and take market share again instead of merely trying to hold the line within a far larger corporate structure.
GE HealthCare Spin-Off Cons
It's not all great news for this spin-off, however. There are several risks which could trip up shareholders, or, at minimum, put a lid on returns in the intermediate term.
For one thing, there's been a number of recently-completed or planned healthcare spin-offs. These haven't all been immediately successful. In fact, according to this Wall Street Journal report, citing Morgan Stanley research, recent health care spins have underperformed:
"Of the five most recent spinoffs in Morgan Stanley's list—SeaSpine Holdings, Varex Imaging, Alcon, Siemens Healthineers and Envista Holdings—only Siemens Healthineers outperformed the S&P 500 two years on from the transaction."
This might suggest that the demand for healthcare spin-offs has been fully met by market participants already. Despite that, more healthcare spins are on the way. In addition to this GE HealthCare deal, there's also Johnson & Johnson's (JNJ) consumer products spinoff and Baxter's (BAX) kidney care division among others in the upcoming pipeline.
A big component of the outperformance of spinoffs, historically, is that they can attract investors drawn to the unique special situation they often entail. However, when a sector produces half a dozen such spinoffs in short order, it reduces the appeal on this front.
More specifically to GE HealthCare in particular, the new company comes with a significant amount of debt. Net debt comes in around $8.4 billion, but once you add in outstanding pension obligations, GE HealthCare's long-term liabilities are closer to $15 billion.
$15 billion is a significant amount of debt and pension liabilities for a company with a market cap around $27 billion. That's especially true as interest rates have increased, meaning that GE HealthCare will likely face higher borrowing costs in the future than it does today.
If nothing else, this large debt load is likely to significantly reduce GE HealthCare's ability to return capital to shareholders for the next few years. That's especially true if the company continues to ramp up R&D spending and take a more aggressive position to growing its business.
In other words, don't expect much in the way of dividends or buybacks from the new company for the next few years until it gets its balance sheet and business prospects stabilized.
Remaining GE Stock: Valuation and Outlook
Now that we've gotten a view of the landscape for GE HealthCare, how do things look for the remaining GE business, namely Aviation and Power?
Just judging from the stock price, it might seem like GE's stock dropped in connection with the recent spin-off. Looking at an unadjusted chart, for example, would show GE stock sliding $12 recently and appearing to be returning to near its 52-week lows: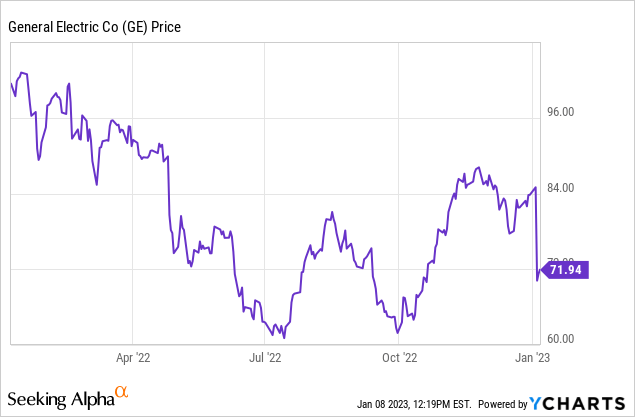 However, simply looking at the historical chart misses the value created by the new entity in the form of the GE Healthcare stock. When adding that value back in, with a chart adjusted for GEHC stock's value on spin-off day, GE stock has actually appreciated significantly: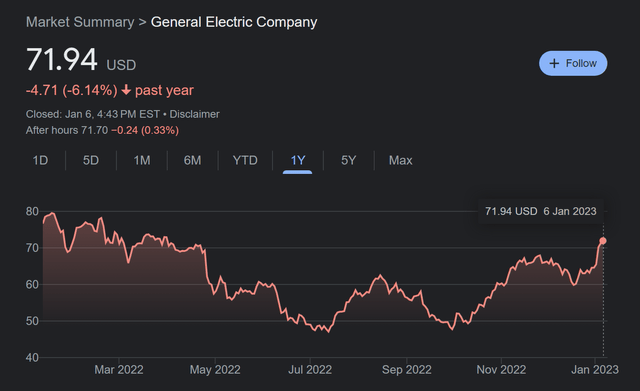 The difference is that this chart retroactively adjusts the value of prior GE stock to include the value of the GE Healthcare shares at the point of the spin-off. When including that, GE stock is actually up around 10% over the past week.
GE Healthcare now has a market cap of approximately $27 billion. GE currently retains about 20% ownership of that post-spin, with the rest being held by shareholders. GE by contrast, holds a market cap of $80 billion now and has a total of 1.1 billion shares of stock outstanding. Given the standalone valuation and the proportion of GEHC stock that GE retains, we might have expected GE stock to drop around $20 billion or $18/share or so on the first day of the spin-off simply to remain equilibrium across the two assets. Instead, it fell considerably less than that.
Morningstar noted the discrepancy in the relative valuations, with analyst Joshua Aguilar cutting his GE stock price target from $122 (including GE Healthcare) to $87 per share post-spinoff. That's a fairly sizable reduction in fair value for the legacy GE shares, though, of course, it's offset by the ownership stake in the new standalone company. Regardless, investors should be aware that GE spun off a sizable portion of its total business portfolio, and thus the value of and future earnings out of its other operations will be significantly reduced.
Going forward, arguably the biggest question mark at this point is probably the power business. The aviation business is well run and has favorable longer-term demand prospects. It shouldn't have a hard time generating a decent valuation as a standalone operation.
Power, on the other hand, faces several headwinds. The uncertainty around demand for new natural gas power, in particular, will likely lead to investor skepticism around assigning a high multiple to this as an independent company. The renewables piece of that operation, while checking more boxes around ESG and long-term demand, is currently struggling financially which brings its own set of skeptics. Despite these factors, if GE Power is able to surprise to the upside on valuation, it would lead to a very favorable outcome for shareholders in GE stock today.
Putting it all together, GE is getting closer to the long-awaited finish line. Within a year or two, there will be a publicly-traded GE focused almost exclusively on aerospace and aviation. This will be a premium business that should attract tons of investor demand. Shareholders also get the GE HealthCare business, which seems reasonably promising albeit facing short-term valuation questions, and GE Power operations.
There's no guarantee that this will all play out as well as Culp has drawn it up, but things are moving forward along the timeline as planned, and we're getting closer to seeing this strategy start to bear fruit.
This article was written by
Ian worked for Kerrisdale, a New York activist hedge fund, for three years, before moving to Latin America to pursue entrepreneurial opportunities there. His Ian's Insider Corner service provides live chat, model portfolios, full access and updates to his "IMF" portfolio, along with a weekly newsletter which expands on these topics.
Analyst's Disclosure: I/we have a beneficial long position in the shares of BRK.B, JNJ either through stock ownership, options, or other derivatives. I wrote this article myself, and it expresses my own opinions. I am not receiving compensation for it (other than from Seeking Alpha). I have no business relationship with any company whose stock is mentioned in this article.
Seeking Alpha's Disclosure: Past performance is no guarantee of future results. No recommendation or advice is being given as to whether any investment is suitable for a particular investor. Any views or opinions expressed above may not reflect those of Seeking Alpha as a whole. Seeking Alpha is not a licensed securities dealer, broker or US investment adviser or investment bank. Our analysts are third party authors that include both professional investors and individual investors who may not be licensed or certified by any institute or regulatory body.