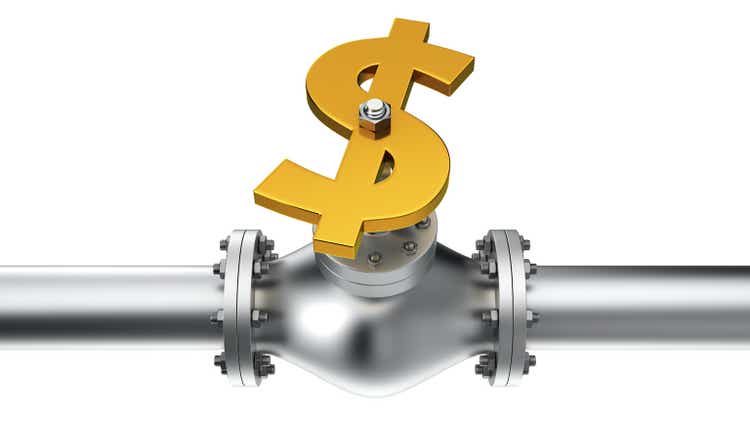 Introduction
As is evident with the huge biotechnology market, a clinical drug pipeline can be worth billions on speculation alone. Even Big Pharma has plenty of value from their large pipelines alone, and this is evident by the wide range of valuations amongst the top companies, despite relatively similar financial performance. By appreciating a healthcare company's clinical pipeline, non-medically savvy investors can gain a new area of focus for figuring out the intricacies of the market. As such, I will rank the top 10 largest pharmaceutical companies by their pipeline, and provide tips and tricks to figuring out where key investment catalysts may lie.
The Top 10 Pharmaceuticals
To find a list of 10 holdings, I used SA to list assets in the pharmaceutical industry by market cap. As such, the 10 companies I will cover are Johnson & Johnson (JNJ), Eli Lilly (LLY), Novo Nordisk (NVO), Pfizer (PFE), Merck (MRK), Roche (OTCQX:RHHBY), AstraZeneca (AZN), Novartis (NVS), Bristol Myers Squibb (BMY), and Sanofi (SNY). Popular company AbbVie (ABBV) and $150 billion market cap Amgen (AMGN) are not included as they are listed under Biotechnology, but will be addressed in a future comparison.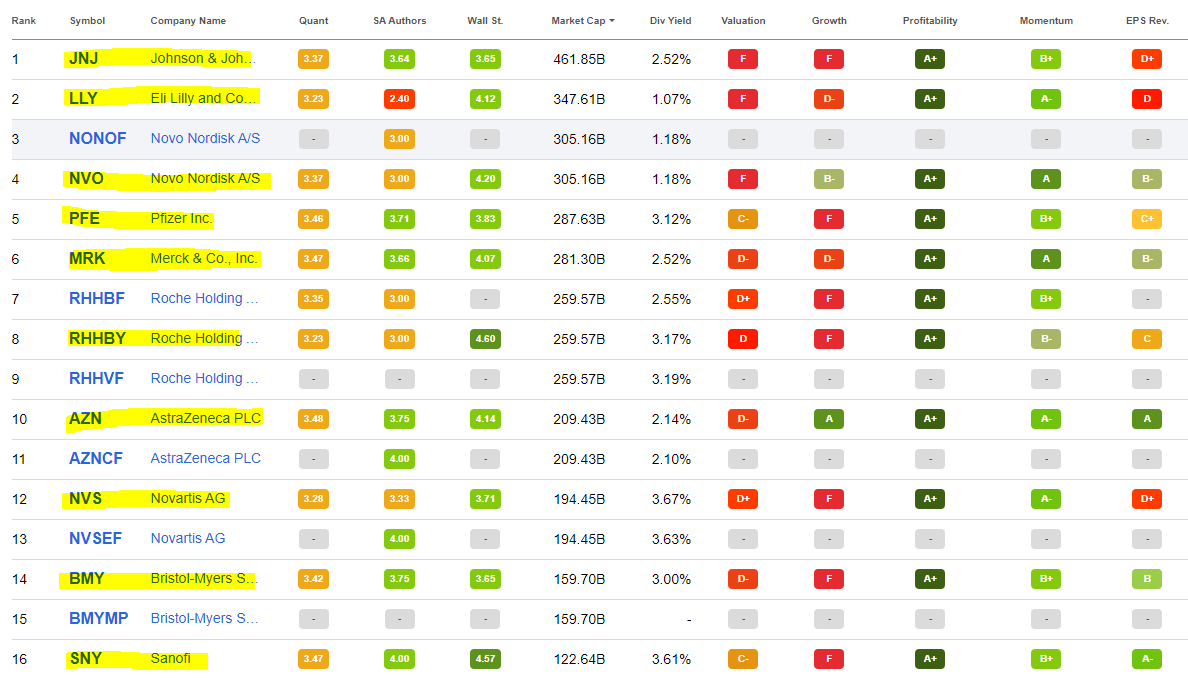 Scoring Matrix
From first glance, the clinical pipelines of the largest pharmaceuticals are confusing and difficult to understand. However, the first important aspect to consider is a probability-based simplistic understanding of a pipeline. Due to the fact that most drugs fail their trials, the risk of earning $0 revenues must be accounted for, despite many investors believing every therapy will become approved. As shown in the MIT statistics table below, current data suggests that only 10.3% of all therapies get from Phase 1 to approved, but sector differences are high. As an example, only 3.8% of oncological (cancer) therapies go from Phase 1 to approval.
By keeping these statistics in mind, assessing a pipeline by the sheer number of shots on goal is important. Many smaller pharmaceuticals or biotechs fade away to nothing if their pipelines are not diverse enough to support future growth, even if they earn an approval along the way. As such, I will rank the 10 companies by the important late stage Phase 3 and Phase 2 trials. For more information on biotechnology and analyzing pipelines, please refer to my Biotech 101 series.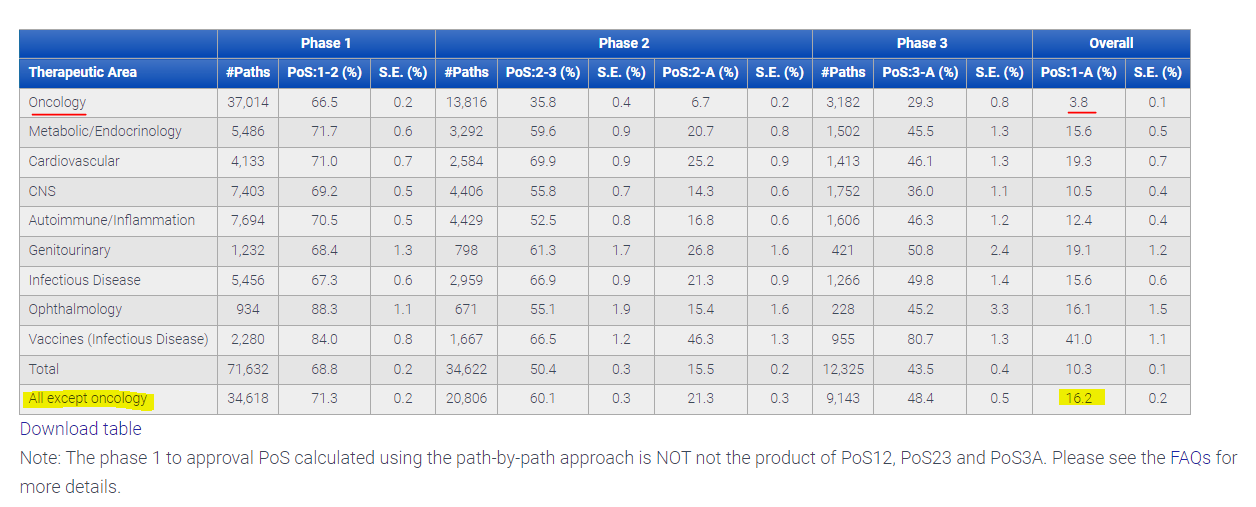 Along with a diverse pipeline, it is also important for companies to have the proper financial fundamentals in place to nurture innovation and future cash flows. By assessing the current fundamentals, investors can feel more or less confident about the future success of a holding. The two ways I will do this is by looking at R&D expenses as a proportion of revenues and free cash flow margin. Being able to push a large proportion of revenues into innovation, while maintaining high margins is incredibly important. Remember, having a large pipeline means nothing if a company cannot afford to pay for trials and research, preventing future growth.
The Analysis
Each company was ranked by each metric discussed: # of Phase 3 trials, # of Phase 2 trials, R&D Expense / Revenues (%), and Levered Free Cash Flow Margin. Pipeline data was taken from company websites and includes all provided ongoing trials, which may include the same therapy across multiple indications. R&D expenses, revenues, and margins were taken from SA on a trailing twelve month basis. I did not use historical values or averages as recent financials that may be positively or negatively affected by the pandemic are important to factor in (ie. Pfizer or JNJ vaccines, Merck's Keytruda growth, etc). Below, I will list each company in order of rank and provide some commentary on the data.
Ranges
Phase 3 Trials: 15-56

Phase 2 Trials: 8-82

R&D Expense / Revenues (%): 13-28

Levered Free Cash Flow Margin (%): 17-34
#1 Novartis
Swiss Novartis is often under the radar, but thanks to consistently high rankings, was able to place first. Their best individual position was second place in the number of Phase 2 trials at 58. NVS also scored third in the number of Phase 3 trials (52), and levered free cash flow margin at 25%. The worst rank was sixth for R&D Expense as a percent of revenues at 19%. This signals that the company has many shots on goal and has the profits to pay for the many trials.
One may also believe that a low R&D % signals the wide amounts of trials are cheaper than others, but some may argue that this signals a reduced amount of trials in the future. For now, a simple approach is warranted and I believe that NVS is well positioned for the future. Also, don't forget Novartis is planning on spinning off their Sandoz generic medicine subsidiary, and this will create significant value around the 2H of 2023.
#2 Bristol Myers Squibb
Although coming in 9th for the number of phase three trials, BMY scored in the top three across all other ranks. This suggests that BMY is piling in money towards their early stage pipeline as they reap the benefits of their blockbusters Opdivo, Revlimid, and Eliquis. While these assets may be aging, BMY seems well positioned to develop new high cash flow assets to secede into as generics reach the market. It is also important to note that BMY is now heavily exposed to the oncology sector with their current commercial and late stage pipeline, but many early stage trials are focusing on all sectors including neurology, cardiology, and immunology.
#3 Merck (US) (Tie)
Merck has done well to expand indications and maintain momentum for their legendary therapy Keytruda. This has allowed for high R&D expenses (#2 ranked) to develop large pipelines, 6th place in Phase 3 trials and 1st in Phase 2 trials, all to move away from relying on Keytruda. However, developing the pipeline is expensive and this caused Merck to rank 8th in LFCF margin at 19%. However, having the most Phase 2 trials indicates that Merck is acting similar to Bristol-Myers Squibb, never being comfortable or complacent even when they own a top 10 therapy by sales. Lastly, it is important to note that Merck's pipeline is heavily oncology focused, and so the higher number of trials can be offset by higher risk.
#3 Roche (Tie)
While #3 Merck shines with their large numbers of Phase 2 trials, Roche is the winner with the highest number of Phase 3 trials at 56. Roche also scored well financially with a tie for second best R&D Expense at 22% of revenues and 6th for LFCF margin (20%). However, the number of Phase 2 trials is ranked 8th at 27, signaling there may be a lull in approvals in the next 3-5 years. I believe that the diverse Phase 3 asset base will generate plenty of cash to support Roche for years to come.
#3 AstraZeneca (Tie)
Moving across the pond, we find consistent performer AstraZeneca. While placing 5th and 6th in terms of their Phase 3 and Phase 2 trials, respectively, AZN proved they had strong financials with 2nd in R&D Expenses (22%) and 4th in LFCF margin (23%). On the pipeline front, AstraZeneca is heavily focused on expanding indications for their recently approved Enhertu, which I have discussed in an article here. This reduces the strength of the current pipeline, and is a reason for the high R&D expenses, but as a new approval, the asset is set to produce cash flows for at least a decade or so. As such, AZN seems well positioned for the future at this point, but investors should look for further diversification of their early-stage assets.
#6 Pfizer
Coming off a profitable year thanks to COVID vaccines and antiviral Paxlovid, Pfizer still has a fairly large clinical pipeline, ranking 4th for both Phase 2 and 3. However, the biggest issue point is that Pfizer also has a low R&D Expense percent of 15%, or 8th place. This is due to the swift influx of COVID revenues and no corresponding increase in R&D Expenses, so investors should check where all the extra profits are going (many COVID-related revenues are low-margin to provide aid for lower income regions of the world). Thankfully, Pfizer has the pipeline size and diversity to bounce back from the receding COVID tailwinds and provide investors who may have bought at COVID-era prices to still earn a profitable investment.
#7 Johnson & Johnson (Tie)
The largest member of the pharma market, JNJ has done well to keep up with younger, more innovative peers. This includes currently having the 2nd most Phase 3 clinical trials ongoing. The Phase 2 portfolio is smaller, ranking 7th, and this may be due to a focus on acquiring later stage assets rather than performing in-house, but this analysis is focusing on the in-house pipeline only. Financially, the conglomerate is ranked weaker at 7th for R&D Expenses and 8th for LFCF margin, mostly due to diversification into consumer products and medical devices. Perhaps this diversification is JNJ's greatest differentiator from these peers.
#7 Eli Lilly (Tie)
Eli Lilly may be lower than some would have expected, but they also ranked first in one key metric: R&D Expense as a proportion of revenues (28%). This is 6 percent higher than the 2nd place peers, and highlights the innovative late-stage pipeline the company has. LFCF margin was also fairly strong at 20%, or 6th place. However, the sheer numbers of trials are small, ranking 8th for Phase 3 trials and 9th for Phase 2 trials. The data suggests that the company may be putting too much focus on a few trials, and failure may be costly for growth in the long run. Or, the pipeline may expand with the high R&D expenses and the outlook will improve.
#9 Sanofi
French Sanofi is suffering financially, scoring 10th in LFCF margin (17%) and 8th in R&D Expense (15%). They also have a small number of clinical trials, ranking 7th for P3 and 5th for P2. With the smallest market cap of the group, Sanofi is at a natural disadvantage in this part of the analysis, but the financials are size agnostic. The next smallest peers NVS and BMY clearly show promise, and suggest size does not matter.
#10 Novo Nordisk
Diabetes-focused NVO is last place when looking from the angle of the a pharmaceutical's clinical pipeline. Last place in my analysis is surely difficult to accept for some investors, but highlights a glaring issue. Novo Nordisk is a market leader, and is extremely profitable for that matter, ranking 1st, yes 1st, in LFCF margin. However, they are dead last in all three other metrics. The focus on diabetes and weight-loss has prevented the pipeline from expanding meaningfully of late and R&D Expenses are not increasing to increase the void. However, with the approval of Wegovy in 2021, perhaps we will see a change when the expected blockbuster cash flows come in.
Caveats
It is important to note that this analysis should be taken as a small data point out of many. Many of these companies have business segments that do not involve or are listed under their current clinical pipelines, such as JNJ's consumer goods, Novartis' Sandoz generics, and Roche's medical devices. Also, looking at trailing data is also risky as some of these companies had COVID-related revenues while others did not. My analysis also does not adjust for recent approvals that may have just left the pipeline or are influencing the financial performance.
Lastly, from a financial standpoint, most companies are fairly similar, with the difference in R&D Expense only being 15% and four companies all ranked 2nd at 22%. LFCF margin is also similar with a 17% difference between 1st and 10th, but most tickers came in between 20 and 25%. This suggests that the number of clinical trials may not be as important as getting lucky with a small number of blockbusters, and all these companies have become the top 10 largest due to their own prospective hits.
Investor Conclusions
Despite the caveats, I believe this ranking system fairly reflects the risk adjusted prospects of these 10 pharmaceuticals. The main point of this analysis was to predict future success purely from the pipeline related indicators. While these companies will still be viable companies in a few years time, the stock market performance may not reflect that. Therefore, I decided to also include valuation in my analysis by adding the market cap over R&D expense and price over earnings to the equation. The results are as follows (first to last with no ties):
Novartis (#1)

Roche

Bristol Myers Squibb

Pfizer

Merck

AstraZeneca

Sanofi

Johnson & Johnson

Eli Lilly

Novo Nordisk (#10)
As you can see, even with a healthy, diverse, and financially capable pipeline, the valuations do not reflect the opportunity. Instead, poor pipelines are being valued highly. I believe this presents immense opportunity for investors and the top 3, NVS, Roche, and BMY are certainly the best overall choices. Considering that Healthcare has typically performed well in recessions (or at least agnostic to economic downturns), I would not worry about investing in the industry despite inflation and other worries. Although, I do believe that LLY and NVO offer very little in terms of opportunity moving forward from current prices.
As a forward looking analysis based on historical data, we will see if my pipeline turns out true from an investment standpoint in the years ahead. Again, I would not base any investment on these data points alone, and recommend performing further research on the qualitative and quantitative benefits of each individual asset. Also, stay tuned for individual analyses on some of these companies where I dive into the intricacies of each company, and attempt to provide reasoning for the discrepancy in valuations that are present with this analysis.
Thanks for reading.
Editor's Note: This article discusses one or more securities that do not trade on a major U.S. exchange. Please be aware of the risks associated with these stocks.