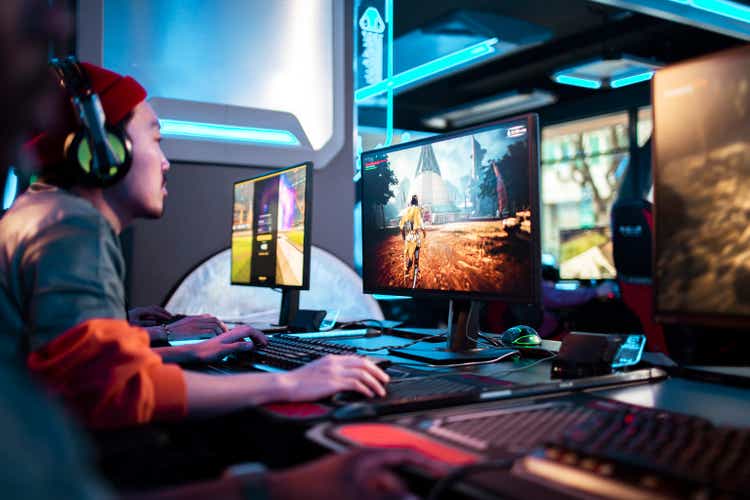 Description
I recommend buying Corsair Gaming (NASDAQ:CRSR). From my perspective, gamers tend to view CRSR as a brand that is known for producing high-quality products across a wide range of categories. Based on its strong reputation and diverse range of gaming and streaming products, I believe CRSR is well-positioned to capitalize on the growing popularity of eSports in the long term.
Company overview
CRSR is a leading manufacturer and distributor of high-performing hardware for the gaming and streaming industries.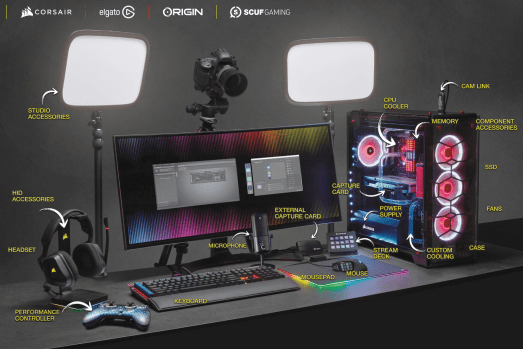 More and more gamers worldwide
I anticipate that growth in the gaming market and the associated need for gamer and creator accessories, game components, and gaming systems will be sustained by a number of factors.
One of the most obvious motivators is the steady improvement in game quality brought about by technological progress. Better graphics rendering and more realistic virtual environments are now possible on all platforms thanks to the relentless rise of computing power. Screens for video games, whether on personal computers, televisions, or mobile devices, have increasingly more pixels and faster refresh rates. I believe these advancements are making games more interesting and enjoyable than other forms of media, thereby increasing the number of gamers and providing game developers with more room for innovation.
Furthermore, modern game development engines are being heavily utilized by game publishers to create visually impressive and interactive gameplay, most of which are capable of supporting massive multiplayer experiences. The audience is also becoming more involved in the production process through activities like streaming gameplay, and other entertainment industries are expanding their intellectual property into the gaming industry. The combination of these tendencies, in my opinion, means that the interactive gaming industry is moving toward more social games of higher quality that can reach a more numerous and varied global audience.
The rise of eSports is critical to underlying hardware demand
According to Statista, the eSports audience size worldwide grew from little over 400 million in 2020 to 540 million in 2022, and is expected to reach more than 600 million by 2025.
Like traditional sports played around the world, eSports are exciting and accessible, but mastery may take a long time to achieve. The best players can show off their physical and mental prowess to the admiration of their peers and the awe of the fans on such digital playing fields due to their high complexity and competitive parity. This, in my opinion, has given rise to a global community of dedicated eSports players who compete at different tiers and across cultures in the name of improving their performance.
Just as with traditional sports, players can watch the best in the world compete at the highest level of eSports. In the same way that top athletes in traditional sports inspire and influence fans, the same is true of the best e-sports competitors. The proliferation of streaming is catalyzing a virtuous cycle of players, audiences, and earnings from adverts and endorsements by drawing in new gamers and focusing the attention of established gamers, who are shifting from casual to competitive play.
Aside from viewers, competitive gamers are an integral part of the eSports market as a whole. Most standard hardware devices lack the processing power required by professional gamers and streamers. A competitive gaming environment values quick thinking, pinpoint accuracy, and consistent performance. Like their counterparts in other fields, those who compete in the digital realm can improve their performance with the help of high-end, purpose-built gear. The demand for high-powered gaming components and systems is further fueled by the fact that modern games require a lot of processing power to facilitating better visuals and to achieve the speed of user inputs.
Premium brand positioning
Honestly, as a non-hardcore gamer myself, there is practically no way for me to differentiate all the high-performing gaming hardware in the market. As such, I find myself buying the product that everyone is using, and often times that is the one with the best branding position. In this case, CRSR has a strong premium branding. I would argue that having a very good brand and word-of-mouth from competitive eSports player is arguably the strongest competitive advantage, more important than the hardware specs itself. Because this is akin to buying the brand, rather than the product, which is a lot harder to replicate.
My opinion is that CRSR has a leg up on the competition thanks to the strength of its brand name, the breadth of its product offering, and the quality of its proprietary software.
Global distribution network
CRSR merchandise sells well in both traditional retail locations and online, where it reaches gamers all over the world. CRSR's retail and DTC channels now reach customers in over 70 countries across six continents. As of FY21, 44.2% of CRSR sales came from the Americas, 38.2% from EMEA, and 17.2% from APAC.
Anyone that watches Breaking Bad would understand the importance of distribution. Having a good product without good distribution capabilities is not worth mentioning. From a "pull" perspective, the high performance and quality of CRSR's gear is already well-known among retail gamers, increasing the likelihood that users will buy new CRSR products as they upgrade or construct their gaming system. From a "push" perspective, CRSR is in a better position to foster powerful, long-term vendor relations thanks to its broad selection and skilled sales force. This contrasts with many competitors that offer smaller product lines and have weaker distribution capabilities. As a result of these advantages in the "push" factor, CRSR has more space on store shelves and frequent dialogues with retailers, all of which allow the company to better respond to the preferences of its patrons.
Gain more market share in streaming
For CRSR, the market for gaming peripherals and systems is still wide open, in my opinion. For instance, CRSR has only recently begun to make a name for itself in the realm of high-end custom gaming PCs and prebuilt gaming PCs. Outside of the gaming industry, CRSR also offers accessories for streaming purposes. In my opinion, this is a huge opportunity as the accessories could be used in multiple forms of streaming content, such as video blogging and podcasting.
I believe that as the gaming and content creation industry develops, CRSR will continue to launch innovative new products and services to address the needs of its growing customer base.
Market remains challenging, but showing signs of improvement
Management has revised its outlook to reflect the ongoing market challenges and near-term consumer spending headwinds. They now guide to revenue of $1.32 billion to $1.37 billion for FY22, down from $1.35 billion to $1.45 billion previously.
Management did, however, mention that they are beginning to see signs of improvement. Also, inventory levels are normalizing, and freight costs are decreasing, which I expect to have significant positive impact on margins. In fact, CRSR began to see some of the benefits in Q3 and anticipates another few percentage point improvement in FY22 and into FY23. More importantly, the increase in demand for self-built gaming PCs as a result of new GPU launches, as well as the decrease in non-gaming demand for GPUs, are both positive for CRSR.
Valuation
In FY23, I believe CRSR is worth USD16.83, representing a 17% increase.
Given how the share price has reacted recently, I believe the consensus is looking past FY22's negative growth and anticipating a recovery in FY23. I believe the reason for the disparity between my calculated intrinsic value and the current share price is that investors are still waiting for more clarity. I believe the catalyst for these investors to jump into the stock will be when CRSR reports FY22 earnings and reiterates its FY23 outlook.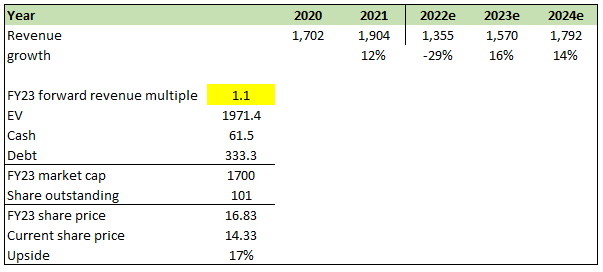 Key risks
Competition from cheap replicas
As previously stated, branding is just as important as, if not more important than, hardware specifications. This also implies that CRSR will be unable to meet a segment of demand - value buyers. These buyers would opt for lesser-known brands at a lower price with comparable specifications.
Exposure to memory prices fluctuations
Since CRSR Performance Memory business typically pass on decreases in commodity costs to customers, a precipitous drop in DRAM prices could have a negative impact on bottom line.
Summary
The gaming community, in my opinion, views CRSR as a premium, high-performance brand that consistently delivers high-quality goods across the board. My assessment is that CRSR is in a good spot to capitalize on the long-term growth in eSports thanks to the strength of its brand and the variety of games and streaming services it offers.
As we see recovery in the end-markets, I believe investors that are on the fence will jump into the stock as they obtain better visibility into near-term performance.