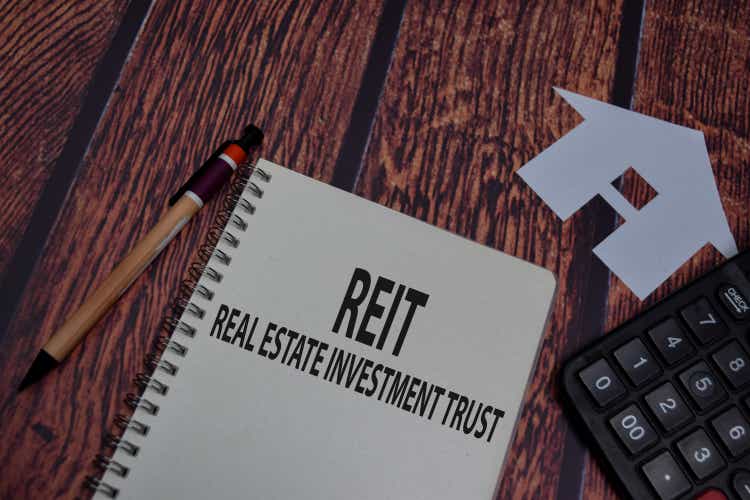 REIT Performance
After experiencing some recovery in October and November, REITs fell sharply in December (-7.72%), closing the year out with a -23.56% full year total return. In December the REIT sector underperformed the Dow Jones Industrial Average (-4.09%) and S&P 500 (-5.76%), but outperformed the NASDAQ (-8.7%). Full year 2022 relative performance was similar as the REIT sector underperformed the Dow Jones Industrial Average (-6.9%) and S&P 500 (-18.1%), but didn't suffer nearly as severe of a decline as the NASDAQ (-32.5%). The market cap weighted Vanguard Real Estate ETF (VNQ) had a better total return than the average REIT in December (-5.03% vs. -7.72%), but still underperformed by 268 basis points over the course of 2022. (-26.24% vs. -23.56%). The spread between the 2023 FFO multiples of large cap REITs (16.6x) and small cap REITs (11.3x) narrowed slightly in December as multiples contracted by 0.9 turns for large caps and 0.8 turns for small caps. Investors currently need to pay an average of 46.9% more for each dollar of FFO from large cap REITs relative to small cap REITs. In this monthly publication, I will provide REIT data on numerous metrics to help readers identify which property types and individual securities currently offer the best opportunities to achieve their investment goals.
There was a strong correlation between total return and market cap again in December. Large cap (-4.89%) and mid cap (-6.03%) REITs saw the smallest declines. Small caps (-8.21%) and micro caps (-15.21%) underperformed. For full year 2022, mid caps outperformed with the smallest negative total return (-19.98%). Large cap REITs (-21.88%) outperformed small caps (-22.16%) by 28 basis points in 2022.
0 out of 18 Property Types Yielded Positive Total Returns in December
100% percent of REIT property types averaged a negative total return in December, with an 18.63% total return spread between the best and worst performing property types. Malls (-20.52%), Infrastructure (-17.48%) and Office (-10.86%) saw double-digit declines.
Casino (-1.89%) and Triple Net (-2.02%) REITs achieved the smallest declines in December. Casino REITs did not just outpace their REIT peers in December, but also significantly outperformed throughout 2022. Gaming and Leisure Properties (GLPI) ended the year with a +13.48% full year total return and VICI Properties (VICI) was similarly successful with a +13.05% return. There was a 3rd Casino REIT at the start of the year, MGM Growth Properties (MGP), which was acquired by VICI back in April. MGP was also in the black in 2022 with a +3.31% total return.
The only property types to achieve a positive total return in 2022 were Student Housing (+14.02%) and Casino (+9.95%) REITs. The Student Housing gains came in the first 7 months of the year prior to the only Student Housing REIT being acquired. Infrastructure (-44.23%), Malls (-40.90%) and Office (-39.53%) were the worst performing REIT property types of the year.
The REIT sector as a whole saw the average P/FFO (2023Y) decrease 0.8 turns in December (from 13.6x down to 12.8x). The average FFO multiple contracted for 100% of property types. There are no recent 2023 FFO/share estimates for either of the Advertising REITs or any of the Timber REITs. Land REITs (26.0x) saw one turn of multiple contraction, but still trade at the highest average multiple. Data Centers (20.3x), Manufactured Housing (19.3x) and Industrial (19.2x) also trade at far higher average multiples than most of the REIT sector. Mall (5.3x), Office (7.5x) and Hotel (7.6x) REITs are the only property types currently trading at a single digit multiple.
Source: Table by Simon Bowler of 2nd Market Capital, Data compiled from S&P Global Market Intelligence LLC. See important notes and disclosures at the end of this article.
Performance of Individual Securities
Braemar Hotels & Resorts (BHR) (+12.74%) was the only REIT to achieve a total return greater than +4% in December. BHR has severely underperformed over the past decade, but delivered a lot of good news in December that fueled a strong total return in a brutal month for REITs. In December BHR increased their dividend by 400% (from $0.01/share to $0.05/share), announced the authorization of a share buyback program of up to $25M, reported November 2022 RevPAR that is about 15% higher than November 2019 RevPAR and closed on a new $100M mortgage which will be used to pay off higher interest rate debt.
Pennsylvania REIT (OTC:PRET) closed the year out with the worst performance in both November (-38.38%) and December (-52.54%) as the extremely levered Mall REIT continues to achieve short-term extensions of debt maturities from lenders, but has struggled to actually improve their balance sheet in any meaningful way. There is growing concern that they will not be able to prevent a 2nd bankruptcy. Despite this dismal performance to close out the year, PRET had a marginally less terrible 2022 total return (-92.35%) than Power REIT (PW) (-94.27%).
Only 8.02% of REITs had a positive total return in December with 13.14% in the black for full year 2022. In 2021 the average REIT had a remarkable +39.65% return, whereas in 2022 the average REIT had a brutal -23.56% total return.
For the convenience of reading this table in a larger font, the table above is available as a PDF as well.
Dividend Yield
Dividend yield is an important component of a REIT's total return. The particularly high dividend yields of the REIT sector are, for many investors, the primary reason for investment in this sector. As many REITs are currently trading at share prices well below their NAV, yields are currently quite high for many REITs within the sector. Although a particularly high yield for a REIT may sometimes reflect a disproportionately high risk, there exist opportunities in some cases to capitalize on dividend yields that are sufficiently attractive to justify the underlying risks of the investment. I have included below a table ranking equity REITs from highest dividend yield (as of 12/31/2022) to lowest dividend yield.
For the convenience of reading this table in a larger font, the table above is available as a PDF as well.
Although a REIT's decision regarding whether to pay a quarterly dividend or a monthly dividend does not reflect on the quality of the company's fundamentals or operations, a monthly dividend allows for a smoother cash flow to the investor. Below is a list of equity REITs that pay monthly dividends ranked from highest yield to lowest yield.
Valuation
REIT Premium/Discount to NAV by Property Type
Below is a downloadable data table, which ranks REITs within each property type from the largest discount to the largest premium to NAV. The consensus NAV used for this table is the average of analyst NAV estimates for each REIT. Both the NAV and the share price will change over time, so I will continue to include this table in upcoming issues of The State of REITs with updated consensus NAV estimates for each REIT for which such an estimate is available.
For the convenience of reading this table in a larger font, the table above is available as a PDF as well.
Takeaway
The large cap REIT premium (relative to small cap REITs) widened slightly in December and investors are now paying on average about 47% more for each dollar of 2023 FFO/share to buy large cap REITs than small cap REITs (16.6x/11.3x - 1 = 46.9%). As can be seen in the table below, there is presently a strong positive correlation between market cap and FFO multiple.
The table below shows the average premium/discount of REITs of each market cap bucket. This data, much like the data for price/FFO, shows a strong, positive correlation between market cap and Price/NAV. The average large cap REIT (-10.82%) trades at a low double-digit discount to NAV, while mid cap REITs (-19.55%) trade at about 4/5 of NAV. Small cap REITs (-28.57%) trade at less than ¾ of NAV. Micro caps on average trade at less than half of their respective NAVs (-54.86%).
Bankruptcy can in some unfortunate situations be the painful result a company faces if they have poorly managed their balance sheet. A weak balance sheet makes it more difficult to attain new capital or to refinance debt. If new capital can be attained, it may be on unfavorable terms. This unfavorable decrease in access and/or increase in cost of capital is typically magnified in times of declining economic fundamentals or rising interest rates.
2021 had seen the fewest bankruptcies in over a decade and 2022 remarkably was even better. However, bankruptcies spiked up sharply in December to the highest monthly total since March 2021. Below is a list of the bankruptcies filed in December 2022.
In 2022, the number of bankruptcy filings varied greatly across market sectors. Of the 11 sectors, Real Estate had the 2nd fewest bankruptcies in 2022. This reflects the current strength of real estate fundamentals. However, it is important to note that real estate does not operate within a silo and is directly impacted by other sectors. REIT landlords with strong balance sheets can still be negatively impacted if their tenants' balance sheets are poor. Struggling tenants may fall behind on rent, decide not to re-lease or even go bankrupt.
Investors should not just look at a REIT's balance sheet, but also look at their tenant mix to identify potential risks. Lease structure also varies and should be examined as well. While it is always important to understand who a REIT's tenants are, conducting that level of due diligence before making an investment can be particularly helpful heading into a period that may see elevated bankruptcies and other tenant challenges. Carefully researched investment in well-managed REITs with strong balance sheets and healthy tenants can help prevent costly surprises in the future.
Editor's Note: This article discusses one or more securities that do not trade on a major U.S. exchange. Please be aware of the risks associated with these stocks.