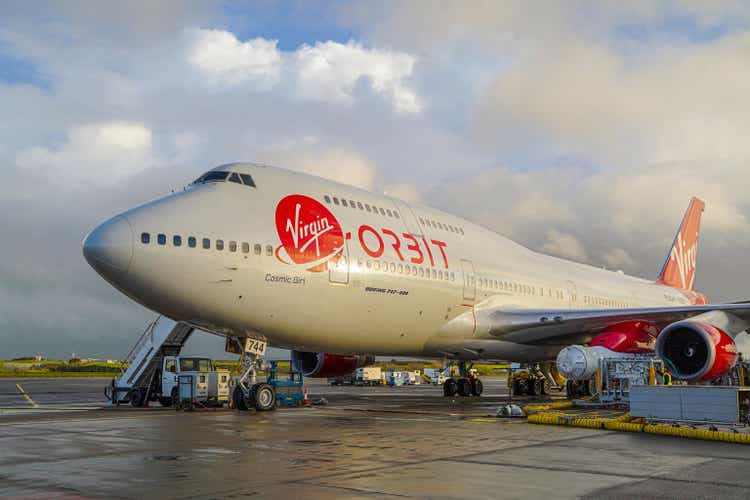 The commercialization of space is hot. It is not something new, but what we are seeing are multiple companies, each within their own launch classes propose vastly different solutions to remove the high burden on commercial space entry. Removing that burden or at least lowering the bar for launching payloads to orbit and bringing people to space makes it more commercially attractive to exploit the opportunities that space has to offer, turning the launch market into a golden opportunity.
However, testing and developing of new unconventional launch methods are challenging and carry obvious timeline and financial risk, and as a result do not always make for strong investment opportunities for shareholders due to the challenging nature. Elon Musk, founder of SpaceX, is now mostly known for his explosive dealings with Twitter but he is also known for sharing clips of SpaceX launch vehicles exploding, basically showing the risks of launch companies and investment in launch companies. That is what Virgin Orbit (NASDAQ:VORB) found out as well and the most recent failure was on the 9th of January. So, let's have a look at that.
Launching From A Flying Boeing 747
So as I mentioned, the cost burden on launching to space is high and many companies have found out that lowering that cost burden will unlock the potential of space. SpaceX does this by landing its boosters back on Earth making them re-usable, thereby allowing costs to build the boosters to be amortized over several launches, making launches less expensive.
Virgin Orbit has an approach towards reducing launch costs that seems even more challenging by launching rockets from a flying modified Boeing 747. Space starts at 100 kilometers, so getting to space is easy just looking at the distance. It is getting there that really makes it hard and costly. Overcoming gravity requires enormous amounts of thrust. Moreover, the low atmosphere layers are dense and therefore generate significant drag. The nozzles of rockets are fixed ratio nozzles making them suboptimal over the entire pressure regime faced throughout its flight to Earth. Going with a variable nozzle ratio is challenging because everything that can move can also break and you simply cannot send a mechanic to space or even to into the air to fix a broken or stuck nozzle. So, a fixed nozzle is a compromise that leads to suboptimal performance for an already expensive endeavor.
So, the approach Virgin Orbit takes is mounting the rocket under a Boeing 747 and fly it to approximately 11 kilometers. That takes you to 11% of your road to space and for those 11% you don't need to build your rocket because the aircraft is doing that work. Jet engines are built for lower altitude performance and that means that in the regime that for rockets drag and propellant use would be high, the aircraft engines do a better job. Furthermore, the oxidizer for a turbofan is the surrounding air while a rocket would need to carry its own oxidizer.
So aircraft are more efficient than rockets for the first few kilometers meaning that the rocket requires less fuel, less oxidizer and less stages, and as a result is lighter which also brings down the costs or conversely could carry more payload on the same rocket or carry the payload deeper into space.
So, that is the approach that Virgin Orbit uses to bring down launch costs while its additional selling point is that as a mobile launch pad, they could virtually launch everywhere from Earth and be less impacted by weather conditions, creating a dynamic and flexible launch environment. Air-launch-to-orbit or ALTO solutions are certainly not new, but as far as I can tell, Virgin Orbit pioneered it and is most advanced in its progress.
Virgin Orbit Failure
As with everything, the key to success seems to be failure. Failure is never a nice test or mission outcome but key lessons are learned. In May 2020, Virgin Orbit's first launch was a failure as the payload failed to reach its orbit. The failure was followed by four successful missions, but the launch on the 9th of January once again was a failure. The payloads on board are expensive, so mission failure is expensive. Furthermore, analysis should point out the cause of failure and that might delay other missions. So, mission failure should not be taken lightly as it could delay other launches scheduled. For 2023, a total of seven launches are scheduled and I could imagine that until the root cause of the mission failure is determined those launches might be on hold.
The most recent launch was one that captured Europe's attention. Europe doesn't have a launch facility that can facilitate orbital launches yet. The reason is that the ideal position of launch sights is one where the Earth travels fastest, which is around the Equator providing some passive escape velocity needed. The further you move away from the Equator, the lower that passive escape velocity is, meaning that the launch vehicle as to do more work. That is where Virgin Orbit's flying launchpad provides somewhat of a solution as it provides some additional velocity.
So, for Europe the most recent launch, which would be the first one from European airspace, was extremely interesting. There are some conventional launch pads in development that would facilitate orbital launches so Virgin Orbit is not the only company that could facilitate European launches though its flying launch pad does have some advantages.
A Failure Cascade?
A lot of potential for commercial space launch companies is how successful they are in exploiting the addressable market. That is of course a no-brainer and there are various trends that significantly increase the total addressable market. Like for every product or service, it holds that if you are too late or too early to the market, your product or serviceable might fail and not render the expected value. So, that is the challenge that Virgin Orbit does face and since its stock is publicly traded with each failure you might see strong market reactions. Right now, in after-hours trading, the stock is down 25% after building up momentum in anticipation for the most recent launch. That is why innovative company stocks are not the most stable investments during the initial phases of the product or service life as growth opportunities are there but risk to success and, as a consequence, stock prices are high as well.
How big the timeline risk is also becomes clear from the initial plans that Virgin Orbit had. In 2012, it expected first commercial launches by 2016. However, its first launch did not occur until 2020 which ended in a failure and its first successful mission was a year later in January 2021. Any delays in launches also result in delayed revenues and the company has an ambitious revenue target of $2.1 billion by 2026.
A single launch of the LauncherOne vehicle should bring around $12 million in revenues. So, apart from the question whether the company has a viable product before it runs out of cash, the big question is how exactly Virgin Orbit can scale. The company has some proprietary launch support services and also provides launch services for national security interest purposes but the bulk of the revenue likely has to be generated by launches and preferably commercial launches. So, the company would require around 175 launches annually to derive. I wouldn't say that they cannot get there but they need to do 3x on the launches each year towards 2026 to get there. That is a challenging path.
Should You Buy Virgin Orbit Stock?
That honestly is a question that is hard to answer. The chances in space are huge and so is the risk, so I would say that for a very speculative position you could consider it. In case it turns out to be a failure, you lose some but you are set to gain even more if Virgin Orbit manages to deliver on its plan. So far, investment in Virgin Orbit has not been fruitful. It clearly shows the risks that litters the path towards value extraction from space. Right now in post-market trading the stock is down $1.47 and we have no indication what caused the failure so it is hard to talk about risks to the launch schedules for this year but generally you can approach the name as high-risk with the knowledge that its share prices really cannot go much lower. It can go lower, but you cannot go lower than 0 and overall if Virgin Orbit gets things on track, its upside is bigger than the current downside.
Conclusion: Virgin Orbit Is High Risk, High Reward
As an isolated event the most recent failure is unfortunate but not a big deal. Is mission failure costly? Absolutely. However, the bigger risk to Virgin Orbit remains the risk to its overall launch schedule requirements which before the most recent mission failure were already challenging. I certainly do see opportunities for Virgin Orbit as its mobile launch platform offers opportunities for countries and companies that want to be less dependent on launches from foreign ground, but the risks are certainly there too. As an investor, you have to assess whether that is something that fits your risk profile.