Inovio: Hold For Future DNA Plasmid Therapy Progress
Summary
Inovio's stock price is near multi-year lows.
It was unable to bring a COVID vaccine to market.
It has a viable path to FDA approval for precancers caused by HPV.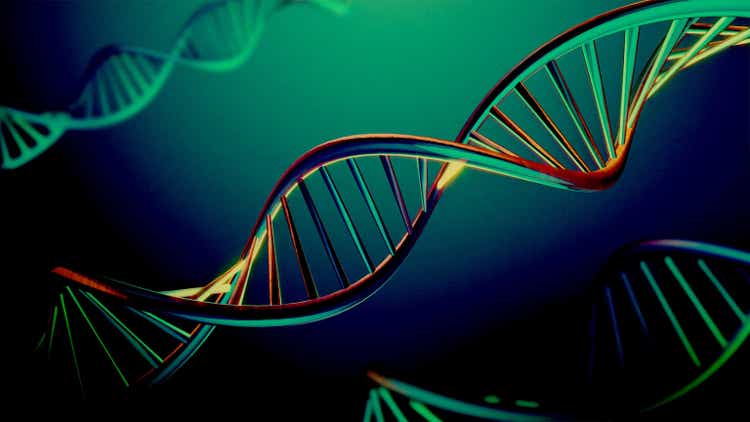 Inovio (NASDAQ:INO) seems to be a perpetually clinical phase biotechnology company. The stock price is down. I do not see any catalyst likely to send it significantly higher any time soon. Every step forward seems to be followed by a step backward. Perhaps because of that the stock price and market capitalization is currently so low that I see no reason to sell. There is still a good chance that one or more therapies in the pipeline could eventually get FDA approval and show the value of Inovio's DNA plasmid technology. I will start this article with a recap of Q3 2022 results, including the cash available to continue operations. I will briefly (and selectively) review the failures that brought us to this point, including the termination of the Lassa Fever vaccine program this last November. Only then will I look at the HPV precancer program, which has generated positive data, to assess its potential.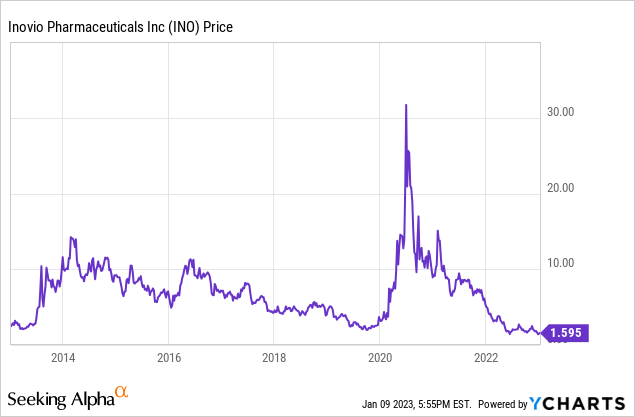 Inovio Q3 2022 Results
Inovio's Q3 2022 results came with a message of retrenchment. Revenue from collaborations was $9.2 million. Net loss was $37.7 million or $0.15 per share. Inovio ended the quarter with cash and equivalents of about $282 million. Inovio stated this cash would provide a runway into the first quarter of 2025. The halting of various clinical programs has the beneficial side effect of slowing the cash burn rate. I expect net losses for at least the next 3 years, since even with a commercial product, new revenue would likely be slow to ramp.
COVID-19 and other failures
Looking back, Inovio once closed over $13.00 per share back in February 2014. It closed at $26.95 on June 1, 2020. Even its 52-week high of $4.99 was substantially above today's price of $1.59. Over a decade ago many investors and leading government institutions were impressed by its early work in DNA plasmid vaccines, which eventually led to an extensive pipeline. Positive results were reported from preclinical work, Phase 1 trials, and sometimes Phase 2 trials. But nothing reported Phase 3 trial data that was good enough to get an FDA approval. In the case of the runup to $26.95, the propelling force was a potential Covid-19 vaccine. Soon after Covid-19 was characterized, Inovio said it could make a vaccine. But the competition was fierce, with many companies around the world working on a vaccine. Two factors held Inovio back, the main one being it was not put in the priority funding group by the U.S. government. The other is that DNA vaccines require a special device to administer, they do not work with hypodermic needles. That device needs separate FDA approval and an extended timeline. At the Q3 conference management announced it had stopped its internal funding for its COVID heterologous booster vaccine. Any further development would be done by Advaccine, a Chinese company.
On November 17, 2022, Inovio announced it was ending development of its Lassa Fever and MERS vaccines. The vaccines did not meet the Coalition for Epidermic Preparedness Innovations, or CEPI, criteria for further development. Inovio wants to focus on its more likely winners.
VGX-3100 for Dysplasia
That leaves Inovio with a minimal clinical-stage pipeline. INO-5401 is a glioblastoma vaccine being developed, in combination with Libtayo, with Regeneron (REGN), that has had some promising results. However, it has been stuck in Phase 2 for so long I will be surprised if or when there is an announcement for a Phase 3 trial. Such an announcement could greatly increase Inovio's value, but a Phase 3 trial would likely take 2 to 3 years.
The main thrust is with VGX-3100 for dysplasia (pre-cancer) caused by HPV infections, and its sister-vaccine INO-3107 for RRP (recurrent respiratory papillomatosis). The most advanced indication is VGX-3100 for cervical dysplasia or HSIL (high-grade squamous intraepithelial lesions). The Phase 3 trials (REVEAL1 and REVEAL2) produced positive results. Partner ApolloBio is conducting a separate Phase 3 trial in China. But at the Q2 2022 analyst conference Inovio announced, based on FDA feedback, that REVEAL2 data would not support approval. Inovio then amended the trial to revise the primary analysis population from the all-comers population to the biomarker-positive population. The amendments were submitted, and both the biomarker-positive population and the all-comers population will be analyzed. The last patient visit was slated for September 2022. 40-week data is expected in early 2023. Given the likelihood the FDA will require for at least one additional trial of the biomarker-positive population, Inovio no longer has a timeline for the BLA submission. Qiagen (QGEN) is working on producing the biomarker.
VGX-3100 is also being tested as a therapy for vulvar dysplasia and for anal dysplasia. Data to date has been good. Though I have seen no statement to this effect, my guess is that when Phase 3 trials are conducted in these two indications, the biomarker data will also be a requirement. I assume the biomarker will be the same as in the cervical dysplasia trial.
INO-3107 is designed to target HPV 6 and HPV 11, the two variants responsible for causing RRP. In October 2022 Inovio announced that the Phase 1/2 results were positive, with 76% of participants seeing a reduction in the number of surgical interventions. The results of the 21-patient trial were statistically significant. The trial will continue with a second cohort of 11 patients that should report data by mid-2023. At least one Phase 3 trial will likely be necessary to gain FDA approval.
dMAb Platform potential
Though it is early days, Inovio has what could be a very valuable platform called dMAb. Essentially the DNA plasmids are engineered to cause the human body to create specific monoclonal antibodies. The early studies are in Covid-19 and in Zika. I believe later stage and commercial development is more likely in some other disease indication. These initial indications appear to have been chosen to get funding from the Gates Foundation for Zika and AstraZeneca and others for Covid-19.
Conclusion: Hold and See
Inovio closed on January 9, 2023, at $1.59, giving it a market capitalization of $397 million. Given the $282 million in cash, that represents very low investor expectations. I must admit my own expectations have been lowered over the years. The setback with the requirement of another VGS-3100 trial, with a biomarker, and the delay from that has been particularly discouraging. On the bright side, the results so far from VGS-3100 and INO-3107 have been quite good, so it may just be a matter of time before Inovio finally has commercial products. I cannot encourage anyone to buy Inovio at that time, but it worth watching for news. I am going to keep my shares. I sold enough during the Covid spike to not feel bad about my long-term investment in Inovio. It is a reminder that there are a lot of risks in investing in clinical-stage biotechs. On the other side, success can more than make up for failures, so diversity is key to small cap biotech portfolios.
This article was written by
I provided stock and bond research and analysis to a small cap specialist investor, Lloyd Miller, from 2002 until his death in January 2018. For my own account I invest mainly in technology and biotechnology stocks. My technology and investment web site is openicon.com, where readers can view the notes I take to make decisions and to write articles for Seeking Alpha.
Analyst's Disclosure: I/we have a beneficial long position in the shares of INO either through stock ownership, options, or other derivatives. I wrote this article myself, and it expresses my own opinions. I am not receiving compensation for it (other than from Seeking Alpha). I have no business relationship with any company whose stock is mentioned in this article.
Seeking Alpha's Disclosure: Past performance is no guarantee of future results. No recommendation or advice is being given as to whether any investment is suitable for a particular investor. Any views or opinions expressed above may not reflect those of Seeking Alpha as a whole. Seeking Alpha is not a licensed securities dealer, broker or US investment adviser or investment bank. Our analysts are third party authors that include both professional investors and individual investors who may not be licensed or certified by any institute or regulatory body.