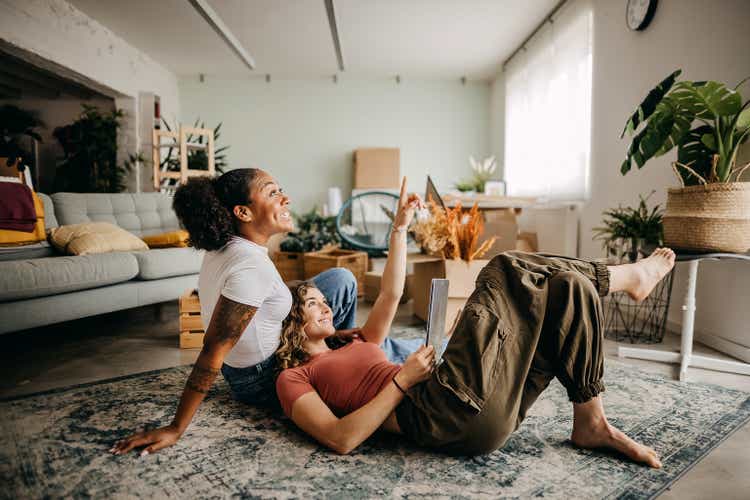 It's been a terrible year for furniture retailers, who are struggling to make ends meet now that the glory days of the COVID-19 boom are a thing of the past. Harsh economic conditions show the strengths and weaknesses of various competitors as they attempt to weather the storm. Overstock.com, Inc. (NASDAQ:OSTK) is a small-cap stock that has remained profitable against market headwinds. It is the fourth-largest online revenue-generating home furnishing company in the U.S., with Amazon (AMZN), Wayfair Inc. (W), and Walmart (WMT) leading the pack. It has a market cap of $855.792 million, and although its stock value has dropped by 64.91% over the last year, it has shown strength by maintaining a healthy balance sheet with little debt, sufficient cash, and running an attractive venture investment.
Although, on the surface, this looks like a hopeless affair as it continues to lose market share, many larger peers are doing significantly worse, which could change up the competitive playfield as future bankruptcies seem imminent. For this reason, investors may want to hold on to the stock as bigger competitors struggle to stay afloat and new opportunities open up for OSTK.
Company overview
OSTK is an online retailer founded in 1999. It went public in 2002, and produced its first billion-dollar revenue year in 2010. It operates through direct business from its inventory and partner business, selling merchandise from third parties. Both suppliers and consumers are part of the company's customer segments, requiring both to operate successfully. Its revenue streams are merchandise sales, supplier commission fees, and advertising revenue. Its products are competitively priced compared to its furniture-selling peers.
OSTK in the Home Furnishing Industry
Home goods retailers were flourishing during the pandemic. However, sales have drastically declined, although they are still higher than pre-pandemic numbers. Before the pandemic, Bed Bath & Beyond (BBBY) was the most prominent home goods retailer in the States. Competition amongst peers increases as consumers reduce their buying of home furniture and appliance buying habits and pricing sensitivity increases. Below is an overview of the USA's top online retailers in furniture and appliances in terms of revenue. While OSTK has remained profitable during the tough times, some of its peers are drowning in debt with little to no cash availability. One in particular, Wayfair, is in a very vulnerable spot, and if the company were to go bankrupt, this would create opportunities for its peers.
OSTK Financials and Valuation versus Peers
Wayfair is in an unfavorable position, losing $1.18 billion in net income over the last year and holding very little cash at $1.29 billion compared to its total debt of $4.04 billion. BBBY is losing $1.6 billion per year. On top of that, they only have $135.27 million in cash, while its debt is at $3.59 billion. Below we can see in the peer comparison that of the three, OSTK is more robust to survive in more challenging economic conditions.
We can see that W and BBBY need more means for a healthy current ratio, and they have poor quick ratios of 0.83 for W and 0.07 for BBBY. These are big red flags and signs of potential bankruptcy if the economic environment remains challenging.
If we focus on OSTK, it has $427.53 million in cash and a much lower long-term debt of $48.22 million. OSTK also has some long-term crypto and blockchain investments through a venture fund launched in 2014. tZERO is its most valuable investment, with an ownership stake of around 55%, total funding of $275 million, and a valuation of $1 billion.
OSTK is currently seen as a stock that should be held or sold, according to Seeking Alpha's Quant, with a Sell rating of 1.52 and Zack Ranks Hold rating of 3, while SA authors slide towards a Sell recommendation with a rating of 2. If we compare Overstock to some of its peers in the market, we can see that the company is a safer bet than W and BBBY. BBY has a very small market cap compared to its enterprise value of $3.60 billion, indicating major debt issues.
W and BBBY both have negative earnings. However, if we compare the EV to sales ratios, we see that OSTK comes out on top with a low ratio of 0.22, indicating that it may be relatively undervalued. On the other hand, OSTK's price-to-earnings ratio of 39.81 is well above the home furnishing average of 21.03, which indicates the stock price may be high if we compare it to the industry as a whole.
Risks
The market could be more favorable for the consumer discretionary sector, evident in OSTK's financial and user growth performance as revenue declines and fewer users are on the platform. The headwinds have not yet passed and will continue to impact the business. Although it may be doing better than its peers, results are on the decline, which is something to remain cautious of, although the company has managed to stay liquid by leveraging assets. OSTK was underperforming before COVID, which raises the question of whether the business model is strong enough to hold a prolonged economic downturn.
Final thoughts
It has been a challenging year for home furnishing companies, and the continued economic downturn could continue to bring headwinds to these companies. However, amidst the hard times, Overstock.com, Inc. has remained profitable and maintained a healthy balance sheet. OSTK looks like a stronger contender to weather the storm compared to some of its larger peers, which could bring new growth opportunities in the long run once the economy starts to improve. For this reason, I recommend a Hold status for Overstock.com, Inc.