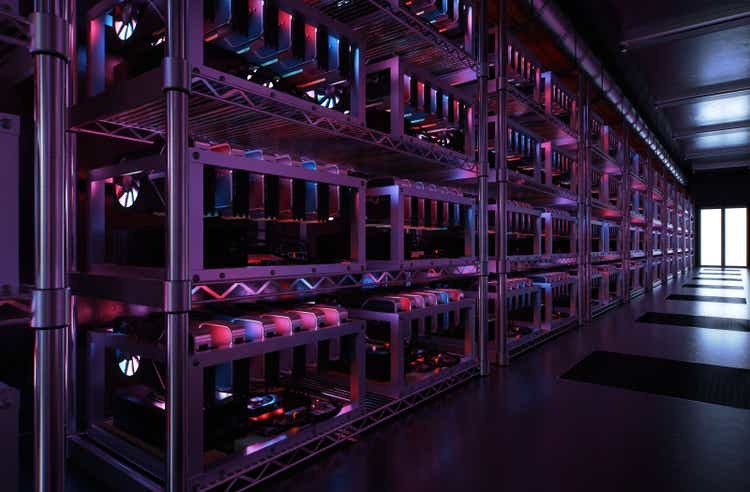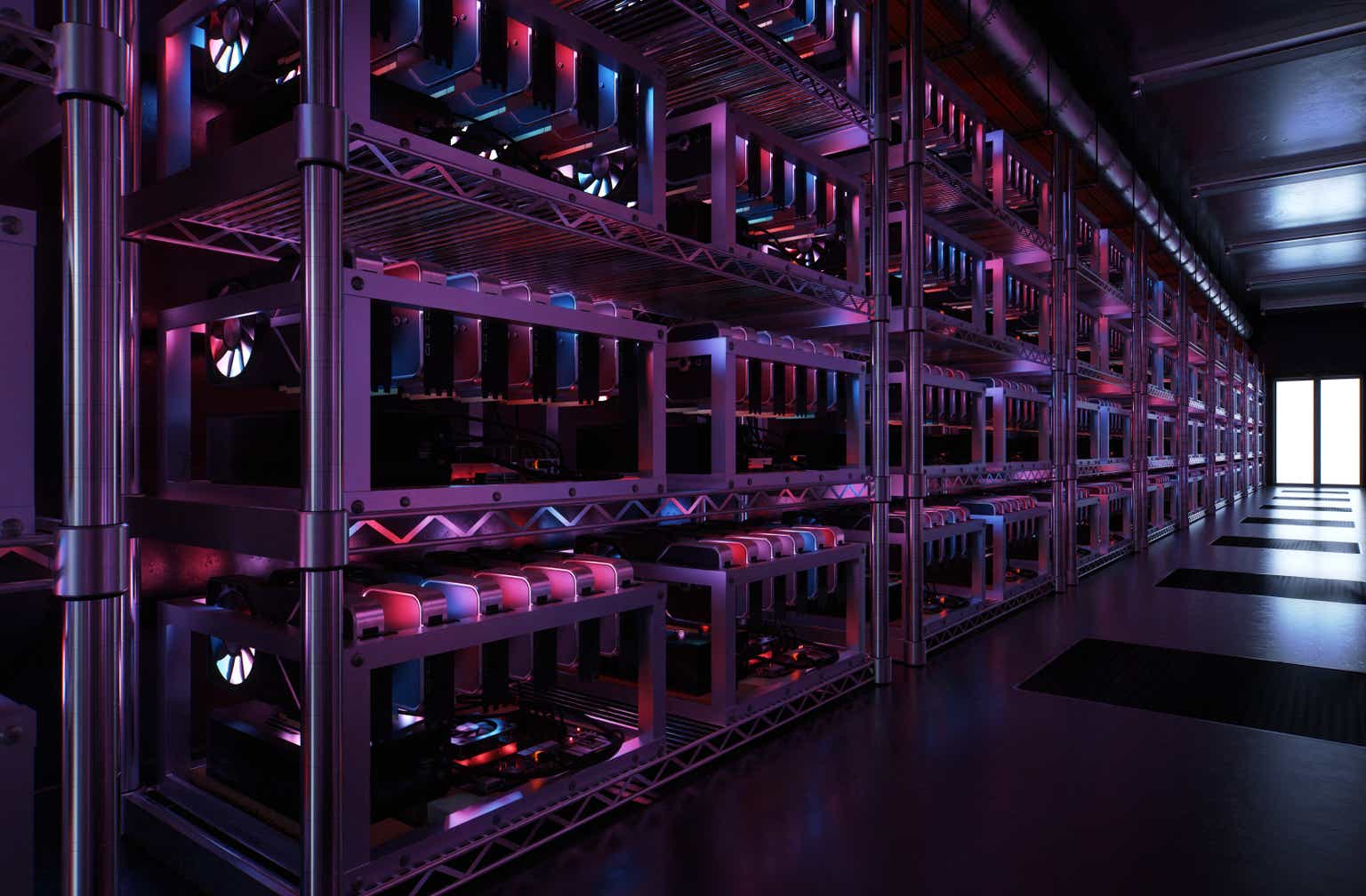 Riot Platforms Inc. (NASDAQ:RIOT) is one of the largest Bitcoin miners in the world with a vertically integrated model that includes hosting services at its data center infrastructure as well as an engineering arm. This is in the crypto sector that got decimated in 2022 as Bitcoin (BTC-USD) crashed amid the broader market selloff that forced a reset of expectations, particularly in next-gen technologies. Indeed, RIOT is down 90% since hitting a peak valuation near $6 billion at the height of a speculative frenzy going back to early 2021.
All that said, we're looking at the company as a crypto winter survivor, highlighting some encouraging operating trends, and setting up what we believe is a turnaround path. The company is ramping up mining production just as Bitcoin prices appear to have stabilized with an ongoing rally off its lows.
The potential for stronger earnings and cash flow going forward, supported by a balance sheet with significant liquidity and no debt, highlights why the company is well-positioned to emerge stronger. A recently announced rebranding from the legacy "Riot Blockchain" company name opens the door for a fresh start in 2023.
RIOT Key Metrics
One challenge in the first half of last year was the "energy crisis", with record-high electricity rates in Q2 coinciding with extreme volatility in BTC prices. RIOT chose to limit BTC production in July last which briefly became uneconomical for the company in the context of its capacity at the time. By this measure, the core mining operation faced several setbacks last year, reflected in the poor stock price performance.
The way to understand this dynamic is that Riot operates several data center facilities tooled for Bitcoin mining. At its Rockdale, Texas location featuring a fixed power block price supply, the company was able to sell power back into the ERCOT grid system at the market spot rate which exceeded its BTC revenue potential, helping to raise cash while reducing overall expenses.
The setup also played a role in the company's decision to end its co-location hosting agreement with "Coinmint" back in July, considering the Massena, New York facility was run through a more prohibitive cost structure. In turn, Riot began a plan to transition all its miners to Texas which benefits from more favorable economics.
Fast forward, and the biggest development over the last half-year has been the significant increase in "hash-rate deployment" reflecting a greater BTC mining capacity since taking delivery of equipment purchases. From just 3.1 EH/s self-mining capacity at the end of 2021 which remain flat through August, Riot ended 2022 at 9.7 EH/s, per its latest operational update. Current guidance is for that level to reach 12.5 EH/s by the end of Q1 as the Rockdale facility expands with a new building and the company installs more miners.
The larger scale now means that the mining operations are significantly more valuable and cash flow positive compared to trends during the July 2022 curtailment incident. Lower natural gas prices and normalizing electricity rates in recent months are part of the more encouraging backdrop into 2023 on the cost side.
On the other hand, the flexibility to further curtail output depending on market pricing conditions and receive those power credits offered by the operator, if necessary, highlights an advantage of the business model. Riot has built out one of the largest Bitcoin mining infrastructures in the world in Texas, recognized as an attractive jurisdiction. Beyond Rockdale, a new facility in Corsicana, Texas with upwards of 1GW capacity is expected to commence operations by Q4 2023 as part of further capacity growth tailwinds.
Is RIOT A Good Stock?
Understandably, there is a lot of skepticism regarding Bitcoin mining as a business with the industry earning its reputation as the wild west of the stock market, and even more volatile that the price of BTC. Still, it's important to keep in mind that this is an industrial-scale operation that generated $46 million in revenue with the last reported Q3 results, which was in an environment of deeply depressed market pricing as well as lower production that increased materially into Q4.
The metrics were looking at starts with RIOT currently commanding a market capitalization of approximately $800 million which includes a balance sheet cash position of $255 million in addition to 6,897 BTC holdings. At the current market price of $17,000 per Bitcoin, that digital asset holding translates to an incremental $117 million in liquidity. In other words, RIOT is trading at just 2x cash which we interpret as cheap for an industry leader that is consolidating market share while smaller players are going under.
The near-term financial strategy has been to regularly sell the majority of the company's monthly BTC production as a method of generating cash to fund its ongoing investment spending expanding Rockdale and Corsicana. In December RIOT mined 659 BTC, while selling 600 of the production generating net proceeds of approximately $10.2 million. Again, going back to the company's hash-rate capacity growth chart, there is a path here for the monthly production to climb nearly 30% through Q1.
Considering the current Bitcoin network hash rate at 259 EH/s representing the global computing power across all miners, RIOT's current "market share" of 3.5% is expected to reach 4.8% by the end of March. Assuming a flat network difficulty over the period, RIOT will be mine upwards of 1,322 BTC per month by the end of Q1 representing an annualized rate of 15,864 Bitcoins.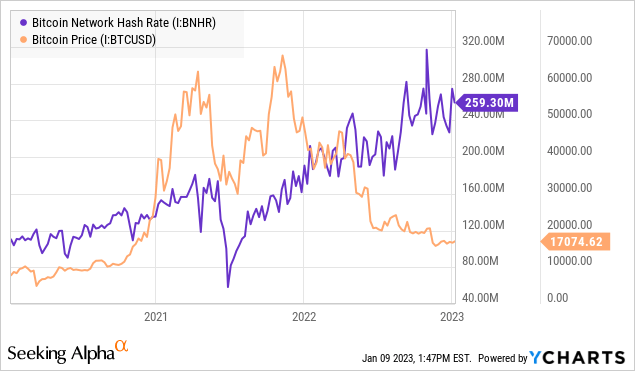 At a constant price of BTC at $17k, the forecasted March production implies $270 million in year-ahead revenue as a low-end mining estimate. The calculation here is based on the Bitcoin network awarding 328,500 newly minted Bitcoin per year, or 27,375 per month, while RIOT captures 4.83% of the network reward hash rate share at 12.5 EH/s by the end of Q1.
The figure ties into a current consensus estimate for RIOT to reach 2023 revenue of $417 million which considers that for 2022, roughly one-third of company revenue YTD through Q3 was based on the peripheral hosting services and the separate electrical equipment engineering business. That breakdown should narrow further as the self-mining segment plays a larger role. Keep in mind there is also an expectation for further deployments into the second half of the year, as the hash rate capacity further grows, on top of the revenues from peripheral segments.
While GAAP profitability will likely remain elusive in the current BTC pricing environment as the company continues with Capex spending, the expectation is for positive adjusted EBITDA towards $140 million in 2023. At this level, RIOT notes that its stock trading at a 2.3x EV to forward EBITDA multiple is at a discount to industry peers against a group average closer to 8x across names like Hut 8 Mining Corp (HUT), Marathon Digital Holdings Inc (MARA) and Greenidge Generation Holdings Inc (GREE) as comparable miners.
The spread here, particularly with MARA reflects an ongoing debate about which business model for Bitcoin miners makes the most sense. The contrast is that RIOT has staked its future on being vertically integrated by owning its data centers, while MARA avoids that capital-intensive investment while simply outsourcing the infrastructure requirement.
While the data centers operation may have been a crutch for RIOT in 2022, considering many of its customers faced significant financial difficulties in the BTC pricing environment, we believe its built-out facilities are now a strength as it provides room to expand self-mining operations while adding cash flow diversification. As a stand-alone business, RIOT also believes its data centers segment and engineering group are at a large spread compared to benchmark companies in those industries.
What's Next For RIOT?
Any upside for the RIOT will need BTC to rally from here and sustain more positive momentum going forward. The number of scandals in crypto along with high-profile bankruptcies over the past year has damaged the sector sentiment and added to uncertainties
Still, the takeaway for us is that it's business as usual for RIOT with a company that continues to execute a long-term strategy to evolve into the world's leading Bitcoin-driven infrastructure platform. The market pricing for BTC is poor, but our take is that the long-term bullish thesis for BTC including its growing role as an alternative asset and adoption among institutional investors into the space remains alive and well.
We have previously written about how the collapse of FTX (FTT-USD) can be positive for Bitcoin by helping to consolidate its role as the "gold standard" of crypto. In our view, FTX exposed how smaller alternative cryptocurrencies "alts" and tokens, along with unregulated exchanges, are more prone to fraud and scams as the culprit for much of the sector volatility last year. It's encouraging to note that Bitcoin's network has never been the subject of a "hack", while its capped supply adds a measure of intrinsic value based on credibility and scarcity.
Favorably, the trading action in BTC has stabilized in recent months. Our call here is that with "crypto" representing a high-beta segment of technology, Bitcoin can benefit from a global rally in financial assets through 2023. The recent Dollar weakness based on signs global inflation is trending lower which opens the door for Central Banks to slow down on hawkish rate hikes could be positive for all risk assets. It's worth mentioning that BTC is up almost 20% since hitting a low near $15k in November.
As it relates to RIOT, one way to look at the operation is that a $1,000 increase (or decrease) to the market price of BTC translates into a $16 million change in annualized mining revenue through its Q1 2023 forecasted run rate. Naturally, the upside here is significant in a bullish case where BTC regains positive momentum and reclaims levels beyond $20k and +$25k as a key level of technical resistance.
In this scenario, we would expect RIOT to outperform the price of BTC to the upside based on its operating and financial leverage, while the bullish backdrop in the sector adds a measure of valuation multiples expansion. Earnings would have room to accelerate well above current market estimates while the company would also benefit as its balance sheet position of BTC appreciates.
What Are The Risks?
On the downside, the level to watch would be $15k in BTC. A break lower would mark a more concerning deterioration of the trading environment that could coincide with renewed financial market volatility. Operating losses and cash flow bleed would also likely accelerate, adding to questions regarding the long-term solvency of the business. Investors also need to keep an eye on regulatory efforts that could limit the trading access or ownership of BTC which are measures under discussion by various governments worldwide.
For RIOT, it will be important for the next stages of its operational deployment to move forward including hitting those hash-rate targets without disruptions to its Texas facilities. Weaker-than-expected mining revenues or negative cash flow trends could force a leg lower in shares with a reassessment of the bullish outlook.
RIOT Stock Price 2023
We are bullish on RIOT and rate shares as a buy with an initial price target of $7.00 implying a 3x revenue multiple on its current 2023 sales estimate. Starting with a constant BTC price over the near term, we see shares rallying with the market acknowledging the organic growth momentum and production increases through Q1 that have the effect of brushing aside liquidity concerns.
Again, RIOT is high-risk, and speculative given the long-term pricing uncertainties of BTC but we like the setup here on a risk-adjusted basis. The stock can work in the context of a more diversified portfolio representing exposure to a unique segment that may still be in the early stages of reaching its potential.