agilon health: Long-Term Sustainable Business Model To Address The Needs Of U.S. Healthcare
Summary
I believe the current US healthcare setup is not ideal for stakeholders.
The agilon health platform offers a compelling value proposition to stakeholders.
Reaffirmation of FY22 EBITDA guidance is a positive indicator.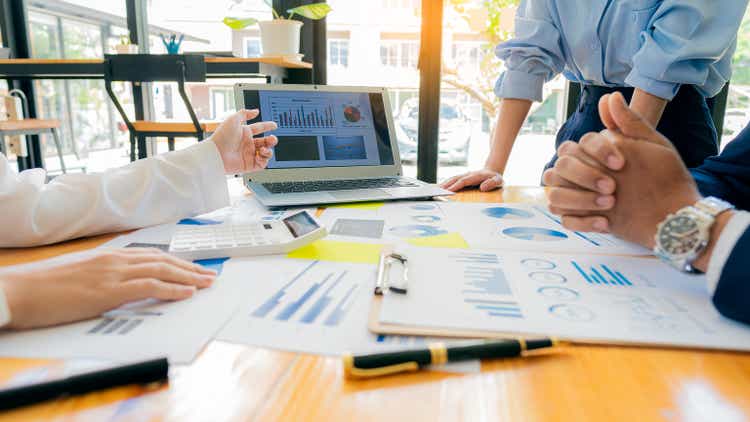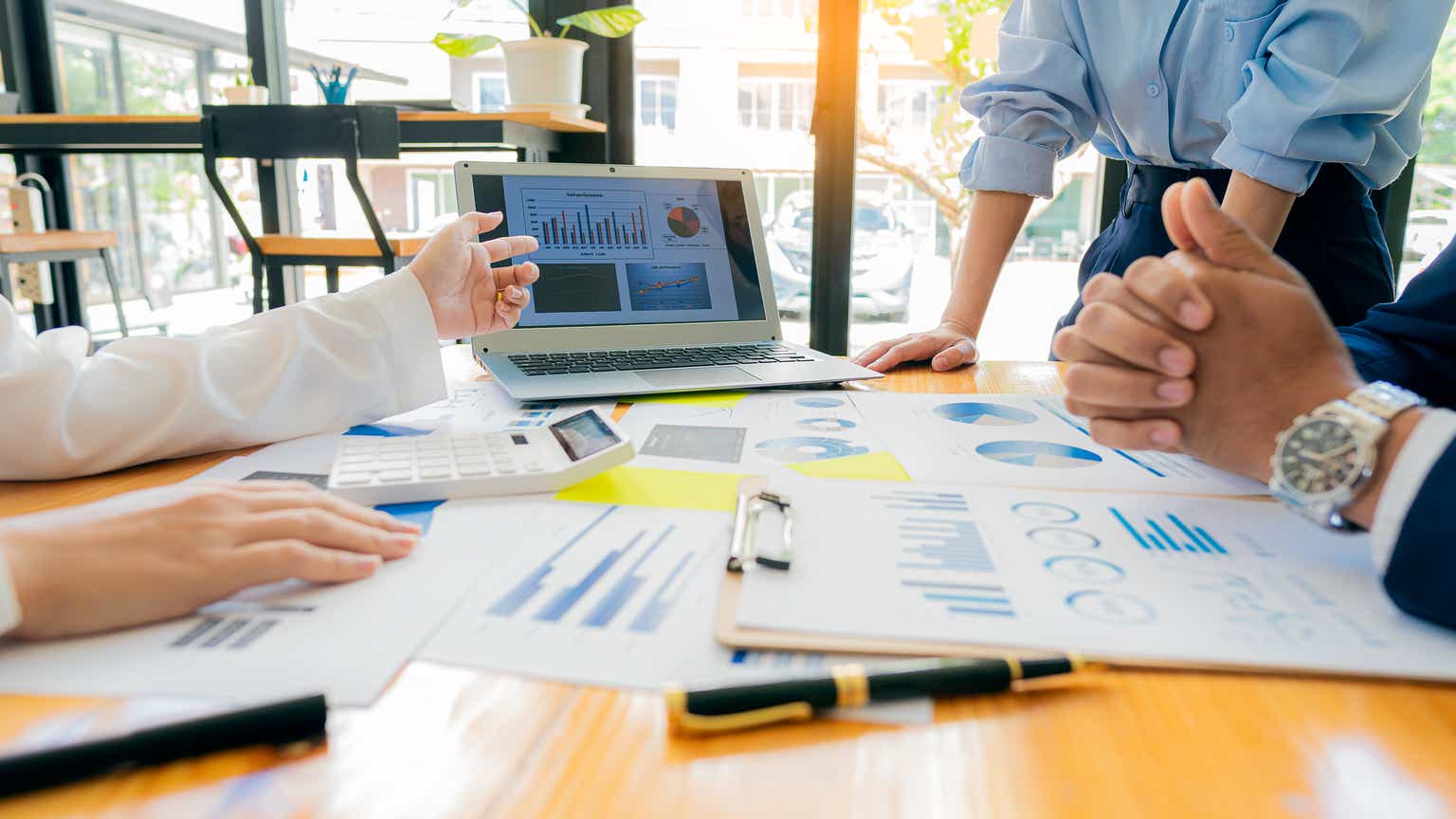 Recommendation
The buy case for agilon health (NYSE:AGL) is based on the potential benefits of its Total Care Model [TCM] platform for community-based doctors and their patients. This model gives doctors more autonomy and allows them to take a holistic approach to their patients' health, potentially leading to better care and outcomes. The TCM also has the potential to be financially beneficial for doctors and to reduce waste and unnecessary variation in care, as well as the complexity and disjointed nature of the current healthcare system. In addition, AGL's focus on forming partnerships with established medical practices and building a network of like-minded partners can help spread clinical best practices and enhance the platform's appeal to potential users. Finally, AGL enjoys a first mover advantage in establishing itself as a dominant player in local markets.
Business
AGL's offers a TCM. It's a platform that helps doctors find their ideal patients, which benefits both the patients and the doctors.
Current healthcare set-up is not ideal
My belief is that, the failure to give primary care physicians (PCPs) the authority they need to make significant improvements in medical outcome, cost, and the patient experience has led to wasteful variations in care, and subpar experiences and outcomes for patients. Physicians are frustrated because of the increasing administrative demands and the pressure to increase patient volume inherent in the current fee-for-service [FFS] reimbursement model. In addition, the current FFS model's unit-based reimbursement system does not encourage a holistic strategy to meeting each patient's specific requirements. Because of this, patients are often left frustrated and on their own as they attempt to make sense of a healthcare system that is both complex and disjointed.
Despite being in close contact with their patients, PCPs lack the resources and motivation to exercise greater control over care delivery or to enhance the patient satisfaction and quality of care. I also think that a platform like AGL has the potential to improve the primary care industry and lower healthcare costs in the US by allowing PCPs to use the platform to oversee the health of their attributed Medicare patients and potentially generate profits through premiums.
The agilon platform
Community physicians can utilize AGL's TCM platform to care for Medicare patients as part of the company's per-member-per-month [PMPM] arrangement with insurers or the Centers for Medicare & Medicaid Services [CMS]. In order for this model to work, it relies on a wide range of partnerships that span over time and across the country. The three main components of AGL's business model are the platform, a long-term physician partnership approach, and the network.
In order to facilitate the transition of community-based physicians to a TCM, in which the physician is given autonomy over the management of health outcomes and the full scope of care for their attributed Medicare patients, ALG is able to remove the obstacles that have previously stood in the way. Consequently, PCPs are moving away from the transactional model they've used in the past and toward a more sustainable membership-based model that better reflects the close and trustworthy relationship between doctors and their patients.
In my opinion, AGL TCM provides its stakeholders with a number of significant benefits. To begin with, the platform furnishes all necessary resources (including software, procedures, and finances) for engaging in a TCM. By using the TCM, PCPs are freed from the transactional incentives and restrictions of the FFS model and are instead financially responsible for the healthcare needs of patients. This enables PCPs to take a holistic view of their patients' health and allocate resources accordingly. Second, as AGL grows, it is able to work with a wider range of like-minded partners, which can only aid in spreading clinical best practices. I believe this network draws in new doctors because it gives them access to expertise from other markets and best practices that help them do well in a TCM. And finally, from a monetary point of view, the economics of a TCM can be game-changing for PCPs. There is great potential for physicians to boost their practice's long-term profitability as they gain experience on the AGL platform.
AGL has a first mover advantage
The AGL strategy is predicated on forming partnerships with preeminent medical practices in each community it serves, as such having a first mover advantage is important. These practices will have already built up substantial scale and reputable names in the minds of their patients. AGL's local dominance is reflected in the number of PCPs using its platform and the number of states in which it operates. Both of these things have grown substantially in the last few years.
Network effect
AGL's expanding community of independent physicians, in my opinion, accelerates the platform's growth by encouraging the sharing of best practices and new ideas. AGL is able to capitalize on the growing clout of its network of medical leaders at all levels by expanding into new regions in partnership with well-established medical groups and prominent doctors.
There is also a continuous feedback mechanism provided by AGL's capacity to compare efficiencies and care quality across regions or between physician groups within the same region. This allows AGL to accelerate the rollout of clinical programs and network-wide quality enhancements.
Long-term economic model
I think AGL has devised a growth strategy that will prove immensely useful to its medical associates and its bottom line. By forming an anchor partnership with a preeminent physician group in a geography, the growth model is able to capitalize on existing physician capacity in local geographies. By forming a lasting relationship with anchor physician groups, the number of AGL platform members can potentially increase over time, at a low cost, as current PCP patients transition to Medicare and/or Medicare-eligible patients opt to switch from FFS to MA.
AGL's expansion into new markets, increase in regional capacity, and increase in attributed membership have all been made possible by the success of its partnerships with anchor physician groups in recruiting PCPs. It is my opinion that AGL will be able to boost medical outcomes and platform profits as it collaborates with more physician groups to share methods and enhance communication and collaboration.
AGL's rapid expansion across multiple states and the subsequent crediting of hundreds of thousands of MA lives to its platform are both indications of the model's success..
Reaffirmation of FY22 EBITDA guidance
AGL maintained its FY22 2022 adjusted EBITDA guidance on January 9th, 2022, and provided initial FY23 EBITDA that was in line with consensus. In addition, management provided guidance for MA membership growth in FY23 that was ahead of both prior guidance and consensus estimates. Despite a lower-than-expected contribution from direct contracts [DC] and incremental membership growth in FY23 (both of which are dilutive at first), the EBITDA guidance was in line with expectations. All of these things bode well for MA's future prospects as they point to improvements in the company's fundamentals.
Valuation & model
Using consensus estimates, I value AGL at $21.32. AGL, I believe, will continue to execute and grow at a rapid pace. My belief in AGL's ability to execute is strengthened by the reaffirmation of guidance a few days ago. The AGL business model makes sense, and there is a clear path to long-term profitability, which I believe is the key to its rapid growth.
However, the valuation tells a different story; it appears that the market is punishing AGL for its rapid growth. This could be argued to be true because AGL is not profitable. However, we may see a shift in multiples beginning next year as AGL begins to generate positive EBITDA. I am currently assuming no change in valuation.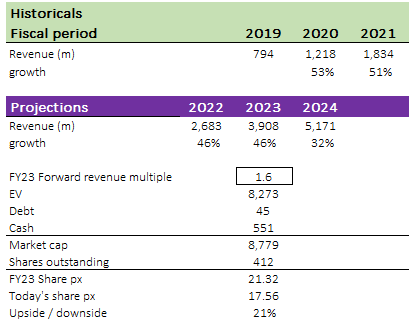 Risks
Competition risk
More competition in the market may hinder AGL's ability to recruit new doctors and secure anchor tenants, or force them to cede a larger share of economic benefits to their rivals.
New model economics may not be as good over the long-term
The financials of AGL's new health system partnership model might be a lot less profitable from those of traditional, solo medical practices. As a result, there may be fewer chances to form new partnerships with healthcare organizations.
Summary
AGL's TCM platform has the potential to improve care and outcomes for both doctors and patients, as well as provide financial benefits for doctors, cut down on waste and unnecessary variation in treatment, and form a network of partnerships with established medical practices, all of which contribute to the company's buy case.
This article was written by
Ex-long only investor turned business owner. Operate in the real estate and chemicals industry. Read and invest in companies on the side every night. I view investment as a never-ending-journey that allows me to constantly learn new industries and business models. While I am not the best today, I strive to be better with each deep-dive and analysis. Finally, this is a very profitable venture that pays well at the end of the journey if the process is done right.
Analyst's Disclosure: I/we have no stock, option or similar derivative position in any of the companies mentioned, and no plans to initiate any such positions within the next 72 hours. I wrote this article myself, and it expresses my own opinions. I am not receiving compensation for it (other than from Seeking Alpha). I have no business relationship with any company whose stock is mentioned in this article.
Seeking Alpha's Disclosure: Past performance is no guarantee of future results. No recommendation or advice is being given as to whether any investment is suitable for a particular investor. Any views or opinions expressed above may not reflect those of Seeking Alpha as a whole. Seeking Alpha is not a licensed securities dealer, broker or US investment adviser or investment bank. Our analysts are third party authors that include both professional investors and individual investors who may not be licensed or certified by any institute or regulatory body.