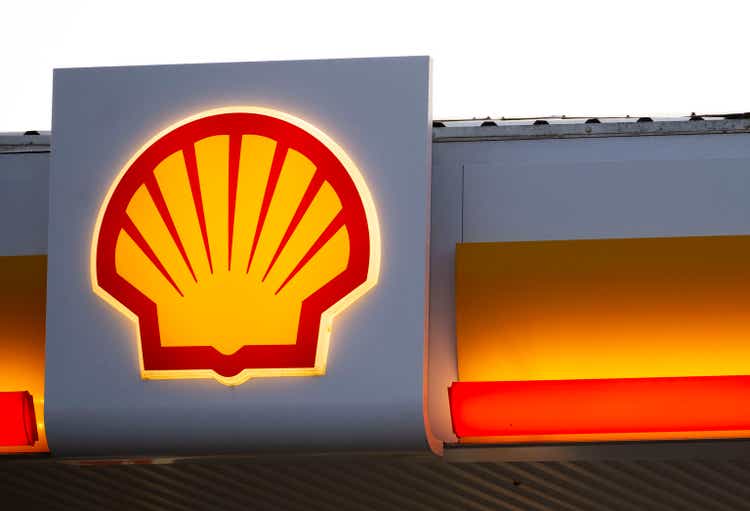 Analysts estimate that Shell plc (NYSE:SHEL) will earn revenues of $359.49 billion in FY 2023, a 7% decline from the $388.73 billion it is expected to earn in FY 2022. Like other leading integrated oil and gas companies, SHEL has benefited from higher energy prices over the past year. However, with oil prices cooling and even dropping in recent weeks, and SHEL's oil and gas output falling in step with its long-term ambition to transition to clean energy, the company's future growth prospects are not too exciting, hence analysts' expectation for slower growth this year.
The slower growth prospects notwithstanding, SHEL has taken advantage of higher oil prices to fix its financial shape in recent quarters. It has reduced production and operating costs across its operations and supply chain, resulting in higher margins amid higher oil prices. Gross margins for the trailing twelve months stood at a record 14.5% vs 9.4% in 2021, negative 10.09% (abnormal because of Covid), 6.83% in 2019, 8.19% in 2018, and 5.28% in 2017. Higher margins have translated into improved operating profits, higher EPS, and record free cash flows.
SHEL has made use of share repurchases and higher dividends to reward its shareholders. Its outstanding shares have reduced 6.7% from around 8.11 billion shares in 2019 to 7.56 billion for the trailing twelve months, underlining the increased pace of share repurchases over this period. On the dividend front, the company's management recently announced a sizable 15% dividend increase for early 2023. Currently, SHEL's dividend yield stands at 3.41%, which is not bad.
So, how have these moves panned out for shareholders? The short answer is good, but not good enough. If you compare with peers, in particular European oil majors such as TotalEnergies SE (TTE), BP p.l.c. (BP), and Equinor ASA (EQNR), SHEL has been the clear laggard on the stock market in the past year. As the chart below illustrates, it is up 13% in the last year, with a peak performance of 20% in this timeframe. This is much lower than the leader EQNR, which has an 18.80% 1-year return and peak performance of more than 50% in this timeframe.

While oil prices are expected to cool in 2023, they are also not going to collapse altogether, as China's full reopening after three years of the Draconian zero-covid policy will likely support demand.
This means that many oil and gas companies are expected to maintain their elevated financial performance, despite slower topline growth, in the coming years. With a progressive dividend policy, meaningful share repurchases, and debt reduction being the general playbook across the industry, some energy stocks with reasonable valuations may still offer upside today. SHEL seems to meet the criteria. This should, however, not serve as an invitation to invest in SHEL as the stock is cheap for a reason.
A deserved discount
SHEL's 6.07x P/E (fwd) multiple is less than half its 5-year average of 14.64x. This discount can be deceiving for those who believe it represents upside potential. In my opinion, SHEL's current low valuation rightly represents the enormous risk of the company's ongoing transition to clean energy. I characterize the risk as being "enormous" because it is not being solely driven by altruistic motives or so-called responsible capitalism, but by litigation. The courts can introduce many unknown "unknowns", particularly for hot-button topics like for climate, which are easily tied to human rights.
The Hague District Court's decision on Milieudefensie v. Shell in May 2021 ordered SHEL to reduce its carbon emissions by 45% by 2030. This landmark ruling, which stated that SHEL must implement the decision right away, means that the company is being forced to divest its fossil fuel-linked assets at a schedule dictated by the judicial system and not its shareholders. The risks inherent in this approach are pretty obvious and could explain why the stock has a depressed valuation.
Forced divestments can lead to assets being valued at a discount, hence diminishing returns to shareholders while forcing the company to tap into capital markets through debt or dilutive equity raises to fund its clean energy transition.
It's also important to note that the European courts and activists are going after many oil and gas companies and not just SHEL. Divesting assets in this environment could be challenging as sellers are more desperate than buyers. Interestingly, Reuters recently reported that SHEL was unable to reach a deal to sell its Norway assets in 2022, citing "market volatility" as the reason. In comparison, U.S. oil majors Exxon Mobil (XOM) and Chevron (CVX) sold their assets in the Norwegian Continental Shelf in 2019 and 2018, respectively, suggesting SHEL is late and likely to get a worse deal when and if it finally exits Norway.
To add to this uncertainty is the actual process of transitioning to clean energy. This is good for the planet, but it is still too early to tell what it means for SHEL's investors. Reliable, comparable, and comprehensive information on the pricing, volumes, costs, and margins of the clean energy economy is needed before investors can estimate future earnings potential from the clean energy transition. This information is still fragmented as renewable energy overall is still in the early stages of adoption globally. Despite the clear progress made to accelerate the uptake of clean energies, coal is still king as far as the global energy mix is concerned, and internal combustion engine vehicles are still on our roads.
Wait and see
Shell plc recently welcomed a new CEO, Wael Sawan, who took over from Ben van Beurden. In a video, Mr. Sawan noted that while he was incredibly excited, he was daunted by the "huge challenges that are out there" in specific reference to SHEL's ambition to cut carbon emissions.
While SHEL is actively investing in its clean energy transition, it's also concurrently trying to manage the risks and buy time through the courts. It appealed The Hague District Court's 2021 ruling. This is, in my view, damage control and will do little to change the overall risks. If anything, litigation focused on punishing corporations' contributions to climate change is likely to continue multiplying globally in 2023, as activists have been emboldened by SHEL's case.
For this reason, SHEL is not on my buy list even if the stock falls in 2023. I prefer U.S. oil and gas majors, as the regulatory risk is more reasonable in America. European regulators and governments are more aggressive, and this is likely to be a point of enduring pain for SHEL, which not only has to contend with a court-determined clean energy transition timetable but also potentially higher taxes in coming years.
Shell plc expects an additional $2 billion tax hit in Q4 2022 following new taxes in the U.K. and European Union levied on windfall profits in the oil and gas industry. This is an example of why the tax, legal and regulatory risks in Europe cannot be overlooked when assessing whether or not to invest in names like SHEL.
For now, it's a wait-and-see situation. The clean energy transition might be successful and even good for the planet, but the risk is not worth it for investors, in my opinion. If you want a green portfolio, keep off Shell plc.
Editor's Note: This article discusses one or more securities that do not trade on a major U.S. exchange. Please be aware of the risks associated with these stocks.