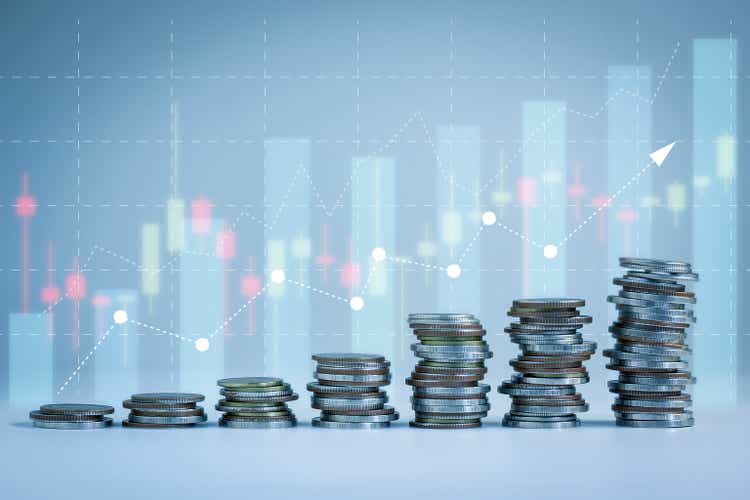 Investing is a marathon, not a sprint. If you're a short-term investor or a trader, investing in REITs probably isn't an exciting proposition. REITs are geared toward income investors with longer time horizons. This week Omega Healthcare Investors (NYSE:OHI) released an update prior to their Q1 earnings that EBITDA and Funds Available for Distribution (FAD) will decline in Q1 due to lingering impacts to some of its operators from the pandemic. This obviously isn't news that investors wanted, and shares declined sharply from around $28.34 to $26.33 on Tuesday, 1/10/23 prior to regaining some ground. On Wednesday, 1/11/23, shares of OHI continued to regain some of its footing as shares reached $28.23 in intraday trading before closing at $27.83. I have been a shareholder of OHI since the end of 2017, and I have a long-term investment horizon for this position. After reading through the updated presentation from OHI I am less concerned as the market was on Tuesday, considering OHI has been transparent about the ongoing impacts on some of its operators, and the presentation lacked any commentary about a reduction in the annual dividend. I have written many articles on OHI, and after digesting the updated information and waiting to see if further commentary was issued from OHI, I wanted to write an updated article prior to their upcoming earnings. I am still very bullish on OHI under $30 and don't believe the recent news impacts the long-term investment thesis.
OHI's updated presentation and the negative news within it
The COVID-19-related updates can be read in OHI's updated presentation on slides 9-15. He is a summary of the highlights. The Pandemic impacted OHI's operators as occupancy declined by -13% between February 2020 thru January 2021. While occupancy declined, expenses increased due to staffing and PPE obligations. OHI's operators are still facing repercussions from the pandemic which is impacting OHI's top and bottom line. Occupancy has increased by 6% since January 2021, but operators still face financial hardship.
At the end of Q3, which represents July, August, and September, 12% of OHI's annualized contractual rent and mortgage obligations did not pay all of their contractual obligations in Q3. In October, which is the first month of Q4, OHI collected rent from operators representing 91% of its Q3 2022 annualized contractual obligations. OHI continues to work with its operators to resolve outstanding financial obligations, but until agreements are reached with each individual operator, the finalized resolutions are in limbo.
There are three additional operators in question, Maplewood Senior Living, LaVie, and Healthcare Homes. OHI has laid out proposed restructuring of each of these operator's agreements in slides 11, 12, and 13, including the projected financial impacts. OHI projected that FFO and AFFO would not be impacted, but due to the restructuring, OHI expects its EBITDA and FAD to decline from Q4 2022 to Q1 2023. As the restructuring occurred, OHI indicated that both the dividend payout ratio, and its near-term leverage would be higher than its historical range during this period.
It wasn't just negative news in the updated slides. OHI indicated that Agemo is scheduled to resume paying rent in 2023. In regard to the dividend payout ratio and near-term leverage facing pressure, OHI specifically stated that they believe they will return back to historical ranges as the operator issues are resolved. OHI also provided some insight into how they believe operator fundamentals will continue to improve as occupancy in the 2nd half of 2022 continued to increase, Medicare rate increases of 2.7% were implemented in October of 2022, and many states implemented strong Medicaid rate increases in the 2nd half of 2022, and the labor market appears to be improving.
My take on the updated information and if it is changing my investment thesis on Omega Healthcare
Obviously, the updated information in OHI's latest presentation isn't exciting, but it's not necessarily new either. Investors who have followed OHI since the Pandemic, and listened to the earnings calls knew that several of OHI's operators were facing ongoing challenges. It's times like this when investors need to define what type of investor they are and what their time horizon is. OHI didn't suspend or reduce the quarterly dividend, even after additional challenges arose. In the short-term, OHI's share price could see additional volatility and experience pressure to the downside.
As an income investor, OHI is a dividend-generating asset for me, and I am not concerned about the share price over a short period of time. My investment thesis isn't changing because OHI continues to be transparent and explain its plan to restructure its operator agreements. As long as the dividend isn't reduced, my investment thesis isn't going to change, especially since OHI indicated that they believe the dividend payout ratio and leverage ratio will return to historical levels. I have no reason not to take management at face value, since they have navigated the operational landscape well during unprecedented times. If the share price does decline, I will probably take the opportunity to add additional shares, while enjoying the additional shares that my dividends generate over the next several quarters.
OHI's facilities are instrumental to society, and I don't see the demand declining going forward. Skilled Nursing Facilities are frequently utilized as a transition from a hospital stay serving as an intermediary step before the patient returns home or to an assisted living facility. These facilities provide inpatient rehabilitation following hospitalization for an accident, injury, or illness following a hospitalization. The length of stay is determined by the medical condition and the insurance criteria for coverage. The typical services provided are primarily physical, occupational, and speech therapy. Nurses are available 24 hours a day, and a physician manages care while the patient is receiving these services.
We have an aging population, and the average lifespan has increased over the decades, causing an increased need for Skilled Nursing Facilities. Chronic and acute medical conditions falls, and surgeries have led to an increased need for rehabilitation outside of the hospital before the patent is discharged to their permanent living setting. Medicare requires a three-night stay at a hospital for the services from a Skilled Nursing Facility to be covered by insurance. Skilled Nursing Facilities are licensed by the state's Department of Health Services and are held to regulation and inspection requirements. Some of the care offered by these facilities are stroke recovery, Parkinson's Care, Custodial Care, General Wound Care, Acute Medical Conditions, Terminal Illness Care, and General Rehabilitation
There is limited supply growth in the U.S due to regulatory restrictions, as there are currently 15,600 certified facilities with 1.65 million certified beds. As the demand for beds within these spaces increases, the supply will be limited as 86% of states have a moratorium on new beds and Certificate of Need restrictions. OHI has 916 properties, with 97% of revenues tied to master triple net leases, of which 95% of revenues are tied to fixed-rate escalators, with an average weighted fixed escalator of 2.3%. Ohi has an average lease term of 9.4 years, and 98% of the portfolio has expirations after 2024.
Conclusion
The updated presentation wasn't optimal, but it didn't change my long-term investment thesis for OHI. In the short-term, I am expecting volatility. The Q4 2022 and Q1 2023 earnings reports and commentary on the conference calls will be critical to assessing how much progress was made in the restructuring. I have said it before, and I will say it again, if OHI was going to reduce or suspend the dividend, I believe it would have already occurred. The fact that OHI put out an updated presentation that discussed negative impacts on the dividend ratio but never mentioned any changes to the dividend makes me believe the dividend will stay intact. Historically OHI has gone ex-dividend at the end of January or the beginning of February, so it doesn't make sense that OHI would put out an additional release in the coming weeks about the dividend when the new presentation was released on January 9th. For long-term investors, I still feel OHI is a great buy under $30, and it looks like shares are shaking off the losses from earlier in the week.