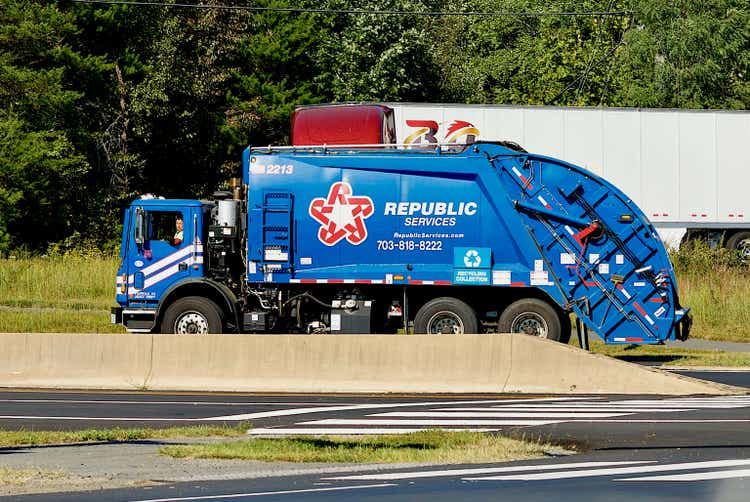 I maintain two 25-position, equal-weight dividend growth portfolios for my personal investing goals, one with an offensive orientation (my "Ultra High DGI" portfolio) and one with a defensive orientation (my "Defensive DGI" portfolio). Each portfolio has been painstakingly constructed and back-tested to maximize risk-adjusted returns and dividend growth based on its respective aim, with the defensive portfolio seeking to minimize drawdowns during difficult periods and thus be as "recession-proof" as possible, and the offensive portfolio seeking to maximize long-term dividend and capital growth. This article marks the third entry on the holdings of my Defensive DGI Portfolio.
RSG: Under-The-Radar Excellence
As the second-largest waste management company in the USA, Republic Services, Inc. (NYSE:RSG) maintains a large nationwide network of waste collection trucks, nearly 200 landfills, 72 recycling centers, and 74 renewable energy projects such as natural gas conversion facilities. It operates collection routes in a whopping 41 states and boasts Bill Gates as a major shareholder. Gates' investment vehicle Cascade has been buying up shares for over 20 years and now owns approximately one-third of the company.
As I mentioned in my recent article on Republic's larger peer Waste Management (NYSE:WM), I like trash stocks because of their utility-like operations, their wide moats, and their resiliency against disruption by new technologies. Solid waste management is forecast to grow at a 3% CAGR globally from 2023-2035, so combining organic growth, rate increases, and margin improvement, these companies should have the ability to provide reliable mid-to-high single-digit dividend increases and capital appreciation for decades to come.
Performance in 2022 was quite strong, with RSG and its peers outperforming both the S&P 500 (SPY) and the Dow Industrial Average (DIA). On a longer 5-year timeline that includes the COVID flash crash, we can see that RSG has nearly doubled SPY's performance while also edging out WM and Waste Connections, Inc. (WCN) in total returns.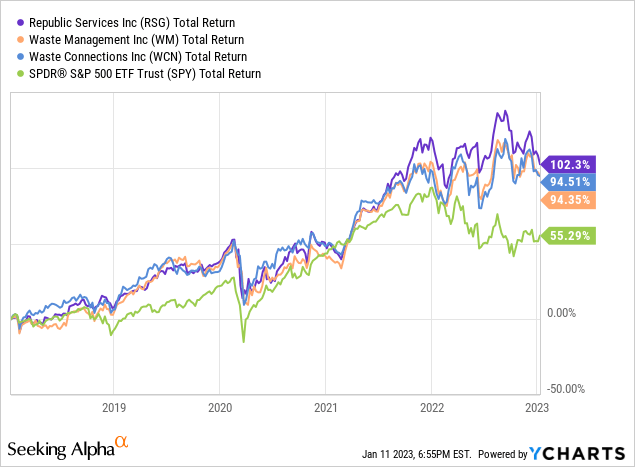 While I also have a buy rating on WM, I actually prefer RSG as an investment due to its stronger growth profile and industry-leading pricing initiatives. Originally founded as Republic Industries in 1981, the public company we know today was actually spun off from that entity in 1998 by its then-chairman Wayne Huizinga, whom investors may know as the founder of Waste Management. Republic's current CEO, Jon Vander Ark, is a former McKinsey consultant who has revolutionized the way they do business, finding new and novel ways to monetize various parts of the waste disposal process as well as raising prices for their collection and landfill services. Aggressive with acquiring smaller operators to expand Republic's footprint and diversify its operations, he recently led the RSG's $2.2B acquisition of U.S. Ecology, the leading hazardous waste disposal company with a 36% market share.
As we can see above from RSG's latest investor presentation, their performance from 2019-2021 was stellar given the temporary revenue hit from COVID shutdowns, with EPS and FCF growth averaging 10-11% per year.
However, occasionally Republic's aggressive tactics have gotten them into hot water. Teamsters unions in major service areas like Las Vegas, San Diego, Orange County, and Seattle have staged well-publicized strikes over dangerous working conditions, low pay, and benefits over the past few years. However, in mid-2022 Republic was able to reach agreements with its employee unions to end those disputes.
Valuation
Currently, RSG appears just slightly overvalued by most traditional metrics. With a forward P/E ratio of around 26 times earnings and P/S ratio of 3.07x, it is not cheap but is generally in line with its 5-year historical values and those of its sector:
Looking at its growth metrics, however, I think we can see why the stock offers significant value at current levels. Although its valuation remains near its 5-year averages, both its recent and forward-looking growth is far higher than average. This year RSG's revenue and EPS grew nearly 20% each, with forward growth projected to remain between 12-13%. Despite a slight drop in 2020 revenue due to COVID, its 5-year average top line growth rate of 4.5% is actually still higher than its 10-year average annual growth rate due to this year's elevated performance.
I'm not sure how long we can expect double-digit revenue growth to continue for RSG, and a recession would likely bring its growth rate down much closer to historical levels. But that doesn't change the fact that RSG is running on all cylinders at the moment and certainly deserves a premium valuation relative to its historical levels based on its strong growth outlook.
Dividend Strength
Although RSG's 1.56% yield isn't very impressive now that the Fed funds rate is projected to top out above 5%, one look at its dividend chart should give investors confidence of RSG's long-term wealth compounding potential:
Discounting July 2020's lower dividend raise amidst COVID lockdowns, historical dividend figures show that RSG typically hikes its dividend by 8% each year, as it has done in 2021 and 2022.
With manageable debt, projected annual revenue and EPS growth of over 12%, and a payout ratio of only 42% compared to its 5-year average of 47%, the company should easily be able to maintain an 8% dividend CAGR going forward and possibly even increase it, unless an extreme event such as a severe recession or another pandemic lockdown were to stall revenues again.
Conclusion
Republic Services, Inc. is my favorite kind of company: boring, consistent, and essential. Its CEO has brought a lot of innovation to both RSG and to the waste management industry as a whole, and its recent move into hazardous waste disposal should expand its already-wide competitive moat. It's no surprise that Bill Gates continues to increase his position in RSG considering its visionary leadership and strong growth outlook in a utility-like industry with only a few major players.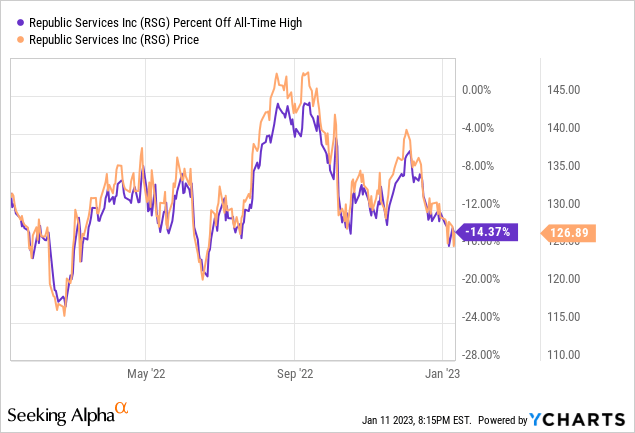 With Republic Services, Inc. shares currently down nearly 15% from recent highs as recession fears and rate hike uncertainty grip the market, I rate Republic Services, Inc. stock a solid buy on this dip based on its higher-than-average growth outlook and its resilient, innovative business model. Analysts may think the good news has all been priced in, but I don't think investors will regret siding with Bill Gates and owning this blue-chip trash stock Republic Services, Inc. for the long haul.