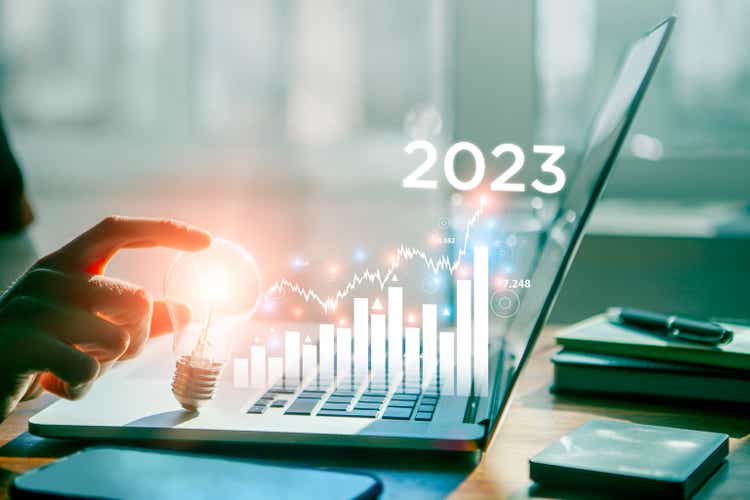 Investment Thesis
Insight Enterprises, Inc. (NASDAQ:NSIT) is a $3.7-billion mid-cap IT solutions provider from Arizona that has been growing with a CAGR of around 9.8% since its IPO in January 2005. Over the past 10 years, the CAGR accelerated to 18.5% as the company grew sales, EBIT, and earnings per share at double-digit annual rates.
Based on what I see today - the totality of the financial analysis, the industry niche outlook, management execution, and valuation - NSIT will likely continue to grow for at least the next few years.
Business Description & Financials
According to Seeking Alpha, Insight Enterprises provides information technology IT-related hardware, software, and services solutions in the US, Canada (North America), Europe, the Middle East, Africa (EMEA), and the Asia-Pacific (APAC).
As it follows from the company's most recent 10-Q filing, NSIT is a global technology provider of end-to-end secure digital transformation solutions and services, that help its clients innovate and optimize their operations to run smarter. NSIT's offerings in North America and certain countries in EMEA and APAC include hardware, software, and services, including cloud solutions. The company's offerings in the remainder of the EMEA and APAC segments are essentially software and certain software-related services and cloud solutions.
NSIT's sales mix is represented in 3 different categories:
Hardware (62% of total revenue in Q3 2022);
Software (24%);
Services (14%).
Insight Enterprises has come a long way from just a Reseller (the 1980s - mid-2000s) to IT Services (mid-2000s - 2016) and now Solutions integrator (2022 and beyond), based on the company's presentation [dated last quarter] prepared for the Oppenheimer 25th Annual Technology Internet & Communications Conference:
As we can see, 2015 was a turning point for the company, as it began to focus on services, where margins tend to be higher. And so it happened: with the exception of 2008 (the only operating loss year in the last 15 years), the EBIT margin from 2006 to 2015 averaged 2.46%; after refocusing on the services business since 2015, NSIT's EBIT margin has averaged 3.19% and continues to grow.
Alongside margins, growth in sales and earnings per share also accelerated, albeit at a very different - more solid - pace:
The most important thing that struck me in the recent NSIT's CFO presentation is the prioritization of gross and EBITDA margins above all else. The company definitely cannot be described as high-growth at the moment, so this approach seems quite reasonable and appropriate to me. Since gross margin and EBITDA growth outpace revenue growth, I think this is also a way to create additional value for investors - which can justify the lack of tremendous revenue growth.
At the last earnings call, CEO Joyce Mullen reminded the audience of the company's long-term strategy, which envisages EBITDA growth of 17-20% over the next few years.
The strategy is focused on 4 pillars: captivate clients, sell solutions, deliver differentiation, and champion the company's culture. Each pillar was explained by the CEO with its own story, so I decided to highlight the ones I think are the most important - client captivation and differentiated solutions.
1. Сaptivate clients:
I'll highlight one client, one of the largest grocery chains in the country. Over the last few years, their industry has gone through significant disruptions, including, of course, the supply chain. As a grocer, they have access to a wealth of data around consumer buying patterns and supply chain pricing and their management had a strategic goal to deliver 50% of their growth from digital sources. Our first task was to gather all their data in a way that first allows them to optimize their decision-making and second, could also be monetized and sold to consumer goods manufacturers.

The next task was to put some of that data to work within their stores to create intelligent shelving to alleviate the manually intensive process of changing prices. We created digital pricing, allowing the client to respond in near real time to changes in consumer demand as well as the supply environment. In another aspect of this project, we installed sensors that support sustainability, such as dimming the light if customers are not in an aisle or adjusting temperatures in the freezer remotely. Our clients' digital transformation did not stop in the grocery aisles. They also have an initiative to introduce health clinics in their stores and reached out to Insight to build their mobile health application, which has transformed how they engage with their customers. As I said earlier, we want to be a partner our clients can't live without, and this is an example of just that.

Source: NSIT's CEO, Q3 2022 earnings call transcript
2. Delivering differentiated solutions:
Our client was operating in a legacy data system and wanted to shift to a cloud-based infrastructure. They needed a solution to manage hundreds of millions of pieces of incoming data, such as emergency calls, data funded a unified view of all incoming data and emergency events with the ability to report and facilitate decision-making in real time. We utilize a combination of solutions, including our own IP, a tool called lens as well as market-leading technologies, including data bricks and Power BI to accelerate the project delivery from months to weeks. We developed real-time dashboards that show the placement of vehicles and personnel using GPS trackers, allowing them to make rapid decisions on resource and equipment deployment. And the results were impressive. We improved the staging of 15,000 vehicles and assets leading to a 2 times faster emergency response time and improve safety and services for more than 4 million people.

Source: NSIT's CEO, Q3 2022 earnings call transcript
With these specific examples, you can see exactly which markets we should have in mind when we talk about NSIT's TAM /SAM in the Software/Services target segments. In my opinion, these are 1) IT Services Market, 2) Cloud Services, and 3) Industrial Automation.
I have more detailed calculations for the first market TAM CAGR (IT Services Market) in my recent article on ExlService (EXLS) - "ExlService Holdings: Overlooked Compounder That Keeps Delivering". According to the data at the time, which had not yet changed, this market was expected to grow at an average CAGR of 8.56%. According to various sources, the other two markets will grow even faster - by 20.5% and 9.8% respectively. Thus, the 3 designated addressable markets for NSIT are expected to grow by nearly 13% annually over the long term - a huge opportunity for the company to further expand its customer base while maintaining margins if its expansion strategy remains as relatively conservative as it is today.
I do not have any questions about the latest income statement numbers - the company is growing and doing pretty well:
Last quarter, U.S. dollar sales increased by 3.54% compared to a very strong third quarter of 2021, while gross profit, EBIT, and net income increased by 9.52%, 8.57%, and 4.63% (year-over-year), respectively.
I was a little confused that the company with a fairly comfortable net income is making real losses (cash outflows from operations). However, it is rather a cyclical phenomenon - the growth of hardware sales led to an increase in the active part of the balance sheet (current assets), and the changes in working capital "ate up" the entire net profit:
As we have highlighted previously, our cash conversion cycle is inverted, meaning we pay our partners on terms shorter and we receive payments from our clients. This allows us to drive more cash flow and hardware growth decelerate, while in periods of hardware growth, more cash is used in our operations. In the first nine months of 2022, the decrease in cash flow from operating activities was primarily driven by growth in hardware net sales and changes in partner mix including volumes of distributors with early payment terms.

Source: NSIT's CFO, Q3 2022 earnings call transcript
The new KPI metrics that management has introduced to assess the effectiveness of its work will inspire optimism in whether NSIT will be able to generate strong free cash flows going forward - look at what level is set as a target for FCF/NI ratio (the last metric):
In general, the company's high-quality business model, solid financials, clear management strategy & execution give me confidence. From an operational perspective, I believe Insight Enterprises should continue its growth for the foreseeable future.
However, how this may reflect on the stock depends on the valuation and the Street's expectations - how fair are they currently for NSIT, and is there room for an "upswing adjustment"?
Valuation & Expectations
Against the backdrop of a fairly high base and following tremendous recovery growth in all corporate financial indicators after COVID -19, Wall Street analysts are expecting a Q4 2022 EPS consensus of $2.12 per share - that's 4.4% year-over-year growth on consensus revenue growth of just 1.7%. I guess that the Street is looking at a) a high base and b) slowing business growth as a result, and simply extrapolating those numbers into the near future. This violates the trend line that has formed over many years (even if the below chart is extended to the lower left):
And this is despite the fact that Q4 figures should be better in terms of seasonality than the rest of the quarters:
We generally experience some seasonal trends in our sales of IT hardware, software and services. Software sales are typically seasonally higher in our second and fourth quarter, particularly the second quarter. Business clients, particularly larger enterprise businesses in the United States, tend to spend more in our fourth quarter and less in our first quarter. Sales to the federal government in the United States are often stronger in our third quarter, while sales in the state and local government and education markets are also stronger in our second quarter. Sales to public sector clients in the United Kingdom are often stronger in our first quarter. These trends create overall seasonality in our consolidated results such that net sales and profitability are expected to be higher in the 2nd and 4th quarters of the year.

Source: NSIT's 10-Q, emphasis added by the author
It is absolutely no surprise how the company has managed to beat EPS and revenue forecasts in 7 of the last 8 quarters. I have a feeling that NSIT will please investors once again in the next earnings season thanks to favorable seasonality and initially relatively modest consensus forecasts.
As far as the company's valuation is concerned, I have a rather favorable picture for NSIT here as well.
Let me explain what is shown in the chart above. NSIT's forwarding key valuation metrics are currently slightly below TTM, reflecting a more modest analyst consensus compared to the company's past performance. In terms of EV/EBITDA, the company is slightly overvalued within its historical bounds - currently trading at 10.6 times EBITDA, compared to a mean of about 7x over the past 10 years. However, at the same level of comparison, but for the price-to-earnings ratio, we do not see an overvaluation - NSIT's 14x (TTM) is roughly in the long-term mid-range, even slightly lower than that. Compared to the median of the last 5 years, NSIT's forwarding P/E ratio is ~16.13% lower. That is, in total, we can say that the company's valuation does not have a large margin of safety, but it is clearly not too high - especially considering all the prospects for the modernized business model I wrote about above.
Seeking Alpha's Quant System agrees with my conclusions and gives Insight Enterprises a strong "B" rating, which is a significant discount to the average figures for the entire IT sector:
Bottom Line
Of course, my thesis is not risk-proof. First of all, the company's business - especially its Hardware segment - is strongly tied to the economic cycle. If a US recession does occur, the company could find it difficult to market its high-tech products. On the other hand, NSIT has relatively few inventories as a % of total assets, the share of which has historically responded with relatively weak growth during recessions. The same risk applies to receivables - their share is now quite high, which in my opinion can mean both high demands for the company's products and additional risk in case of insolvency of some buyers.
On the other hand, as I said above, NSIT does not have a sufficient margin of safety - so in the event of a widespread sell-off, there could be a steep decline in the company's quotes, and no "bright outlook" will save it from that.
Despite all the risks, I believe Insight Enterprises is an interesting company with a qualitatively changing business model and a clear business plan for its development.
Also, from a technical analysis perspective, we see how the NSIT stock recently broke the descending flag and encountered a strong resistance level. The lack of significant vertical volume makes me doubt that resistance won't be able to keep the stock from breaking out - I would expect this to happen in the medium term (20-30 week candles, or ~6 months). Of course, that's if the market does not decide to move significantly lower during that time. Otherwise, my price target is $125/share by the end of the year.
Thank you for reading!