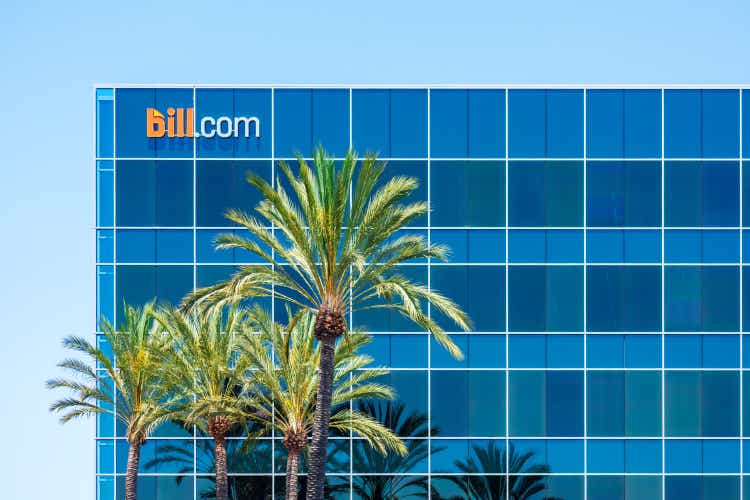 Looking at Bill.com shares in the context of their valuation implosion and the demand impacts of the macro slowdown
Bill.com (NYSE:BILL) is yet another fallen angel from the crop of IPOs of the last few years. I wrote about the company for SA back in the summer of 2020. It was a case of liking the company but not being comfortable with the valuation. The EV/S was 31X back then, and it is now around 11X. The company was far from profitability or generating cash back at that time; it is now non-GAAP profitable and generating free cash. The shares are actually 18% above the price they were in the summer of 2020; that is quite a bit better than the average performance of cloud-based software companies, with the WCLD ETF down by 36% over the same span.
Bill.com shares have experienced what has been the more or less standard trajectory for high-growth IT shares. They reached a peak valuation of $334/share in Nov. 2021 along with the rest of the market for high-growth IT shares. And they have fallen sharply since that time despite a couple of rally attempts in the spring and then summer of 2022, with a recent closing low of $99 set in the wake of the company's latest earnings release. As I write this, the shares are trading at around $98/share, reacting significantly to the latest employment and inflation data. At that price, the shares are down by 69% from their November 2021 high point. Sadly, that kind of fall has been all too typical for high-growth IT companies. In some ways, it may have been worse for Bill.com shareholders because the company has nearly doubled its revenues over the course of the past year, and has reached non-GAAP profitability in that span.
The question is now whether the combination of the valuation implosion, the growth of the company's business and its transition to profitability are the shares worth considering? I think they are. A couple of caveats here. Bill.com automates back-office processes for medium and smaller businesses. None of its customers is a household name. The company generates much of its revenues from a fee on the transactions processed on its platform. Those transactions are obviously correlated to business activity, and business activity has been and seems likely to continue to decline for much of 2023. The company has reduced growth expectations substantially, as I will detail later on; it is certainly conceivable that its outlook could deteriorate beyond the current guidance, which management stated was based on a mild slowdown in economic activity.
In addition, it is worth noting that Bill uses a fair amount of SBC. Last quarter, SBC was 31% of revenues, roughly comparable to the 32% of revenues in the prior year and a little greater than the 29% SBC/revenue ratio of the prior quarter. That said, the outstanding share count which I use to adjust for SBC, rather than the reported figure, rose just 0.5% sequentially last quarter and by 1.1% over the prior 6 months. The valuation metrics that I present in this article are all based on 121 million outstanding shares outstanding, compared to the company projection of 119.4 average shares outstanding for the current full fiscal year. The company has projected an outstanding share count of 118.4 million diluted average shares in Q2 and 119.4 million diluted average shares for the fiscal year. As I have written many times, the actual cost of SBC is dilution rather than the reported number for SBC which is based on a formula and does not reflect actual dilution. According to the current projection, dilution for Bill.com is running at a rate of less than 2%/year.
I note as well that Bill's outstanding share count is based on consistent non-GAAP profitability, and the accounting convention reflects a higher level of potential shares because of this. Also, note that the run rate for SBC is forecast to be at $75 million/quarter; differences in future quarters will be due to the vesting of shares for the former CRO who now is a strategic advisor. Once that change was made, the accounting convention requires that the value of the previously granted options must be recognized. At $75 million/quarter, and using the company's revenue forecast, the SBC/revenue ratio will remain consistent with the ratios of the recent past in the next several quarters.
Again, rather consistent with most other software companies, Bill.com acknowledged macro headwinds as affecting revenue growth when it provided a forecast in November, but also forecast a significant improvement in non-GAAP margins. Typically, free cash flow is greater than non-GAAP net income; thus, my estimate for the company's free cash flow margin for the next 12 months is likely to be around 10%.
A further caveat to this recommendation relates to the risk-off bias of the market. The market is exceptionally sensitive to any sign that the labor market isn't softening rapidly. When weekly unemployment claims data doesn't show a negative trend, regardless of anything else, high-growth stocks lose ground. That is true for Bill.com as it is true for almost all other high-growth IT equities. Not to flog the obvious, but the theory is that the Fed will not pivot on rates until it creates a significant recession with high rates of unemployment. In turn, until the Fed pivots, or there is some strong expectation that it will do so, valuations of Bill, and equivalent high-growth IT names, will remain compressed. This is NOT an article about my expectations for a Fed pivot. It is NOT an article about expected or historical monthly inflation rates. I have no special insight as to when that will happen regarding future specific economic metrics, although I think the idea that a pivot won't happen in 2023 is unlikely, regardless of the Fed minutes, some recent comments by Fed speakers (the recent comment by Raphael Bostic was the most unfortunate of the lot) or even regardless of December's jobs and inflation data. But until such time as market sensitivity to interest rate expectations starts to abate, it is most unlikely that Bill, or other high-growth equities will be able to achieve significant positive alpha regardless of the operational performance of the company.
Bill's most recent quarter - its business is processing transactions and transactions fall as economic activity contracts
Bill.com exists in the real world. The company has been growing its business at an enviable rate for years now as it acquires customers, sells additional services to those customers, and the customers process more transactions on the company's platform. The first two growth drivers are still intact-perhaps surprisingly so. The last one…it has reversed.
Last quarter Bill.com reported core revenues, i.e. its revenues excluding those derived from interest on the float it has, grew by more than 80% and total revenue growth exceeded 90%. Almost all of that revenue growth was organic. These growth rates actually represented a reacceleration from organic growth rates in the prior quarter. Revenues of $230 million exceeded prior guidance by 10%.
The company's non-GAAP margins rose noticeably and also exceeded prior guidance. Gross margins reached 86% up from 84% the prior year and 84% the prior quarter. Non-GAAP operating margins were about 4% compared to a loss the prior year and the prior quarter. Diluted EPS came to $.14/share, compared to prior guidance for EPS of $.05-$.07.
Of course, the issue for investors was guidance-particularly revenue guidance. The company actually raised its revenue guidance for the full year. At the mid-point, it is now forecasting revenues of just over $1 billion, while its prior forecast has been $964 million at the mid-point. So, incorporating the Q1 beat of $20 million, the company raised full year guidance by about $15 million or a bit more than 2% for the last 3 quarters of the year. But the sequential revenue guidance for Q2, which will be reported in early February, and the rest of the year seemed to be disappointing. The sequential growth forecast for Q2 is only about 6%, and using the mid-point for full year guidance, sequential growth for the balance of the year is expected to remain at that cadence, or in other words around 25%-27% on an annual basis.
On the other hand, the company substantially increased its expectations for EPS. The EPS forecast provided by the company rose from a previous level of $.35 to a current forecast of about $.55. At some level, this increase is even steeper than it might seem as it includes the acquisition expenses of a small purchase, Finmark, which closed at the end of 2022, but is not expected to have any revenue contribution this fiscal year.
The company CFO, John Rettig, discussed the modest decline the company has seen and expects to see in the payment volume per customer which I expand on later in the article. This decline is being offset, to some extent, by the strong growth in new customers, which at 14,200 was a record for any quarter. Churn has been low, and hasn't shown any signs of accelerating.
What does Bill.com do, and who are its competitors?
For those unfamiliar with this company, I think a bit of background might well serve to best understand the company's value proposition and its competitive positioning. The company offers an all-in-one financial operations platform, very focused on the SMB sector. The platform replaces manual processes for making and receiving payments, managing spend, and managing the accounts receivable process. At this point, the company has 420k business clients. SMBs have the same needs for back office efficiencies as larger enterprises. Paper processes often lead to inaccuracies and are far less secure than the use of cloud applications. And they are obviously far slower to complete and require lots of high-cost accounting inputs as compared to digital solutions. These are the basic problem that Bill.com is solving for its clients. To be very clear, Bill does not try to address the enterprise segment which is well served by the ERP stack vendors, and other specialized point products.
Bill's platform has been purpose-built to automate financial operations within its target space. It has a proprietary money movement infrastructure as well as a proprietary risk management and compliance solution. In other words, Bill has deep domain expertise coupled with an efficient go-to-market motion encompassing self-service, and partnerships with both thousands of accounting firms from the largest to the small proprietorships and some large financial institutions.
A bit more than a year ago, Bill acquired a company called Divvy for around $2.5 billion. Divvy offers expense management solutions using a technology based on a smart corporate card. Divvy remains an offering for Bill. At this point, Divvy represents about half of Bill's total transaction revenue, and it grew by 113% last quarter.
The company has also acquired Invoice2Go, which as the name implies is a mobile-first app that provides a receivables solution for the SMB space. The transaction, done for a mix of stock and cash was valued at $625 million. The revenues for that company were far smaller than Divvy at the time of the acquisition.
Needless to say, there are loads of competitors in the space. I have linked here to a G2 listing of some competitors. Most of these competitors are companies who simply lack the scale to be a major factor in the market. In some cases, the alternatives do not have all of the functionality offered by Bill. Probably the best-known competitor in this list is SAP's (SAP) Concur, a company that was purchased back in 2014 for $8 billion. Although Concur is listed as a competitor, it is far more expensive than Bill for most users and its focus is on the enterprise and really on the control of travel and entertainment expenses and not on the specific requirements of the SMB space.
The other competitor of some scale and name recognition is probably Sage Intacct. That said, the company is much smaller than Bill, with revenues last year (2022) of $77 million. It got bought by The Sage Group (OTCPK:SGPYY) a relatively large British software business headquartered in Newcastle upon Tyne, UK in 2017. There are no signs that its parent is prepared to make the kind of investment necessary to make Sage more of a competitor than it has been.
Divvy has its own set of competitors and I have provided a link with a G2 listing of competitors here. It seems obvious, given its explosive growth, that the Divvy's acquisition by Bill unlocked some significant sales synergies. Divvy's focus is on expense management, and in a recession, SMBs will inevitably focus on constraining expenses. I wouldn't be surprised if it faced more macro-related headwinds than the more traditional component of Bill's business.
One of the more important competitive attributes of Bill is its partnerships with thousands of accounting practices. Additionally, the company partners with a number of significant financial institutions, and these FIs are able to sell the Bill platform with their own logo to their own clients-a win/win paradigm as it enhances the relationship between the FI and its clients. A substantial component of Bill's new customers are coming from these partnerships-last quarter of 14k net new clients, the FI channel contributed 9k. It is typical for Bill to provide a "white label" technology to the FIs who in turn market that technology to their own customers without specific reference to Bill as the supplier of the solution. Currently, Bill is partnered with FIs such as American Express, Wells Fargo, Chase, and Bank of America, and its largest single accounting partner is KPMG.
In addition to partnerships, Bill.com offers a platform solution encompassing both payable and receivable functionality as well as spend management. It is the platform approach that sets Bill apart from its competitors and has been responsible for much of its recent sales success.
It should also be noted that Bill has substantial marketplace momentum. It is growing more rapidly than its smaller competitors and has become the default standard in its space. Investors can often underrate the importance of marketplace momentum as a competitive factor.
This is another case in which technology is really not the competitive differentiator. Bill has advantages of scale, marketplace momentum, domain expertise, and very productive partnerships with both accounting firms and FIs.
The real competitor of this company is the persistence of manual processes and the use of Excel spreadsheets. The company indicates that the payback period for using its software is about 12 months. And there are literally millions of SMB enterprises in the US and of course many more internationally. However, the growth runway evolves during the recession, the opportunities for this company to grow at elevated rates in a less difficult environment are still very substantial. The odds are that new customer acquisition will slow down in coming quarters-but not because of competition, but because potential Bill.com customers will restrict any kind of expenditure possible to deal with economic headwinds.
Evaluating Bill in the context of a recessionary climate
I must confess that I sometimes am given to wonder at the number of recommendations with headlines that talk about slowing growth - not just for Bill.com but for almost every other IT vendor. And when a particular headline doesn't talk about growth that has slowed, it talks about growth that will slow as though this is some great revelation. Of course, growth is going to slow down for almost all IT vendors during a recession; it already has, and most companies have reflected that in their forecasts and certainly stock prices reflect such expectations. Anyone buying Bill shares at this point is almost certainly aware that the company's business model is based on a take rate of transactions processed on its platform, and that its average customer processed 3% less value on its platform last quarter. The company called out that metric and went on to state that it expected the trend to continue for the next year.
During Q1, Bill stand-alone TPV per customer, excluding the FI channel, declined by 3% sequentially. In Q4, we saw mid-market businesses beginning to moderate their spending, and that trend is now visible with our micro and SMB customers as well. These trends are reflected in our outlook, which I will discuss later.
The latest data that Bill has provided shows that the company gets 25% of its revenues from subscription services and 68% of its revenue from usage charges based on transaction volume. The balance of its revenue comes from the interest on the float of the company during the period when payment transactions clear. It is the transaction revenue that is most at threat during a recession.
Before shifting to our financial outlook for the second fiscal quarter and full fiscal year 2023, I'd like to cover how we see the macro environment impacting SMBs and our business. In the near term, the macro environment appears to be increasingly challenging for businesses. We anticipate the trends we've observed with businesses moderating their spend will continue throughout fiscal 2023. And we expect that this will translate into lower year-over-year payment volume growth in the quarters ahead.
As is the case for many investments, certainly in the IT space, but probably in many other spaces, the question is really, does the company's revised guidance fully reflect the potential impact of macro headwinds, and does the current valuation adequately reflect slowing growth. It is really a question as to the severity of the landing, hard, soft or somewhere in between. I certainly don't know too much about landings and I doubt, seriously, if anyone else has a crystal ball with regards to the subject. I do think it is fair to point out, again, that the shares have fallen by about 28%, since earnings were last released, and the company's forecast was reduced to account for macro headwinds.
Usually, when companies reset expectations, they try to do so conservatively, and I have no reason to believe that wasn't the case for Bill.com as well. In addition, the company has closed 2 major FI partners recently and has been successful in enhancing its overall sales motion with its partners, specifically with FIs. I really haven't any specific insight into the ability of the company to continue to close the level of new business that it did in the prior quarter. I don't think there is any expectation on the part of either the company or investors that it will have more than 14k net adds this quarter, or in the quarters in the rest of the fiscal year. On the other hand, the CFO pointed out during the conference call that a significant component of growth in the FI segment would be coming from the company's RPO balance, which was $143 million at the end of last quarter, typically the low point of the year for that metric. And the company CEO, Rene Lacerte, spoke about the strength of the partner channel, which probably can offset some potential headwinds that might arise in acquiring new customers directly.
So we saw, first and foremost, that we managed to get 1 of our FI partners to start focusing on spend management, including that into their offering, that's work that we'll be announcing or rolling out, I should say, later in the year.

And then the other thing that we also saw was the ability to drive our vendor card solution through our platform for FI. So instead of them using their own virtual card, they're using our virtual card program because of the strength of the supplier enablement that we have and the strength of the overall program that we have. And then the third thing we saw with the FIs is that we saw 2 more additional banks sign up for the platform, which we'll talk more about later as those roll out. But all in all, we'd say the ecosystem is super strong. We saw great growth in accounts. We saw great growth in the FIs and great growth in the direct.
I think that it is more likely than not that the company will be able to achieve its growth forecast during this period of macro headwinds. But it isn't inconceivable that net adds decrease more than anticipated, or that spend per customer declines at a greater rate than is implicit in the guide. It is one of the risks of owning these shares, or the shares of most other enterprise IT companies, at this point in the cycle. No contributor to SA, or company executive or brokerage analyst, has a crystal ball. And this company is directly exposed, in terms of its revenues, to the business volume of its customers. But the counterpoint to that is the significant improvement the company has been able to achieve in its business model and its new-found ability to generate free cash flow. And further, I believe that regardless of how macro headwinds impact demand for Bill, its competitive position and broad product offering will allow for a strong return to hyper grow when the economy starts to return to better health.
The company's improving business model - A key part of the investment case in the current environment
Last quarter, as mentioned, Bill reached non-GAAP profitability as well as positive free cash flow, significantly above the expectations that the company had provided at the time of its previous earnings call. There were several factors that contributed to this result. Perhaps of most important was the strong level of gross margins which reached almost 86% in Q1. The company was able to improve its take rate on the transactions made across its platform. The company's revenue per transaction rose by 34%. So, even though the average payment volume per customer decreased a bit, the company was able to secure a slightly higher slice of that transaction revenue. The take rate is primarily a function of mix rather than pricing; Bill has numerous specific offerings with different levels of take rates, and the mix was favorable this past quarter. This higher take rate is obviously one factor the company has to offset macro headwinds.
In addition, the company's float revenue rose noticeably, and this has the effect of raising reported gross margins. Float revenues were more than $15 million last quarter, up from less than $1 million in the year-earlier period and up from $2.6 million in the preceding quarter. Some of this is a function of higher float balances as the business has grown; most of it is a function of higher rates. The company has also taken steps to optimize the mix of the investments that make up its float. Part of the reason that the company had the visibility to increase its projected EPS forecast is the strong tailwind provided by float revenues, which are essentially all profit. The company's guidance both for Q2 and the full fiscal year is somewhat conservative in terms of its net yield assumptions on float; In Q1 the company's net yield on its float balance was 1.92%, and it is assuming 2.25% in the recently ended quarter and 2.35% for the full year.
While the company's opex continued to rise rapidly in dollars, overall, non-GAAP expense ratios showed favorable trends. All of the dollars and percentages cited are non-GAAP.
Last quarter, the company's research and development spend was 23% of revenue, compared to 26% of revenues in the year-earlier period. On a sequential basis, research and development rose just 7% while total revenues rose 15%.
The largest element of operating cost for Bill is sales and marketing. Sales and marketing expenses were 38.5% of revenues last quarter, down from 39.5% of revenues in the year-earlier period. On a sequential basis, sales and marketing expense rose by 12%; some of the sequential increase was apparently a function of bonus payments to Divvy sales staff based on the performance of that business in fiscal Q1 which as noted enjoyed halcyon growth.
General and administrative expense fell to less than 20% of revenues last quarter, down from 27% of revenues in the year-earlier period. General and administrative expense rose by 10% sequentially.
Overall, non-GAAP operating margins were 4% last quarter, compared to a 7.6% non-GAAP operating loss the prior year. Non-GAAP opex fell to 81% of revenue compared to 91.5% of revenues the prior year. Sequentially, non-GAAP operating expense rose by 10%
The moderating increase in opex sequentially is almost surely a harbinger of accelerating expense controls going forward. The company has forecast that non-GAAP margins will be about 2%-3% for the quarter soon to be reported, including some merger expenses related to the Finmark acquisition. For the full year, the company's projection is for non-GAAP operating margins to reach around 3%. Obviously, this implies that opex growth will see some substantial declines from the rates of Q1. As the analysis above suggests, there is plenty of room for the business model to improve substantially. General and administrative expense ratios are far above average for a company of this scale, and sales and marketing expenses are also somewhat greater than average.
While there are risks and uncertainties with regards to the company's revenue growth during a period of economic headwinds, the opportunity for the company to continue its path to substantial profitability and free cash generation is quite clear at this point.
Bill's valuation/conclusion
When I last wrote about Bill the economy was strong and interest rates were low. Now, the economy has weakened materially and interest rates are restrictive. One Fed speaker On Monday, 1/9 suggested that he was prepared for the Fed to overshoot targets and he expected that interest rates would have to remain restrictive into 2024. There is a certain level of disbelief on the part of investors with that kind of cavalier commentary. One wonders if the Fed governor, Raphael Bostic, who made that comment, would be prepared to give up part of his own government-funded paycheck in the interest of overshooting. Overshooting means millions of people unemployed. The Fed has engineered a recession, and I don't think anyone really knows whether the landing will be hard or soft, or somewhere in between, and Bill.com, selling a set of back-office financial solutions to SMBs has to exist in that environment. The company's operational performance had been a shooting star even as late as the prior reported quarter; its growth is going to be noticeably constrained in the current and coming environment. Investors are going to have to look through current growth and try to assess the reasonable long-term prospects for this company.
Bill's EV/S ratio currently sits at around 10X based on projected revenues of $1,050 million for the next 12 months. Obviously, that is the lowest such ratio the company has had since the shares have traded in the public market. While the EV/S ratio is still greater than average considering the company's growth cohort, it is no longer stratospheric as had previously been the case.
I have projected Bill's free cash flow margin for the next 12 months at around 10%. The company's free cash flow is typically going to run modestly above its non-GAAP profitability metric as its deferred revenue balances rise and as the level of business with FIs increases-they often sign multi-year agreements and occasionally pay in advance. Using the combination of free cash flow and revenue growth, Bill's valuation is around average for the company's growth cohort, again a novelty for this company.
My estimates coupled with the FinBox calculation for weighted average cost of capital which they peg at 10.3% yields a net present value for the shares about 50% greater than the current share price of $101 (all prices and calculations in this article are based on the close as of 1/10/23 for Bill.com shares.) This is an uncertain environment when it comes to making multi-year financial projections. My estimates for the DCF calculation are based on a recovery in growth rates after the next 12 months and a steady march to a free cash flow margin of above 25%. But the fact that the company is now generating free cash flow, as opposed to burning cash, obviously, has a material impact on the calculation of NPV, especially considering the rather elevated weighted average cost of capital in the model.
Should readers buy the shares now? My guess is that doing so will require some patience and fortitude. If the economy starts to shed jobs, as some brokerage economists are now projecting, that would raise the probability of an estimate cut for this company and many others. Is that baked into current valuations? Many, but not all analysts have taken the view that a company, any company, which might reduce estimates, is not a suitable vehicle for a buy recommendation. I think that the same factors, i.e. a decline in US payroll employment, which might negatively impact Bill.com estimates and its operational performance, will also lead to a Fed pivot. Bill's revenues are a function of spend on its platform that includes Bill standalone and the Divvy card. I imagine that most investors are well aware that if employment declines, the level of spend on the platform, even if it is bolstered by new customer additions, is likely to be constrained. My own view is that an optimal strategy for investors is to look through what might be a further estimate reduction. But I recognize that such a strategy is not compatible with the investing disciplines of many readers and potential investors.
Bill's operational performance in a recovery is going to be exceptionally strong. It has taken the appropriate steps to develop a strong competitive position with partnerships with thousands of accounting firms and a growing number of major FIs. Its electronic payment rails for both spend and for receivables provide it with a unique level of capability. The cross-sell between Divvy and Bill continues to pay dividends.
From my perspective, one of the more important investment attributes of Bill is that it is now profitable and generating cash. Of course, some of that is a function of the rapid growth in float revenues, and while that is likely to be a tailwind for at least the next two quarters, float revenues are not really a major growth driver for the company. But the company has started to reduce the growth of opex noticeably, and that is a promising development in this environment.
There are many investment choices with high potential for a return measured in hundreds of percent in this environment. To say that Bill.com has a unique upside potential is obviously an exaggeration. But if a reader is looking for an investment with significant potential and with a risk that is in whole or part discounted because of the share price implosion of the past 14+ months, this company ought to be on a list of potential commitments. It no longer has the stigma it once had of incredible valuation without any discernible path to profitability. I believe it will create significant positive alpha - so long as the measurement period is a year rather than a month or two.