AmerisourceBergen: What Does The Valuation Look Like After The Recent Price Rise?
Summary
Finding high quality stocks that make above average returns is possible for the average investor to do using pretty simple valuation techniques.
However, most of the time, the financial media doesn't talk about these stocks when they are cheap (and if they do, the tone is usually negative).
AmerisourceBergen was an easy value to identify back in late 2020 for those paying attention. I update my valuation for the stock after the recent price appreciation.
Looking for a helping hand in the market? Members of The Cyclical Investor's Club get exclusive ideas and guidance to navigate any climate. Learn More »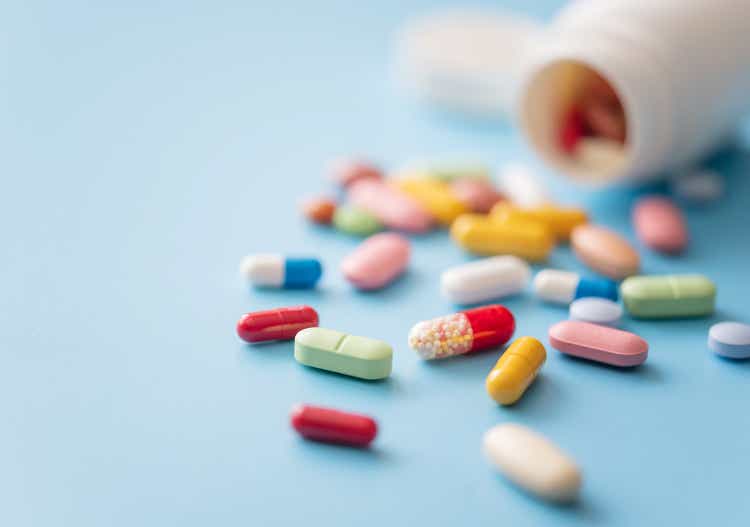 Introduction
I spend a lot of time in my Seeking Alpha articles warning investors about what could go wrong with particular stocks they own. So for this article, I wanted to revisit a stock idea that went right, so investors can see the dynamics of what a good fundamental-based investment looks like. Today's example will be AmerisourceBergen (NYSE:ABC). I last wrote about ABC in a "Buy" article on September 28th, 2020 titled "AmerisourceBergen Will Soon Be Rewarded For Quietly Growing Profits". In my conclusion I noted:
Given AmerisourceBergen's inexpensive price, consistent earnings growth, and the likelihood the market could rerate the stock sooner rather than later, I think ABC's a buy at today's levels.
Here is how AmerisourceBergen stock has performed compared to the S&P 500 index since that article.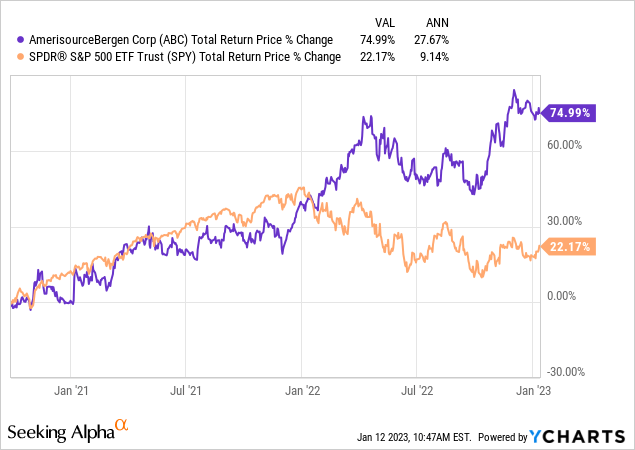 ABC has more than tripled the returns of the S&P 500 index and produced annualized gain of about 27% compared to SPY's 9%.
ABC is a great example of how pretty basic fundamental analysis can find values in the market. And while this purchase was made in 2020, it wasn't made anywhere near the market bottom in March of 2020. So, there really weren't any heroic market calls or nerves of steel needed to make this purchase. Finding this value was as easy as it gets in investing.
Now that ABC has had such a great run, I'm going to revisit the stock's valuation to see what it looks like right now and examine whether it has become overvalued after the recent price appreciation. I'll use the same style of analysis I used to determine it was a "buy" back in 2020.
My Valuation Method For AmerisourceBergen
The valuation method I use for AmerisourceBergen first checks to see how cyclical earnings have been historically. Once it is determined that earnings aren't too cyclical, then I use a combination of earnings, earnings growth, and P/E mean reversion to estimate future returns based on previous earnings growth and sentiment patterns. I take those expectations and apply them 10 years into the future, and then convert the results into an expected CAGR percentage. If the expected return is high, I will buy the stock, and if it's really low, I will often sell the stock. In this article, I will take readers through each step of this process.
Importantly, once it is established that a business has a long history of relatively stable and predictable earnings growth, it doesn't really matter to me what the business does. If it consistently makes more money over the course of each economic cycle, that's what I care about the most.
Since 2004, ABC has only experienced a single year of negative EPS growth and that was all the way back in 2005. Since then, earnings per share have risen every single year, including during the 2008/9 recession and during the recent pandemic. Stocks that have extremely steady earnings growth like this are relatively easy to value using a fundamental-based earnings and earnings growth analysis, which is what I did back in 2020, and what I will do in this article as well.
ABC's Market Sentiment Return Expectations
In order to estimate what sort of returns we might expect over the next 10 years, let's begin by examining what return we could expect 10 years from now if the P/E multiple were to revert to its mean from the previous economic cycle. For ABC, I am using a time-frame that starts in 2016 and runs through 2023. This is a slightly shorter time-frame than I often use because from 2013-2015 ABC's P/E was unusually elevated. By excluding those years, I should get a more conservative and accurate average P/E.
ABC's average P/E from 2016 to the present has been about 13.35 (the blue number circled in gold near the bottom of the FAST Graph). Using 2023's forward earnings estimates of $11.49, ABC has a current P/E of 14.40. If that 14.40 P/E were to revert to the average P/E of 13.35 over the course of the next 10 years and everything else was held the same, ABC's price would rise and it would produce a 10-Year CAGR of -0.76%. That's the annual return we can expect from sentiment mean reversion if it takes 10 years to revert. If it takes less time to revert, the annual return would be lower.
Business Earnings Expectations
We previously examined what would happen if market sentiment reverted to the mean. This is entirely determined by the mood of the market and is quite often disconnected, or only loosely connected, to the performance of the actual business. In this section, we will examine the actual earnings of the business. The goal here is simple: We want to know how much money we would earn (expressed in the form of a CAGR %) over the course of 10 years if we bought the business at today's prices and kept all of the earnings for ourselves.
There are two main components of this: the first is the earnings yield and the second is the rate at which the earnings can be expected to grow. Let's start with the earnings yield (which is an inverted P/E ratio, so the Earnings/Price ratio). The current earnings yield is about +6.94%. The way I like to think about this is, if I bought the company's whole business right now for $100, I would earn $6.94 per year on my investment if earnings remained the same for the next 10 years.
The next step is to estimate the company's earnings growth during this time period. I do that by figuring out at what rate earnings grew during the last cycle and applying that rate to the next 10 years. This involves calculating the historical EPS growth rate, taking into account each year's EPS growth or decline, and then backing out any share buybacks that occurred over that time period (because reducing shares will increase the EPS due to fewer shares).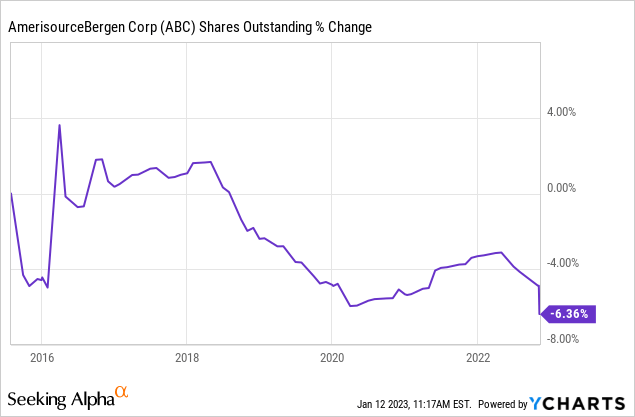 Since September of 2015, when ABC's fiscal 2016 started, they have bought back about 6% of the company. I will control for these buybacks when I calculate my earnings growth rate. After doing that I get an earnings growth rate of +10.04% over this time period.
Next, I'll apply that growth rate to current earnings, looking forward 10 years in order to get a final 10-year CAGR estimate. The way I think about this is, if I bought ABC's whole business for $100, it would pay me back $6.94 plus +10.04% growth the first year, and that amount would grow at +10.04% per year for 10 years after that. I want to know how much money I would have in total at the end of 10 years on my $100 investment, which I calculate to be about $222.00 (including the original $100). When I plug that growth into a CAGR calculator, that translates to a +8.30% 10-year CAGR estimate for the expected business earnings returns.
10-Year, Full-Cycle CAGR Estimate
Potential future returns can come from two main places: Market sentiment returns or business earnings returns. If we assume that market sentiment reverts to the mean from the last cycle over the next 10 years for ABC, it will produce a -0.76% CAGR. If the earnings yield and growth are similar to the last cycle, the company should produce somewhere around a +8.30% 10-year CAGR. If we put the two together, we get an expected 10-year, full-cycle CAGR of +7.55% at today's price.
My Buy/Sell/Hold range for this category of stocks is: Above a 12% CAGR is a Buy, below a 4% expected CAGR is a Sell, and in between 4% and 12% is a Hold. ABC's expected +7.55% makes the stock a "Hold" at today's price, and basically right around the midpoint of fair value.
If ABC stock should happen to fall below $126.20 while earnings expectations stayed the same (about a -24% drop) then the stock would become a buy again. If the stock price rose above $209 per share without a corresponding rise in earnings, then I would consider selling the stock for valuation reasons.
Conclusion
I currently still hold AmerisourceBergen stock and it's also still a holding in my marketplace service, The Cyclical Investor's Club. While opportunities like ABC in 2020 don't occur with extremely high frequency, they do come along regularly, and they are perhaps my favorite type of core investment because if you can buy them cheap enough, as you can see, they can rise 75% and still be fairly valued and be expected to continue rising 7-8% a year for a very long time after that. The truth is, I almost never look at this stock except to update its earnings expectations about once per quarter. Stock ideas like this one are easy enough to identify that even a beginning investor could analyze them without much trouble if they simply focus on earnings and earnings growth.
The key to finding values like this is to ignore whatever the media is paying attention to and to track the valuations and prices yourself. I actively track about 600 high-quality stocks, so that I can see which ones become undervalued even if nobody else is talking about them at the time. Often it's the lesser-known businesses like AmerisourceBergen that offer the best values when nobody is looking.
If you have found my strategies interesting, useful, or profitable, consider supporting my continued research by joining the Cyclical Investor's Club. It's only $30/month, and it's where I share my latest research and exclusive small-and-midcap ideas. Two-week trials are free.
This article was written by
One-of-kind research using historical cycles to identify tops and bottoms
My analysis focuses on the cyclical nature of individual companies and of markets in general. I've developed a unique approach to estimating the fair value of cyclical stocks, and that approach allows me to more accurately buy near the bottom of the cycle.
My academic background is in political science and I hold a Bachelor's Degree and a Master's Degree in political theory from Iowa State University. I was awarded a Graduate Research Excellence Award in 2015 for my research on conservatism.
Analyst's Disclosure: I/we have a beneficial long position in the shares of ABC either through stock ownership, options, or other derivatives. I wrote this article myself, and it expresses my own opinions. I am not receiving compensation for it (other than from Seeking Alpha). I have no business relationship with any company whose stock is mentioned in this article.
Seeking Alpha's Disclosure: Past performance is no guarantee of future results. No recommendation or advice is being given as to whether any investment is suitable for a particular investor. Any views or opinions expressed above may not reflect those of Seeking Alpha as a whole. Seeking Alpha is not a licensed securities dealer, broker or US investment adviser or investment bank. Our analysts are third party authors that include both professional investors and individual investors who may not be licensed or certified by any institute or regulatory body.