Actionable Items:
1. Long: Nuveen Floating Rate Income Fund (NYSE:JFR) and Invesco VK Senior Income Fund (NYSE:VVR);
2. Sell: Pimco High Income Fund (NYSE:PHK).
Observation: Over the trailing 12 months it appeared investors were far less interested in the prospective year-over-year (YOY) growth in the monthly distributions of their CEF holdings as they were in seeking what they perceived as safety during this period of high-anxiety.
Mostly Fear: During this timeframe CEF investors were motivated by low returns on cash-equivalents and the perceived safety of fixed-income investments. The "piling" into fixed-income securities drove share values of fixed-income CEFs higher mainly as a result of increased demand. However, fundamentals of certain fixed-income CEF fund types may have deteriorated during this share price advance, as expressed by declining YOY distributions.
The Envelope Please: Two of the 9 CEF fund types that experienced distribution declines while seeing their average share prices advance were HiYldBndFnds and SingleStMuniFnds. In contrast, LoanPartFnds saw an average increase in distributions but a decline in average share price. (See chart and related table below)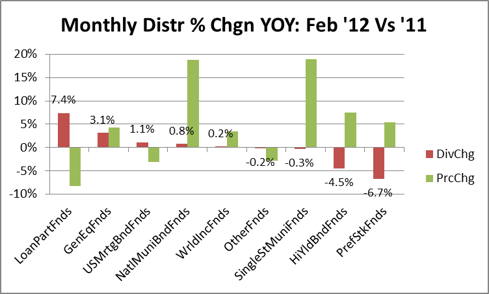 Review of Distributions: In reviewing the monthly distributions of 278 CEFs that went ex-dividend both in February of 2012 and 2011, there appeared an inverse correlation between the YOY percentage monthly change in distributions and the change in share price during that time period.
In the adjacent chart, LoanPartFnds generated the largest average increase ("red") in YOY monthly distributions of 7.4%. Yet, its share price valuations ("green") slumped 8.2% during the period-the largest drop of any of the 13 CEF fund types.
In contrast, both SingleStMuniFnds and NatlMuniBndFnds share price soared 19.0% and 18.9%. Yet, SingleStMuniFnds monthly YOY distribution distributions actually declined 0.3% and NatlMuniBndFnds advanced less than a percent.
Of Most Interest: While HiYldBndFnds experienced an average February YOY monthly distribution decline of 4.5%, this fund type's average share price advanced 7.6%. Most disconcerting was the fact that of the 18 CEFs in this category reporting a February YOY change in their distribution rate, 72% (14 CEFs) reported declines.
Glass Half Empty: Given the low interest rate environment on leverage and an improving economy on the underlying assets, the fact that so many high-yield CEFs experienced a "downtick" in their February YOY distribution rates seems odd. What happens when their cost of leverage increases?
Note of Caution: It would seem on this cursory basis that CEFs trading at high premiums and high levels of debt might require further analysis to justify their position in clients' portfolios. The average premium for the group is 2.3% with average leverage of 23.5%. Below are the highest premium CEFs that are classified as HiYldBndFnds in our universe.
PIMCO High Income Fund defies investment logic, but it is managed by the "bond king" Bill Gross, who is founder of PIMCO and manager of its Flagship mutual fund. The franchise premium here is huge by any standards. (My skepticism here is well documented and to date it has been proven either wrong or premature.)
Glass Half Full: On the positive side, LoanPartFnds have delivered the "goods" in the form of increased distributions and yet have been treated with less respect by investors. Maybe "there's a pony" in this group.
Both Nuveen Floating Rate Income Fund and Invesco VK Senior Income Fund registered double digit distribution increases.
Caveats: Our analysis wasn't based the universe of CEFs but a sample of data. The computation of the entire CEF universe may lead to a different investment conclusion.