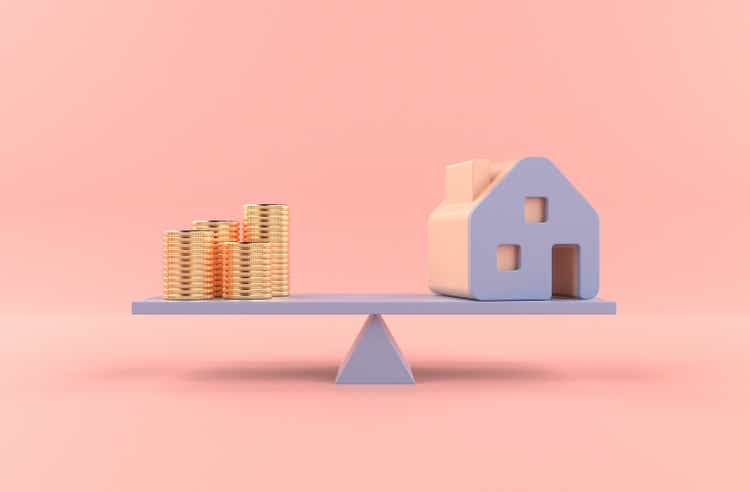 Article Thesis
Real estate investment trusts have not performed too well over the last year on average when it comes to their stock performance. But underlying progress has been solid for many companies in this space. Realty Income (NYSE:O) and Agree Realty (NYSE:ADC) are two REITs that generate compelling business growth and that have shown reliable business performance in the past. Their triple-net lease nature makes them comparable. In this article, we'll take a look at which of these companies could be more suitable for investors, depending on their investment goals and preferences.
Triple Net REITs In The Current Environment
Some property owners have triple net leases in place with their tenants, which means that the tenant is responsible for paying all operating expenses for the property. This includes maintenance, property taxes, and insurance. In short, the company that leases out properties in this way operates with very high margins, as the tenant is paying for all relevant expenses (excluding financing costs when debt is used to buy properties).
REITs that operate with triple net leases tend to be insulated from increasing operating costs. When raw material and labor become more expensive, which results in higher maintenance expenses, that's not the landlord's problem, as the tenant is paying for that. When insurance or taxes become more expensive, that's paid for by the tenant as well, so the landlord is unaffected.
In a high-inflation world, where maintenance and other operating expenses keep rising, triple net leased REITs such as Realty Income and Agree Realty are not negatively impacted by cost inflation to a significant degree. Salaries for their employees increase, but that's a pretty small value versus the revenues that these companies generate. At the same time, inflation helps grow their rents over time. In some cases, they have CPI-linked rent escalators in their contracts, which means that same-property revenue is growing quickly while rising expenses are paid for by the tenant. In other cases, rent is being renegotiated when contracts expire, and in a high-inflation world, landlords can justify demanding higher payments from their tenants easily. All in all, this means that triple net lease REITs are among the better-positioned REITs in a high inflation world.
Many triple net lease REITs have historically been steady performers that have done surprisingly well (operationally) during downturns and other times when the macro environment wasn't positive. This makes these REITs suitable for investments during times when investors expect macro troubles, such as an upcoming recession. Other REITs are more vulnerable versus these issues, such as hotel REITs or mall REITs.
Realty Income Versus Agree Realty
Despite the fact that triple net lease REITs are solidly positioned for the current environment, not all of these REITs are necessarily a strong buy at the same time. We'll pitch Realty Income and Agree Realty, two retail-focused triple net lease REITs, against each other to see what advantages and disadvantages each of these two companies have.
Growth
Real estate is not a high-growth industry per se, but both REITs have delivered compelling business growth in the past. On top of that, both companies have not experienced a lot of ups and downs when it comes to generating rising revenues and funds from operations. Instead, both Realty Income and Agree Realty have been what one could call steady growers in the past.
Let's take a look at the adjusted funds from operations growth of both companies over the last decade:
| | | |
| --- | --- | --- |
| Year | Realty Income | Agree Realty |
| 2012 | $2.06 | $2.03 |
| 2013 | $2.41 | $2.10 |
| 2014 | $2.57 | $2.18 |
| 2015 | $2.74 | $2.39 |
| 2016 | $2.88 | $2.54 |
| 2017 | $3.05 | $2.72 |
| 2018 | $3.19 | $2.85 |
| 2019 | $3.30 | $3.08 |
| 2020 | $3.39 | $3.23 |
| 2021 | $3.59 | $3.58 |
| 2022 (estimate) | $4.00 | $3.86 |
Table by author
By pure coincidence, the starting FFO per share number was almost identical for the two companies, at slightly above $2.00. We see that both companies have managed to grow their FFO per share during every year of the last decade, which is a great feat. The growth rates of the two REITs are not far from each other: Realty Income has delivered annual FFO per share growth of 6.9% over the last decade, while Agree Realty has delivered FFO per share growth of 6.6% over the same time frame.
Growth has been driven by acquisitions at both companies. Despite its much larger size -- Realty Income is valued at around 6x the market capitalization Agree Realty trades at -- the former still manages to find ways to grow at a meaningful pace. Sourcing deals that are large enough to move the needle for a company with a market capitalization of more than $40 billion isn't easy, but Realty Income's experienced management team manages to do so regularly. Both companies issue equity regularly in order to finance acquisitions, while debt is used to some degree as well. While issuing shares has a dilutive impact on existing earnings, management teams of both companies make sure that this is only done when the deals they have sourced are accretive, which is why FFO per share keeps growing despite a rising share count.
Since maintaining growth becomes harder as a company grows in size, it could be reasonable to assume that Realty Income might grow a little less than the much smaller Agree Realty in the future. On the other hand, Realty Income has a slightly stronger track record when it comes to creating shareholder value via FFO per share growth. Overall, I assume that there won't be large differences when it comes to the growth rate these two companies will deliver in the future.
Dividend
REITs are primarily seen as income investment, and rightfully so. Many REITs offer dividend yields that are considerably higher than the yield one can get from the broad market. This also holds true for Realty Income and Agree Realty. Let's take a look at the scorecards for the two REITs when it comes to their dividends:
Realty Income currently trades with a dividend yield of 4.5%, which is pretty attractive. The 5-year dividend growth rate is not overly high, but solid, at 4%. If that were to be maintained forever, one could reasonably assume that Realty Income would offer total returns in the 8%-9% range, thanks to its starting yield of 4.5% and a mid-single digit dividend growth rate. Of course, it's possible that dividend growth either accelerates or declines, while multiple expansion or multiple compression could also impact total returns going forward. Having raised its dividend for well above 20 years in a row, Realty Income has shown it's able to stomach all kinds of crises while still offering a steadily growing monthly dividend to its owners.
Agree Realty offers a smaller yield, although the 3.9% yield is still pretty solid. Dividend growth has been more pronounced in the last five years, at 7% a year, while Agree Realty has a shorter dividend growth track record relative to Realty Income.
Overall, this makes me believe that Realty Income is the more conservative, yield-focused income pick due to a much longer and more telling track record and a higher starting yield. Dividend growth investors that put more value on the growth aspect of their investments might prefer Agree Realty, however, despite its shorter track record, as it's been more keen to offer major dividend increases to its owners.
Note: The payout ratio metric should be ignored for both REITs, as it is calculated via net earnings, which aren't very telling for REITs due to high non-cash depreciation charges. Looking at the FFO payout ratios of both REITs, they are pretty similar once more, at 75% each. It's interesting to note that Realty Income's payout ratio has fallen in recent years, while Agree Realty's has not.
Valuation
REITs are usually valued by looking at their price versus the funds from operations they generate. Realty Income is currently trading for 16.5x 2022's FFO, while Agree Realty trades at 19.5x 2022's funds from operations. Agree Realty thus trades at a premium of around 18% relative to how Realty Income is valued.
While I wouldn't call Agree Realty overvalued, I believe that Realty Income is the more attractively valued company among these two today. It's stronger balance sheet (A- rated, versus BBB for ADC), higher dividend yield, better diversification thanks to its larger size, and better track record make it seem unjustified that O trades at a meaningfully lower valuation relative to Agree Realty. While I'd call Agree Realty reasonably valued today, I think that one can call Realty Income undervalued at its current earnings multiple. The fact that O's shares have declined over the last year while ADC's have risen, despite a solid underlying performance by both companies, makes it look like adding to O is more opportune than adding to ADC today, as O has been sold off without a good reason, while that is not true for ADC.
Takeaway
Triple net lease REITs have a strong track record, including during downturns. Realty Income and Agree Realty are high-quality companies, and I believe that both will deliver solid returns in the long run. Today, due to a lower valuation and a higher yield, I prefer Realty Income, although investors that put more emphasis on dividend growth may see ADC in a more favorable light.