Volume Breakout Report Update: Buy Eton Pharmaceuticals
Summary
A number of VBR "green energy" picks have popped higher in January, pulling investment returns for the group of past picks strongly higher.
A performance review of 46 previous selections since late June is discussed.
I continue to refine the search and formula ideas for identifying future big winners using heavy-volume buying as the main criteria, often rising out of lower-volatility basing price patterns.
Eton Pharmaceuticals fits my new VBR technical sort criteria, at the same time as strong growth is projected in sales and operating income for 2023.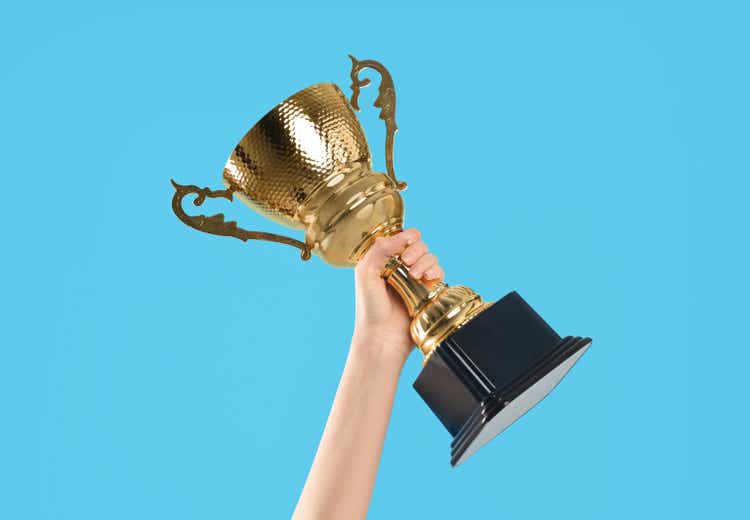 I thought I would write a quick update on the performance of my initial Volume Breakout Report picks made between June 25th and September 18th, 2022. As a group, some 46 selections (45 names, with one picked twice in different weeks) have been mildly "outperforming" the Russell 2000 and S&P 500 indexes. The January Effect of unusual Wall Street interest in small caps (from a seasonal calendar perspective) has helped returns to bump up a little bit. Often, investors including institutions redeploy capital from losers in December (locking in tax losses) to new ideas in January.
I will also discuss a new VBR pick: Eton Pharmaceuticals (ETON). The company is a minor pharmaceutical enterprise witnessing heavy-volume accumulation by investors, alongside a strong operating expansion forecast by Wall Street analysts in 2023.
Performance Update
The +5.9% mean average return of all the picks, using a simple buy-and-hold decision, has beaten the peer small-cap index iShares Russell 2000 ETF (IWM) by +2.73% on a total return basis (including price appreciation and dividends, but excluding trading costs), when measured from the Friday closing values before VBR updates posted each weekend into Friday, January 13th's close. Also, the small-cap Russell has performed somewhat stronger than the S&P 500 in price since late June. So, the VBR lists have actually gained even better, outperforming the SPDR S&P 500 ETF (SPY) by +5.67% for a mean average, over periods ranging from 4 months to slightly more than 6 months held. (On a per pick basis, the average equivalent total return IWM gain has been +3.17% vs. SPY's +0.23%).
Below I have graphed each weekly VBR list. Of course, the first week has turned out to be the worst selection group in the whole process (as luck would have it). In terms of changes and mistakes, I did specifically talk about selling Li Auto (LI) a month after the VBR buy signal, and have mentioned generally taking losses at the -20% to -30% level to reduce portfolio risk, while increasing overall returns. In addition, not mentioning Target Hospitality (TH) sooner was a mistake that cost another 1% in the total return calculations above.
A final note in calculating performance vs. the charts below is LGL Group (LGL) split the company in half in early October. For whatever reason, YCharts is not adjusting LGL value for MtronPTI (MPTI) shares received properly. LGL's stockholders of record received one-half share of MtronPTI's common stock for every share of LGL's common stock on October 7th. I have adjusted for this YCharts performance graph error in my calculations above.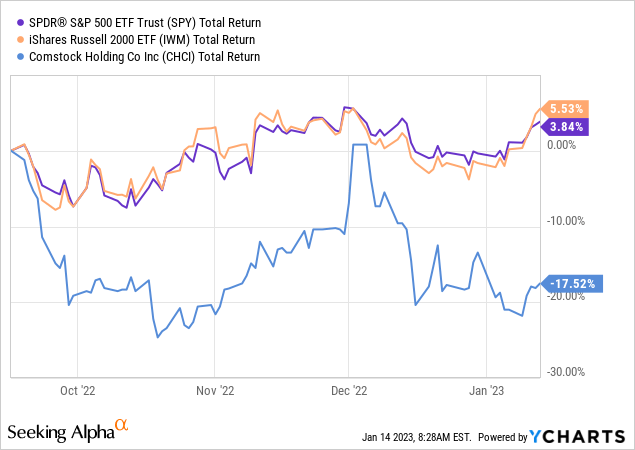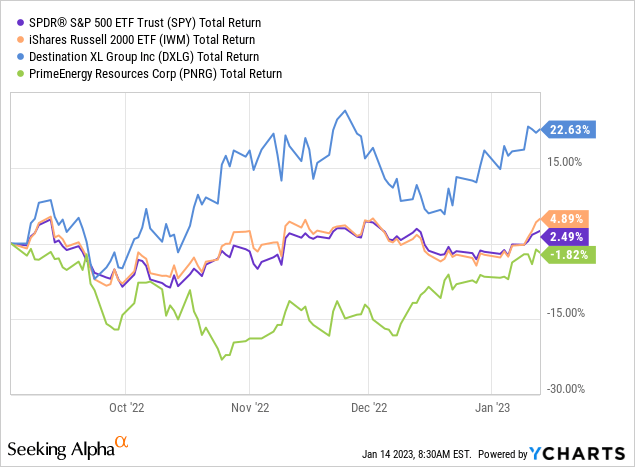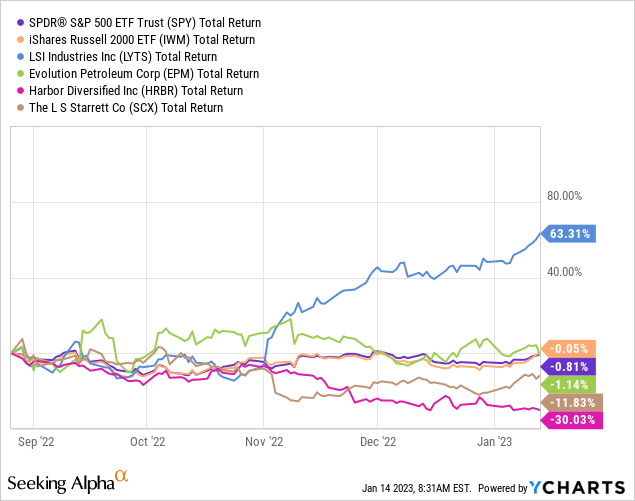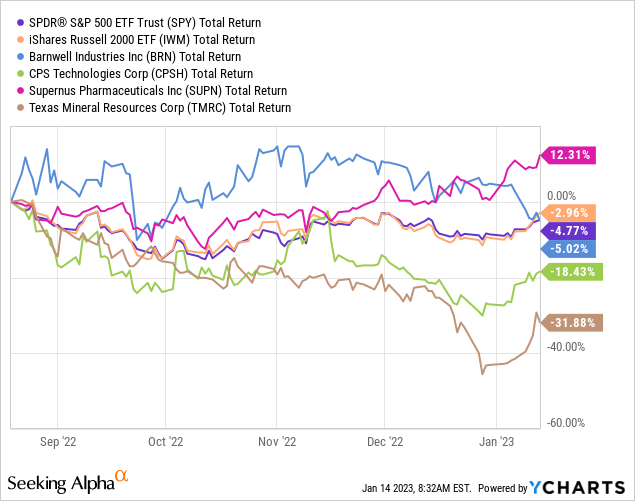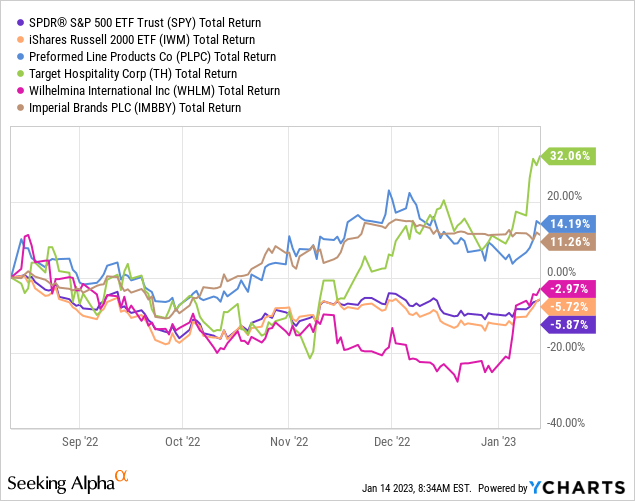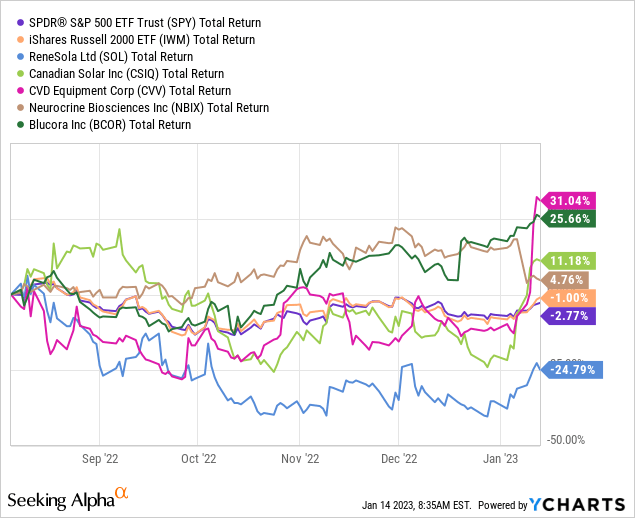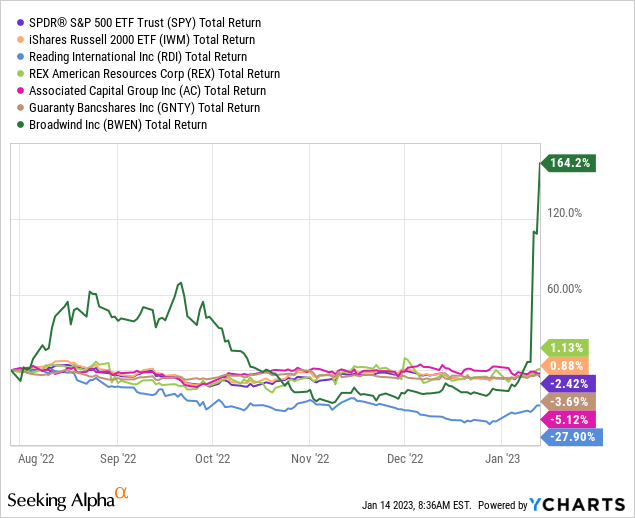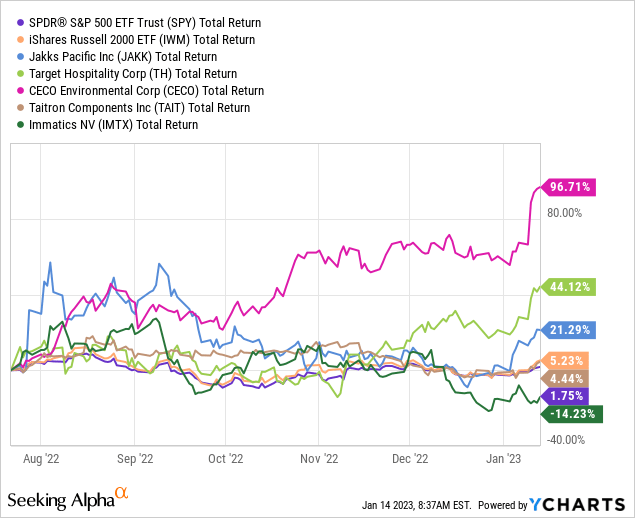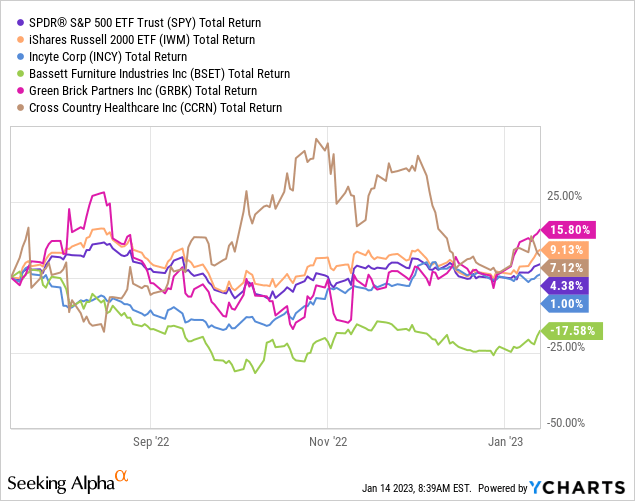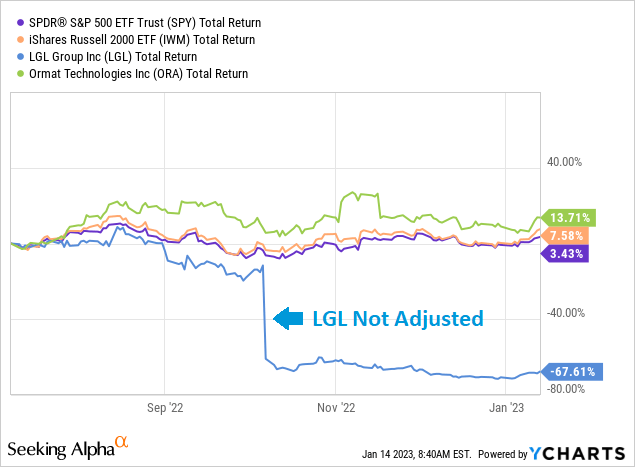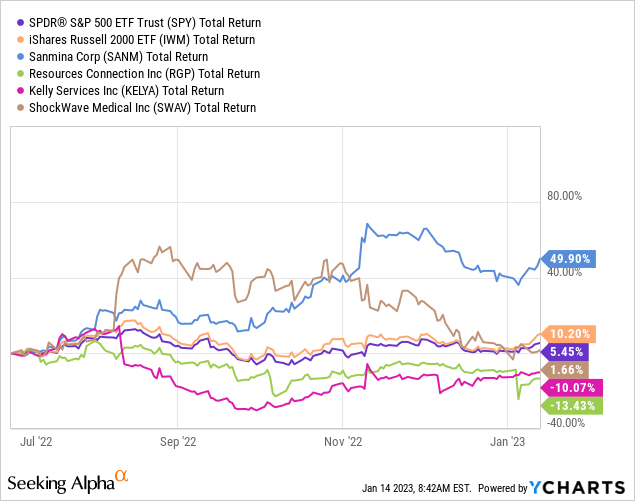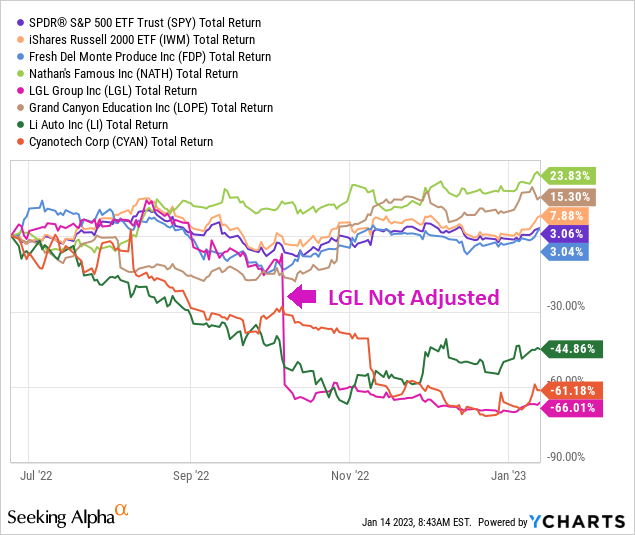 Eton Pharmaceuticals
Today, I want to talk about a buy proposition experiencing heavy-volume accumulation based on some positive long-term news for the company. Eton is a small patented-drug company, focused on orphan and rare diseases. This subset is defined as health conditions affecting a minority population of patients, often less than 200,000 a year in the U.S. As such, revenue and profits are harder to deliver to shareholders vs. the blockbuster variety of drugs producing billions in annual sales. So, managers have to really watch spending and investments in this area of medical research.
The good news is niche sectors of medical care, where Eton focuses its attention, have far fewer competitors. For example, in early January Pfizer (PFE) announced it was closing or outsourcing most of its orphan and rare disease drug research because the financial accounting profit potential is not worth its time, energy, and capital investment. Returns from larger population diseases and health issues provide a smarter long-term profit incentive.
Anyway, Eton's equity market capitalization currently is only $88 million, with $13 million in cash held at the end of September vs. $10 million in total liabilities. Wall Street analysts are projecting the company will move from sizable operating losses in 2022 to slight profitability in 2023 as revenues roughly double to $41 million. If present estimates prove out, there will be no need to raise capital for the business as currently configured, assuming cash flow numbers jump markedly in future quarters.

Excuse for Bull Rush of Investor Interest
Eton now sells three FDA-approved products in ALKINDI SPRINKLE, Carglumic Acid tablets, and Betaine Anhydrous for oral solution. In addition, three late-stage pipeline candidates are under development with dehydrated alcohol injection, ZENEO hydrocortisone autoinjector, and ET-400. The company also receives royalties on three FDA-approved inventions and is entitled to receive milestone payments on other products. Essentially, this small outfit runs a relatively diverse asset mix not easily found elsewhere by pharma investors, with new products coming in the next couple of years.
On January 11th, the FDA announced one of Eton's late-stage inventions would be reviewed and considered for approval by late June,
… the U.S. Food and Drug Administration (FDA) has accepted for review the Company's New Drug Application (NDA) response for dehydrated alcohol injection for the proposed indication of methanol poisoning. The FDA has assigned a Prescription Drug User Fee Act (PDUFA) target action date of June 27, 2023.

"We are excited to be one step closer to bringing this much needed product to patients and we have begun working with our commercial partner to prepare for a potential near-term launch," said CEO Sean Brynjelsen.

Eton's application has previously been granted orphan drug designation for the indication of methanol poisoning and if approved, the Company expects the FDA to grant the application seven years of orphan drug exclusivity. Based on IQVIA data, trailing 12-month sales for dehydrated alcohol injection were $74 million …
Technical Chart Breakout
The main reason for my interest - Eton appears to have turned the corner on my trading charts, transitioning from a steady decline in share value and pricing to a rising trend. Over the last four months, upside momentum has been gaining strength off its 52-week low.
On the charts below of daily price and volume changes, you can see price is now above both the 50-day and 200-day moving averages of session closing values (among many other MAs I track). The FDA news from several days ago may be the catalyst to generate even greater gains from today, marked with the green arrow.
The 20-day Chaikin Money Flow reading has been super-positive since late October, which signals buyers have been overwhelming sellers for order flow. On Balance Volume has been a straight line moving in the bullish direction (red arrow). Plus, relative price strength vs. the S&P 500 has been outstanding, at a rate +55% better (blue circle) measured from the middle of September.
Eton Roundup
My thinking is a diverse product-mix company with a new drug approval on the horizon, forecast to outline strong revenue growth and earnings growth, is worth far more than an enterprise value of $80 million. If sales during 2024 are $60 million and EPS in the $0.30 to $0.50 area, a clear path to a double or more from today's $3.50 share quote exists in calendar 2023.
Eton's CEO purchased 10,000 shares at $2.10 near the low of the year in September. There have been no other insider trades reported to the SEC over the past 12 months.
Seeking Alpha's Quant Rank is now top notch, with an #82 position out of a universe of 4767 equities. Momentum building in its chart pattern and operating results beating analyst expectations during late 2022 are the reasons.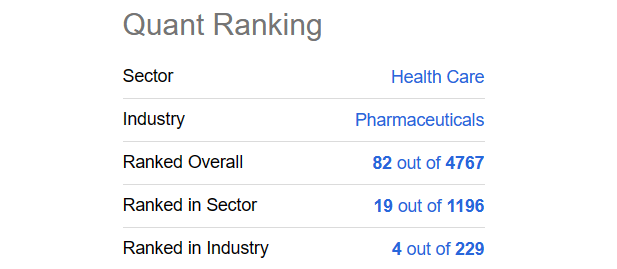 What are the risks? The first one that comes to mind is the June FDA announcement may not be a decision of full approval for its dehydrated alcohol injection for methanol poisoning. Other risks include potentially weaker sales of existing drugs than expected, which can be hard to predict in advance. The discovery of adverse drug reactions and lawsuits over side effects are always lingering risks in the drug sector. Eton was trying to enter a new market, but lost a patent trial last year. And, the company does add new assets on occasion (through cash, debt and equity changes).
In the end, operating risks are the ones I consider most likely to keep the share price down. The company is so small and its products laser-focused on rare diseases, I do not really worry about general stock market direction or recession forecasts as having an outsized effect on Eton's future.
I am modeling theoretical downside in price back to $2.50 per share, if the new drug application is rejected this summer. A diverse and expanding list of drugs on the market, with royalties received from various products sold by outside organizations, gives Eton a better foundation than peers in the medicine industry mostly riding a single product or two for operating results.
Upside could be in the $7 to $10 range in 12-18 months, if the treatment for methanol poisoning is approved by the FDA and sales for this product and other drugs impress on the upside. In conclusion, my risk/reward analysis balances theoretical total return downside of -30% against upside in the +100% or stronger range for calendar 2023. I rate Eton Pharmaceutical shares a Buy.
Final Thoughts
I am working overtime improving my quant-sorting formulas (actually creating many new ones as variations) that may be used in future Volume Breakout Reports, all an effort to better locate the really big winners while eliminating more of the losers. I have traded a large number of the new picks as tests, without writing about them. My goal is to eventually bring back more VBR articles, or perhaps even start a newsletter product on Seeking Alpha focused on the idea. We will see where 2023 leads me.
I continue to own (or may trade this upcoming week) as many as 10 equities on previous VBR lists. Exceptionally positive share price changes in Broadwind (BWEN) and CVD Equipment (CVV) over the past week have appeared on growing "green energy" demand for their products. Having a few large gainers is important to portfolio progress and is one of the goals of my research in the small-cap area of Wall Street.
For stat geeks, the "median" average gain for the VBR choices is closer to +0.9% vs. the +5.9% mean. Basically, having outlier gainers is what generates the outperformance. For a distribution, greater than +10% gainers have numbered 17, measured against -10% or worse returns from 14 picks. Again, theoretically cutting losses with stop orders at a generic 30% level would have improved overall average total returns by about 0.8% to +6.7% for a mean average.
If new to the Volume Breakout Report series, you can read previous articles to get a better understanding of this research effort. The July 9th update is a good place to start, with strategies on how to use VBR picks. High-volume advances in price are just one part of the system and proprietary formulas. An old Wall Street adage is "volume precedes price." Daily computer searches that utilize as many as 15 indicators of technical trading momentum are ranked against thousands of equities, to find the best opportunities. Then, a review of company fundamentals and growth prospects narrows each list to the picks I write about.
A diversified basket of selections (at least 20-30 names) is the smartest way to reduce portfolio risk, as smaller companies can experience wild price swings. All told, minor dollar trading amounts are able to move marketplace equilibrium quickly. By the time good news events are released to the public, insiders and knowledgeable long-term investors in each company have often purchased shares before the typical retail investor can act. The VBR is an early signal tool for investors looking for a trading edge.
Thanks for reading. Please consider this article a first step in your due diligence process. Consulting with a registered and experienced investment advisor is recommended before making any trade.
Editor's Note: This article discusses one or more securities that do not trade on a major U.S. exchange. Please be aware of the risks associated with these stocks.
This article was written by
Nationally ranked stock picker for 30 years. Victory Formation and Bottom Fishing Club quant-sort pioneer.....Paul Franke is a private investor and speculator with 36 years of trading experience. Mr. Franke was Editor and Publisher of the Maverick Investor® newsletter during the 1990s, widely quoted by CNBC®, Barron's®, the Washington Post® and Investor's Business Daily®. Paul was consistently ranked among top investment advisors nationally for stock market and commodity macro views by Timer Digest® during the 1990s. Mr. Franke was ranked #1 in the Motley Fool® CAPS stock picking contest during parts of 2008 and 2009, out of 60,000+ portfolios. Mr. Franke was Director of Research at Quantemonics Investing® from 2010-13, running several model portfolios on the Covestor.com mirror platform (including the least volatile, lowest beta, fully-invested equity portfolio on the site). As of April 2023, he was ranked in the Top 5% of bloggers by TipRanks® for stock picking performance on positions held one year. A contrarian stock picking style, along with daily algorithm analysis of fundamental and technical data have been developed into a system for finding stocks, named the "Victory Formation." Supply/demand imbalances signaled by specific stock price and volume movements are a critical part of this formula for success. Mr. Franke suggests investors use 10% or 20% stop-loss levels on individual choices and a diversified approach of owning at least 50 well positioned favorites to achieve regular stock market outperformance. The short sale of securities in overvalued, weak momentum stocks as pair trades and hedges is also a part of the Victory Formation long/short portfolio design. "Bottom Fishing Club" articles focus on deep-value candidates or stocks experiencing a major reversal in technical momentum to the upside. "Volume Breakout Report" articles discuss positive trend changes backed by strong price and volume trading action.
Analyst's Disclosure: I/we have a beneficial long position in the shares of CVV, CYAN, PLPC, CHCI, ETON either through stock ownership, options, or other derivatives. I wrote this article myself, and it expresses my own opinions. I am not receiving compensation for it (other than from Seeking Alpha). I have no business relationship with any company whose stock is mentioned in this article.

This writing is for educational and informational purposes only. All opinions expressed herein are not investment recommendations, and are not meant to be relied upon in investment decisions. The author is not acting in an investment advisor capacity and is not a registered investment advisor. The author recommends investors consult a qualified investment advisor before making any trade. Any projections, market outlooks or estimates herein are forward looking statements and are based upon certain assumptions and should not be construed to be indicative of actual events that will occur. This article is not an investment research report, but an opinion written at a point in time. The author's opinions expressed herein address only a small cross-section of data related to an investment in securities mentioned. Any analysis presented is based on incomplete information, and is limited in scope and accuracy. The information and data in this article are obtained from sources believed to be reliable, but their accuracy and completeness are not guaranteed. The author expressly disclaims all liability for errors and omissions in the service and for the use or interpretation by others of information contained herein. Any and all opinions, estimates, and conclusions are based on the author's best judgment at the time of publication, and are subject to change without notice. The author undertakes no obligation to correct, update or revise the information in this document or to otherwise provide any additional materials. Past performance is no guarantee of future returns.
Seeking Alpha's Disclosure: Past performance is no guarantee of future results. No recommendation or advice is being given as to whether any investment is suitable for a particular investor. Any views or opinions expressed above may not reflect those of Seeking Alpha as a whole. Seeking Alpha is not a licensed securities dealer, broker or US investment adviser or investment bank. Our analysts are third party authors that include both professional investors and individual investors who may not be licensed or certified by any institute or regulatory body.