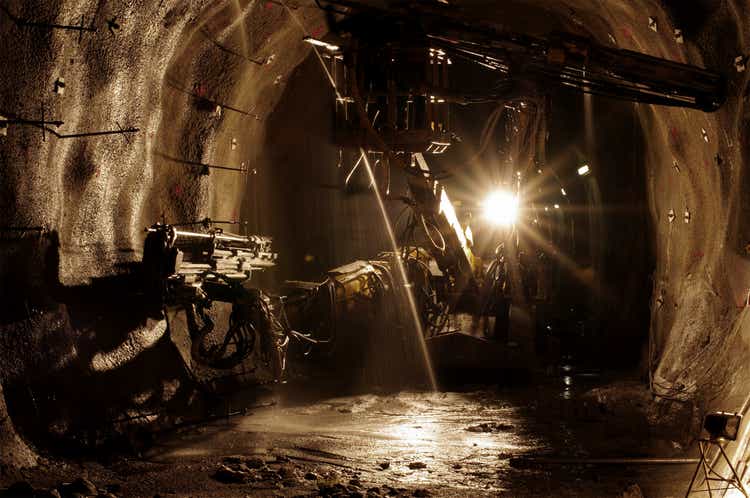 2022 was a year to forget for most investors in the Gold Miners Index (GDX). This is because while many miners outperformed the S&P 500 (SPY), passive investors in miners had to suffer through violent drawdowns, and even an impressive Q4 recovery likely left most accounts deeply in negative territory for the year. Fortunately, we've seen some follow-through to this Q4 recovery to start 2023. And when it comes to Lundin Gold (OTCQX:LUGDF) investors, they have managed to mostly sidestep the sector-wide cyclical bear market, enjoying an 85% return since the July lows.
This ~3000 basis point outperformance vs. the GDX can be attributed to several developments, which include the following:
a massive beat on FY2022 production guidance
blockbuster drill results released in Q4 that point to reserve growth
the declaration of an inaugural dividend
continued margin outperformance vs. its

peer group

an attractive three-year outlook that calls for additional production growth
However, while FY2022 was an exceptional year and the robust three-year outlook was a pleasant surprise, every stock has a price, and owning over-valued names can lead to underperformance, especially in cyclical sectors where stocks typically run in cycles. In Lundin Gold's case, the stock is now the most expensive mid-tier producer in the sector. In fact, its enterprise value is now just ~25% shy of B2Gold (BTG), a much larger producer with a solid development pipeline (Anaconda Area). So, while there's no disputing this is one of the best assets in the sector, and Lundin's execution has been near flawless, I see this rally above US$11.40 as an opportune time to book some profits.
Q4 Results
Lundin Gold ("Lundin") released its preliminary Q4 results this week ahead of its Q4 Earnings release (February 23rd), reporting quarterly production of ~121,000 ounces of gold, a more than 12% increase from the year-ago period. This increase in production was driven by higher throughput that was more than 8% above the plant's design capacity (4,574 tonnes per day) or ~420,800 tonnes processed in the quarter and combined with a marginal increase in grades (10.0 grams per tonne gold vs. 9.9 grams per tonne gold). The result was that Lundin trounced its initial FY2022 guidance mid-point of 425,000 ounces, putting together one of the largest beats in the sector in 2022 next to Orla Mining (ORLA).
Looking ahead to 2023, Lundin Gold has tougher comps on deck after a phenomenal year. This is because that annual production is expected to be lower year-over-year, inflationary pressures are still impacting the industry (even if inflation may have peaked in Q3 2022), and the company will see higher sustaining capital due to its fourth tailings dam raise planned this year. The good news is that Lundin has seen minimal wage inflation in Ecuador, and its energy costs are stable, but it still hasn't been immune from higher costs from certain reagents and explosives. So, while the sharp rise in the price of gold certainly doesn't hurt, Lundin's all-in-sustaining costs [AISC] are likely to increase by $80/oz or more this year, up from $820/oz to ~$900/oz.
Fortunately, although 2023 will be a softer year from a comparable standpoint (assuming the company only delivers slightly above its guidance mid-point), production is expected to increase meaningfully in 2024 and 2025, and costs are expected to drop sharply as well. This is based on FY2024 and FY2025 guidance mid-points of ~475,000 and ~490,000 ounces, respectively, with all-in-sustaining cost guidance of $815/oz and $835/oz at the mid-point. Based on these margins and this production profile, Lundin's Fruta del Norte will continue to be one of the highest-margin assets globally and a cash-flow machine for Lundin Gold.
If this exceptional performance continues, Lundin Gold should have no problem paying an industry-leading dividend yield (US$0.40 annualized), spending aggressively on regional and near-mine exploration, and potentially looking at either opportunistic M&A or buybacks going forward. Therefore, investors can look forward to generous capital returns, especially relative to Lundin's peer group, where regular dividend payments are few and far between (mid-tier producers). That said, while the future looks bright and Lundin is likely to easily replace depleted reserves given its exceptional drill results as of late, a lot of this already looks priced into the stock here. Let's take a look at the valuation below:
Valuation & Technical Picture
Based on ~240 million fully diluted shares and a share price of US$11.45, Lundin Gold trades at a market cap of ~$2.75 billion and an enterprise value north of $3.0 billion. This compares unfavorably to an estimated net asset value of ~$2.29 billion, with Lundin Gold now trading at ~1.20x P/NAV, one of the more expensive multiples within its peer group, and this already includes exploration upside. This multiple is higher than that of Barrick Gold (GOLD), which has multiple Tier-1 scale assets and is far more diversified, and a similar P/NAV multiple to Northern Star (OTCPK:NESRF), a multi-asset producer based solely out of Tier-1 jurisdictions (Alaska, Western Australia).
Meanwhile, if we compare Lundin Gold to other single-asset producers, the company's enterprise value is now above what Newcrest (OTCPK:NCMGF) paid to acquire Pretium for its Brucejack Mine in British Columbia. In addition, Lundin's P/NAV multiple is higher than what Agnico Eagle (AEM) is offering to acquire the other half of Canadian Malartic, a future 550,000-ounce to 950,000-ounce producing asset also in a Tier-1 jurisdiction. These comparables do not mean that Lundin Gold can't head higher, and expensive stocks often get more expensive before they peak. Still, from a valuation standpoint, it's becoming very difficult to justify owning Lundin Gold, even with its very attractive ~3.5% dividend yield.
Some investors will argue that Lundin's Fruta del Norte and the surrounding land package have little in common with Pretium's Brucejack, Canadian Malartic, and Barrick and Northern Star's portfolios. This is a fair point from a margin standpoint, given that these producers and individual assets are not producing gold at sub $850/oz. That said, while Fruta del Norte wins on margins and grades in most cases, there is a lot of value in diversification, which Lundin Gold lacks today. In addition, while Ecuador has shifted to a more mining-friendly jurisdiction than last decade when Kinross (KGC) gave up on the project, I would take British Columbia, Alaska, and/or Quebec over Ecuador any day.
To summarize, Lundin Gold is no longer cheap, no matter how you slice it, unless the company is on the verge of making another multi-million-ounce discovery that can significantly grow annual production from current levels. I wouldn't rule this out, but it's hard to base an investment thesis on making another world-class discovery to justify the valuation. Meanwhile, although Lundin certainly makes an attractive takeover target, given its scale and exceptional margins, the two more likely suitors appear less likely to transact. In Newcrest's case, the company has elevated capex relative to peers due to multiple projects and busy growth plans (Havieron, Red Chris Block Cave).
In Barrick's case, Fruta del Norte certainly fits the company's criteria of 500,000 ounces, a 10+ year mine life, and costs at the lower end of the cost curve. However, CEO Mark Bristow is not known for over-paying, and I can't see Barrick paying a higher multiple for Lundin Gold than for its own company, and the better use of capital is likely buying back shares of its own stock. So, while Lundin Gold is undoubtedly a takeover target at the right price, I don't think there's any major that would step up at these prices unless they've very desperate for growth, and most larger operators have been more disciplined thus far in this cycle, or those that haven't have already transacted (Kinross - Great Bear). Hence, a bet on Lundin Gold at these levels is a bet on much higher gold prices or a major discovery.
Technical Picture
Moving to the technical picture, Lundin Gold may appear to be breaking out on its multi-year chart and certainly has momentum at its back, with the stock above all of its key moving averages. However, this breakout is occurring with the stock already quite overbought short-term and quite extended above its next support level at US$8.15. Therefore, I would not be surprised if this breakout above the previous high of US$11.20 failed. Besides, from a bigger-picture standpoint, Lundin is now up nearly 300% from its 2018 lows at US$3.15. As we saw with Wesdome (OTCQX:WDOFF), a pricey valuation mixed with a mature uptrend means that any adverse developments could have an outsized negative reaction on the stock.
To summarize, from both a technical and fundamental standpoint, we are nowhere near a low-risk buying opportunity here vs. in September, when I noted that the stock would enter a low-risk buy zone below US$6.25.
Summary
Lundin Gold was one of the sector's best performers in 2022, and deservedly so, given that the company has continued to over-deliver on promises and also announced some of the highest-grade drill results sector-wide. However, with its market cap climbing to $2.75 billion, it's tough to be bullish on the stock here, no matter how exceptional the company's results have been. This is because, as Joel Greenblatt highlights, "there's no investing without valuation," and I see Lundin Gold as fully valued at a share price of US$11.45. Hence, if I were long the stock, I would be looking to take profits here, with the stock trading at more than 1.20x P/NAV and more 8x than FY2023 cash flow estimates ($1.41).
Editor's Note: This article discusses one or more securities that do not trade on a major U.S. exchange. Please be aware of the risks associated with these stocks.