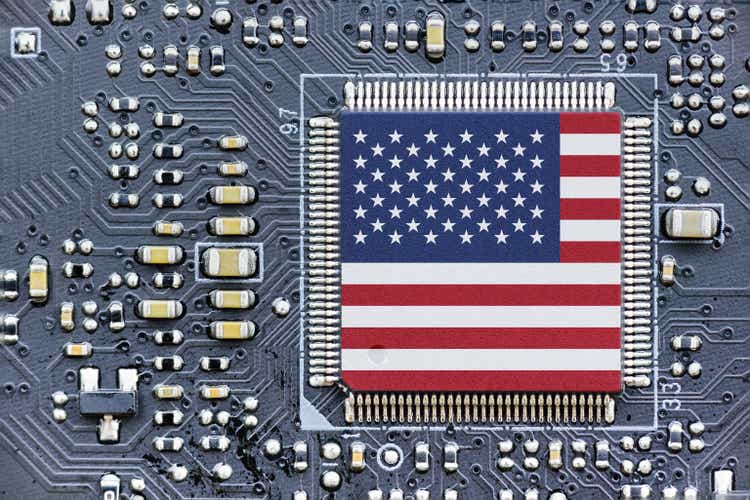 According to Goldman Sachs (GS) research entitled "The CHIPS Act Won't Reduce Reliance on Asia for Semiconductors", it is 44% more expensive to build and run a fab in America than in Taiwan, implying that profitability would be severely hindered. Had this been true, a rough calculation indicates that the EBIT (operating) margins of U.S-based GlobalFoundries (NASDAQ:NASDAQ:GFS) would have been less than 10% (52.2%-44%) given that its established peer Taiwan Semiconductor Company (TSM) has delivered 52.2% in its latest reported quarter as pictured below.
On the contrary, after having already broken even in the first half of last year after its 2020 IPO, the U.S. foundry play is profitable as seen in the deep blue chart above with margins of 17.65%.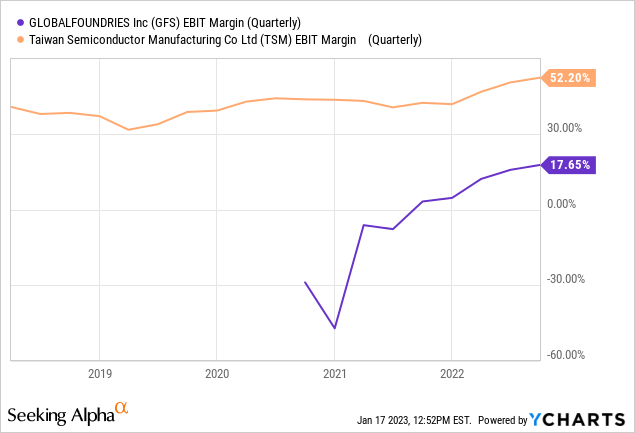 Now, part of the reason for this elevated profitability is the higher ASP or Average Sales Price, due to the supply-constrained environment, but, more importantly, as this thesis will elaborate upon, there are other factors like product mix, cost of revenues, and productivity that matter.
Another aim of this publication is to show, through GF, that contrary to what analysts are affirming, it is entirely feasible to reduce dependency on Asia, namely by focusing on differentiated and feature-rich products.
GF's Product Differentiation and the CHIPS Act
First, GF does not produce leading edge or single-digit process nodes like TSMC's 3nm or 5nm which represented about 5% of the semis market as of July 2020, and which require the most advanced equipment and capital expenses. Instead, it plays more into the other 95% namely for double-digit process nodes like 12 nm (nanometer) 28nm, or 40nm. To be more specific, it mainly focuses on specialized chips like embedded memory for security applications, high voltage for display, and RF power for connectivity for many industry verticals as pictured below.
These are highly customized applications with one example being a 40-nanometer embedded non-volatile memory product for one of the largest auto MCU (memory control unit) suppliers in the industry. For comparison sake, there are the more commoditized volatile DRAMs produced by companies like Micron (NASDAQ:MU).
Another reason for the automotive company selecting GF could have been for supply chain security purposes. Here, some will remember how several car manufacturers throughout the world either had to slow down operations or halt assembly lines entirely back in 2021 at the height of chip shortages. Bearing these pains in mind, the client choosing GF is no coincidence as the products will be shipped jointly from the Dresden and Singapore facilities under a 5-year LTA or long-term agreement. In this respect, in addition to Europe and Asia, GF has three manufacturing sites located in America, more precisely in Malta, and East Fishkill in New York, as well as Essex Junction, Vermont.
Pursuing further, the company also produced new products on its silicon photonics (light-based) platform for GPU-to-GPU optical interconnects as well as a high-performance RF GaN (Galium Nitride) device. Now, GaN is better than conventional silicon as it is more resistant to wear and tear and has better thermal conductivity, enabling its application for the optimization of power amplifier outputs. Interestingly, this GaN RF technology program is being executed in its Vermont facility, supported by a $30 million grant from the U.S. government to support commercialization efforts.
This grant forms part of the $52.7 billion CHIPS Act which aims to build foundry capacity in the United States, and, looking closer at the grant, this represents a targeted funding strategy for product marketing purposes. At the same time, the company has embarked on a $4.2 billion expansion project of its upstate New York facility as part of a collaboration with Qualcomm (NASDAQ:QCOM).
Thinking aloud, when compared with Micron's $100 billion mega-fab in the same state, GF's strategy represents a better option than grand greenfield projects which are much more expensive and take longer to build, by about 12 to 18 months.
Different Economics at Play and impact on Valuations
Remaining within the realms of the CHIPS act, it seeks to address the current imbalance in the chip industry, as over 65% of the global foundry capacity is concentrated in Taiwan, giving rise to serious imbalance as to the supply chain security, and national security aspects.
As for Goldman, its analysts seem to have focused more on the economic aspect by considering the more commoditized products. To make my point by again coming back to the embedded memory example I provided earlier, this is analogous to a more high-value-add product, in the same league as a compute processor produced by Intel (NASDAQ:INTC). Here, in contrast with commoditized items produced by Micron or S.K Hynix, which compete primarily on a pricing basis, GF's feature-rich chips which on top carry a supply chain premium compete more on the value-add and should fetch better prices.
Applying the same reasoning to valuations, for its highly differentiated offerings, both in terms of product customization and place of manufacture, it is limiting to use the price-to-sales multiple to value GF, by comparing it with other foundries as pictured below. Thus, while some would instinctively point out that GF is overvalued, I would say that it indeed deserves its better valuations especially relative to TSMC which suffers from country-level concentration risks as I recently elaborated. As for Intel, it is an Integrated Device Manufacturer (IDM) which provides design and foundry services to other semiconductor companies.

Investors will note that I also included Bandwidth (NASDAQ:BAND) in the above comparison and it operates in the Communications Services sector. This relatively small company compared to bigger competitors like RingCentral (RNG) also faces competition for its CPaaS (Communications Platform as a Service) solutions from commoditized solutions providers as I recently detailed in a thesis, but, just like GF is able to outperform competitors by offering a highly differentiated product.
Now, to offer this level of differentiation, there is a need to spend capital, which entails high Capex, but, in return, the company should generate operating cash flow. This has indeed been the case for GF which generated year-to-date cash from operations of about $2.1 billion, after consuming Capex of slightly under $2.1 billion. Since the cash from operations minus Capex gives the FCF, this is positive for the first nine months of 2022. This balance between GF's cash generation ability and investment in capacity again shows that despite capital expenses being higher by 21% in America than in Asia as per Goldman, U.S.-based companies can still generate cash for their shareholders.
Moreover, as the foundry operator actively moves its Capex to be aligned with customers' demand, it deserves a better Price/Cash Flow multiple. Taking Bandwidth's trailing value of 14.4x as an upper limit, GF could gain as much as 46% (14.4-9.83)/9.83, based on its Price/Cash flow of 9.83x. Adjusting for a 20% upside, I have a target of $71 (59.14 x 1.2) considering the share price of $59.14.
I have moderated my bullishness because of supply chain constraints being faced due to Wafer Fab Equipment manufacturers not shipping enough tools to GF, which the company plans to offset with productivity gains. However, there is also another headwind.
Concluding on a Cautionary Note Amid Optimism for American Chip Manufacturing
In addition to the supply side, expect some softness in demand especially in the first half of 2023 since some of the company's customers have requested for their shipments to be adjusted slightly downward. This may be due to the current business sentiment being adversely impacted by high inflation and borrowing costs which are at a 16-year high. The risks of a recession occurring this year have also increased significantly, while geopolitical risks have escalated, with Russia on the one hand and China on the other.
In these circumstances, the company has taken some proactive actions to contain costs and increase productivity. Examples are increasing the utilization rate of existing machine tools till new ones are obtained in order to deliver customer orders, cutting down on travel and job cuts, and a hiring freeze.
Furthermore, a look at the rate of increase of the cost of revenues in the table below, shows that these have been increasing at a much slower pace than total revenues, which, in effect, shows that the company has already executed plans to drive productivity, at least since 2021. Thus, going forward, GF is highly likely to sustain and even increase its margins as it controls Opex even more closely.
These margins should also get support as more revenues are derived from the increasing number (by two in Q3) of LTAs. These also provide a certain degree of cushion against short-term market fluctuations, especially considering that these now amount to around $27 billion, which corresponds to more than four times revenues of $6.58 billion obtained in FY-2021.
Also, the fact that about $3.8 billion out of the $27 billion have already been prepaid, or paid in advance to GF by customers points to pipeline strength.
Finally, this thesis has shown that analysts are wrong and that Made-in-USA chips can also be produced in a profitable manner, namely by focusing on differentiated products. At the same time, it is the more targeted funding aspects of the CHIPS Act that counts, namely those which promote specific products where America leads and aim to expand existing facilities, instead of embarking on greenfield projects which are not only more costly but take more time to execute.