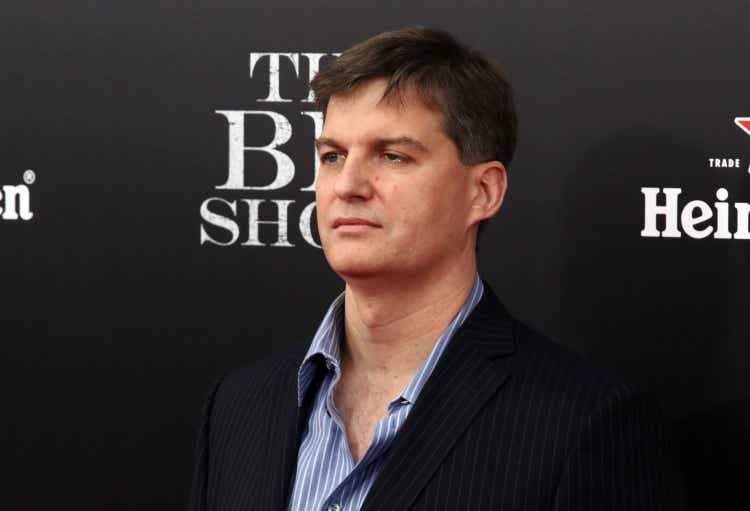 "Be greedy when others are fearful" is a quote that was made famous by Warren Buffett from Berkshire Hathaway (BRK.B / BRK.A). It refers to the idea of investing during times of uncertainty or economic downturns when assets are likely to be the most discounted.
It is a simple strategy that has made many billionaires, and these days, a lot of these billionaires seem to be taking a lot of interest in one particular sector.
It is that of Real Estate Investment Trusts, or REITs (VNQ) for short.
Below, I share some examples that come to my mind. Please note that the list is not comprehensive:
Steve Schwartzman and John Gray from Blackstone (BX) bought out over $30 billion worth of REITs in 2022. This includes American Campus Communities, PS Business Parks, Preferred Apartment Communities, and Resource REIT.
Bruce Flatt from Brookfield (BAM) also invested billions into REITs and bought out the following companies: Alstria REIT, Hibernia, Befimmo, and then the tower division of Deutsche Telekom (OTCQX:DTEGF, OTCQX:DTEGY) [Not a REIT, but very similar to American Tower (AMT) and Crown Castle (CCI)]
Michael Burry of "The Big Short" movie made many headlines as he invested most of his hedge fund into 2 former REITs called CoreCivic (CXW) and GEO Group (GEO). These used to be REITs, and still function like REITs, but they recently converted to the C-corp structure to stop paying dividends and preserve cash.
Israel Englander's Millennium Management bought shares of Medical Properties Trust (MPW) in the second quarter of last year.
Billionaire hedge fund manager James Simons from Renaissance Technologies also bought 2.3 million shares of Annaly Capital Management (NLY).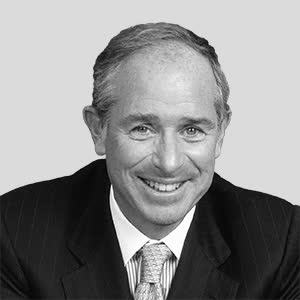 That's a Lot of High-Profile Investors!
The only other times I recall seeing so many REIT purchases by billionaire investors were in 2009 following the great financial crisis and in 2020 following the pandemic crash.
Both times, REITs rapidly recovered thereafter and richly rewarded those who had the courage to buy shares while others were fearful.
REITs nearly tripled in just two years following the great financial crisis...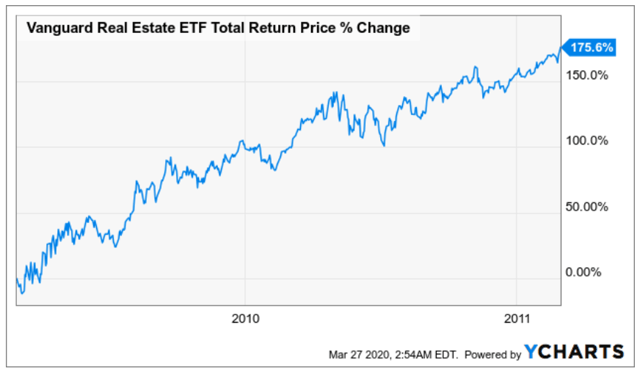 ... And they more than doubled in just one year following the pandemic crash of 2020: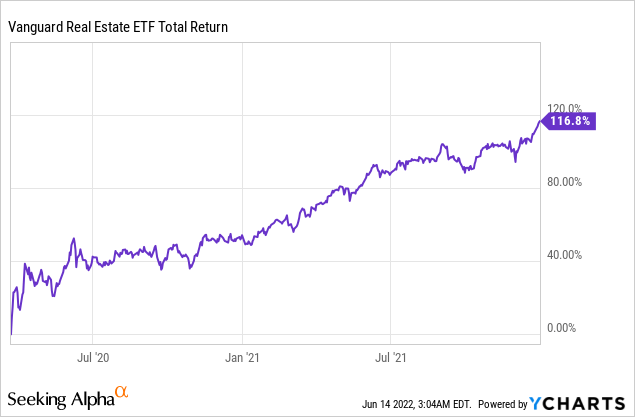 Today, I think that REITs are again presenting an opportunity to generate substantial profits and this is why so many billionaires are loading up on discounted shares.
Below, I list 5 reasons why I think that billionaires are targeting REITs at the moment, and towards the end of the article, I share a few of my Top Picks for 2023:
Reason #1: Valuations are at a Historic Low
The market became fearful of REITs in 2022 and it caused their share prices to collapse: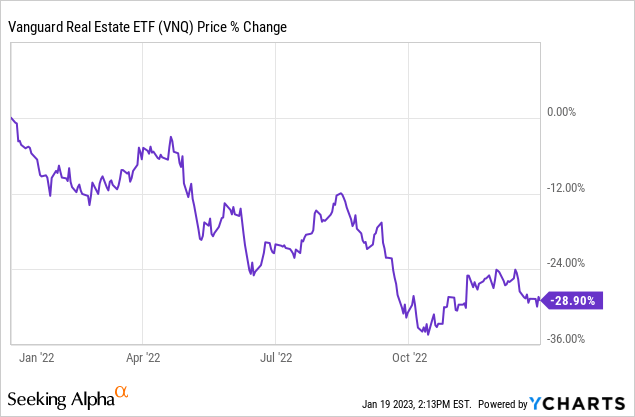 Note that this is the average performance of a market-cap-weighted REIT ETF VNQ that mainly invests in large-cap investment-grade rated REITs.
So you can imagine that many of the smaller, non-rated REITs must have dropped even more. Many dropped by closer to 50%. Here are just a few examples (DEI; SLG; VNO; NXRT; IIPR; BRMK):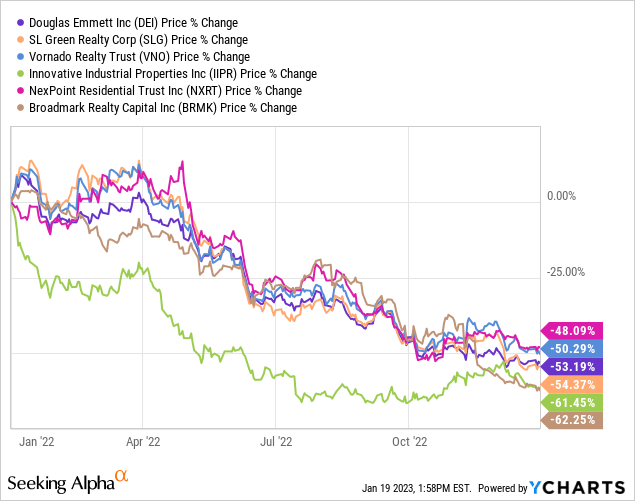 But the surprising thing is that they dropped so much even as their cash flows kept on rising.
Rents grew rapidly in 2022, in part thanks to the high inflation, and as a result, valuations are now even lower than they may seem:
If your cash flow rises by 10% even as your share price drops by 40%, your valuation eventually gets cut in half. Such opportunities are not uncommon in the REIT sector today. Just to give you one example: BSR REIT (OTCPK:BSRTF / [[HOM.U:CA]]) owns Texan apartment communities that grew their same property net operating income by 12%+ in 2022, but its share price dropped by 30% off its highs.
As a result, it is now priced at an estimated 40% discount to its net asset value. Put differently, it is offered at 60 cents on the dollar relative to the value of its assets.
Billionaires like the idea of buying real estate at cents on the dollar and this is why they are loading up on REITs at the moment. John Gray, COO of Blackstone said on a conference call in 2022 that (emphasis added):
"The best opportunities today are clearly in the public markets on the screen and that's where we're spending a lot of time."
Reason #2: Inflation & Rising Rate Protection
REITs dropped with the rest of the market as inflation took off and interest rates were hiked.
But this market reaction makes little sense when you consider that REITs greatly benefit from inflation. It led to some of the fastest rent growth in years. It made homeownership less affordable, grew the pool of renters, and greatly diminished new development projects, reducing future supply growth.
Meanwhile, the impact of rising interest rates on REITs is quite negligible because leverage is low at just around 35%, interest rates are mostly fixed, and maturities are long at nearly 10 years on average:
By the time the debt needs to be refinanced, interest rates will likely have been lowered again, but the inflation won't be canceled and the higher rents will now likely justify higher property values than ever.
It is a case of short-term uncertainty for long-term gain. Billionaires see it because we have gone through the same cycle before.
Reason #3: Allow You to Diversify Abroad
It is very difficult to invest in foreign real estate, even for billionaires.
But REITs make that a lot easier.
Today, there are 30+ countries that have REITs: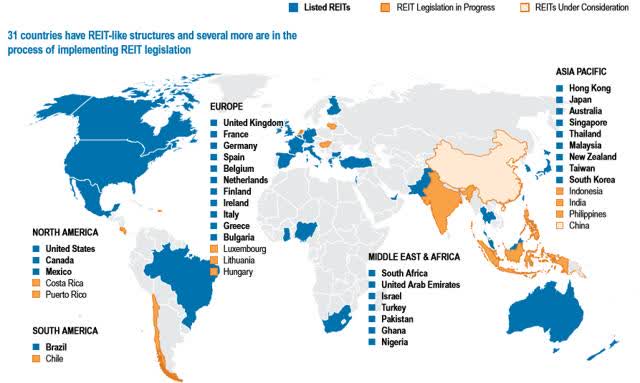 Many of these foreign markets are today even cheaper, particularly in Europe due to the war in Ukraine. To give you an example: Vonovia SE (OTCPK:VONOY), the biggest apartment landlord in Germany, is currently priced at just 35 cents on the euro, or put differently, a 65% discount to its net asset value.
Brookfield (BAM), one of the world's biggest private equity players, has been loading up on European REITs over the past year and in most cases, they paid much higher prices than those of today. They are highly sophisticated, long-term oriented, and know what they are doing.
Foreign REITs are opportunistic, but they also allow you to diversify risks. Some parts of the world are today less affected by geopolitical risk. To give you an example: a lot of Singaporean REITs are doing just fine today. Billionaires use foreign REITs to diversify their portfolios.
Reason #4: Yield Matters As We Potentially Face a Lost Decade
Today, REITs are priced at historically high dividend yields.
Lots of good REITs pay 6-8%.
Just to give you a few examples:
Global Medical REIT (GMRE) yields 8.1%
EPR Properties (EPR) yields 8.2%
Armada Hoffler (AHH) yields 6.3%
And this matters today because we may be facing a lost decade with zero price appreciation. We have had many of them in the past and we are today long overdue for one to happen:
There's no shortage of risks in today's market:
We are long overdue for a lost decade.

We are potentially facing a severe recession.

There's the biggest war since WWII in Europe.

China could invade Taiwan.

Inflation remains stubbornly high in many regions and sectors.
And I pass on many other risks that could lead to zero price returns in the coming decade. Billionaires are seeking higher-yielding investments like discounted REITs to earn a return, regardless of how the market performs.
Reason #5: Significant Long-Term Upside Potential
This gets back to what we said earlier.
REITs are today priced at huge discounts relative to the fair value of their real estate.
They dropped because the high inflation forced the Fed to hike interest rates significantly.
But this high inflation led to materially higher rents, and the interest expense didn't really impact most REITs since leverage is low and maturities are long.
Now, inflation is getting back under control, and the bond market is already starting to price lower interest rates. The Fed will probably hike interest rates a bit more to be 110% sure that inflation is gone, but before you know it, I expect it to cut rates again to stimulate the economy.
Historically, it only takes a year or two for the Fed to cut rates after periods of rising interest rates:
And as interest rates return to lower levels, I expect REITs to bounce back. If interest rate cuts caused REITs to collapse, it would only be logical for REITs to recover:
And I don't expect them to just recover. I expect them to hit new all-time highs because REIT cash flows are now greater than ever.
As this occurs, there are a number of REITs that present 50-100% upside potential, and while you wait, you also earn 6-8% dividend yields.
Here are a few Top Picks that we are buying:
EPR Properties: is a net lease REIT that specializes in experiential properties such as water parks, ski resorts, movie theaters, and golf complexes. The REIT is doing well as we emerge from the pandemic and people seek experiences. Its leases are long at 10+ years, its rents are hiked annually by around 2%, and rent coverage has nicely recovered. Despite that, it is still priced at just 8x FFO, an estimated 40% discount to NAV, and it pays an 8.2% dividend yield. Investors fear EPR because AMC (AMC) and Cinemark (CNK) are some of its biggest tenants, but they forget that EPR is the landlord, not the operator, and it owns some of the best properties in each respective sector.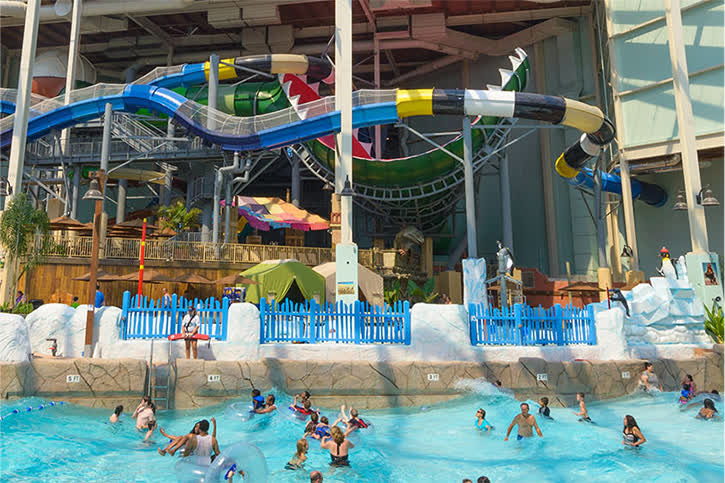 Armada Hoffler (AHH): is a diversified REIT with investments in many property sectors. But in recent years, it has invested heavily in apartment communities, which now represent about 50% of its portfolio (as measured by NAV). Its rents are growing rapidly, but the company is heavily discounted, priced at just around 10x FFO, a 30% discount to NAV, and a 6.3% dividend yield.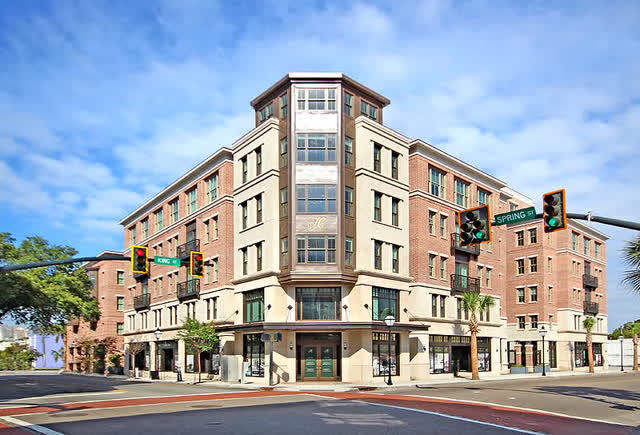 Global Medical REIT (GMRE) is a medical office REIT. Medical office buildings are generally quite defensive real estate investments because leases are long, they include regular rent hikes, and your tenants enjoy high rent coverage. This means that even if their profits dropped substantially, they would still likely be able to pay their rent. Following the crash of 2022, it is now priced at just 10x FFO, an estimated 25% discount to NAV, and it pays an 8.1% dividend yield.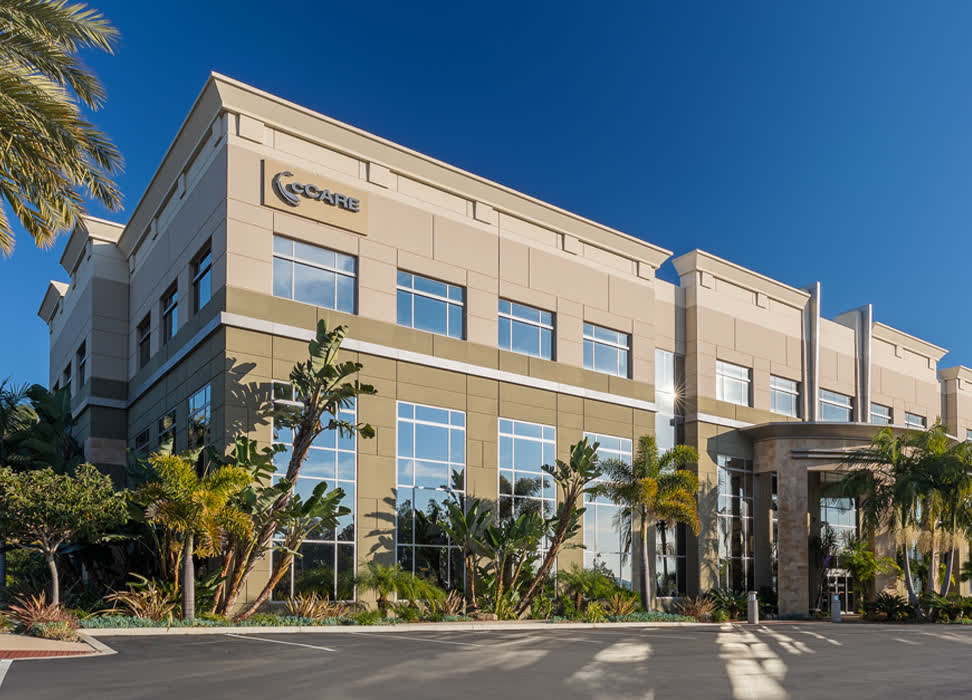 I expect these three REITs to generate 12-15% annual total returns from their dividend yield and annual growth prospects. Then, on top of that, they offer ~50% upside potential as they return to fair value on top of that.
That's very attractive coming from relatively defensive businesses that are resilient to recessions and inflation.
Bottom Line
I am not suggesting that you should just blindly follow what billionaires are doing, but when many legendary investors suddenly start accumulating a type of investment, you may want to take a look at it.
Just like many billionaires, I am today accumulating REITs because I think that they offer the best risk-to-reward in the entire marketplace.
Editor's Note: This article discusses one or more securities that do not trade on a major U.S. exchange. Please be aware of the risks associated with these stocks.