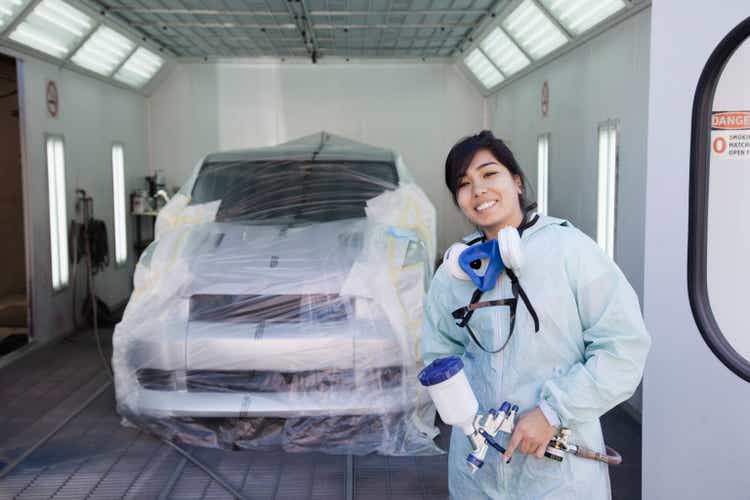 Vanguard Small-Cap Value ETF (VBR) holds nearly 2M shares of Axalta Coating Systems Ltd (NYSE:AXTA). That is more than any other of the 81 ETFs with Axalta stock in all the portfolios. The stock comprises 0.22% of Vanguard's portfolio. Another, ProShares Smart Materials ETF (TINT) holds fewer shares but Axalta shares comprise 4.55% of the ETF's portfolio. Clearly, these smart money managers believe Axalta Coating Systems is a potential opportunity to profit.
Boring Company
Over the years we have followed Axalta, the stock price has stood its ground, mostly in the $32 per share range. Seldom is the paint and coatings industry news glitzy or exciting investors. Axalta Coating Systems defines boring, in our opinion, and now is besotted the way we are with our favorite sneaker company. "AXTA is a favorite stock for Vanilla and Active ETFs," according to Vanguard.
Seeking Alpha has a Hold Quant Rating on Axalta. The same rating has been in effect with spots of Sell for 3 years. The last positive rating was at the close of FY '19. The stock gets mediocre Factor Grades:
Axalta Coating Systems Ltd. is a legacy company in business since 1866. The firm manufactures, markets, and distributes high-performance and transportation coatings worldwide. Customers include independent body shops, dealership body shops, and original equipment manufacturers. It also makes and sells decorative paint, powder coatings, and electrostatic systems used in various industrial applications.
In the interest of full transparency, our family-owned Chicago paint supply company sold Axalta's Imron to painters and steel fabricating factories before we sold the business.
The Numbers
Axalta stock has a Beta rating of 1.32. It is more volatile than the general market, being tied to the auto industry and repeated scuttlebutt about being taken over. In our opinion, investors keep the stock hoping there will be a deal. The rumors and leaks spark a dead cat bounce in the share price. +99.6% of the shares are owned by institutions satisfied to hold the stock for safety sake and another potential. It is not for the dividend-there isn't one.
The shares are down in price -by 15% over the last 12 months; they are down by 15% for the past 5 years. YTD, i.e., in January '23, the stock clawed back +5.6% from $25.63 to close on the 18th at $27.06.
18 Wall Street analysts are bullish on AXTA with a buy consensus. In our opinion, the share price will meander around under $30 for a while longer, as it has since last early November. Short interest is 2.45%, about the same it was in our October 27th article about buyout rumors.
Shares dived in 2022 into the mid-to-low $20s, dragged down by macroeconomic events: shortages in raw materials to make paints, inflation hitting raw materials and transportation costs, and chemicals like binders in short supply. Axalta sales depend on the auto market and it faces challenges. The architectural paint and industrial coatings market sales were flat throughout 2022. The stocks of some major paint and coatings companies climbed higher because of an 11% jump in acquisitions as the industry consolidates.
Actual quarterly revenue and earnings estimates are usually in tandem with analysts' estimates. Last year's Q4 EPS was $0.30. We forecast the Q4 '22 EPS at $0.35 when the company next reports on January 25, 2023.
America's economy is gaining traction. The trends in transportation vehicle production are pointing skyward. Deloitte forecasts accelerating growth in industrial manufacturing in 2023. Data lead us to expect the global paint and coatings business to grow between 4% and 5% (CAGR) between 2023 and 2028.
Institutions In Sway
A few corporate insider trades happen each quarter, but there is no definitive trend. 61 hedge funds owned shares in Q4 '19. By the end of Q3 '22, only 38 owned shares.
Ariel Investments owned a significant number of shares of the $5.97B market cap company, but sold in mid-May '22. Here is what Ariel told investors:
We became owners of Axalta, a coatings provider primarily to the auto industry, in the third quarter of 2016. During our more than five-year holding period, the company has successfully enhanced its FREE cash flow through cost reductions and low requirements of maintenance capital expenditures. It has used this cash to, in part, participate in further industry consolidation. The company has battled supply chain headwinds in recent years, but we still think highly of Axalta's competitive advantages, which include its scale, pricing power and strong OEM relationships. However, we decided Axalta was the best candidate for sale to fund what we believe is a more attractive investment….
Speaking of consolidation, Axalta acquired 14 companies, 3 in the last 5 years (85% in chemicals and 16% in distribution). The largest acquisition cost Axalta $590M. Then there is the accumulated debt.
Watch for the debt reported next week. It will be near the $3.7B reported in September '22. We were concerned last quarter when total liabilities outstripped its $524.5M in cash and $1.15B in accounts receivable. During the last few tough years, Axalta became highly leveraged. Debt hit +4xs the EBITDA. We will want to see its good free cash flow numbers to continue reducing concerns about the debt-to-equity ratio.
S A metrics factored into the stock's valuation get Cs and Ds. If the company reports earnings of +10% Y/Y next week, the shares have the potential to pop. If the earnings report misses estimates the share price is likely to drop -from 5% to -8%. Today, 6 analysts give the stock a Strong Buy, 4 a Buy, 7 recommend Hold, and 1 to Sell.
What The Future Holds
Paint and coatings are essential to manufacturing finished products. Axalta coatings prevent rust, waterproof surfaces, protect against weather hazards, and maximize scratch resistance. Paints add protection and beautify products, adding value and enhancing saleability. Axalta produces its products domestically with tremendous attention to sustainability and environmental safety. It is a worthwhile industry in which to invest.
Axalta's trading volume skyrocketed on January 18th, suggesting something is afoot. The spike did not move the share price, but it is noteworthy.:
The trading volume might relate to the next earnings report. Or, the volume move might relate to Chris Villavarayan being named President and CEO of Axalta effective January 1, '23.
According to news reports, he was CEO and Executive Vice President of a company selling into the auto industry when his company sold in February '22. The experiences stand him in good stead and will be useful to the company in the future. A 3.7% drop in Axalta share price, unfortunately, greeted Mr. Villavarayan upon arrival; another paint company reported disappointing earnings. In either case, the paint ought to be dry after next week.