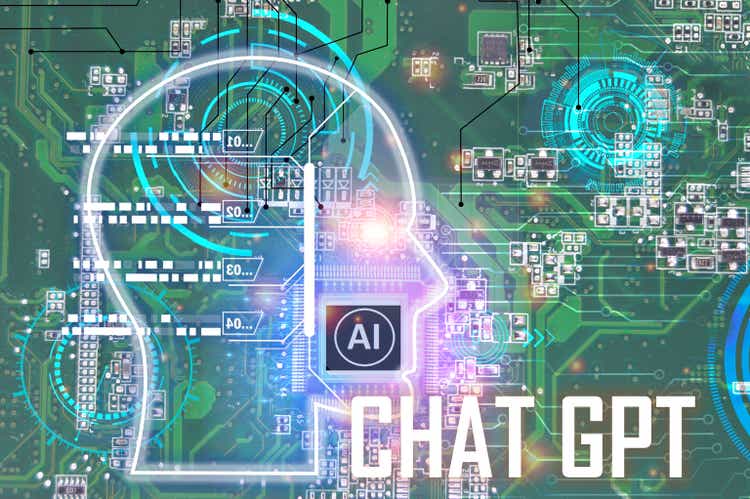 ChatGPT, a language model developed by OpenAI that was made public last year, has continued to gain popularity, resulting in the platform reporting high web traffic and frequently being at capacity. It is a text-based chatbot built on OpenAI's GPT-3 language model that can write prose, poetry, or even computer code on command. Following the release of ChatGPT in November 2022, public interest in OpenAI has surged to new highs. Only five days after its initial launch, ChatGPT had one million users. According to Similarweb data, daily visits to ChatGPT's home page have recently surpassed 20 million and the platform reported more than 266 million page views in December 2022. The ability of this AI tool to provide more reliable answers to given prompts/questions is considered to be the most serious threat to Alphabet Inc's (GOOG) Google search engine since its inception. According to the New York Times, the launch of ChatGPT prompted Google management to declare a "code red" event. At a time when the world is hyped about ChatGPT, Microsoft Corporation (NASDAQ:MSFT) is reportedly considering a $10 billion investment in OpenAI. The objective of this analysis is to determine how this investment will impact Microsoft and its shareholders in the long run.
How Much Did Microsoft Invest In OpenAi?
Microsoft invested $1 billion in Open AI, an Artificial Intelligence research and deployment company that is also the developer of ChatGPT, in 2019 and formed an exclusive computing partnership to jointly develop new Azure AI supercomputing technologies. At the time of its founding in 2015, Sam Altman, Elon Musk, and others pledged a total of $1 billion to conduct AI research to promote and develop friendly AI in a way that benefits humanity as a whole. The organization generates revenue by charging developers for the use of its technology.
After the partnership was formed, OpenAI transferred its services to run on Microsoft Azure in order to develop new AI technologies. Within Microsoft Azure, OpenAI is developing a hardware and software platform that will scale to Artificial General Intelligence (AGI).
GPT-3.5, Codex, and DALL-E are just a few of the OpenAI AI models that are already available in the Azure OpenAI service. These systems can be used by businesses and developers in their own apps and workloads. These models are currently used as text analysis and document summarization tools. Microsoft also uses its Azure OpenAI service, which costs $10 per month, to assist developers by suggesting lines of code inside their code editor to power GitHub Copilot. The upcoming Microsoft Designer app uses DALL-E 2 to create art from text prompts, and Power BI uses GPT-3 natural language models to generate formulas and expressions. Alec Radford created the GPT generative pre-training language model, which can learn about the world and process long-term dependencies by pre-training on a diverse corpus with long stretches of contiguous text. GPT-3, a successor to GPT-2 and GPT, was licensed exclusively to Microsoft on September 23, 2020.
According to Reuters, Microsoft is now considering investing up to $10 billion in OpenAI.
Why Is Microsoft Investing In OpenAi?
Since 2012, the world has witnessed an advancement in AI capabilities across a wide range of industries, including text generation, simple video games, machine translation, speech synthesis, and writing. Even though they are all highly computationally powerful, each clearly defined task requires a lot of manual engineering. In contrast, an AGI will be a system that can master more fields than any one human can at the level of an expert. The purpose of OpenAI and Microsoft is to provide people with economic freedom while resolving today's intractable multidisciplinary problems, including global issues like climate change.
With Microsoft's assistance, OpenAI is developing a line of progressively more powerful AI technologies and has already begun licensing some of its pre-AGI technologies. Additionally, the new supercomputing Azure AI technologies will improve Microsoft Azure's abilities in large-scale AI systems.
Microsoft recently announced that its Azure OpenAI Service, which had only been accessible to a select group of users, would now be widely available. The service provides Microsoft cloud customers with access to a variety of OpenAI tools. Following a year of testing, Microsoft intends to expand ChatGPT access to more users by adding it to its cloud-based Azure service.
The company is currently screening applications for potential software abuse and its filters can check for harmful content that users might enter or that the technology itself might produce. The software has enormous commercial potential, attracting massive venture capital investment in startups as well as improving the efficiency of large corporations. Companies are currently using this technology to create digital content for marketing purposes as well. It can also assist news organizations in summarizing and translating content. Microsoft also stated that CarMax, KPMG, and other companies are utilizing its Azure OpenAI services for some of these use cases already. A classic example of content creation using ChatGPT is how Jeff Desjardins, a founder of Visual Capitalist, and a group of writers prompted ChatGPT to write an intro to one of their recent articles.
Exhibit 1: ChatGPT's functionality as a content creation tool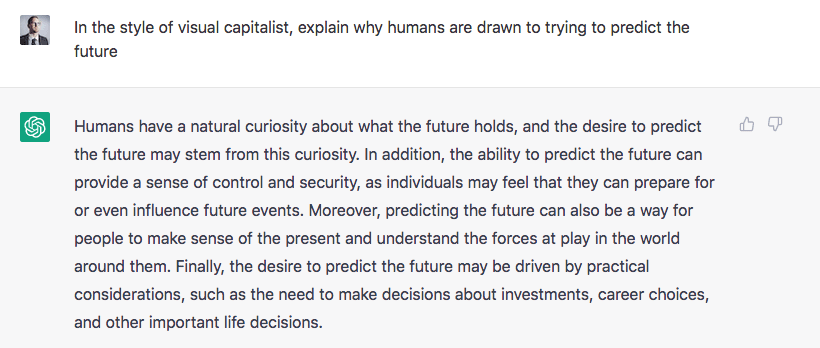 Source: TalkMarkets
Microsoft CEO Satya Nadella is bullish on OpenAI integration. Sharing his views with a Wall Street Journal panel at the World Economic Forum in Davos, Nadella said:
"We need something that truly changes the productivity curve so we can have real economic growth."
One major reason Microsoft is considering taking a much larger stake in OpenAI could be to challenge Google with ChatGPT integration into Bing search results. The company wants to gain an advantage over the most popular and advanced AI systems to improve its own products, and Microsoft intends to incorporate AI tools into its Word, PowerPoint, and Outlook apps as well. Microsoft has already made inroads into the creative industry. The release of OpenAI's Dall-E, which accepts written prompts to synthesize art and other images, also fueled discussion about advanced tools generated by AI capabilities.
What Is The Long-Term Outlook?
OpenAI is already developing a GPT-4 successor model for natural language processing. However, there are still concerns about ChatGPT's accuracy, which Altman himself claims. He claims that the bot's accuracy is insufficient for it to be relied on. The platform also warns against its premature use, and New York City schools have prohibited students from using ChatGPT.
Exhibit 2: Sam Altman's comments on ChatGPT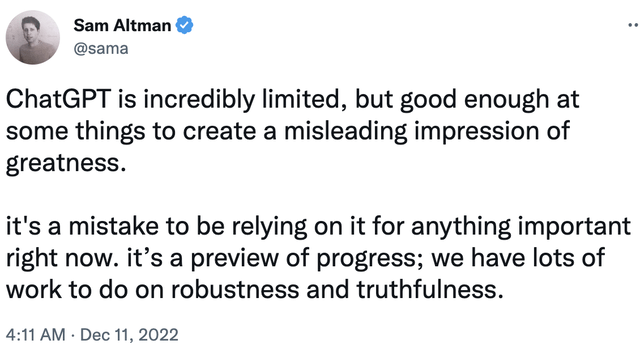 Source: Twitter
Microsoft still has a long way to go before the company can outpace its rival Google. Microsoft's Bing search engine has a low single-digit share of the global market, whereas Google has more than 90%. Although ChatGPT, once fully trained to surf the Internet, could pose a long-term threat to Google, it currently only specializes in natural-language queries that generate human-like responses. Furthermore, not all of the answers generated by ChatGPT are correct, and tracing the source of that information is difficult. Incorporating AI tools could also be expensive due to the computing power required. Morgan Stanley analyst Brian Nowak estimates that ChatGPT's cost per query is roughly seven times that of a traditional search query to Google.
Exhibit 3: Market share of top search engines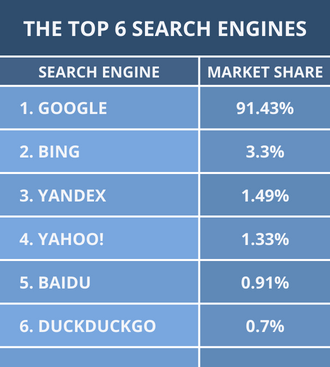 Source: WebFX
In response to ChatGPT, Google's Artificial Intelligence division DeepMind is also considering releasing its chatbot called Sparrow into private beta this year. DeepMind introduced Sparrow in September 2022 after training it with human feedback, which DeepMind claims makes it more helpful, accurate, and safe.
Google already has large language models (LLMs) optimized for dialogs, such as LaMDA, Glam, and PaLM. In 2020, Google's AI scientists unveiled "Meena," a breakthrough in chatbots that was one of the largest language models ever run. DeepMind introduced Flamingo last year, a single visual language model (VLM) that can solve a variety of difficult problems in "few shots" with no additional training. Google already had a chatbot ready with these models that could have credible conversations with humans. However, due to security concerns, the company has not made its products public. However, under increasing pressure from ChatGPT and investors, Google is finally developing its own natural language model. Sparrow, unlike ChatGPT, is said to have Internet access via Google, allowing it to incorporate up-to-date information into its responses. Sparrow is built on DeepMind's Chinchilla language model, which debuted in April 2022 and outperformed GPT-3 in common language benchmarks. Even though ChatGPT is based on the more advanced GPT version 3.5, there is reason to believe that Sparrow is a strong competitor.
Google, compared to OpenAI, will be more cautious with its language models due to potential flaws in the technology and security risks. A chatbot has the potential to spread lies or hate speech, posing a significant reputational risk. Furthermore, a chatbot that is so convincing poses additional psychological risks. DeepMind's CEO Demis Hassabis believes that AI is now on the verge of being able to create tools that could be extremely harmful to human civilization. In an interview with Time, he said:
When it comes to very powerful technologies—and obviously AI is going to be one of the most powerful ever—we need to be careful." "Not everybody is thinking about those things. It's like experimentalists, many of whom don't realize they're holding dangerous material."
Despite the risks, Microsoft is optimistic about OpenAI's ChatGPT; however, it only has a fraction of Google's users. However, given the rate of adoption of ChatGPT, investors need to pay close attention to what the future holds for Microsoft from this front.
Takeaway
Microsoft's rumored $10 billion investment in ChatGPT developer OpenAI will open the doors for the company to integrate the AI capabilities developed by OpenAI into its various products and solutions. Such an investment will also strengthen the partnership between OpenAI and Microsoft and will enable the tech giant to have a bigger say in the R&D efforts of OpenAI. Although ChatGPT is a major breakthrough in the history of technological advancements, Microsoft is highly unlikely to convert ChatGPT's growing popularity into tangible profits anytime soon. Google is not far behind when it comes to integrating AI capabilities into its search engine as well, which is a looming threat on the horizon. For existing shareholders of MSFT, the rumored investment in OpenAI should come as good news but for investors who have been waiting on the sidelines, this development is unlikely to act as a reason to pull the trigger.