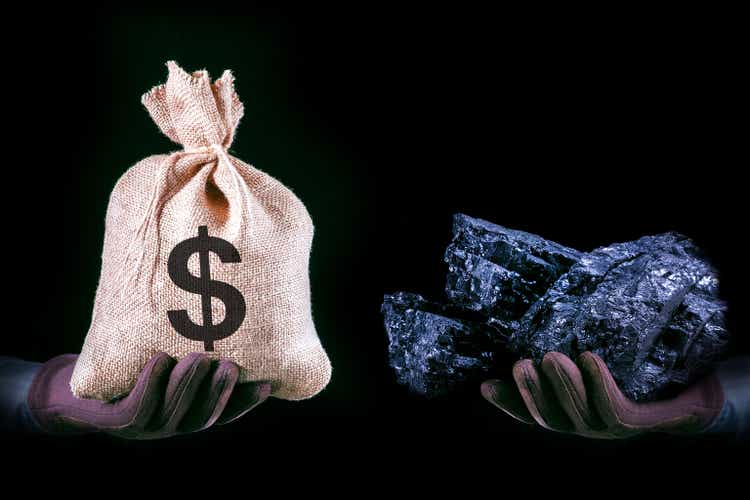 Yancoal Australia Ltd (OTCPK:YACAF) recently delivered an impressive increase in the price of thermal coal and a triple-digit increase in cash flow from operations. Management noted that it is expecting further increase in thermal coal in 2023. Besides, with new cash in hand, a healthy balance sheet, and expertise in the M&A markets, I would be expecting new acquisitions soon. Even considering risks from concentration of clients and lack of diversification, I believe that the company trades undervalued.
Yancoal Reported A Massive Increase In The Price Of Thermal Coal And Cash Flow From Operations
Yancoal presents itself as a low-cost Australian coal producer in the global seaborne market, producing a mix of thermal, semi-soft coking, and PCI coals for export.
If I can go straight to the point with this name, readers will most likely find it interesting that total production of saleable coal declines close to 1% as compared to that in 2Q 2022. With that, the most attractive feature of Yancoal is the massive increase in the overall realized price. In the last quarter, the average realized price increased by 31%. Besides, in the last nine months, the change in the average realized price increased by close to 211%. In my view, further price increases will most likely bring significant revenue growth and most likely FCF generation.

If we look a bit more at the company's figures, thermal coal average realized price was responsible for the impressive increase in the total amount of Australian Dollars per tonne.

I believe that the increase in the price of thermal coal clearly indicates the massive increase in cash flow from operations seen in 2022. In the half-year ended June 30, 2022, management reported CFO of A$2.75 billion. The increase in cash is so significant that I believed that having a close look at the company's financials and stock price makes a lot of sense.
By the middle of the year 2022, net operating cash flows of A$2.750 billion, investing cash flows close to A$75 million, and net financing cash flows of A$972 million were obtained.

Expectations From Financial Analysts Include Positive Net Profit Margin And Very Decent EBITDA Margin
By 2024, financial analysts are expecting net sales of A$7.794 billion together with net sales growth of -20.14%. Besides, 2024 EBITDA would stand at A$3.97 billion with 2024 EBITDA margin close to 51%. 2024 EBIT would be close to A$3.149 billion with an operating margin of 40% and EBT of A$4.636 million. 2024 net income would be around A$3.245 million, and 2024 net income/sales would be close to 41.63%.

Net Debt Decreased Significantly In 2022
As of June 30, 2022, the company reported cash worth A$3.383 billion in addition to trade and other receivables of A$867 million. Inventories stood at A$249 million with total current assets of A$4.576 billion. Total current assets stand at close to 3x the total amount of current liabilities.
Non-current assets include property worth A$3.254 billion with mining tenements of A$4.438 billion, exploration and evaluation assets worth A$541 million, and an interest in other entities of A$370 million. Total non-current assets are equal to A$9.071 billion, and total assets stand at A$13.647 billion. The asset/liability ratio stands at 2x, so I believe that the company's balance sheet appears in good shape.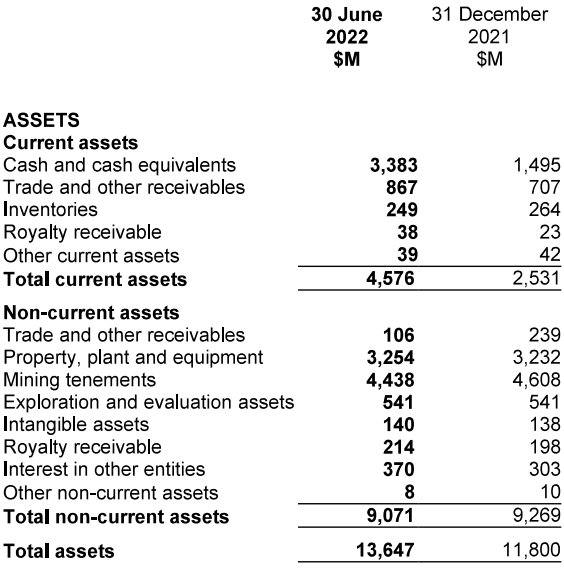 The liabilities of Yancoal included trade and other payables of A$696 million and total current liabilities close to A$1.472 billion. Besides, interest bearing liabilities stood at A$3.549 billion, with provisions of A$1.139 billion and deferred tax liabilities of A$534 million. As a result, we have total non-current liabilities of A$5.232 billion and total liabilities worth A$6.704 billion.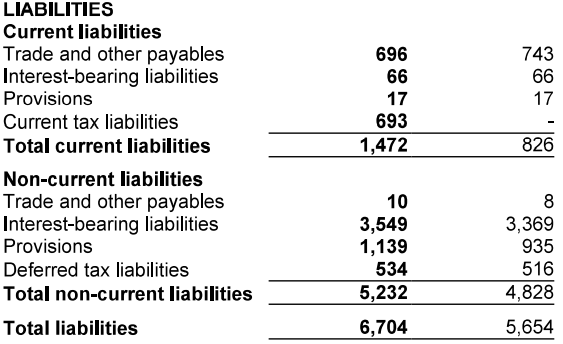 I want to make a point about the recent decrease in net debt. As of June 30, 2022, interest bearing liabilities stood at A$3.615 billion with cash of A$3.383 billion. The result includes net debt of only A$232. As of December 31, 2021, the company reported net debt of A$1.9 billion, so the reduction in net debt appears impressive.

With The Current Amount Of Cash In Hand, I Expect New Projects Abroad And In Australia, Which May Imply A Valuation Of $9.7 Per Share
According to the information provided in its annual report, the company plans to continue growing in its export of low-cost coal and expanding its horizon of operations globally and emphasizing the Asian region. Yancoal believes that coal will continue to play a fundamental role in industrial development and improving people's standard of living. Although, within its future projections, the objective is to preserve the central core of its business, which is effectively the extraction, transport, and commercialization of coal, the company has in view an adaptation of its extraction processes, complying with the requirements and trends in terms of pollution reduction and improvements in waste management. Under this case scenario, I assumed that the current cash in hand will serve to successfully launch new operations abroad.
Under this case, I assumed that Yancoal would perhaps acquire new projects with a combination of cash and debt. Considering the current state of the balance sheet, in my view, management has sufficient resources to acquire other assets. Let's keep in mind that management built Yancoal's mining network through strategic acquisitions. In my view, the company has expertise in the M&A market.
Since 2004, Yancoal has built its business through strategic acquisitions, now owning, operating or participating in 11 coal mines across NSW, Queensland and Western Australia. In 2020, Yancoal produced 38.3 million tonnes of saleable coal for export into international markets. Source: Company's Website
Under this scenario, I also assumed that thermal coal prices will continue to trend higher in 2023. Let's keep in mind that management made this prediction in a recent report.
Thermal coal prices, particularly high-energy thermal coal, are likely to be well supported for the remainder of 2022 and perhaps into 2023. Half Yearly Report
Under normal conditions, I expect 2033 net sales of A$4.507 billion, a net sales growth of 3%, an EBITDA close to A$2.123 billion, and an EBITDA margin of A$47%. 2033 CFO will likely stay close to A$1.987 billion with CFO/sales of 44%. I believe that 2033 capex of A$225 million would make sense, making a capex/sales of 5%. Finally, I used 2033 free cash flow of A$1.762 million.

Additionally, with a WACC of 8.10%, the net present value of future FCF would be A$16.991 billion. With an EV/EBITDA multiple of 2.1x, the terminal value would be close to A$4.457 million, and the NPV would be A$1.89 billion. Besides, I obtained an enterprise value of A$18.9 billion and equity valuation of A$18.6 billion. Finally, the fair price would stand at $9.7 per share with an IRR of 3%.

Lack Of Diversification, Risks From Lower International Demand Of Coal, And Higher Cost Of Equity Could Imply A Valuation Of $3.05 Per Share
Putting views on the international scene, in the last decade and mainly since the last meetings for the conservation of the environment and objectives in view of waste reduction in this sense, the consumption of coal has decreased, and most of the industries are abandoning this type of power generation, especially in Europe. Meanwhile, in China and Asia, in general, there have been no major discussions in this regard, and it does not seem to have future changes or objectives at the regional level in this regard.
This is one of the key factors when we think about the evolution of Yancoal's business and operations, which depends exclusively on the use of coal for different purposes. On the one hand, it is clear that Yancoal has no experience or plans to expand to other markets, since it has managed to position itself as one of the low-cost suppliers of minerals and coals in Asia. On the other hand, any change in the regulation and requirements for the adaptation of waste management as well as the emission of carbon footprints could directly affect the business model of the company.
In relation to the current lack of diversification in Yancoal's operations, we can add that part of the company's success depends on the low cost of its operations as well as the low cost of its products at the time of marketing. In a market with medium competition such as the region in which it is active and the type of operations it carries out, this does not seem to be a problem. However, broadening the perspective to the regional concentration of its profits and to the fact that there is the possibility of emergence of new mining companies with similar qualities and lower cost operations, this portfolio of clients could change their contracts as a result of these benefits, reducing the profit margin and action of Yancoal.
73% of its annual profits during 2021 came from South Korea, Taiwan, Singapore, and Japan, which shows on the one hand the strong presence of the company in this market but at the same time the lack of diversification in your client portfolio. This lack of diversification is also shown in the fact that most of its profits are concentrated in the coal trade. Under this scenario, I assumed that less investors will likely buy shares because of lack of diversification, which would bring higher cost of equity and lower fair price.
Under the previous conditions, I included 2033 net sales of A$215 million with 2033 net sales growth of -35%. 2033 EBITDA would stand at A$21 million together with an EBITDA margin of 10%. 2033 CFO would be A$15 million with a CFO/sales of 7%. I also included capex of A$21 million, with capex/sales of 10% and 2033 free cash flow of -A$6 million.

If we also include a WACC of 12.5%, the NPV of future FCF would be A$5.976 million. Besides, with an EV/EBITDA multiple of 1.05x, I anticipated a terminal value of A$23 million and a NPV of terminal value close to A$6.18 million. Besides, the enterprise value would be A$5.982 billion, with an equity valuation of A$5.75 billion and a fair price close to $3.05 per share along with an IRR of -4.17%.

Conclusion
Yancoal recently reported an impressive amount of cash flow from operations driven by an increase in the price of thermal coal. Considering that management expects further price increases in 2023, I believe that Yancoal is a company to follow closely. Considering the recent drastic reduction in net debt and the company's expertise in the M&A markets, I would be expecting that investors may enjoy new acquisitions. I do believe that Yancoal may suffer from lack of geographic diversification and the fact that management focuses only on coal mines. With that, in my view, the stock remains quite undervalued.
Editor's Note: This article discusses one or more securities that do not trade on a major U.S. exchange. Please be aware of the risks associated with these stocks.