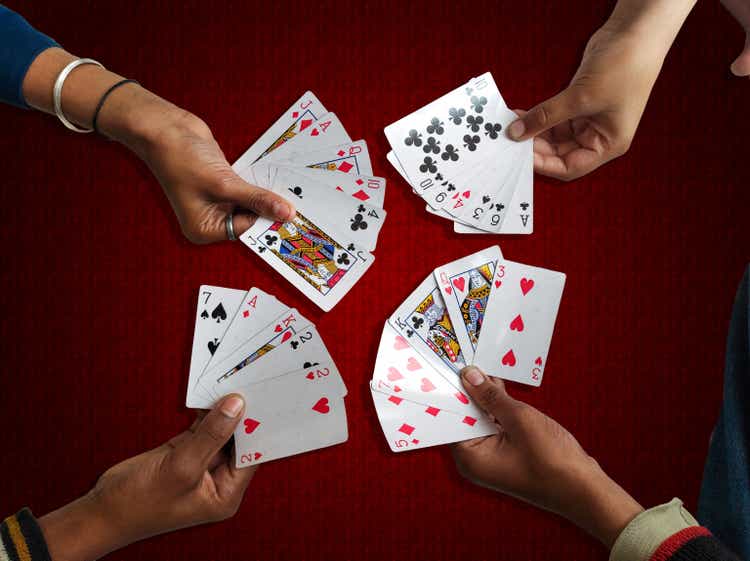 In April 2022, I concluded that the cards were improving for shares of SciPlay (NASDAQ:SCPL). This came after the company ended 2021 on a strong note, while it announced an interesting deal early in the year. Amidst a solid balance sheet and non-demanding valuation multiples, appeal appeared to be improving.
The company was spun-off from its former parent company in 2019, as the resulting controlled status and concerns on the quality of the business, made me a bit cautious.
A Recap
SciPlay is a developer and publisher of mobile and web platform games. The company focuses on the so-called ¨freemium¨ model, by initially offering free entertainment games, with premium and paid options offered to make progression in the games. Typical games to think of include slots, casino, monopoly-inspired games, among others.
The company was spun out of Scientific Games at $16 per share in 2019, valued at $2.0 billion at the time amidst a flattish net debt load. This valuation was based on a business which generated $418 million in sales on which GAAP operating profits were posted around $74 million. With adjusted earnings totaling $100 million, realistic earnings multiples came in at 23-24 times earnings.
While 20% growth would justify a lot of that premium, I feared the controlled nature of the business as well as lack of details on royalty arrangements. Shares actually fell to $7 ahead of the 2020 outbreak of the pandemic, with the pandemic fueling a big boom in the shares.
Revenues rose by a quarter to $582 million in 2020 as net earnings rose in a more pronounced fashion to $146 million, with earnings coming in around $0.90 per share. What followed was 2021 which saw some more difficult comparables, a year in which revenues rose just a few percentage points to $606 million, as net earnings fell to $125 million, with diluted earnings down to $0.77 per share. The bright news was that fourth quarter sales did still rise 5% to $154 million as net cash balances rose to $365 million, equal to $2.50 per share.
More so, SciPlay announced the purchase of Turkey-based mobile casual game developer Alictus, acquiring an 80% stake for $100 million. With management revealing a roughly $30 million revenue contribution, that deal looked quite fair.
With shares trading at $13 at the time, a resulting $11-$12 operating asset valuation looked fair as earnings might approach a dollar per share going forward. This cheapness was a reason to be upbeat, offset by the concerns on the quality of the business and controlled status, as a small speculative position was indeed held by myself.
Holding Up
Since urging a conservative but upbeat tone at $13 in April we have seen shares trade flat around those levels for a while, hitting a low of $11 in September of last year, before now having rebounded to $16.50 per share.
The company started 2022 on a rough patch. First quarter sales were up nearly 5% to $158 million, yet net earnings tumbled, having fallen from $38 million to $32 million, with quarterly earnings down three pennies to $0.18 per share. Similar trends were seen in the second quarter, with revenues up less than 4% to $160 million, as net earnings fell in similar fashion as they did in the first quarter.
The third quarter results really showed the impact of the Alictus deal and more resilient underlying organic performance. Revenues rose 17% to $171 million, with net earnings down from $37 million to $34 million. So far this year, earnings have actually come down eight cents to $0.61 per share, trending around $0.80 per share. In the meantime, net cash holdings of $299 million come in close to $2 per share.
And Now?
The truth is that I am pleased to see shares holding up so well. 2022 has been a year of relative stable results, with modest topline sales growth, yet earnings have taken a tumble.
This makes that expectations have risen quite a bit. After all, operating asset valuations have risen from $11-$12 per share to about $15 per share here, all while earnings power close to a dollar has come down to $0.80 per share. This makes that the operating asset valuation multiples have expanded to nearly 20 times, a more than full valuation in my book here.
This leaves me tempted to sell out of my small position on any rip to the $17 mark here.