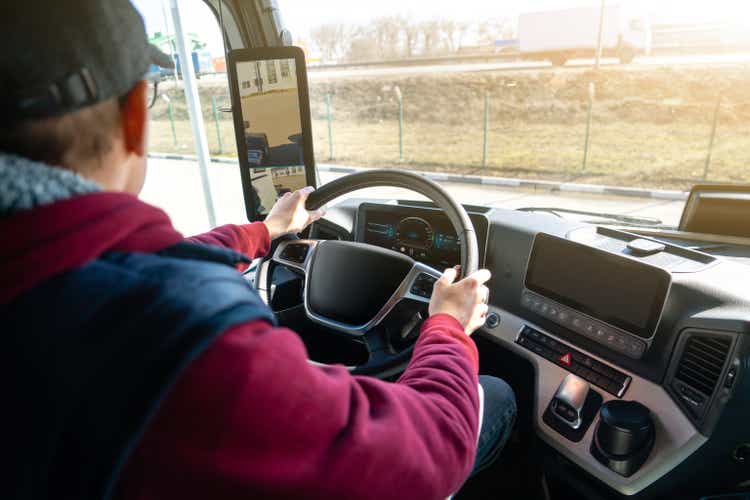 Will the company turn the corner on earnings and cash flow?
Most people who invest in and evaluate IT businesses are somewhat inured to industry jargon. I confess to often rolling my eyes when I read many shareholder letters in which every sentence or two relies on jargon to make a point. The Internet of Things became a popular investment theme several years ago, and many companies talk about their exposure to demand tailwinds based on that technology. Even more thematic has been the addition of artificial intelligence to the core vocabulary of any self-respecting IT vendor. And of course AI can't really exist without Big Data as its crucial input. It isn't that these are not real trends in the industry, but it can be easy for companies to exaggerate their exposure to these trends. So, I was properly skeptical when a subscriber of my Ticker Target service asked me to take a look at Samsara (NYSE:IOT). Not only is the name a puzzler, (it's a Sanskrit word meaning world, but also meaning the concept of cyclicality and rebirth) but the theme of the company, which is based on not one but all three of these popular industry buzzwords as animating technologies seemed perhaps too much of a good thing for any self-respecting professional skeptic. But after investigating the subject, I do think that this is a company that has been able to achieve hyper-growth by creating solutions that rely on aggregating massive data flows created by the Internet of Things, and using artificial intelligence to create actionable insights with regards to the management of physical assets. That said, the reason to consider the shares is not that the company is buzzword compliant, but that the company has technologies that are producing high ROIs within a target audience and creating strong growth and improving profitability.
Samsara was one of the last companies to pass through the IPO gate before the door was slammed on public offerings by companies in the IT space who were not making profits or generating cash. Since the time of the IPO, the shares have experienced the same depressing trajectory as many other high-growth IT companies, declining by 68% from their high point reached shortly after the IPO to a recent low below $10/share.
In the wake of a strong recent earnings report, and better-than-feared guidance, the shares have risen by about 1/3rd, although they remain far below the IPO price. There are many IT vendors whose valuation has compressed substantially. What makes Samsara particularly interesting is the very high ROI of its solution, and the apparent ability the company has to grow at substantial rates during an impending recession. While all IT vendors present customers and prospects with an ROI justification, Samsara is able to present hard cost savings to perspective customers which makes justifying its purchase far easier, particularly during periods such as this with constrained IT budgets. There have been just a handful of IT vendors who were willing to raise guidance for their coming fiscal quarter. Samsara was in that rather select group.
Should investors buy these shares at the current price? I think an investment commitment in the shares makes lots of sense at this point as the company continues to grow despite macro headwinds, and as it begins to reach non-GAAP profitability and free cash flow generation. I think the current consensus EPS forecast for Samsara for its fiscal '24 year is substantially understated. Of course, investing in almost any IT equity at this time requires a bit of faith and patience on the part of investors. Faith that investor sentiment which has been so toxic for high-growth IT companies begins to pivot, and patience as the pivot may take months to unfold. As I have done in couching many other recommendations for months, I caveat that Samsara shares are not likely to go up until investors show consistent risk appetite and are willing to look through what is likely to be some months of sickly-looking economic macros. The Fed has believed it necessary to create a recession of at least some magnitude to tame inflation, and the consequences of those decisions are now becoming extremely visible.
Readers may want to note that this company does use and will use SBC. Last quarter SBC was about 27% of revenues. That is slightly less than the SBC ratio for the first 9 months of the fiscal year. As I have written in other articles for the SA site, I am not particularly fixated on SBC expenses. The calculations generally used by GAAP have many issues depending on vesting and share price volatility. I far prefer to use dilution which is the real potential expense of SBC. Based on the company projection for outstanding shares, dilution is running at about 3%/year, and I have used that in calculating the valuation metrics I present.
In the current environment, I have been fairly rigorous in not recommending the shares of companies that do not have positive free cash flow. For example, I have not recommended MongoDB (MDB) shares despite the growth opportunity of the company for just that reason. I am making an exception in recommending shares of Samsara despite its cash burn. The company, while endorsing the current consensus revenue estimate for what will be FY'24, was less specific with regard to operating margins and cash flow projections. That said, the company's CFO more than inferred a continued improvement in margins and cash flow generation during the latest earnings conference call.
We improved adjusted free cash flow margin by more than 75% over the last year. This is a really big focus for us.

We're really proud of the fact that we got to Rule of 40 in Q3. We need to be able to make improvements to sustain that. But, you know, you can expect us to continue to make improvements on that as we go into FY 2024 as well.
I think it isn't likely that Samsara will grow revenues by more than 25% and not see a material improvement in margins. And therein lies some of the opportunity. The consensus EPS numbers that are currently published do not suggest a margin improvement, and yet the company, while not providing a specific forecast for EPS or cash flow has obvious plans to continue to improve margins and cash flow.
Is Samsara's valuation attractive? That has a lot to do with sentiment and how investors are willing to evaluate growth stories. Currently, i.e., as of 1/19/23, the company's market cap is about $6.4 billion, its enterprise value is about $5.6 billion. ((Some of the share data and valuation metrics presented on Yahoo Finance are inaccurate; the company reported its outstanding share count as 516.6 million, and projected its average shares this current quarter to be 522 million.) While the company has endorsed a growth rate in the high 20% range for its coming fiscal year, I think a more representative 3-year CAGR will be in the low to mid 30% range. I have used an average share count for FY '24 of 535 million, accounting for potential dilution from SBC. That puts the market cap for that period at around $6.6 billion and the enterprise value at around $5.8 billion. In turn, that yields an EV/S ratio of about 6.95X which is at, or slightly below average for the company's growth cohort.
A significant issue in terms of valuation is just how rapidly the company can reach non-GAAP profitability and start generating cash. With gross margins in the low-mid 70% range, I would be surprised if the company's internal operating plan for FY'24 doesn't at least reach break-even or better non-GAAP operating margin by sometime during the upcoming fiscal year as I will detail later in this article. That said, the CFO, like CFOs at most tech companies these days, is likely to provide conservative guidance which probably doesn't call for break-even non-GAAP earnings.
One thing I would emphasize here is the visibility the company has with regard to its growth outlook. There are lots of fast-growing companies in the IT space even these days when growth is being pressured because of macro headwinds. And that remains the case even after many IT companies have reduced their expected growth forecasts significantly because of concerns as to how those headwinds might cause deferral and downsizing of IT spending. Even cyber-security deals are being delayed or downsized despite what I think to be the foolhardiness of such strategies on the part of users.
Samsara's value proposition, however, relates to almost immediate cost savings for users. The use of Samsara applications enables users to improve the utilization of their own physical assets, to improve safety of assets and employees, to lower insurance premiums for fixed assets and liability, and to decrease spending on fuel and other inputs. The Samsara value proposition is one of the "hardest" there is in the IT space, and the phenomena being reported by most IT companies of longer sales cycles, increased deal scrutiny, and downsized deal sizes, while not absent from the company's sales environment, appears to be much less of a factor than for many other IT companies. While of course Samsara is selling software, the software is not being bought or funded by an IT budget but by VPs of Operations or company COOs. These individuals are able to improve performance metrics directly by deploying Samsara, a different situation than the sales process for most other IT vendors.
Just what does Samsara do and why is its growth somewhat impervious to economic headwinds?
Samsara is hardly a household name. While its revenue growth has been notable, and it should reach close to a billion-dollar revenue run rate by the end of the next fiscal year it has gotten less exposure to investors than many other IT vendors launched in a more benign environment. It is the leader in its space, but despite that many investors haven't heard of it-even some hedge funds with a tech focus, of which I know are less familiar with this company than might be imagined. That is really a function of when the company held its IPO.
The last thing most institutions have wanted to do over the past year was to find a new investment name in a field that was seeing historic valuations implode. That said, institutional ownership of the shares exceeds 70%.The company was founded in 2015 and launched its initial applications the following year. The company calls its set of solutions the Connected Operations Cloud. The software is based on the use of the Internet of Things coupled with AI/Big Data. The applications are focused on solutions for transportation, wholesale and retail trade, construction, utilities/energy healthcare/manufacturing. That said, the transportation segment, specifically trucking, is by far the largest component of the company's business at this time. Most of the company's business involves the use of its application to improve the operational and safety performance of large fleets of vehicles and other capital assets. The company's applications include video-based safety, and vehicle telematics (telematics consists of a vehicle tracking device installed in a vehicle or any particular capital assets that allow the sending, receiving, and storing of telemetry data. The tracking device collects GPS data and other vehicle-specific data and transmits it through a mobile data/cellular network to a centralized server.), Specific applications include optimizing driver workflows, equipment monitoring, and site visibility. The safety application alerts fleet operators to the detection of high-risk behaviors and it is used to exonerate drivers from spurious claims. The telematics application provides GPS tracking, routing, dispatching, and fuel efficiency for operators. The Driver workflow app enables regulatory compliance, maintains logs, and captures electronic documents.
The company has more than 200 integrations with vendors such as Ford, Deere, Volvo, and Mack. The 200th integration was with RUBICONSmartCity. Samsara, like many platform based software companies, has a marketplace in which niche players in the asset optimization space can integrate with the core technology of Samsara. It has OEMs who integrate Samsara into their offerings such as Thermo King, Stellantis, GM, and other partners including ADP, Kronos, Nationwide, and Progressive. The benefits that the Samsara solution offers include better safety outcomes, productivity improvements, enhanced usage of capital assets, improved sustainability, i.e. that is the use of fewer inputs to obtain a consistent level of services, and ensuring and documenting regulatory compliance. These are very discrete and measurable benefits and have enabled high levels of ROI more rapidly than many other software applications.
The data in Samsara's S! suggest that the TAM addressed by Samsara is $55 billion with an estimated CAGR of 22%. This analysis primarily rests on projections from Gartner and IDC presented in the company's S-1. The latest data from a 3rd party research firm has a similar market size with a CAGR forecast of just less than 20% Overall, software penetration within the fleet management space has been low partially because the technology to capture the data and analyze it and create actionable insights on a single platform has not been available. Just a couple of case studies are illustrative as to what benefits Samsara users actually derive from implementing the solutions of the company.
One user, Fames Transport, operates 60 semi-trucks in California and other western states. The company is a US Mail contractor. The applications the company has procured from Samsara are its GPS tracking and in-vehicle cameras. The benefits were immediate in terms of eliminating a substantial number of safety incidents. The company was able to eliminate handwritten time cards that had required 5 administrators. Obviously using electronic inputs has eliminated any driver attempts to inflate hours. The payroll efficiency alone has been said to be $4000/day; the safety application has eliminated many spurious claims and is useful in providing compliance data to the post office.
Delta Constructors provides construction, plant operations and supply chain and logistic services to the oil and gas industry. This company installed a Samsara Site Gateway. Benefits include Device Health Alerts as well as unusual person and motion detection. Security can be a significant issue in remote construction sites in hostile environments. According to Delta's Director of Field Operations, the biggest benefit for him is the ability to view and manage all of the infrastructure and the equipment fleets from a single pane of glass. The payback for Delta in terms of being able to search the images generated by the cameras to improve safety procedures was said to provide more than enough ROI to justify the expense of the system.
Of course these case studies/references are basically commercials and can't be independently verified. But the company literally presents dozens of references, and the best guide as to the utility of a solution is repeat buying best illustrated by the DBE ratio for this company. The company DBE ratio has remained above its target range of 115%; this is a fairly typical land/expand story as users add additional physical assets to their licenses, add additional modules beyond Safety and Telematics to their deployments, and most recently have started to add emerging products, beyond fleet monitoring to their mix. Samsara has applications that can be used with just about any kind of physical asset. For example, Food and Beverage companies need to maintain cold chain integrity, which can be done using Samsara monitoring offerings. Equipment monitoring is probably the application used most frequently outside of the core fleet capabilities.
Samsara's base cost per vehicle is about $27/month. That is not the lowest price in the space. The company's contracts are 3-5 years in length. Cameras may be included as part of the package, or users can use cameras they have already purchased. The company provides vehicle gateway hardware that it procures from manufacturers. At one point, component shortages limited the availability of vehicle gateways and cameras, but that is no longer a factor in assessing the company's revenue potential. The company amortizes its cost for the gateways based on the length of the customer contract.
Samsara's most recent results - a bit of a stand-out in a darkening environment
The company's latest reported results cover the period through the end of October. No doubt the economy has downshifted since that point, but some of the trends seen at that time are likely to have continued. Revenue growth for the quarter was 47% year on year, and a bit more than 10% sequential, about 9.5% greater than the company had projected. Non-GAAP EPS was a loss of $0.02 compared to the company's prior projection of a loss of $0.06. The company's free cash flow burn margin at 9%, was consistent with the company's non-GAAP operating loss margin and fell from 25% in the prior quarter and from 38% in the prior year. Non-GAAP gross margin rose to 74%, up a couple of hundred basis points year on year and 100 basis points sequentially. On a non-GAAP basis, research and development expenses rose less than 10% year on year and was about 18.5% of revenue. Research and development expenses rose about 15% sequentially. The largest single expense for this company is sales and marketing. Last quarter, the non-GAAP sales and marketing expense ratio was almost 48%. Sales and marketing expenses rose by around 39% year on year, compared to a revenue increase of 47% and 47% growth in ARR. Sales and marketing expenses rose by about 6% sequentially. Obviously, the company's sales and marketing expense ratio is significantly elevated. There should be a huge amount of potential operating leverage in this ratio; with the high growth the company is achieving. It is one reason, specifically as to why I believe that the current consensus EPS forecasts for this company are exceptionally low. Non-GAAP general and administrative expense was 17% of revenues up by 23% year on year, and up by 5.4% sequentially. Overall, non-GAAP operating expenses were 83.5% of revenue and up by 27% year over year, and by 7.5% sequentially.
Deconstructing the various guidance points suggests that operating expenses will rise by another 5%-7% sequentially. Given the modest forecast for sequential revenue growth, it is a set-up for another substantial beat on EPS; it is not inconceivable, although unlikely for non-GAAP EPS to reach break-even when the quarter is reported in about 6 weeks. Operating cash flow and free cash flow showed substantial improvements in the latest quarter, mainly a function in the improvement in non-GAAP operating income. The increase in the deferred revenue balance grew significantly, offset in part by an increase in receivables. Going forward, it seems reasonable to anticipate that on a full-year basis, free cash flow and non-GAAP net income will converge. That suggests the possibility of break-even cash flow in the current quarter, and for cash generation in FY '24.
Competition
There is plenty of competition in the vehicle/asset management software space, but most of the competitors are based on providing point solutions and lack the complete platform, a readily comprehensible user interface, and ease of use features that are offered by Samsara. This space has been around for about 20 years in some form, and many competitors are really selling legacy products against a more modern, purpose built cloud solution. Many users will rely on system integrators and other 3rd parties to create solutions that are specific for their unique requirements.
I have linked here to one listing of some of the competitors in the space, none of whom, other than Verizon (VZ) is even marginally recognizable. While I usually do not comment on these competitive ratings, in this case, I will note that Verizon receives one of the lowest scores I have ever seen. Verizon seems to be panned with regard to support, functionality, and value for money in reviews written through 1/17/23 which is linked here.
The competitive strengths of Samsara are not some form of unique, proprietary technology which distinguishes companies such as Datadog (DDOG), Snowflake (SNOW), and GitLab (GTLB), although the company certainly has a substantial level of proprietary intellectual property. What it does have is a market-leading position that in turn provides it with additional data inputs that are used to enhance the ability of its AI to provide accurate and actionable insights. It is hard to overstate the importance of data inputs in improving the accuracy of AI in making projections; it is a major barrier to entry for potential competitors, and it is a major competitive advantage for Samsara. It also has 200 integrations, numerous partners, several significant OEMs, and a working go-to-market strategy.
The other major factor in its competitive positioning is its platform strategy. Many of the reference accounts commented that their choice of Samsara was a function of being able to use a single platform to accomplish multiple tasks. It is probably hard to distinguish between the different vendors of vehicle monitoring and telematics solutions, but much easier if the choice is an end-to-end platform that encompasses vehicle tracking, safety, workflow and reporting, compliance, and sustainability. Some of the survey respondents whose answers I scanned felt that the Samsara UI was more user-friendly than competitors. That isn't something on which I am qualified to comment. For what it is worth, while Samsara appears to be the market leader, most of the vendors fall short on supporting their products according to users and some reviews of Samsara call that out. I am not too sure why there seems to be a lack of the kind of support that is common in other parts of the application software space.
Recently (1/17/23), JP Morgan released a report on Samsara as the result of transitioning coverage from a departed analyst. The recommendation was a hold. The report basically called into question Samsara's future competitive position, although the analyst raised the projections of JP Morgan for earnings and revenues above the consensus for the coming year. Frankly, the report is hard reading as it cites Samsara's leading competitive position on one hand, and then talks about potentially increasing competition. But as this is the most recent published brokerage research on Samsara, I mention it for completeness while suggesting my disagreement with the conclusion.
Some thoughts regarding the relative performance of Samsara in a recession
Almost all analysis of enterprise software companies these days start with commentary about macro headwinds and how those headwinds are going to impact particular vendors. To a certain extent, I think this is a backward-looking exercise. Demand headwinds started to appear in the IT space about 10 months ago. Initially, the headwinds impacted only a few companies with specific issues; probably the first company to reduce guidance because of macro issues was UiPath (PATH). There have been very few vendors whose results have not seen some impact from macro demand deterioration at this point; even cyber security vendors who I and others had felt would be somewhat immune to cyclicality have reported lengthening sales cycles, more deal scrutiny as well as delayed and downsized deal implementations. Many analysts are making calls even at the start of 2023 based on their concerns that macro headwinds are going to reduce IT spending growth and thus reduce growth of many IT vendors. The validity of suggesting growth slowdowns is not in question; objectively, however, investors have been alerted to the darkening demand picture in the enterprise software space for quarters now. I really have no way of knowing what is "priced in" but when high growth software vendors have seen 65%-70% declines in their share price, I have to think that some of that was specifically a function of investor concern about growth slowdowns. The problem with analysis about growth slowdowns in the IT space is that it is focused on what investors already know and have known for some time.
In the case of Samsara particularly, the company's earnings release at the end of Aug. of last year indicated that it was seeing some instances of elongated sales cycles. As a result, at the time of the Q2 earnings release, the company was markedly circumspect with regards to guidance; net of the beat of $11 million in Q2, it raised guidance an exceedingly modest $6 million on a base of $300 million, or two percent for the balance of the fiscal year. Of course, the results reported most recently were noticeably better than what had been forecasted both in terms of revenue growth and earnings. Specifically, revenues were $170 million, or almost 10% above the prior forecast while the company's non-GAAP net loss of $.02 compared to a prior projection of a $.06 net loss. That 10% revenue beat in a quarter in which most enterprise software companies were seeing continued signs of macro headwinds was one of the strongest percentage beats of any enterprise IT company. Bookings growth was strong as well, with the company's RPO balance rising by about 9% sequentially, and its current RPO balance expanding a bit more than 10% sequentially. The current RPO balance of $631 million is about 77% of the revenues forecast for FY '24 which suggests a very high level of visibility. The backlog grew by $103 million sequentially. While not specifically reported, there is no indication that the company's backlog was affected by contract duration; most Samsara contracts are evergreen and last 3-5 years.
The company's deferred revenue balance grew about 5.6% sequentially, and about 30% year on year. I believe that looking at RPO balances is a better indication of the trends in the company's sales. ARR growth, probably the most objective standard of sales performance, was up by 47% year on year and up by 9% sequentially.
Why has Samsara been able to keep growing its bookings and backlog at such elevated rates? The simple answer is the hard ROI. Hard ROI for Samsara encompasses the following: 1) 47% reduction in crashes of vehicles under subscription; 2) 40% decrease in idling time per subscribed truck-that alone is apparently worth $2500/year per vehicle in terms of fuel consumption; and 3) a 20%+ improvement in vehicle utilization. Since the software cost per vehicle for Samsara is around $400/vehicle/year, and the cost of a trucking dash cam is around $300-$400 which is typically bundled into the cost of the solution subscription, the economics are pretty straightforward. As mentioned earlier, there are usually other quantifiable benefits that fleet operators achieve from Samsara subscriptions, and the calculus can be different in cases in which Samsara replaces legacy systems. But the real reason that Samsara bookings showed resilience last quarter is the fact that from an operations standpoint, it offers such an easily quantifiable set of benefits that can be achieved rapidly. Samsara, like many application IT vendors, did not exist at the time of the last recession. The current forecasts have been referred to as "de-risked" by the CFO. In particular, the company is forecasting minimal sequential growth for the quarter that ends 1/31 compared to 10% sequential growth in the year earlier quarter. For a company with a subscription model, and a high level of visibility thanks to its backlog, that seems quite de-risked.
Samsara's Management
The company was founded in 2015 by Sanjit Biswas and John Bicket. Both of these men had previously co-founded Meraki, a company that had focused on enterprise mobility and security cameras managed from the Web. Meraki was acquired by Cisco (CSCO) for $1.2 billion in 2012, and Sanjit and John founded Samsara 3 years later. They apparently met as students at MIT. Sanjit is the CEO and John is the CTO. Samsara's CFO is Dominic Phillips. He has been with the company since the end of 2019; his prior work experience included a 5-year stint at ServiceNow (NOW) in various finance roles and previous roles on the Morgan Stanley (MS) technology team. The company's Chief Product Officer, Kiren Sekar, also came to the company from Meraki where he had been VP of Marketing. The company's Chief Revenue Officer is Andy McCall, another veteran of Meraki. The company has a fairly typical 4.2 rating on Glassdoor, and 82% of the survey respondents would recommend working at the company to a friend while 84% have a positive outlook for the business. I typically like founder-led companies, as this one is. By all appearances, the leadership team has deep domain expertise and an excellent track record in creating value. I would certainly not be shocked if the ultimate evolution of Samsara was to be acquired by a stack vendor such as SAP (SAP) or Oracle (ORCL), or even Workday (WDAY).
Wrapping Up - Samsara's valuation and reviewing the investment case for the shares.
Samsara was one of the last significant high-growth IT vendors to pass through the IPO gate before it closed at the end of 2021. Back then no earnings or cash flow were required, and this company doesn't yet have those attributes. And it does use and will use a fair amount of stock-based compensation.
Not to flog a dead horse yet again, the shares of this company aren't going to appreciate in a risk-off market, and they are likely to do very well indeed if the recent risk-on trade becomes a trend. I am not offering economic analysis or a market forecast here. Nor am I trying to prophesize a hard or soft landing. The current inflation data and economic metrics ought to mean something to the Fed governors and several Fed speakers, but not all have started to acknowledge the changing economic landscape, but the willingness of some Fed governors to avoid acknowledging data that contradicts their preferred narrative has been substantial.
The latest fear, recently enhanced by declining economic macros, is creating a new set of challenges for investors. I confess to being surprised to seeing markets react to deteriorating economic macros; they have been inevitable for some time now with the data starting to catch up to the reality of the economy. It is my view that Samsara probably is more recession-resistant than most other application software vendors simply because its value prop. Is so straightforward and its ROI is grounded on very hard and very quantifiable benefits.
Samsara has become the leading company providing software to manage physical assets-currently mostly vehicles such as trucks with the objectives of improving safety, improving asset utilization, and optimizing driver and support staff workflows. This is a large and fast-growing market; the current TAM is around $55 billion, and the estimated CAGR is greater than 20%. Samsara is likely to grow faster than the market for the foreseeable future as its product extensions mainly focused on monitoring and securing fixed assets take it into adjacencies beyond the core of its business opportunity.
The company's leadership team is experienced and has been together for a long time, both at this company and previously at a vendor that was ultimately sold to Cisco. It would not surprise me if this company ultimately got sold to a stack vendor. The growth of the company and its valuation compression has brought valuation metrics down to levels that make it possible to consider the shares as an investment.
While in this environment I am not terribly enthused about recommending the shares of companies without positive free cash flow, I am making an exception here based on visibility, recession resistance, and a rapid improvement in the company's margin performance. I think the set-up for another quarter with performance greater than consensus, and for better than current guidance for FY'24 seems favorable.
The shares recently had a spike appreciating in the wake of favorable reaction to strong operational performance in the quarter that ended on 10/29. Given that bounce, I think it appropriate to suggest that investors scale into positions in these shares, buying a starter position now, and accumulating over time. I do believe based on the above factors that Samsara shares will produce positive alpha over the next 12 months.