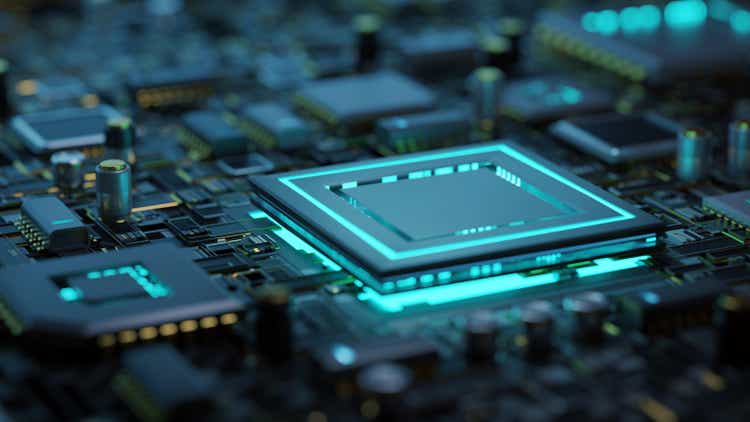 There is a strong correlation between the IT (information technology) sector and semiconductors (semis) as shown by the five-year performance charts below. In this case, the ups and downs put in evidence the strong linkage between the price movements of the VanEck Semiconductor ETF (NASDAQ:NASDAQ:SMH) as per the orange chart below and the Vanguard Information Technology ETF (VGT) in blue for reasons I will elaborate upon later.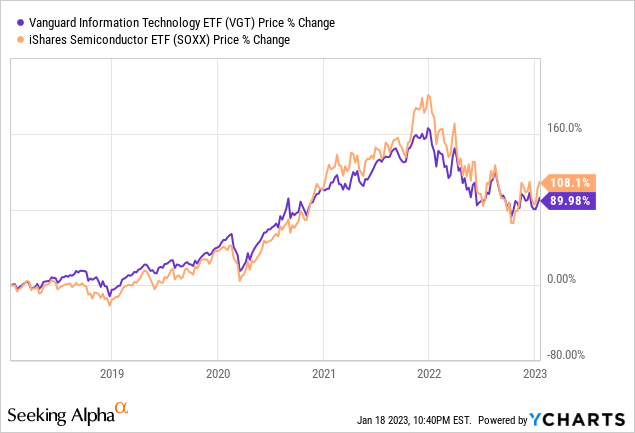 The aim of this thesis is to use this correlation for investing in SMH and trading the Direxion Daily Semiconductor Bear 3x ETF (NYSEARCA:SOXS) which allows you to make money on the back of pains for the technology sector, as well as flag the value-erosion risks involved.
I start by providing insights into how technology drives growth in the semiconductor industry.
Tech Drives Growth of Semis
Semiconductors are at the heart of the electronic devices we use today, such as game consoles, barcode readers, computers, communications systems, airplanes, and self-driving cars. These devices are now being rendered more intelligent through the addition of microprocessors, in addition to memory modules, and RF controllers for communication purposes.
Pursuing further, expansion of use cases throughout the industrial space has been made feasible through miniaturization, advances in materials, and manufacturing equipment, not to mention printing of whole integrated circuits on a single chip as exemplified by SoC (system on chips) used in smartphones, which are basically hand-held devices with incredible computing, storage power, and communications capabilities.
Now, using the iPhone to illustrate the relationship between IT and semis, Apple which forms part of VGT as shown in the table below purchases chips designed by the likes of Broadcom (NASDAQ:AVGO) and produced by Taiwan Semiconductor (TSM).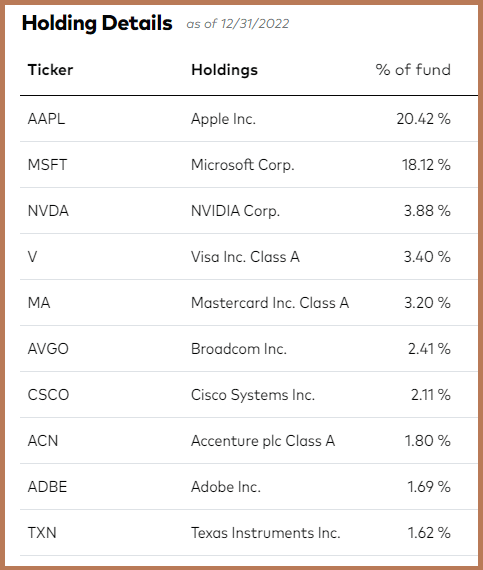 These two chip companies form part of SMH as a chip designer and foundry player respectively as I will further detail below. Another example is second-placed Microsoft (NASDAQ:MSFT) sourcing chips from Intel (NASDAQ:INTC) or Advanced Micro Devices (NASDAQ:AMD) for its hyperscale data centers. There are several other examples, but the important take here is the linkage between semis and IT, which can be categorized into a supplier-customer relationship.
Assessing an Investment in SMH
Looking as to how the relationship reverberates across the two ETFs, VGT holds the customers or those who drive the income of SMH's holdings (the suppliers). As such, the Vanguard ETF is found to be more valuable by investors than SMH, and, consequently, it enjoys a higher price-to-earnings multiple 20.28x, compared to only 15.06x for the VanEck ETF.
Now, there is some degree of overlap between the holdings of VGT and SMH as pictured below, but the difference is that the VanEck ETF allocates relatively more assets to pureplay semis stocks. Furthermore, compared to VGT which holds 368 stocks, SMH only holds only 25, which means that it suffers from higher concentration risks and tends to be more volatile as shown by the more abrupt price movements of the introductory orange chart.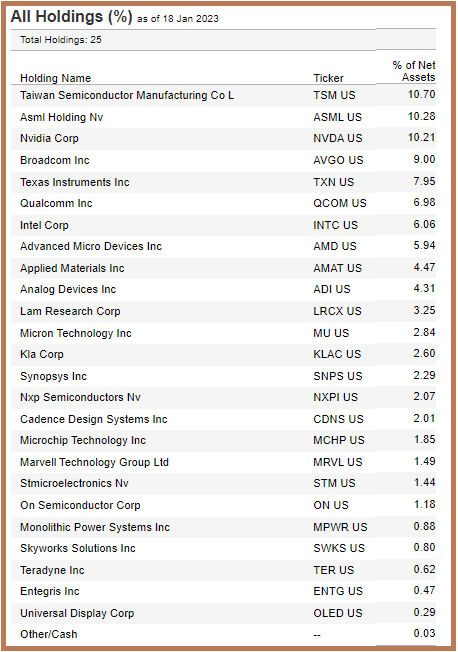 Now, in addition to IT companies, there are also automotive plays like Tesla (NASDAQ:TSLA) and Ford (F) which are consuming semis at an accelerated pace as cars are now being packed with more intelligent electronics. Also, with 5G communications systems and more automation features being inserted in everything from washing machines to robotic cleaners, there is more demand for semis.
However, the outlook which was bright for till October started deteriorating in November when global semiconductor sales went sales down by 3%. To make things worse, the semiconductor industry association or SIA which has been bullish for the past two years, now warns about risks related to economic cyclicality and expects demand to be soft in the first half of 2023. It expects a rebound, but, not before the second half of 2023.
Therefore, there are clouds on the horizon, which are related to higher recessionary risks for this year, implying that it is preferable to avoid investing in SMH. Also, the current bullish ratings could be due to Gartner's report being upbeat about cloud prospects while expecting IT spending to grow by more than 5% this year which signifies growth for semis as well. However, diving deeper into the report, there are also warnings concerning threats of a reduction in IT spending.
This said in case you have a long-term buy-and-hold investor profile, you can cling to your shares as SMH pays regular dividends too, and we are amid the secular digital transformation trend encompassing all spheres of our lives which means sustained demand for semis after an uncertain H1-2023.
On the other hand, in case you are a trader, there is an opportunity to make money with Direxion's SOXS.
Trading using SOXS and the Risks
Here, the rationale I use to justify this opportunity stems from the chips industry being highly capital intensive whether it is for designing or foundry operations. These mean high barriers to entry, implying that there are relatively few players in the market, which impart high concentration risks for the indexes which hold them. For this matter, the Direxion ETF tracks the ICE Semiconductor Index (ICESEMIT) which holds only 30 stocks.
On top, SOXS seeks daily investment equivalent to 300% the opposite of ICESEMIT which means that when the index gains 3%, it can produce an accelerated 9% downside in the bear ETF. This means high volatility risks to contend with.
Coming back to the linkage between IT and semis, investors will notice that when VGT delivered an upside of 2.37%, SOXS was down by 16.6% during the last month.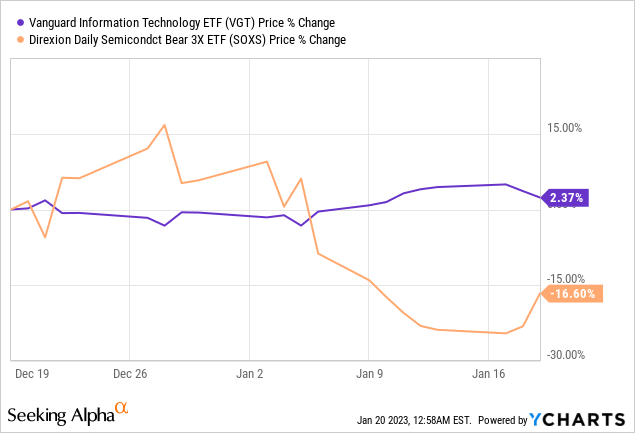 These price movements which were favorable to tech were mostly due to some indicators pointing that the Federal Reserve may have to effect a pause in the process of raising interest rates, but the grim reality concerning economic growth finally seems to be catching up with investors' sentiment, with VGT losing 1.23% on Thursday and, conversely, SOXS gaining 8.5%.
VGT could continue to lose ground as nearly every member of the big tech family is expected to report lower earnings in the quarter ending in December. This is primarily due to their lower growth prospects, in turn, engendered by the morose economic climate with deteriorating businesses' risk appetite. This is explained by the high inflation and borrowing costs to their highest level since 2007.
With interest rates set to continue on their uptrend albeit at a more moderate pace as inflationary pressures have somewhat eased, as the U.S. central bank prioritizes the fight against inflation, tech should continue to suffer, which bodes well for SOXS. Looking at momentum factors, with an RSI of 43 or less than 50, the ETF could climb back to the $40 level next week with the start of the big tech earnings season.
However, inserting a cautionary note, this is a highly leveraged ETF which means that in addition to volatility risks, it is subject to the compounding effect which basically means that traders should not expect a return of 300% of the ETF's benchmark index for long periods of time, or more than one day.
Concluding using some Restraint and Caution
This thesis has shown that it is in effect demands from the IT sector which drive growth in semis. As such, their stocks do have a strong correlation, which this thesis exploits, to show, as well as using other industry data, that it is not the right time to invest in SMH. Thus, it is better to be cautious for the time being and wait for a more appropriate time to invest once multiples come down.
Still, there are two factors that could help the semiconductor sector and which explain my hold position on SMH.
In this case, while the layoffs being effected by Microsoft and others hint at the pains that these companies are going through, getting rid of employees could be seen as incrementing profitability by the market, depending on the way the data is presented during the earnings calls. Another factor that could help tech is the U.S. dollar index has fallen by 9% since its November 2 peak, implying some relief for revenues obtained from the rest of the world by big techs.
Now, gains for the semis sector imply accelerated losses for SOXS, especially, in case one does not get the timing right or fails to monitor the trade. This is the reason the fund managers at Direxion caution investors that "there is no guarantee the funds will meet their stated investment objectives".
In this case, according to my own experience trading SOXS back in November 2021 as I had written about in a thesis entitled "How To Surf Supply Chain Ripples With The SOXS-SOXX Pair", it is better to place your bet based upon certain favorable conditions, which this time pertains to the relationship between IT and semis and the market dynamics around big tech earnings. This experience also taught me about the risks of value erosion from holding this highly leveraged ETF for too long a period due to compounding-related losses, which has also been highlighted by SA. Also, a buy-and-hold investment strategy is to be avoided as recommended by the Securities and Exchange Commission.
Finally, it is better to have a predefined trading period, like for example, one week to limit value erosion-related risks, and to exit with a stop loss, instead of pursuing dreams of some elusive gains.