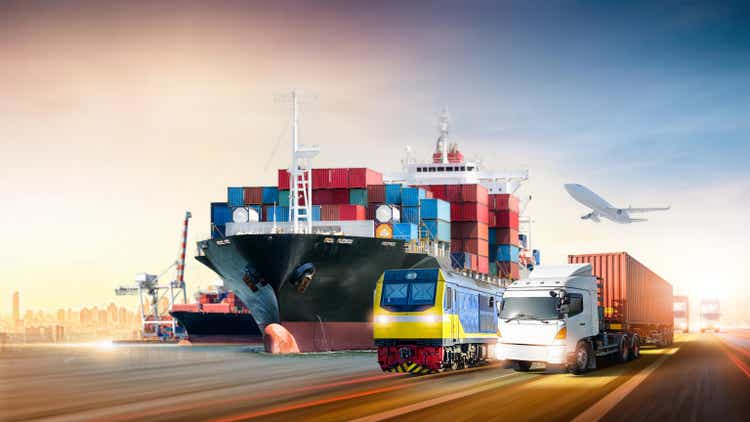 Infrastructure (IFRA) continues to have a highly impressive growth runway ahead of it and as a result it remains one of our favorite asset classes.
Furthermore, with interest rates poised to peak in the near-term and the economy slowing, we believe it is a great time to buy high quality defensive infrastructure businesses while yields are still high. In this article, we discuss these trends and then share some of our top infrastructure picks of the moment.
Infrastructure's Impressive Growth Runway
There are many reasons why infrastructure is one of the most exciting growth sectors right now. These include:
Strong economic growth in developing markets is fueling the demand for new infrastructure to support further growth.
There is an urgent need to replace the aging core developed economy infrastructure.
The 4th Industrial Revolution and energy transition are driving

immense demand for massive amounts of new types of infrastructure.

The sudden fracturing of the world along geopolitical lines in the wake of the war in Ukraine and China's growing belligerence towards Taiwan, which has in turn driven strong on-shoring of supply chains as part of a "de-globalization" trend in the international economy.
First and foremost, with countries like China, Brazil, and many other smaller Asian and Latin American countries growing rapidly, there is an urgent need for major infrastructure construction projects to be completed in these societies. Between simply striving to provide sufficient clean drinking water and electricity for households, building out logistics infrastructure to support booming trade, and then also trying to bring these economies into the 21st century with the necessary infrastructure to support modern technologies, there is a near limitless demand for new infrastructure in the developing world.
Second, there is an urgent need to replace and upgrade aging infrastructure in developed countries, including the United States. With bridges, roads, ports, airports, and electric grids needing expansion, replacement, and general improvement, there is a strong demand for infrastructure in developed economies as well.
Data is the world's fastest growing commodity at the moment, and it is estimated that $1 trillion in investment will be required over the next five years to sufficiently upgrade global data infrastructure to meet expected demand. This "Fourth Industrial Revolution" is expected to create enormous investment opportunities for building out new fiber networks to upgrade existing copper networks and install crucial wireless infrastructure to support 5G, the internet of things, and artificial intelligence applications. Most of all, there will continue to be strong demand for additional data center capacity, with ~10,000 MW of incremental capacity required to meet expected demand growth.
Furthermore, the drive to decarbonize the global economy is driving a multi-trillion-dollar investment opportunity. From investing tens of billions of dollars into new solar, wind, and other green energy production facilities, constructing more carbon efficient fossil fuel infrastructure, to building out demand-side infrastructure to support decarbonization, the investment opportunities here are immense.
Last, but not least, the deglobalization of the world economy is driving sudden strong demand for new energy export facilities, improved and increased port infrastructure, and the construction of new strategic factories (such as semiconductor factories in the United States).
With all of these factors aligning simultaneously, the investment opportunity is plentiful for infrastructure, and looks to be that way for many years to come.
Now Is The Time To Buy
In addition to the powerful growth drivers impacting the sector right now, we believe that now is a great time to buy publicly traded infrastructure businesses because:
Interest rates are likely nearing their peak given the declining inflation numbers.
Infrastructure stock prices are generally suppressed given the expectation that a recession is imminent.
Demand for infrastructure investments is likely to soar in the coming years due to the need for pension funds to access reliable high yield investments and the likely persistence of negative real interest rates for the foreseeable future.
With the latest CPI update indicating that the economy was technically in deflation in December and the year-over-year CPI numbers continuing its steady descent from mid-year, it appears that interest rates are likely nearing their peak, especially with increasingly tough year-over-year comparable numbers coming up in the next few months: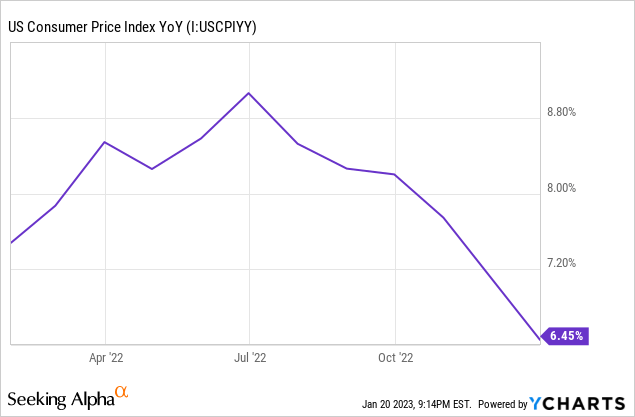 This will boost the attractiveness of infrastructure assets since they are primarily viewed as income assets and are therefore compared (and priced) against interest rates. Additionally, many infrastructure businesses make use of leverage to boost returns on equity. With the cost of debt going down, that means that infrastructure returns on equity are likely to improve again.
Furthermore, with a recession widely expected to hit sometime this year or next at the very latest in combination with the elevated interest rates, stock (SPY)(QQQ)(DIA) prices in general are down and infrastructure stocks are no exception. As a result, many infrastructure businesses can be purchased on a value basis right now.
Last, but not least, between a rapidly aging population in many countries across the globe (especially in developed economies) and with real interest rates likely to remain negative for many years to come (due to the burdensome sovereign debts and deficits which require negative real interest rates to remain serviceable), infrastructure will remain an attractive investment due to its reliable cash flows that are required by retiree pension funds and the general benefit they receive from negative real interest rate conditions (where the value of the underlying asset generally appreciates in-line with inflation over time and therefore outstrips the cost of leverage used to purchase the asset).
Our Top Picks
In light of these highly favorable attributes, we are loading up our portfolio with infrastructure businesses. Some of our favorite picks of the moment include:
Brookfield Corporation (BN), Brookfield Asset Management (BAM), and Brookfield Infrastructure (BIP)(BIPC) each have a strong global presence and profit from the strong demand for new infrastructure in both developing and developed economies. Moreover, they have limited exposure to geopolitically risky regions like China, Russia, and the Middle East, so we feel comfortable investing with them. No one knows infrastructure as well as Brookfield - not even industry leader Blackstone (BX) - and their track record is nothing short of impressive: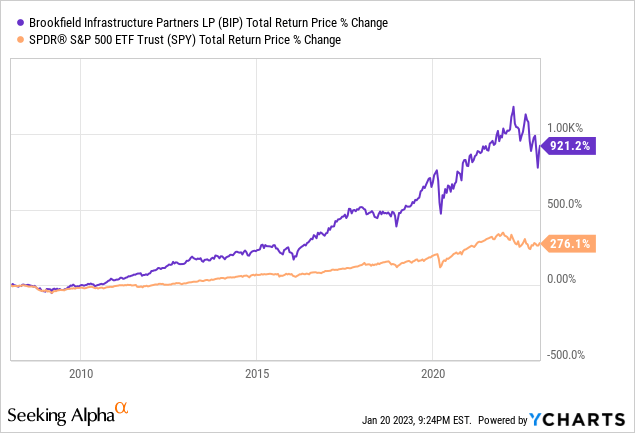 With their stock prices down over the past year, now is a great time to climb aboard the Brookfield bandwagon for what looks sure to be another exciting decade for shareholders ahead.
There are also some great infrastructure opportunities to profit from the 4th Industrial Revolution. While Lumen Technologies (LUMN) and AT&T (T) are options for fiber, we are finding better opportunities elsewhere. Two intriguing blue chip dividend growth options are American Tower (AMT) and Digital Realty (DLR) that are still pretty heavily discounted from its highs and have very impressive long-term track records: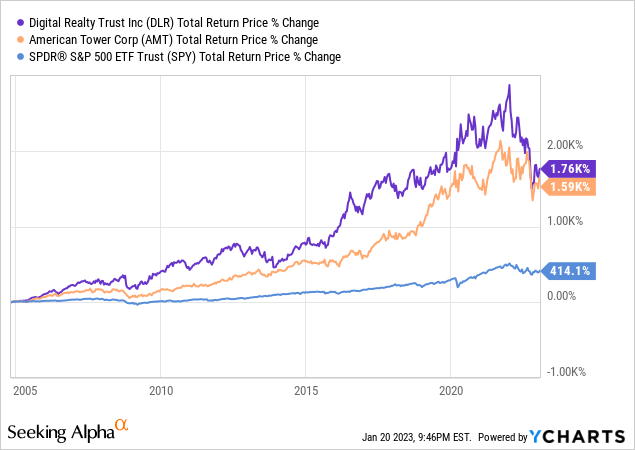 To profit from the energy transition, we like Atlantica Sustainable Infrastructure (AY) and Algonquin Power & Utilities (AQN). AQN in particular has had a rough couple of months culminating in a steep dividend cut that was just announced a week ago. However, it is now on much firmer footing moving forward and both AY and AQN offer investors highly compelling dividend yields and value propositions while also being in position to profit from the recently passed so-called "Inflation Reduction" Act.
To profit from de-globalization - particularly of the energy supply chain - we favor Energy Transfer (ET) and Enterprise Products Partners (EPD) which are poised to profit from growing energy exports from North America, offer very attractive current yields, and trade at compelling valuations despite posting strong 2022s.
Investor Takeaway
For all of the reasons mentioned in this article (and likely some that we missed), we believe that infrastructure is clearly one of the most opportunistic sectors to invest in today.
As a result, we are investing aggressively into the sector at High Yield Investor and plan to continue doing so in the coming months.