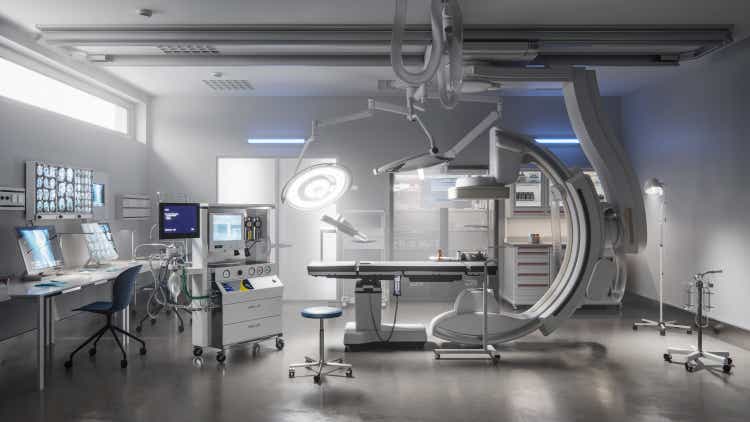 Introduction
With market caps ranging from $72 to $238 billion, there are six diversified healthcare giants that dominate the market of tools, equipment, and services. They are Thermo Fisher (TMO), Danaher (DHR), Abbott (ABT), Medtronic (MDT), Merck KGaA (OTCPK:MKKGY), and Becton, Dickinson (BDX). All are relatively strong companies, but investors want the best. Therefore, I took a financial approach comparing key metrics, with a focus on growth and profitability. While every investment has its pros and cons, along with every investor's individual needs, sometimes it is good to take a wider view to see where opportunity may arise. I have done a similar rank analysis for Biotech and Pharmaceutical pipelines, so check those out as well.
Leaders in Strong, Diverse Markets
To support drug discoveries and researchers like Pharmas, Biotechs, and academia the healthcare industry has a key industry surrounding tools and services. I will also group in diversified companies that provide equipment as well, but focus on only the largest and most diversified companies. Provisions include analytical and diagnostic equipment, raw materials, medical devices, the necessary software, and more, even contracted research. The industry is broad, and that is why there are multiple $100 billion companies. For a narrower look, I would recommend my article on Lab Instrument leader Bruker (BRKR). Instead, the companies I named above are the driving force underneath medicine and research and are critical for the entire healthcare industry's success.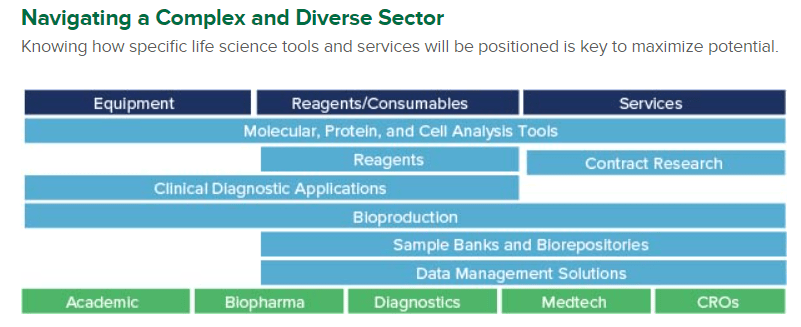 Due to the underlying entire healthcare system, these companies offer strong financial profiles based on the critical services they provide. Why so critical? Well, the recent surveys by Heidrich & Struggles indicate that the biggest weak points at the moment revolve around technological disruption, and the provisioners are able to step in and provide the necessary tools or consumables. Examples include the rapid need for COVID diagnostics, and subsequent vaccine production equipment and materials, along with various advanced detection tools for visualizing and targeting diseases such as cancers. Most of the innovation battle is occurring with the smaller peers, but with acquisitions and internal R&D, most of the conglomerates can hold their own.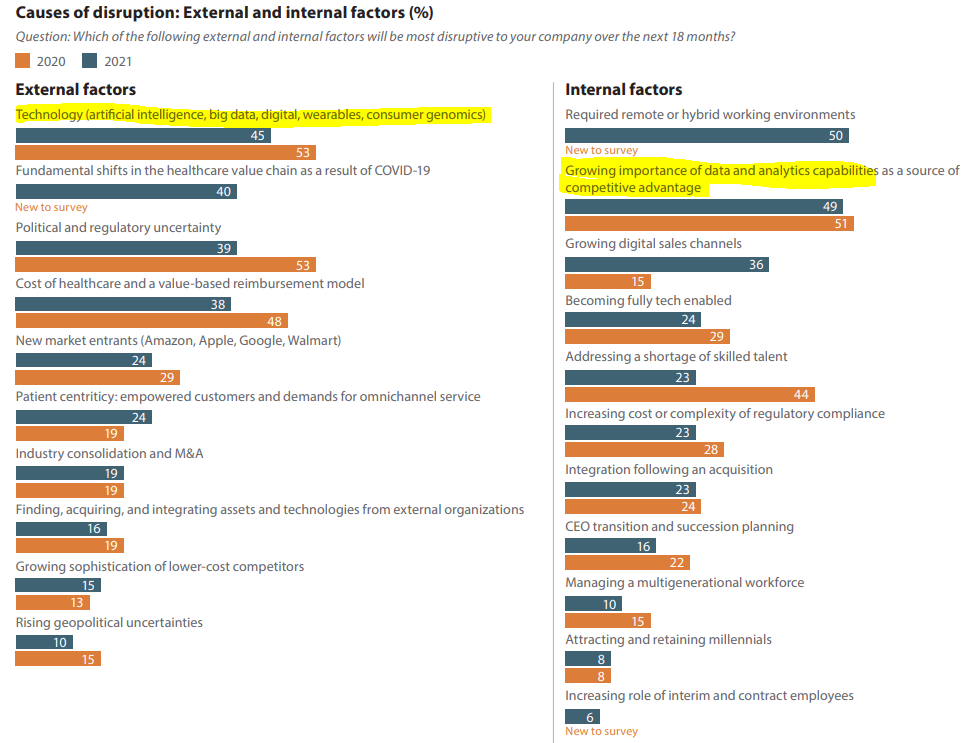 For a sense of how favored and well-performing the sector is, I provide index data by Yardeni Research in the image below. As shown, the Life Sciences Tools & Service index has performed well since 2006. However, the implied valuation of the index is rising as well over the years. Some investors may believe that the valuation remains high, but improvements in higher margin tools and services, growth, and diversification all support higher valuations. At least entering into 2023, valuations are down and returning towards fair territory. But, as the article implies, I will focus on finding the best of the group.
Company Summaries
Below, I summarize the companies alphabetically, highlighting their diverse range of expertise. Diversification is key, as distinct business groups can all provide unique growth or profit opportunities. Most companies own moats over their segments, although competition with small caps is the main risk factor. While some companies show weaknesses or strengths at the moment, I believe all have the ability to perform well in the future, if they manage themselves correctly. I hope these summaries and following rankings help investors select the highest quality holdings.
Abbott
Abbott is an old, seasoned, and diversified healthcare name with four major operating segments: International Pharmaceuticals (AbbVie (ABBV) and peers take care of US sales, most are generics), Nutritionals (such as Ensure and Pedialyte), Diagnostics (lab analysis tools and consumables), and Medical Devices (focusing on cardiovascular, neurological, and diabetes treatment areas). Although a smaller segment, the nutritionals offer unique exposure for healthcare investors as no other major company offers these products. The company is also investing heavily in innovative new medical devices, and these may disrupt segment leaders like Edwards (EW) and DexCom (DXCM). As such, my outlook remains positive.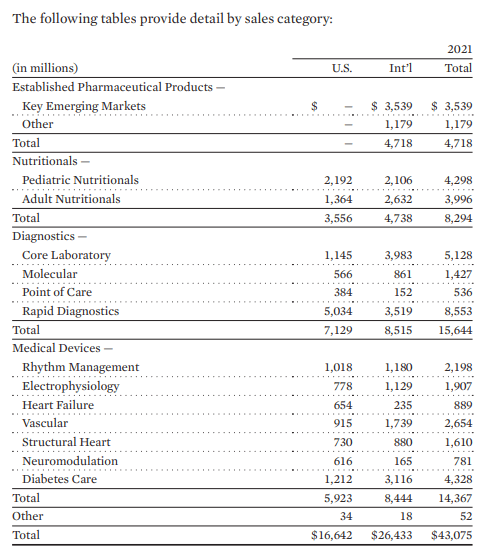 Becton, Dickinson
Becton, Dickinson, or BD is a diversified supplier of healthcare consumable supplies, and the devices that require them. Examples include surgical hand tools, anesthesia devices, dyes for in vivo diagnostics, automated drug delivery systems, and more. BDX's top line growth has been consistent for the past decade, but they are losing on the bottom line with EPS flat over the past 10 years. Despite the diversification, competition in the lower margin consumables (needles, hand tools, etc.) will continue to plague growth. The company will need to either innovate new high margin tools and services or increase the efficiency of current operations to succeed.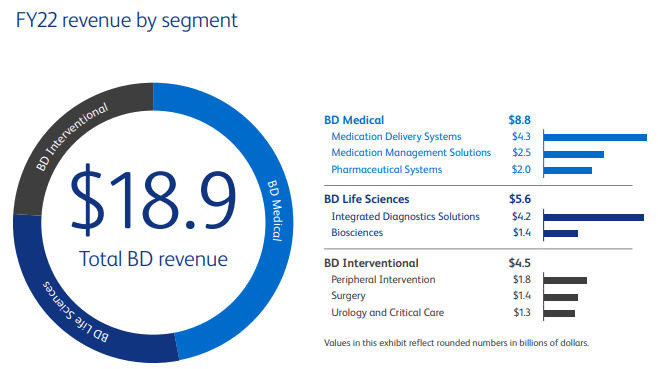 Danaher
Danaher is a conglomerate of diverse and unique businesses that span the entire health care market. Even beyond healthcare and into the physical sciences, the spinoff of their environmental and applied solutions segment in the coming quarters will lead to an entirely life sciences focus. The new company will be a growing leader in the biologics manufacturing industry via selling equipment for bioprocessing (think cellular, antibody, or other molecular therapies), the next generation of medicines. Danaher also has significant exposure to diagnostics and consumables, mostly used in laboratory settings for pre-clinical or academic research. Watch for organic and inorganic growth, and the resulting synergies, lead towards continued rapid earnings growth.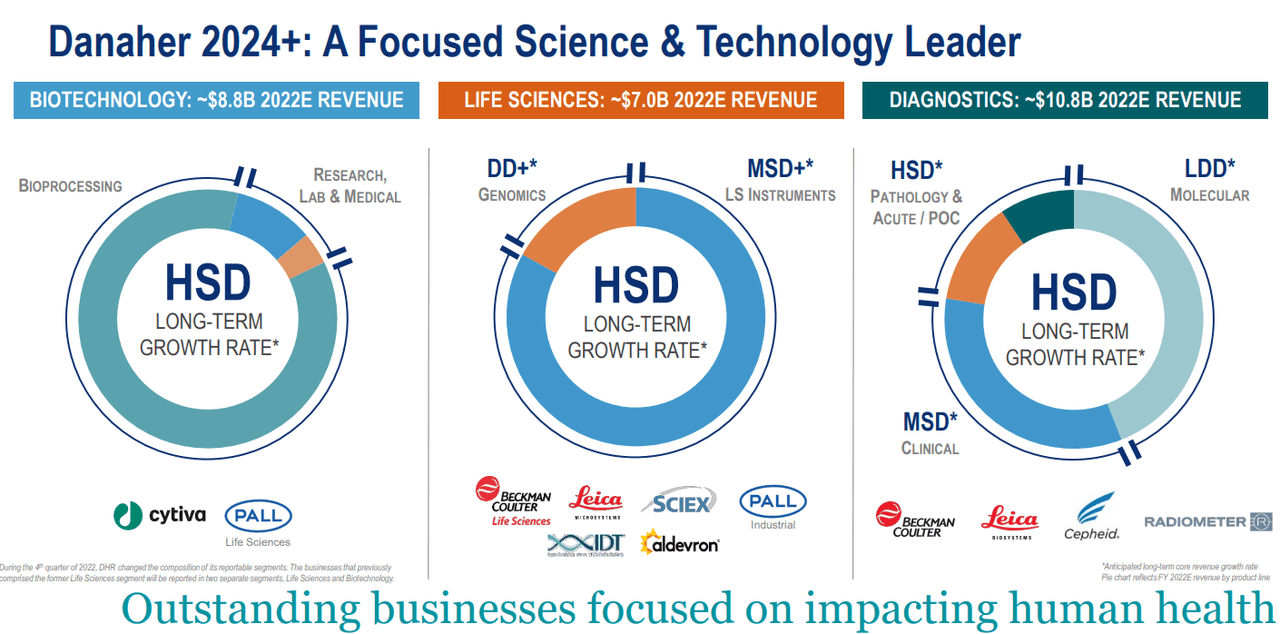 Medtronic
As the leader in medical devices, Medtronic has created a profitable moat. However, competition in the space is immense, preventing Medtronic from growing rapidly. Also, despite over 10 acquisitions in the past five years, bottom line growth has not kept up with revenues, indicating an inability to find synergies and improve efficiency. The expense of both continued innovation and internal improvements may continue to hinder total returns, despite the moat across all areas of the medical device industry. Look for some major changes, whether acquisitions or divestitures, to be announced in the coming quarters.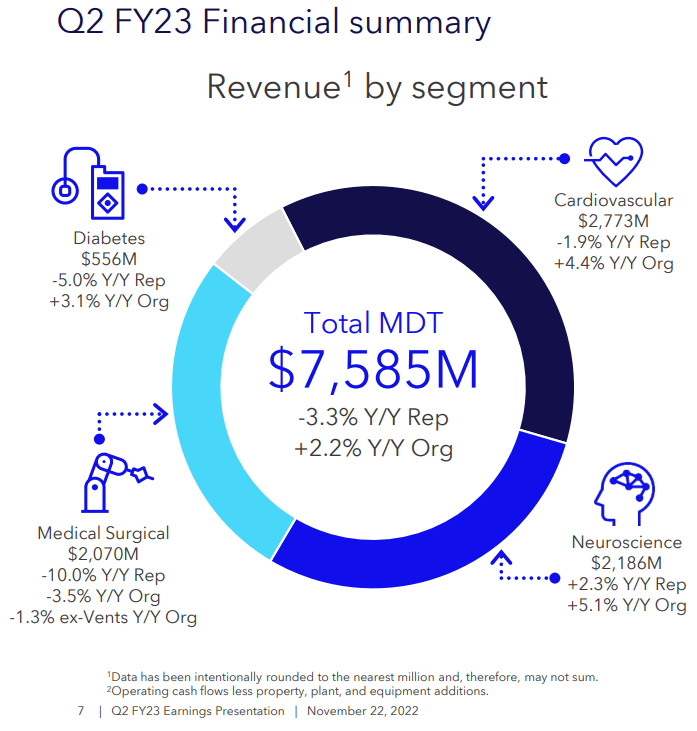 Merck KGaA
As I have discussed in a recent article, German Merck is far different from US Merck (MKR). As the owners of Sigma Aldrich and Millipore (now Millipore Sigma), the group is the dominant provider of a variety of products to the life sciences industry (especially chemicals and raw materials). Merck KGaA also has an internal healthcare segment that has a wide pipeline of therapies, unlike the other companies on this list. Then there is the electronics division, predominantly a supplier of semiconductor raw materials/feedstocks, another differentiating factor. Due to this diversification in three highly profitable, fast growing segments, Merck has emerged as one of the fastest growing companies of the group.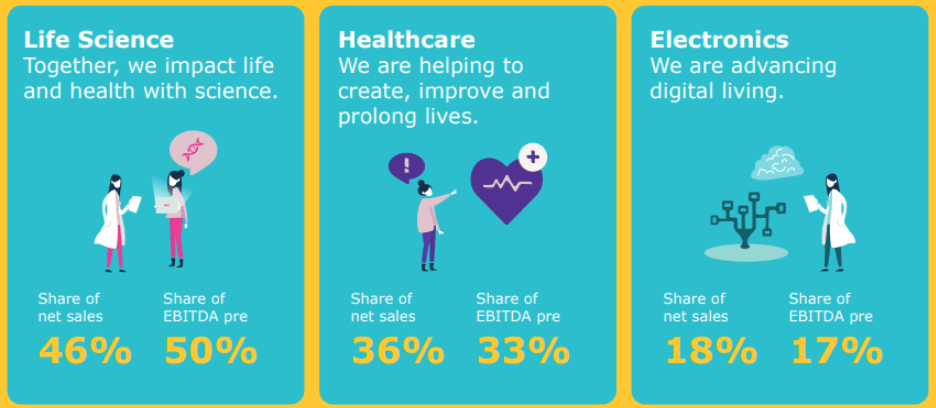 Thermo Fisher
I am sure anyone who has spent time in a research laboratory is familiar with many of the companies on this list, but even those undergraduates who had an elective bio lab class may remember seeing Thermo Fisher products. As the largest company of the group, TMO is also the most diversified. While famous for their instruments, diagnostics, and consumable products, Thermo is also one of the leading contract research and drug manufacturing companies in the world. This rapidly growing segment is necessary for Big Pharma companies who want to outsource their new biologics manufacturing to reduce internal capex costs. With extensive organic and inorganic growth opportunities, there are few impediments to TMO's continued success.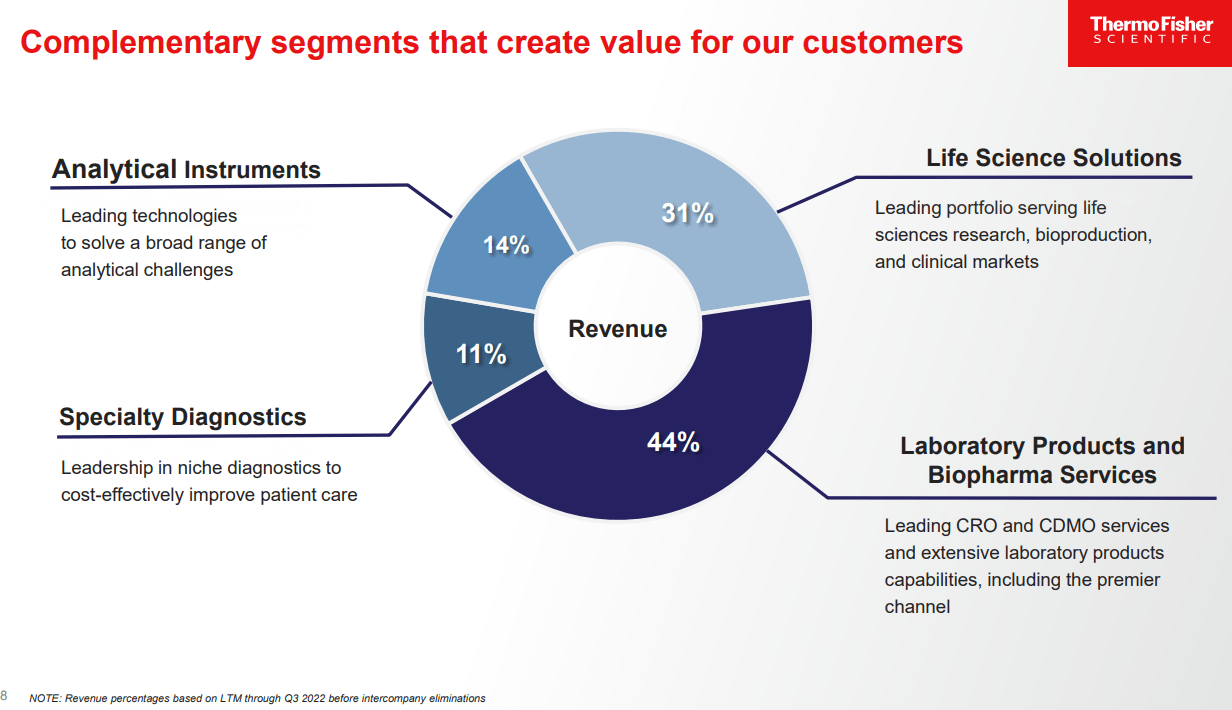 The Rankings
This set of companies was ranked on a few key financial metrics that focused on the long-term sustainable growth of earnings. I began by looking at historical 10-year EBITDA and EPS CAGR. Then, I focused on profitability with the current 5 year average Net Income Margin and 10-year average Return on Total Capital, along with leverage (Net Debt / EBITDA). After that came the valuation metrics EV/EBITDA and P/S, as P/E is a more volatile and less useful indicator. Lastly, I measured the total return of the group, dating back to 1/01/2010. The results are as follows:

As you can see, German Merck is on top with consistent scores across the board. In fact, one of the few companies to be consistent like this despite ranking first in various metrics. At the end of the list, Medtronic unfortunately suffers from weak growth, despite high profitability. This is evident with the weak total return, dividends included. Unless the dividend yield is your only requirement for an investment, Medtronic should be avoided. Total return was not the only requirement though, as high flyers Thermo Fisher and Danaher suffer from overvaluation and low returns on total capital. It's a toss-up for the middle ranked companies, but a balance of MKKGY and ABT may pan out well at current prices.
In the future, growth investors can shift into TMO or DHR, while value investors can revisit BDX and MDT if their performance improves. For a broader picture, we can just look at the correlation results provided by Portfolio Visualizer. With return data dating back to December 2007, we can see that annualized total returns vary widely across the small group. For diversification purposes, holding all six names is only partially correlated, but the differences between growth and value names are distinct. Remember, those returns include the reinvestment of dividends, so is Medtronic's valuation or high yield truly worth it?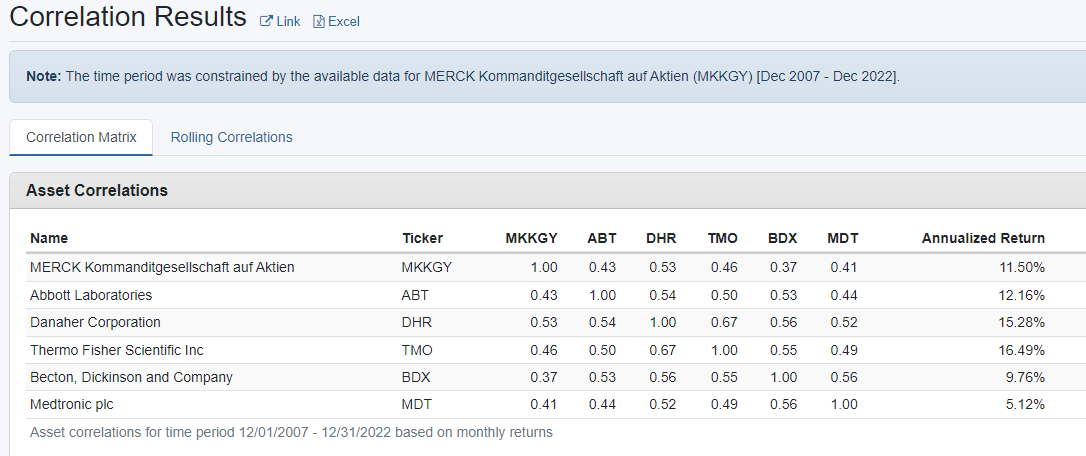 Conclusion
While this ranking system is just one factor to consider out of many when considering an investment, I believe the results are accurate. Therefore, the higher on the list, the better the opportunity. I continue to believe that Merck KGaA is the best buy of the bunch, while Medtronic has systemic issues to work out despite the low valuation. It is clear that despite moats or leadership, the resulting financials and valuation are the most important factors.
For now, investors must reflect on their own goals and incorporate these factors into their investments. I would recommend recurring investments across the board rather than trying to time the market, although trimming overvaluation for undervaluation might be worthwhile. Feel free to share your thoughts and approach to these healthcare leaders in the comments below.
Thanks for reading.
Editor's Note: This article discusses one or more securities that do not trade on a major U.S. exchange. Please be aware of the risks associated with these stocks.