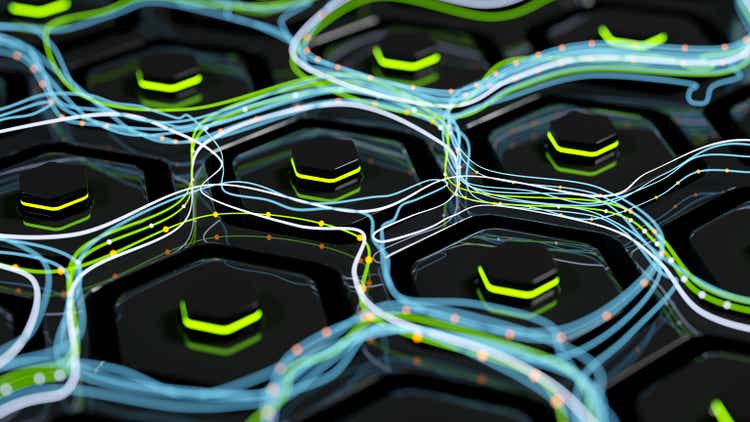 The recent special presentation by Enovix's (NASDAQ:ENVX) Executive Chairman T.J. Rodgers, along with other key members of the management team is a pivotal one, in my view, and it could be one of the most important presentations in the company's history.
This article aims to help you go through what the special presentation meant for Enovix, providing better clarity on the company's roadmap for production and commercialization, as well as management transition.
Investment thesis
I think that the investment story for Enovix continues to be that it is executing towards being a leader in designing and manufacturing of silicon lithium-ion batteries. My investment thesis for Enovix is as such:
Enovix continues to have a competitive advantage in the form of better battery technology relative to peers. The main difference is that Enovix is able to overcome the general challenges faced

by silicon anode batteries. The batteries that Enovix is able to produce eventually is a superior one with high energy density, strong safety profile and technological capabilities.

As of the recent quarter, Enovix has active engagements with six mega cap technology companies, with two having brought design wins. I think the Enovix investment case is compelling based on the fact that the company is able to attract such a strong customer list, which then demonstrates that the company's batteries have somewhat of a technological leadership that large customers seek.
Enovix is looking to position itself for growth in Asia as it attempts to bring in large customers from the region.
While this is likely further down the timeline, Enovix Mobility is a big optionality for the company if it makes material progress in the mobility market front.
I have written previous articles on Enovix, including this one after the selloff in the company's shares after the earnings disappointment late last year.
A deep dive on Enovix will be first posted in Outperforming the Market.
Brief initial thoughts on the call
The special presentation lasted two hours and the key Enovix management team present included Executive Chairman, T.J. Rodgers, incoming CEO and president, Raj Talluri, COO, Ajay Marathe and lastly, SVP in charge of sales and business development, Ralph Schmitt.
I found the special presentation very timely given that investors have been rather jittery given the uncertainty after the company's recent earnings release. The presentation was also rather candid compared to the usual earnings call format.
Most importantly, after listening to the entire two hours of presentation, I liked that the presenters, including T.J. Rodgers admitted their mistakes and identified room for improvement as well as concrete plans and targets the team presenting will achieve. With the presentation, I think that it managed to assure investors that the management team is now committed to a more transparent and unified outlook for 2023 and 2024.
As highlighted earlier, this presentation provided investors with a much-needed update on what the roadmap ahead looks like for production, commercialization and also provided increased confidence in the management transition.
One of the key admissions during the presentation was that the management team expects further delays in the Gen2 production ramp. While I did not expect this given my conversations with the company, I think that this communication was intentionally meant to reset investor expectations ahead of new top management leading the team at Enovix.
With the new incoming CEO starting on January 18 and a relatively new COO who has only been in Enovix for less than two months, I think that the reset in expectations was the main reason for the admission for the further delays in Gen2 production ramp as it makes sense for the new management team to set their own expectations and proceed with their own prudent targets, using their own strategy to achieve them.
Production strategy improvements
As noted earlier, I think that one of the key negatives that investors heard in the presentation was the further delays in production ramp. However, I found it positive that management expects that the steep learning curve on yields and output means that they expect shipments to double every quarter in 2023. These improvements in yield are a result of a positive learning curve will lead to better unit economics as Gen2 ramps in 2024.
Relative to prior expectations, management admitted that the miss in 2022 for shipments was a result of more manual and labor-intensive lines than management had expected prior to listing.
As of the fourth quarter of 2022, Enovix has cumulatively shipped 8,812 units and in the fourth quarter alone, it shipped 4,442 units. The team expects that in the next few quarters, it will double its shipments every quarter, which should result in about 140,000 units shipped by the end of 2023.
The team also outlined some expectations in the presentation. They expect 180,000 wearable units to be produced in Line 1 in 2023 and the yield is expected to increase from 42.5% today to 60% by 4Q23. In terms of cellphone units, the company expects 5,688 cellphone units to be produced on Line 2 in 2023. Once Gen2 is up and running, Line 2 is expected to be obsolete.
For the Gen2 line, it is expected to have a nameplate capacity of 9.5 million units per year at 80% operating efficiency at scale. This will only be achieved when ramped, which will take time. The Gen2 line will go to the low cost Fab-2 facility in Southeast Asia, with installation expected in 1Q23 and ultimately, four Gen2 lines are expected to be running by 4Q24.
As the management team continues to improve transparency in the company, the also announced that they expect the Gen2 design will likely be approved by the board by March 2023.
Transparent disclosure on customer funnel
I was pleasantly surprised by the transparent disclosure that management provided during the presentation about the customer funnel as of December 2022. Enovix also disclosed details of some of the customers in its funnel that do not have non-disclosure agreements with and one such customer revealed was Samsung (OTCPK:SSNLF), which is S*14 in the customer funnel chart below, which is in the production cell qualification phase and expected to progress to the product pre-production phase in 2023.
Based on the customer chart below, as of December 2022, we can see that the company has one strategic mega cap customer in the product integration phase, and three strategic mega cap customers in the production cell qualification phase, one strategic mega cap customer in the custom cell development phase and three strategic mega cap customers in the technology qualification phase. All except one in the technology qualification phase are for the wearables market.
I think that apart from improving visibility and increasing confidence about Enovix's customer funnel, the disclosure also provides strong evidence that Enovix's technology brings strong value add to many mega cap customers, especially in the wearables market.
Commercialization on track
I continue to like Enovix's $1.4 billion funnel and the above design wins indicate a strong demand for Enovix's products and increases my conviction of Enovix's battery technology.
From its 43 account samples in 2021, it grew to 78 accounts across differing customer milestones. Some of the other customers it revealed includes Panasonic (OTCPK:PCRFY), Canon (CAJ). Furthermore, Enovix was able to have a rather huge active designs and design wins increase, from $423 million in the third quarter, to $669 million in the fourth quarter of 2022.
I like that Enovix is executing well in moving customers through the customer funnel, from one milestone to the next. The company continues to maintain its assumption that it is able to acquire 11% of the $13 billion mobile computing battery market using its current $1.4 billion revenue funnel.
Improvements in culture with change in management
T.J. Rodgers mentioned multiple times in the presentation that they are looking to ensure that accountability and execution on strategy are improved in the company. While this involves a change and improvement in the culture of the company as well as its decision-making processes, I think that this is a fundamental and essential change that will likely bring a re-acceleration to the progress in the company.
I am confident that the new COO, Ajay Marathe, has outlined an improved strategy to ensure production moves forward successfully. While he emphasized that improving the operations is not rocket science, I like that he is focusing on the simple, fundamental things like processes and accountability to help improve the efficiency and yield of the operations. Some of the improvements to strategy include accounting for every unit, balancing yields with tolerances without compromising performance, and driving down the cost of scrapped units by detecting problems early.
I think that the new management team has strong experience in ramping up new technologies and has deep industry expertise. T.J. Rodgers seems to have confidence in the new team as he intends to go back to interacting with the management team once a month in the coming weeks, which provides evidence that he has a strong conviction in the management team to execute on the company's strategy.
Valuation
Enovix is expected to ramp up revenues significantly from 2024 onward and as a relatively early-stage company, I use the DCF methodology to value the company. My financial model includes a 5-year forecast for Enovix's financials, with revenues expected to grow to $1.1 billion in 2027 and turn positive EPS in the same year, with 2027 EPS forecast being $1.22. This slight decrease from my previous article highlights the changes in production ramp discussed in the article. I also assume terminal multiples of 30x P/E and apply a discount rate of 15%.
My 1-year target price for Enovix is $29.75, representing 248% upside from current levels. As such, I think that the risk reward opportunity for Enovix has skewed to the positive given the recent sell off.
Risks
Execution risk
Enovix is an early-stage company, and the company looks to ramp and scale up a world class operation. There are risks that execution falters or that the new management is unable to accelerate the progress for Enovix and meet their current production targets. While Enovix has a strong customer demand, it needs to show its potential customers that it is able to deliver products as planned to obtain larger contracts from other customers.
Competition
While Enovix currently seems to have a strong advantage in its battery technology, there is a risk that the delays in production ramps could result in competition catching up to Enovix. There are other startups and private companies that are developing and improving battery technologies that could compete with Enovix in the future. One example is Sila Nanotechnologies, which is another company looking to compete in the silicon anode lithium-ion battery space. In my view, Enovix needs to show investors that it can execute well and capture all the opportunities needed and continue to innovate new and better products.
Conclusion
I think that the management at Enovix set the company on the path in the right direction with the special presentation. It honestly shared with investors the near-term challenges it is likely to face, reset expectations for the new management team, and communicated the new targets and goals the company will achieve, along with the revised strategy as well as improvements in culture and processes. The new management team will likely be laser focused on execution and delivering their stated goals to show investors their ability to ramp up the business successfully and turn it into a world class operation. This huge upside opportunity will come with volatility and as a result, this unique opportunity is for patient investors that are able to stay invested in the company through the mid to long-term. My 1-year target price for Enovix is $29.75, representing 248% upside from current levels.
Editor's Note: This article discusses one or more securities that do not trade on a major U.S. exchange. Please be aware of the risks associated with these stocks.