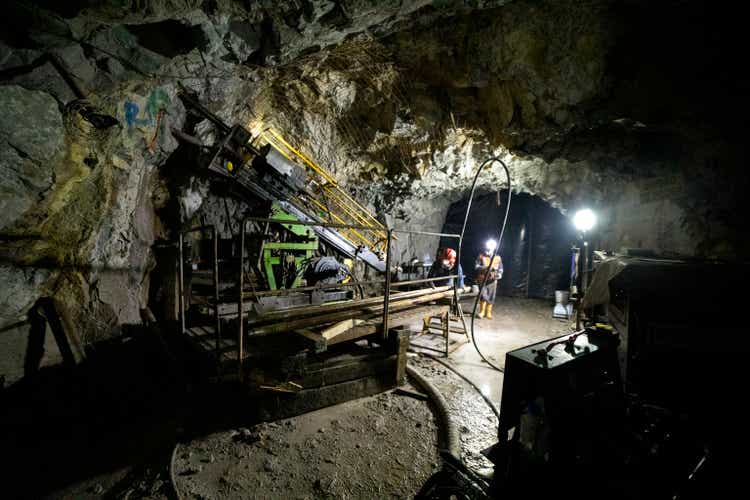 Just over eight months ago, I wrote an update on Avino Silver & Gold Mines (NYSE:ASM), noting that the stock had a better year ahead but that it was nowhere near a low-risk buy point at US$0.93 and that patience was required. While this turned out correct as the stock immediately started a new downtrend, I was brutally wrong on my call that the stock would become a Speculative Buy at US$0.75, with the stock tumbling through this potential support level and sliding all the way to US$0.50, translating to a massive drawdown for investors. Fortunately, after a strong year of production and armed with a solid development pipeline, Avino has clawed back all of its losses and is one of the best-performing miners year-to-date.
This renewed uptrend in the stock is encouraging news from a momentum standpoint, with Avino Silver & Gold Mines ("Avino") back above its key moving averages. Meanwhile, investors can look forward to another strong year ahead, with the company targeting further growth in silver-equivalent ounce [SEO] production this year and the much-awaited Oxide Tailings Pre-Feasibility Study set for release this year as well. Despite this industry-leading organic growth profile with two projects in its pipeline, Avino continues to trade at a reasonable valuation, sitting at a fully-diluted market cap below $115 million. Let's recap the Q4 results and take a closer look at the year ahead below:
Q4 & FY2022 Production
Avino released its preliminary Q4 results last week, reporting quarterly production of ~770,100 SEOs, a significant increase on a year-over-year basis (42%). This was helped by increased throughput (~150,300 tonnes) and slightly better recovery rates, mainly due to operations slowly ramping up in Q4 of last year after an extended shutdown that impacted 2020 and 2021 production. On a full-year basis, the impressive H2-2022 performance helped the company to trounce its internal estimate of 2.2 to 2.4 million SEOs in FY2022, with annual production coming in at ~2.66 million SEOs, an 11% increase vs. pre-COVID-19 levels (FY2019 production: ~2.4 million SEOs).
In addition to solid Q4 production, Avino completed the installation and commissioning of its dry-stack tailings project, and the new facility is now fully operational. Meanwhile, the company continues to see exploration success at its flagship Avino Mine. Recent drilling confirms that the Avino Vein extends 315 meters below the deepest Level 17 mining area, and copper grades appear to be improving at depth. This was evidenced by a highlight intercept of 1.63% copper over 16.66 meters (in addition to 26 grams per tonne of silver and 0.03 grams per tonne of gold), translating to a silver-equivalent grade of nearly 250 grams per tonne. Notably, this is much richer than the Q4 feed grade of ~170 grams per tonne silver equivalent.
Avino noted in its most recent drill update that the Avino Vein is now confirmed to be 800 meters deep down-dip, and the width of intercepts suggests that this new area is also amenable to its lower-cost bulk mining method. Overall, this is very encouraging news from a resource standpoint, and we'll likely see resources at the Avino Mine grow further, with an updated resource estimate expected to be released by the end of this quarter. Finally, the company is developing a geological model based on a "near porphyry" environment due to increased copper grades, with the possibility that this could indicate the presence of a deeper mineralized system linked to a porphyry center.
Finally, looking at Avino's financial results, we can see that the company continues to generate positive cash flow and mine operating income as of its most recent quarter (Q3 mine operating income: $2.1 million), and it will see some further help from the silver price in Q4 2022 and Q1 2023. This is because the average realized silver price appears to have averaged ~$21.00/oz in Q4 and is on track to come in above $22.00/oz in Q1. Based on an increase in silver production year-over-year in 2023 and the rebound in the silver price, I would expect Avino to generate at least $0.12 in operating cash flow, an improvement from FY2022 levels ($0.10) with year-to-date cash flow per share of $0.07.
Recent Developments
While it's certainly shaping up to be another solid year at the Avino Mine based on soft guidance of up to 3.0 million SEOs, the real story for Avino is its organic growth potential, with two projects in the wings. The first is its Oxide Tailings Project, which will likely enjoy sub $10.00/oz all-in-sustaining costs, which is well below its current all-in-sustaining cost profile [AISC] of $17.00/oz. The company is completing a Pre-Feasibility Study which will look at a heap-leach facility or a dynamic leach facility for this oxidized material. Notably, this can be funded from the company's current cash position, and future cash flows, given its modest capex (estimated costs of $30 million or less). This would increase annual SEO production by more than 70% from FY2022 levels at attractive margins if approved.
In addition to the Oxide Tailings opportunity, Avino is confident it can mine all three veins at its recently acquired La Preciosa Project, which lies just west of its Avino Mine with an ~18-kilometer trucking distance. The plan is to mine all three of the property's veins (Gloria, Abundancia, Martha) and start with a trackless spiral decline at the Gloria Vein to conduct cut & fill mining. Based on recent discussions, the goal would be to mine 300 to 500 tonnes daily and take advantage of excess capacity at the Avino plant (2,500 tonnes method of processing the material. However, the ultimate goal appears to be an expansion of the Avino Plant to 4,000+ tonnes per day, supporting 1,500+ tonnes per day from La Preciosa, with the majority of feed from the Avino Mine.
Assuming Avino can deliver on its goals and it has strong metals prices to allow most of this growth to be financed internally without share dilution, the result is that Avino could grow into a much larger producer, with the possibility of ~8 million SEOs by 2028 at sub $14.00/oz AISC. This would be a significant upgrade from a ~2.5 million ounce producer at ~$17.00/oz AISC, translating to a significant re-rating in the stock. Even if we subtract out ~$250 million in value for Endeavour Silver's (EXK) Terronera Project, Avino could see its production match FY2023 guidance for Endeavour, with that stock currently justifying a market cap that's nearly four times that of Avino ($400 million after adjusting for Terronera's value).
While this is an exciting opportunity, much work still needs to be completed to confirm the major growth opportunity here: mining La Preciosa and trucking the material to the Avino Plant. Hence, while this is an ambitious goal that could pay off massively for investors, this is a multi-year plan, and there are no guarantees yet, meaning it might be safer to model simply the Oxide Tailings opportunity (incremental 2.0 million SEOs per annum) until further studies are completed at La Preciosa.
Valuation & Technical Picture
Based on ~134 million fully-diluted shares and a share price of US$0.85, Avino trades at a market cap of US$114 million. If we compare this to a resource base of 230 million measured & indicated [M&I] silver-equivalent ounces, this translates to a fair value per ounce of $0.50, a reasonable valuation for a company that should be able to maintain all-in-sustaining costs [AISC] below $18.00/oz. Meanwhile, even if we exclude La Preciosa, which is still an early-stage and unconfirmed growth opportunity until we have a Feasibility Study in place, Avino still trades at just $0.97/oz on M&I SEOs. This figure compares favorably to non-producing peers (which are in less favorable jurisdictions in some cases), like New Pacific (NEWP) and Silver Tiger Metals (OTCQX:SLVTF).
Meanwhile, from a cash flow standpoint, Avino is now trading at ~6.5x FY2023 cash flow estimates ($0.13), which is also a reasonable valuation even after adjusting for the fact that Avino is a single-asset producer in a Tier-2 jurisdiction. Based on what I believe to be a conservative multiple of 7.5x cash flow, I see a fair value for the stock of US$0.98, translating to a 15% upside from current levels. If we put this figure in perspective, Silvercorp (SVM), which is in a less favorable jurisdiction, is trading at ~7.6x cash flow, and Endeavour Silver trades at ~17.5x cash flow. Hence, I would argue that this multiple for Avino isn't unreasonable and is arguably conservative, with FY2023 cash flow estimates not capturing upside from La Preciosa or its Oxide Tailings Project.
So, is the stock a Buy?
Although Avino is reasonably valued at US$0.85, the stock has now rocketed more than 80% off its September lows and is in the upper portion of its trading range. This is based on an expected resistance zone of US$1.06 and no strong support until US$0.49, translating to $0.21 in potential upside to resistance and $0.36 in potential downside to support. The result is that the stock is sitting at a reward/risk ratio of 0.58 to 1.0, which is nowhere near the 6 to 1 reward/risk ratio that I require to justify starting new positions in micro-cap names.
So, although Avino might have further upside from a valuation standpoint, the stock is nowhere near a low-risk buy zone. In fact, it would need to dip below US$0.60 to become interesting from a reward/risk standpoint. Obviously, the stock does not need to decline to these levels, and a rising tide (silver price) will lift most boats. That said, I prefer the technicals and fundamentals to line up to start new positions with minimal risk of a drawdown, and that is not the case here with less than 20% upside to fair value and a stock that is trading well above its next support level (US$0.49 - US$0.51).
Summary
Avino Silver had a solid year in 2022 and has outlined a clear target of tripling its production between 2022 and 2028 with an ultimate goal to produce upwards of 8.5 million SEOs (FY2022 production: ~2.6 million SEOs). Notably, this growth is relatively low capex compared to other projects in the industry, with the benefit of leveraging off existing infrastructure and simply upgrading its current processing facility, completing mine development at La Preciosa, and adding a new facility to leach oxide tailings material. It's also worth noting that this is a staged approach to growth. Hence, although investors will have to wait for production to triple potentially, we should see at least a 50% increase in production through the Oxide Tailings Project or mining at the Gloria Vein by 2026.
Having said that, much work still needs to be completed at La Preciosa to gain increased confidence in this growth opportunity. Plus, while Avino is reasonably valued, I've never found much value in chasing cyclical stocks when they're up more than 80% off their recent lows. This doesn't mean that this rally can't continue, but this hardly looks like a low-risk buying opportunity, with sentiment for silver becoming a little over-heated short-term. To summarize, while Avino is a name worth keeping an eye on as a possible buy-the-dip candidate, I don't see any way to justify paying up for the stock above US$0.85.
Editor's Note: This article covers one or more microcap stocks. Please be aware of the risks associated with these stocks.