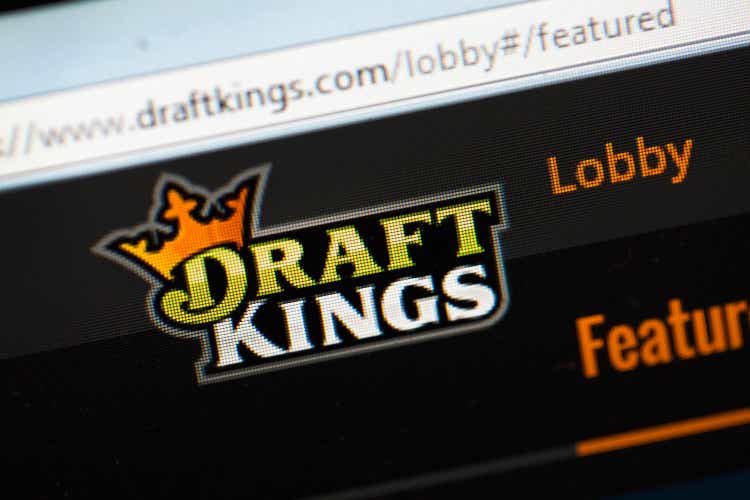 DraftKings Inc. (NASDAQ:DKNG) stock has outperformed the S&P 500 (SPX) (SPY) since we revised our rating in November. Accordingly, DKNG posted a return of more than 10%, relative to the SPX's 2.9% uptick.
However, DKNG investors have suffered over the past year, as it's still down nearly 33% over the past year.
As such, the early 2023 risk-on uplift has also inspired buyers to return to speculative, unprofitable stocks like DKNG. It remains a key feature in ARK Invest's flagship ARK Innovation ETF (ARKK), slotted in at No.15 among its top 25 holdings as of last week.
With the Fed still likely hawkish in 2023, even as it will likely taper its hiking momentum in H1'23, is there hope for a sustained revival in DKNG's fortunes moving ahead?
Notably, competitive headwinds have intensified as Fanatics look to enter the online sports betting (OSB) craze to rival DraftKings and its rivals. However, newer upstarts looking to shake out the OSB space could find it challenging to untether the market leadership of the leading sportsbooks, which "control about 90% of the US market."
Hence, DraftKings could rely on its early-mover advantage to defend against potential market share losses as it continues to scale the profitability in its earlier entries.
Citi (C) articulated in a note in December, arguing that DraftKings appears to be "on track to hit its long-term goals," adding that "the market is not giving DraftKings credit."
Hence, we encourage investors to pay close attention to management's upcoming Q4 earnings release. The revised consensus estimates suggest that DraftKings could post adjusted EBITDA profitability by the end of FY24, with projections upgraded from November's metrics.
Hence, we believe the market has likely baked in optimism in DraftKings' Q4 release, anticipating a better-than-expected outlook from CEO Jason Robins & team.
Also, investors should continue to pay close attention to the macroeconomic factors that could unhinge the recent recovery in DKNG.
Keen investors from 2021 should have experienced the substantial damage leveled against DraftKings and other unprofitable stocks as the Fed tightened the liquidity spigot, causing significant upheavals in the market.
However, with the Fed potentially closing in toward the top end of its rate hikes, we assessed that significant pessimism is likely reflected in DKNG's November lows.
Market operators have primed their positions ahead of a potential Fed pivot, which could backfire if subsequent inflation data proves more sticky than anticipated.
Therefore, it could force Fed Chair Jerome Powell and his FOMC colleagues to maintain its rates "higher for longer," extending the downturn in the US economy, even if it manages to dodge a recession.
Given DraftKings' unprofitable business model, long-term buyers could be discouraged from returning to bolster its recovery, as higher rates will impact their fair value estimates of DKNG.
Hence, the critical question facing investors is whether they believe the market has anticipated these challenges in its December bottom.
DKNG's December lows seem robust, resulting in an astute bear trap that preceded the recent recovery.
Hence, investors who intend to add exposure and have missed a fantastic opportunity to capitalize on its pessimistic levels back then.
With DKNG closing in against its November highs, we believe there's still reasonable potential upside, even though the window of opportunity has narrowed markedly.
As such, investors are urged to layer in their exposure, given the sharp recovery from its lows, and avoid chasing further momentum spikes toward its November highs.
Rating: Speculative Buy (Reiterated).
Note: As with our cautious/speculative ratings, investors must consider appropriate risk management strategies, including pre-defined stop-loss/profit-taking targets, within an appropriate risk exposure.