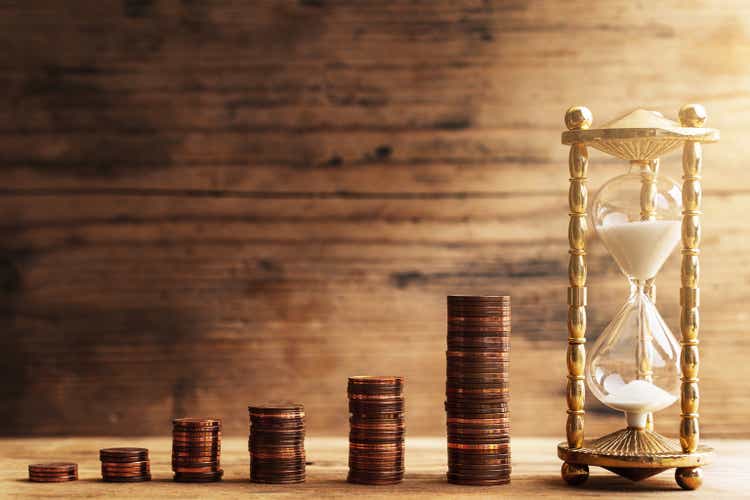 Investment Thesis
Pinterest (NYSE:PINS) receives yet another downgrade on Friday. That being said, I contend that with so many analysts crowded on the negative side of the same boat, the opportunity for Pinterest to positively impress in 2023 could be on the cards.
More specifically, I declare that most investors acknowledge that 2023 will be a tough year for the ad spend industry, but that this insight is already widely acknowledged and factored into Pinterest's market cap of $18 billion.
Furthermore, I think Pinterest's new management team will be eager to make changes and drive the company in a new direction.
These 3 catalysts coming together mean that anyone getting involved with the company right now, is likely to have a positive risk-reward opportunity. Here's why.
Investor Sentiment Will Improve
Do you know what the graphic below tells you?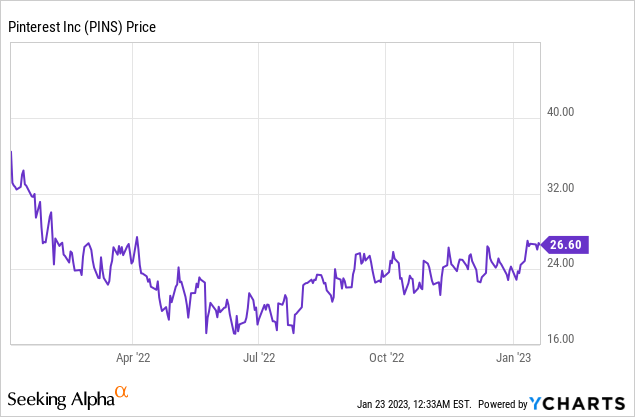 Unless someone bought into PINS at the summer lows, most investors are unlikely to be holding onto a winning stock with PINS.
That means that there's really no excitement for this name. And that's a positive setup for investors to get involved with a company when sentiment is low and investors are uninterested in a stock.
Analysts Expectations Are Subdued
The fact that analysts are clearly unenthused also contributes to the overall downbeat picture. As noted in the introduction, PINS received another downgrade last week.
Put simply, the bar for Pinterest to positively beat expectations is low.
But I ask readers, what amount of new negative news is likely to unfold in the coming Q4 earnings result? We already know that Pinterest's revenue growth rates for Q4 are likely to be around 5% (including F/X headwinds).
Accordingly, very few investors are expecting to be blown away by Pinterest's revenue growth rates. Moreover, the strength of the dollar has come down significantly in the past two months.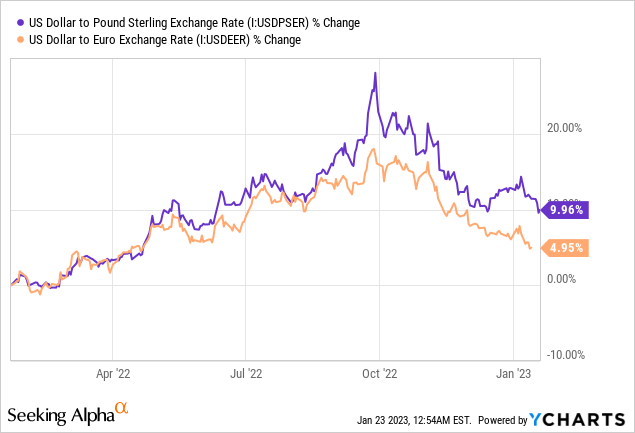 This will improve not only Pinterest's reported revenues by somewhere in the ballpark of 3% to 5%, but this will also percolate through its cost structure.
As you know, Pinterest's overseas exposure is significant, but its running cost, including servers and management are in USD. A slightly weaker dollar will drive a significant amount of operating leverage. But that's not the only aspect at play. The big opportunity is what will discuss in the next section.
What's The Big Opportunity?
Pinterest's CEO Bill Ready arrived at Pinterest in the summer of 2022. In the first few months, Ready would have gotten to grips with the problems and opportunities facing Pinterest.
This now means that Pinterest will likely be changing its direction. Admittedly, it's too early to say whether this change in direction will be positive or negative. But one thing we can agree on is that change is coming for Pinterest.
And when the stock is out of favor, I believe that most changes will be positive. After all, when Ready showed up to take the reigns of Pinterest, at that point Pinterest was down more than 70% from its all-time highs. That means that there would be ''no sacred cows'', and everything would be up for restructuring.
And that's something that I don't believe investors appreciate enough, a company where the narrative has been built in one direction, but in reality, the company is slowly heading in a different direction.
What's more, to ensure Pinterest doesn't do any further missteps, Pinterest's large shareholder Elliot Management, will be overseeing Pinterest, while at the same time providing the business enough space for it to do whatever it deems necessary to right this boat. To this effect, Elliot signed a standstill agreement with Pinterest in December.
The Bottom Line
In the coming weeks, Pinterest will report its Q4 results. At that time, we'll hear more from Ready and how Pinterest will be making further inroads into its eCommerce opportunity. How it will move beyond simply inspiring its users, to embrace its eCommerce opportunity.
In sum, this is the risk and the opportunity. So far, bears have been right that this stock was a covid winner. And this is the narrative that analysts have also seemed to have bought into and disseminated.
However, my contention is that all this negative news is now factored into the share price. But the new news, of Pinterest changing direction, isn't being considered in the slightest.
With the bar so low, at less than $20 billion market cap, I assert that the risk-reward here is positive.