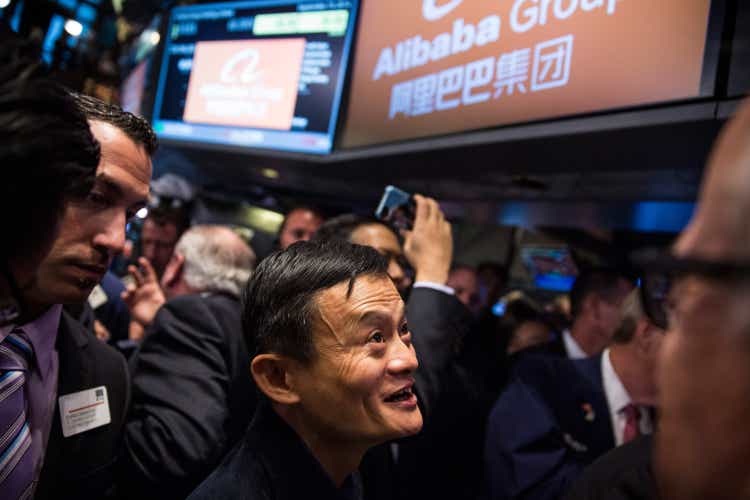 Alibaba's (NYSE:BABA) shares have risen nearly 40% year to date but the rally might still continue. Latest data reveals that short interest in the Chinese ecommerce giant has declined (6.7%) in the last cycle and is now hovering near its 4-month lows. This is a clear indication that shorts have capitulated on Alibaba and the Street's sentiment has quickly turned bullish on the name. This suggests the stock has minimal downside from current levels, with plenty of upside in store, and should come across as an encouraging sign for the company's long-side shareholders. Let's take a closer look at it all.
Shorting Subsides
Let me start by saying that short interest is basically the aggregate number of short positions that are open and are yet to be covered at the end of each bi-monthly reporting cycle. A sharp rise in the metric indicates that market participants actively shorted a particular stock with the anticipation that it would quickly decline in value in subsequent weeks. Conversely, a sharp decline in the metric indicates that market participants actively wound down their short positions as they anticipate the stock to either stabilize or rally in the near future. So, the short interest metric is essentially a handy tool to gauge the Street's ever-evolving sentiment pertaining to any given stock.
As far as Alibaba is concerned, its short interest at the end of the last reporting cycle amounted to 55.9 million shares. The figure is down 6.7% sequentially and it's also down 27.5% in the last 3 months. Note in the chart below how Alibaba's stock price, in the meantime, has continued to rally. It seems like the Street grew bullish on the ecommerce giant's prospects, with short-side market participants particularly making a concerted effort to wind down their short positions in the company ever since the second half of October.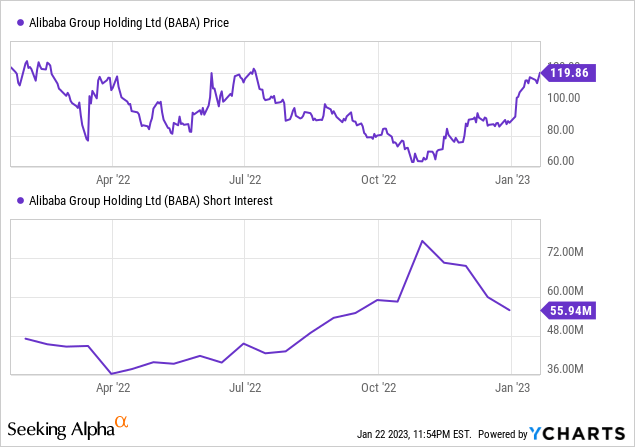 For the record, the short interest data being referenced here belongs to the bi-monthly cycle spanning from 15 December till 31 December. The data was released in the public domain a little over a week ago at the time of this writing, so it's still fresh and relevant to our discussion here.
But having said that, this is a clear indication that shorts have capitulated on Alibaba. The company was surrounded by bearish narratives up until November, admittedly by yours truly as well, but the Street's sentiment pertaining to Alibaba has quickly turned of late. This begs the question - what exactly has changed in the last few months that Alibaba shorts are scrambling to take cover?
Reasons To Turn Bullish
For starters, Alibaba's shares have been on a precipitous decline since 2020 due to a myriad of reasons, such as strict COVID-19 restrictions in China, delisting threat posed by the SEC, Chinese regulators imposing a record anti-trust fine on the company and then restructuring the business to suit the country's common prosperity program. It was the perfect storm for Alibaba and its shareholders for all intents and purposes.
This meltdown inevitably pushed Alibaba's stock deep into the oversold territory. Even though the stock has rallied 40% from its October lows, it's still trading at 2.7-times its trailing twelve-month sales at the time of this writing which is quite close to its decade-low-levels. This means the stock is pricing in a lot of bad news and geopolitical risk factors, and has little downside potential left in store. This, in my opinion, is one of the major reasons why short-side traders backed out of Alibaba in recent weeks.
Secondly, many of the aforementioned risk-factors have gradually faded away of late. Perhaps the biggest positive catalyst for Alibaba, was that US regulators have wrapped up their accounting audits of Alibaba and other Chinese companies. This significantly reduces, if not completely eliminates, the delisting risk for Alibaba and comes as a reassuring sign for investors that Chinese stocks aren't as risky as previously feared.
Risk-averse institutional investors such as pension funds, typically have mandates to prioritize capital preservation over returns. Such investors had grown increasingly concerned about Alibaba's delisting risk and, I documented in my prior articles, that they kept trimming their holdings in the name over the past 2 years. But with this delisting-related overhang drastically weakened, institutional investors will now be able to enter Alibaba in full momentum. This heightened buying interest can potentially trigger margin calls for short-side traders and it's probably also why they scrambled to unwind short positions in Alibaba.
Lastly, Chinese regulators have dropped their Zero COVID-19 policy in recent weeks. Fewer travel restrictions essentially mean the country's economy will reopen, its populous will be able to go to their workplaces and they'll regain disposable incomes to carry out discretionary spending on retail platforms such as Alibaba. So, to summarize, there have been major developments in the past few weeks that have fundamentally improved the investors' sentiment pertaining to Alibaba and other similar Chinese stocks.
The table below lends credence to my thesis - note how most of the Chinese stocks experienced short interest declines in the last reporting cycle. I'm not trying to argue that one stock is better than the other, but just highlighting how market participants actively wound up their short positions in Chinese companies due to their improved prospects.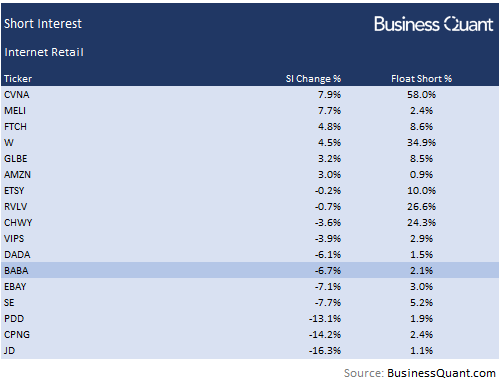 Final Thoughts
I'd like to clarify that short interest data is based on trades that have already taken place in the past and it doesn't always influence future price action. But having said that, if bearish narratives truly held merit and Alibaba stock had more downside potential, then market participants would've piled onto their short positions in a bid to profit off of its anticipated meltdown. But it's evident from the data above that short-side market participants capitulated instead.
So, I'm of the view that the worst is behind for Alibaba. The rapid decline in its short interest, met with a sharp rally in its shares, suggests that the Street has turned bullish on the ecommerce giant and possibly also on its other Chinese peers. This should encourage investors with a long-term time horizon, to accumulate Alibaba's shares on potential price corrections. Good Luck!
Editor's Note: This article discusses one or more securities that do not trade on a major U.S. exchange. Please be aware of the risks associated with these stocks.