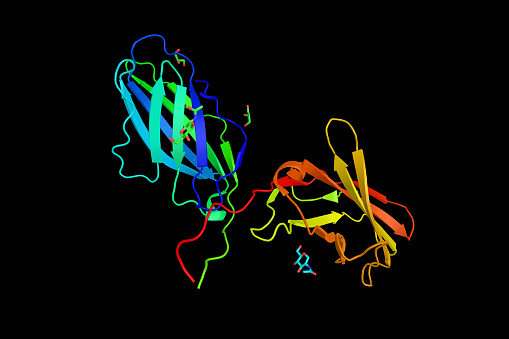 Agenus (NASDAQ:AGEN) reported a significant data update at ASCO-GI (American Society of Clinical Oncology Gastrointestinal Cancers Symposium) on Saturday, January 21, 2023. While data from the recently started Phase 2 trial, and from the planned Phase 3 trial, must be positive to achieve FDA approval and commence commercial sales, this latest data is very encouraging. After a brief review of Q3 2022 financial results, this article will focus on the potential of the CTLA-4 agent botensilimab. Agenus also has a much more extensive pipeline and several major pharma partners, but that will receive only brief coverage here.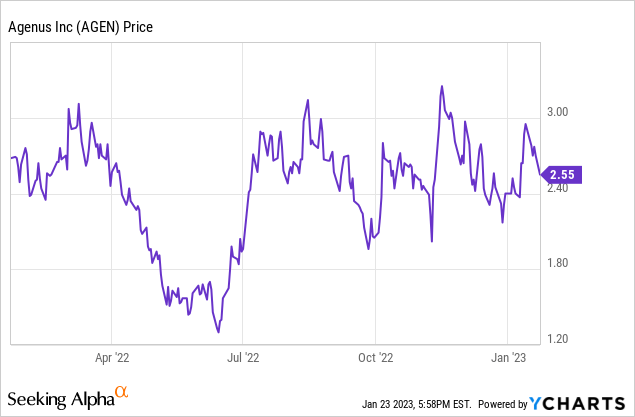 After closing at $2.70 on the Friday before the conference, Agenus stock dropped sharply Monday morning, to as low as $2.43. I think that was because some investors were looking for a more immediate boost from the new data. By the end of trade, the price had recovered a bit to $2.55 per share on heavy volume. That compares to a 52-week low of $1.25 and a 52-week high of $3.37. The current market capitalization is about $770 million.
Q3 2022 Financial Results
Agenus Q3 2022 results were released on November 8, 2022. Revenue was $22.8 million, reflecting royalties from its ingredient used in the Shingrix vaccine, plus other milestone and R&D reimbursement revenue from partners. Expenses included $46 million for R&D, $18 million for administration, and $16 million in interest. That left a net loss of $56.7 million or $0.19 per share. Cash used in operations was $32.2 million. Cash and equivalents ended at $218 million. While there is no immediate cash crunch, I do not think that is enough to last until botensilimab starts producing significant commercial revenue, assuming it does gain FDA approval. In the past, Agenus has tended to raise cash by licensing products produced by its antibody engineering platform rather that by issuing new stock.
New Botensilimab Data
Botensilimab is a CTLA-4 cancer immunotherapy agent. It is in the same class as Yervoy (ipilimumab), commercialized by Bristol-Myers (BMY), which was approved by the FDA for melanoma treatment in 2011. The main difference is that botensilimab has had its Fc region engineered to increase engagement with immune cell receptors. In Phase 1 trials, botensilimab demonstrated clinical responses against nine cancer types. The main benefit is likely that, unlike Yervoy, which tends to be effective only with hot tumors, botensilimab has shown effectiveness with cold tumor types. Cold tumors have few immune cells infiltrating them, making it harder to generate an immune response.
The new data is from a Phase 1b study of botensilimab combined with balstilimab (an Agenus PL-1 antibody) in microsatellite stable colorectal cancer patients whose tumors have already proven resistant to chemotherapy and/or immunotherapy. The median was four prior lines of therapy. The prognosis for this class of patients is not good. The 70 patients were not randomized against a control group, so saying the data was positive is based on historical data. The results were a disease-control rate of 76% and an overall response rate of 23%. Median overall survival time had not been reached, indicating responses are relatively durable. However, no complete responses were reported. Agenus reported that the comparable overall response rates for older PD-1 with CTLA-4 therapies were between 1% and 5%. That indicates botensilimab plus balstilimab should be approvable in this indication if the Phase 2 and Phase 3 studies generate similar patient responses and safety.
It is worth noting that Seagen (SGEN) received accelerated FDA approval on January 19 for Tukysa for RAS wild-type, HER2-positive unresectable or metastatic colorectal cancer, following the failure of first-line therapies. It is the first drug approved specifically for HER2-positive CRC. But it must be given in combination with Trastuzumab (Herceptin), a HER2 targeting antibody. In contrast, botensilimab potentially could treat both HER2 positive and negative colorectal cancer.
More Botensilimab Data Ahead
Phase 2 studies of botensilimab as a single agent in melanoma, with Agenus's balstilimab (a PD-1 agent) in MSS colorectal cancer, and in pancreatic cancer in combination with chemotherapy began in Q3 2022. These indications represent best shots at approvals, selected from the nine solid tumor types that had already responded in earlier trials. Agenus hopes to start its Phase 3 MSS colorectal cancer trial in 2023. That would imply that Phase 2 topline data will become available this year.
If Agenus does achieve FDA approval in any of these three indications, the next step would be trials for patients with earlier stages of cancer. Generally, getting the kind of results we have now seen with the sickest colorectal cancer patients indicates that a therapy could be much more effective if given earlier.
Partnerships and Rest of Pipeline
Not all the value of Agenus comes from the potential of botensilimab. The Agenus pipeline is extensive. Agenus provides QS-21 Stimulon for GSK's Shingrix shingles vaccine and its Mosquirix malaria vaccine. Incyte (INCY) is partnered for four cancer antibodies. Merck (MRK) has licensed an ILT4 antibody, MK-48. Bristol-Myers is partnered for a TIGIT bispecific antibody. Gilead (GILD) has an option to develop AGEN2373, a CD137 antibody.
For a small-cap company, Agenus has demonstrated an exceptional ability to generate multiple engineered antibodies from its platform. That it and its partners have not yet been able to get anything to regulatory approval, except QS-21, has been a disappointment to investors. That has kept the stock price and market capitalization low.
Analysis and Conclusion
I believe positive Phase 3 data from the MSS colorectal cancer trial would propel Agenus's stock price significantly higher. In the meantime, the data from the three Phase 2 trials could also increase investor confidence. The same is true if there are positive announcements from the antibodies being tested by partners. Of course, nothing ever guarantees FDA approval except FDA approval, and nothing guarantees commercial sales will meet projections even with an FDA approval. While it is conceivable that the price could return to the 52-week low of $1.25, I believe this most recent data release makes that risk minimal. A better CTLA-4 antibody could eventually surpass Yervoy's sales, which were just over $2 billion in 2021. As I said above, at first, if approved, botensilimab would only be used for patients who failed several prior lines of therapy. It would take more time to get approval for earlier lines of therapy and for other cancer types, which would likely be necessary to move sales anywhere near the $2 billion mark. But if the drug is shown to be superior to Yervoy and other CTLA-4 agents, the writing will be on the wall. Investors will project sales and profits well into the future, marking an upward inflection point for the stock price. I think Agenus is a great investment, with current data and at the current price, for those who can tolerate some risk and have a long-term perspective.