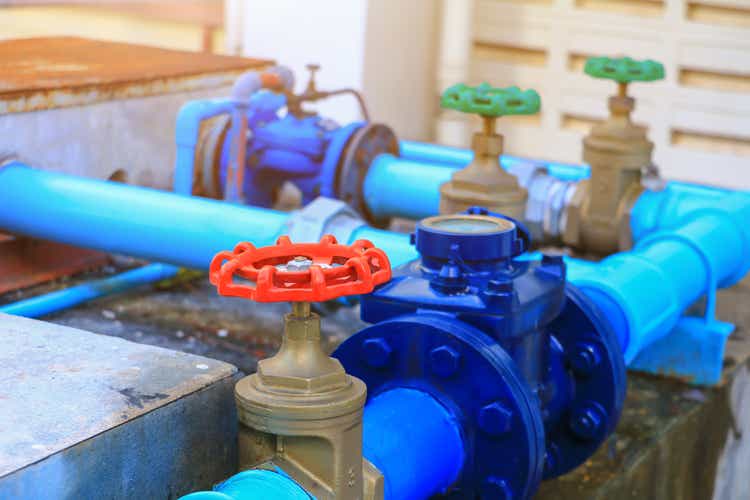 Investment Thesis
I last reviewed Applied Industrial Technologies (NYSE:AIT) in my Feb. 2022 article, "Applied Industrial Technologies: On A Roll". Since then, per Figure 1 below, the share price has increased by 25.56% to $122.09, compared to a fall of 12.37% for the S&P 500 (SP500).
Figure 1
I decided it was time to take another look to see if there was still room for further share price growth. My first step in this process was to review the underlying factors giving rise to the strong share price growth over the last 12 months and to assess the likelihood of these factors contributing to continuing share price growth. I am impressed by management's handling of inflation and cost pressures to achieve robust operating leverage. Much of AIT's prospects are now priced in and based on analysts' EPS estimates, P/E multiples would likely need to increase back to historical averages to achieve double digit returns through the end of 2024. Without an increase in multiples, mid-single digit returns could still be possible based on analysts EPS estimates. On the other hand, AIT has beaten analysts' estimates for the last 12 quarters, and on this basis I am inclined to maintain a Buy rating.
My detailed analysis follows.
AIT: Boosting Margins By Managing Inflation And Controlling Costs
In my previous article, linked above, I noted continuing strong EPS growth and consistently beating analysts' estimates would likely result in double digit returns for an investor prepared to hold through the end of 2023. With double digit total return of 27% achieved already by early 2023, I had a couple of concerns and decided to have another look. One of my concerns was the high EPS growth rates being reported in 2021 and 2022 were partly due to lowered performance in 2020 and 2021 due to COVID. In 2023, performance would have to exceed the strong performance in 2022. The other concern was whether cost inflation might start to bite into margins, as it has with many other businesses. I first looked at AIT's September 2022 (Q1 2023) quarterly earnings call transcript available through SA Premium, and found this comment from President and CEO, Neil Schrimsher,
We're also doing an excellent job of managing inflation and controlling costs. This consistent performance is supporting robust operating leverage, helping further expand our margin profile and resulting in meaningful earnings growth despite more difficult comparisons. I want to thank our entire team for their ongoing effort and focus on optimizing and positioning Applied to achieve these results.
So, the CEO indicated both my concerns of inflation and prior period comparatives were not preventing a continuation of excellent results. I decided to test this assertion by undertaking my own analysis of the financial results as reported.
Table 1.1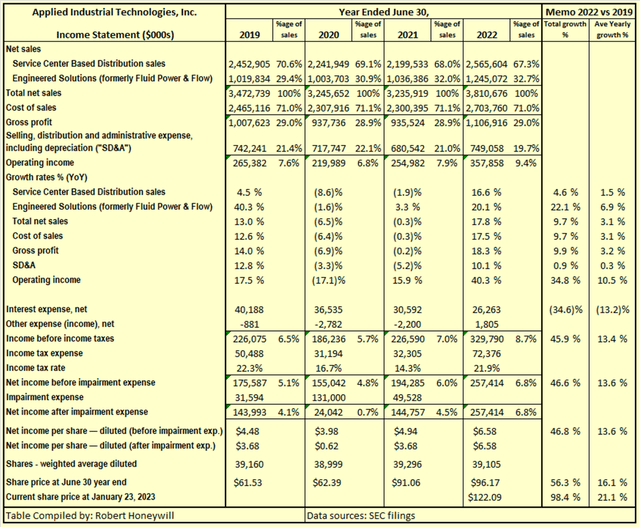 Table 1.1 certainly shows significant declines in business in COVID affected 2020 and 2021, which has resulted in high growth rates in 2022, as business returned to normal. Net income, including impairment expense, increased from $143,993 in 2019 to $257,414 in 2022, and excluding the distortion of impairment expense, from $175,587 to $257,414. That is an average net income growth rate of 13.6% per year over the three years 2019 to 2022, and with the share count stable, a similar growth rate for EPS. Because I am comparing 2022 to 2019, the impact of COVID on growth rates is eliminated. So what contributed to this high growth in net income? A reduction in Interest expense contributed ~3 percentage points, leaving around 10.5% growth attributable to Operating income growth. This high Operating income growth is despite modest sales and gross profit growth of only a little over 3% per year. The answer to the high operating growth rate is the containment of growth in Selling, distribution & administrative expenses ("SD&A") to just 0.3% per year. This boosted the growth rate by 7.3 percentage points from 3.2% at the Gross profit level to 10.5% at the Operating income level, providing the "robust operating leverage" referred to by the CEO. I decided to take a look on a segment basis to see if this could provide additional insights.
Table 1.2
Table 1.2 compares FY-2022 to FY-2019 Operating income by segment. Total average yearly Operating income growth rate of 10.5% per Table 1.1 is analysed into 7.3% growth rate for Service Center segment and 15.2% for Engineered Solutions segment. Cost of sales and SD&A are not separately disclosed by segment, but it can be safely assumed the lower growth rates of 1.0% and 6.2% compared to Net sales growth rates of 1.5% and 6.9%, respectively, is due to the containment of growth in SD&A expense. Again, this has provided "robust operating leverage" for both segments. It is also noteworthy that Engineered Solutions has grown Net sales at a much faster average yearly rate of 6.9%, compared to 1.5% for Service Centre, resulting in an overall average growth rate of 3.1% per Table 1.1. As Engineering Solutions has a higher FY 2022 Operating income margin of 12.6% compared to 11.8%, this faster Net sales growth for the higher margin segment provides additional "robust operating leverage". But can this continue? I decided to carry out a more current analysis based on September 2022 quarter (Q1 2023) results.
Table 2.1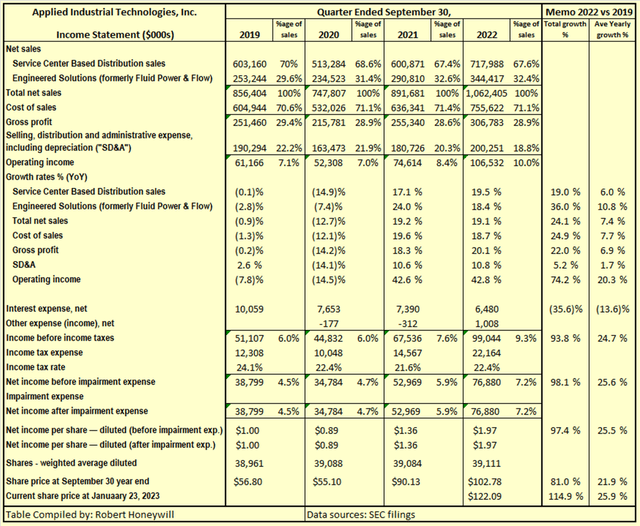 Results for Q1-2023 show even better Net income average yearly growth rates than those for FY-2022, 25.6% versus 13.6%. Lower interest expense has again contributed, and Operating income growth rate is 20.3% versus 10.5% for FY-2022. Again a low SD&A growth rate of 1.7% compared to a Gross profit growth rate of 6.9% has provided that "robust operating leverage" resulting in the Operating income growth rate of 20.3%. A segment analysis similar to the fiscal year analysis follows.
Table 2.2

Encouragingly, Net sales growth rates for both segments are significantly higher than for FY-2022. Engineered solutions continues to grow faster and at a higher Operating income margin than Service Centre, so the leverage continues.
My usual detailed structured financial analysis follows.
Looking for Share Market Mispricing of Stocks
What I'm primarily looking for here are instances of share market mispricing of stocks due to distortions to many of the usual statistics used for screening stocks for buy/hold/sell decisions. The usual metrics do not work when the "E" in P/E is distorted by the impact of COVID-19. And if the P/E ratio is suspect, so too, then, is the PEG ratio similarly affected. I believe the answer is to start with data at the end of 2019, early 2020, pre-COVID-19 and compare to projections out to the end of 2022 or later, when hopefully the impacts of COVID-19 will have largely dissipated. Summarized in Tables 3 and 4 below are the results of compiling and analyzing the data on this basis.
Table 3 - Detailed Financial History And Projections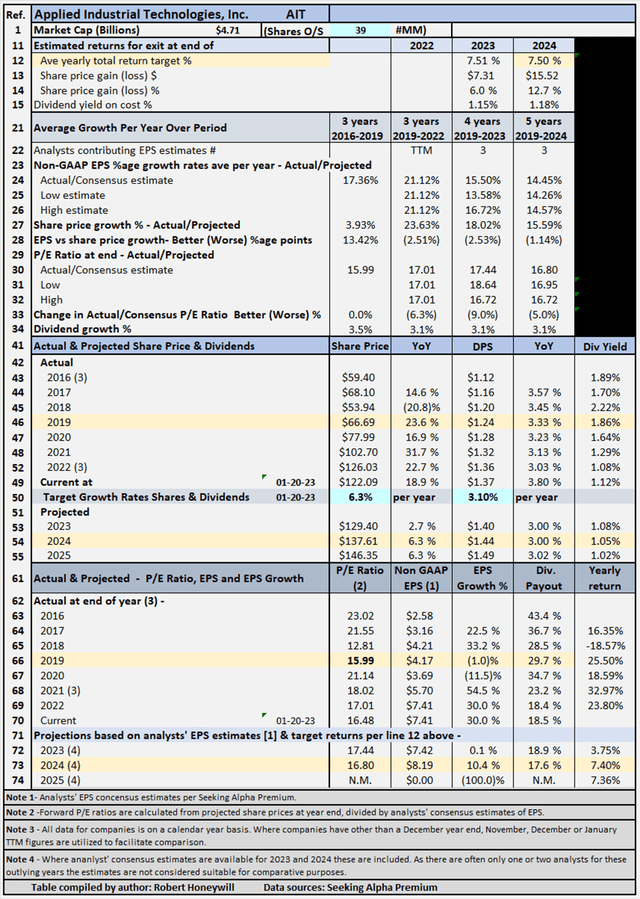 Table 3 documents historical data from 2016 to 2019, including share prices, P/E ratios, EPS and DPS, and EPS and DPS growth rates. Where available, the table also includes estimates out to 2025 for share prices, P/E ratios, EPS and DPS, and EPS and DPS growth rates (note - while estimates may be shown for analysts' EPS estimates out to 2023, 2024 and 2025 where available, estimates do tend to become less reliable, the further out the estimates go. These estimates are only considered sufficiently reliable if there are at least three analysts' contributing estimates for the year in question). Table 3 allows modeling for target total rates of return.
In the case shown above, the target set for total rate of return is 7.5% per year through the end of 2023 (see line 12), based on buying at the Jan. 3, 2023 closing share price level. As noted above, estimates become less reliable in the later years. In this case, I have input a target return based on 2024 year, which has EPS estimates from three analysts. The table shows to achieve the 7.5% return, the required average yearly share price growth rate from Jan. 23, 2023, through December 31, 2024, is 6.3% (line 50). Dividends account for the balance of the target 7.5% total return.
AIT's Projected Returns Based On Selected Historical P/E Ratios Through End Of 2024
Table 4 below provides additional scenarios projecting potential returns based on select historical P/E ratios and analysts' consensus, low, and high EPS estimates per Seeking Alpha Premium through end of 2023.
Table 4 - Summary of relevant projections AIT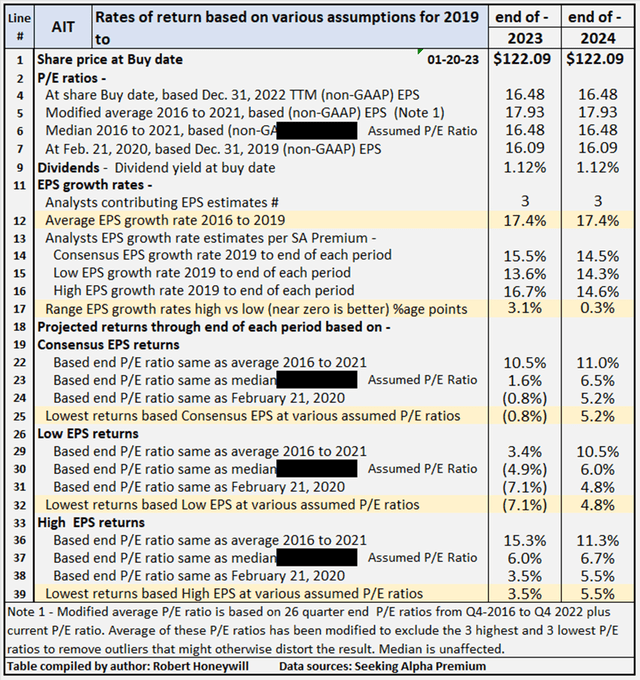 Table 4 provides comparative data for buying at closing share price on Jan. 23, 2023 and holding through the end of 2024. There is a total of nine valuation scenarios, comprised of three EPS estimates (SA Premium analysts' consensus, low and high) across three different P/E ratio estimates, based on historical data. AIT's P/E ratio is presently 16.48 which is below the historical average per Table 4 above. Comments on contents of Table 4 follow.
Consensus, low and high EPS estimates
All EPS estimates are based on analysts' consensus, low and high estimates per SA Premium. This is designed to provide a range of valuation estimates ranging from low to most likely, to high based on analysts' assessments. I could generate my own estimates, but these would likely fall within the same range and would not add to the value of the exercise. This is particularly so in respect of well-established businesses such as AIT. I believe the "low" estimates should be considered important. It's prudent to manage risk by knowing the potential worst-case scenarios from whatever cause.
Alternative P/E ratios utilized in scenarios
The actual P/E ratio at share buy date based on actual non-GAAP EPS for September 30, 2022, TTM.
A modified average P/E ratio based on 26 quarter-end P/E ratios from Q4 2016 to Q4 2022 plus the current P/E ratio. The average of these P/E ratios has been modified to exclude the three highest and three lowest P/E ratios to remove outliers that might otherwise distort the result.
A median P/E ratio calculated using the same data set used for calculating the modified average P/E ratio. Of course, the median is the same whether or not the three highest and lowest P/E ratios are excluded. In the case of AIT, I have chosen to use an assumed P/E ratio of 16.48, based on the current multiple, in place of the historical median of 17.27. I have done this to provide an idea of the impact on returns if the multiple remained at the current level through the end of 2024.
The actual P/E ratio at February 21, 2020, share price, based on 2019 non-GAAP EPS. The logic here is the market peaked around February 21, 2020, before any significant impact from COVID-19 became apparent. This makes the P/E ratios at February 21, 2020, reflective of the most recent data before distortion of P/E ratios by the impact of the coronavirus pandemic.
Reliability of EPS estimates (line 17)
Line 17 shows the range between high and low EPS estimates. The wider the range, the greater disagreement there is between the most optimistic and the most pessimistic analysts, which tends to suggest greater uncertainty in the estimates. There are three analysts covering AIT through the end of 2024. In my experience, a range of 0.3 percentage points difference in EPS growth estimates among analysts is quite small, suggesting a reasonable degree of certainty, and thus a measure of reliability.
Projected Returns (lines 18 to 39)
Lines 25, 32 and 39 show, at a range of historical P/E ratio levels, AIT is conservatively indicated to return between 4.8% and 5.5% average per year through the end of 2024. The 4.8% return is based on analysts' low EPS estimates and the 5.5% on their high EPS estimates, with a 5.2% return based on consensus estimates. Those are the lowest of the returns under the consensus, low and high EPS scenarios. At the high end of the projected returns for AIT, the indicative returns range from 10.5% to 11.3%, with consensus 11.0%. The difference between best and worst cases is an indication of the degree of certainty in analysts' estimates.
Checking AIT's "Equity Bucket"
Table 5.1 AIT Balance Sheet - Summary Format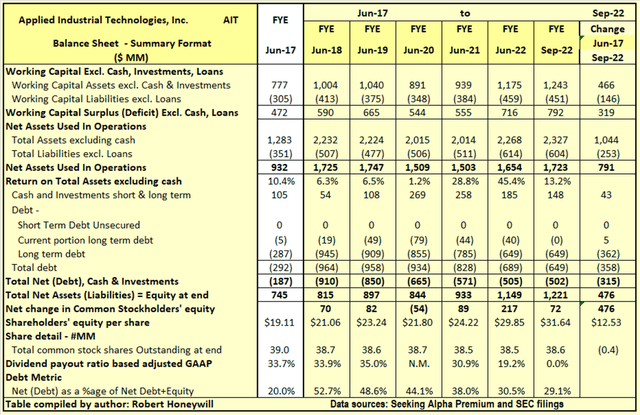 Table 5.1 shows an increase in net operating assets of $791 million funded by an increase of $315 million in net debt, and an increase of $476 million in shareholders' equity, over the 5.25 years July 1, 2017, to September 30, 2022. Outstanding shares decreased by 0.4 million from 39.0 million to 38.6 million, over the period, due to share repurchases offset by shares issued for stock compensation. The $476 million increase in shareholders' equity over the last 5.25 years is analyzed in Table 5.2 below.
Table 5.2 AIT Balance Sheet - Equity Section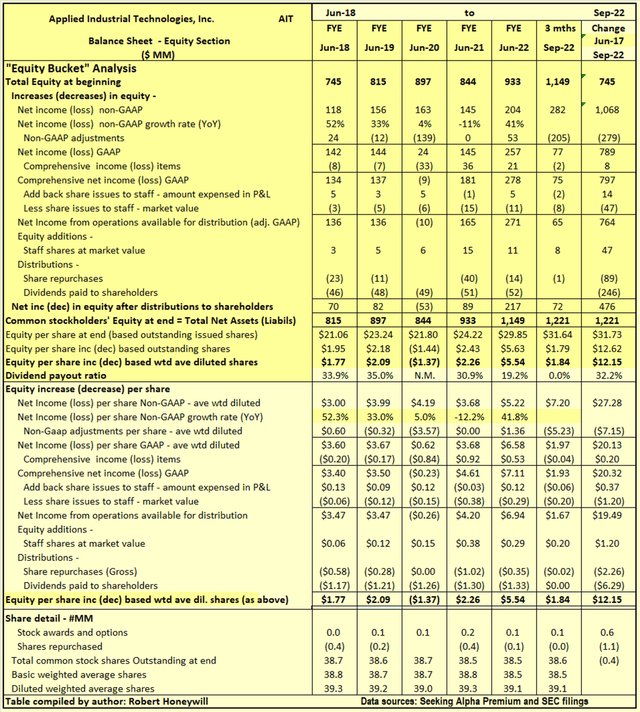 Explanatory comments on Table 5.2 for the period July 1, 2017 to September 30, 2022:
Reported net income (non-GAAP) over the 5.25-year period totals to $1,068 million, equivalent to diluted net income per share of $27.28.
Over the 5.25-year period, the non-GAAP net income excludes $279 million (EPS effect $7.15) of items regarded as unusual or of a non-recurring nature in order to better show the underlying profitability of AIT. In AIT's case, the excluded items are primarily impairment charges in respect of goodwill and intangibles. Goodwill and intangibles are recorded when a business is acquired for a greater amount than the fair value of the tangible assets acquired. An impairment charge recognizes the amount paid for the business or businesses is greater than their current present value. This of course represents a loss, and a reduction in shareholders' equity, in the same way as an operating loss. In AIT's case, the $279 million loss from impairments is significant, being ~26% reduction of the $1,068 million non-GAAP earnings reported for the 5.25-year period.
Other comprehensive income includes such things as foreign exchange translation adjustments in respect to buildings, plant, and other facilities located overseas and changes in valuation of assets in the pension fund - these are not passed through net income as they fluctuate without affecting operations and can easily reverse in a following period. Nevertheless, they do impact on the value of shareholders' equity at any point in time. For AIT, these items were $8 million positive (EPS effect $0.20) over the 5.25-year period.
There were shares issued to employees, but these were not a significant expense item. The amounts recorded in the income statement and in shareholders' equity, for equity awards to staff, totaled $14 million ($0.37 EPS effect) over the 5.25-year period. The market value of these shares is estimated to be $47 million ($1.20 EPS effect). The understatement of expense by $33 million is not material in the context of non-GAAP earnings total of $1,068 million over the 5.25 year period, and not concerning from a "leaky equity bucket" aspect.
By the time we take the abovementioned items into account, we find, over the 5.25 year period, the reported non-GAAP EPS of $27.28 ($1,068 million) has decreased to $19.49 ($764 million), added to funds from operations available for distribution to shareholders.
Dividends of $246 million, and share repurchases of $89 million were adequately covered by the $764 million generated from operations, leaving a balance of $429 million added to equity. Shares to staff at market value of $47 million further increased this $429 million to $476 million added to equity, per increase in shareholders' funds per Table 5.1 above.
Summary and Conclusions
AIT is unlikely to repeat the 27% total return for the last 12 months over the next twelve to 24 months. In fact, under some scenarios explored above, returns could slip to mid-single digits, based on analysts' EPS estimates. On the other hand, management has shown an ability to leverage growth and this continued to be reflected in Q3 2023 results. It is possibly the reason for the company consistently beating analysts' estimates over the last 12 quarters. With limited downside and the potential for continued outperformance, on balance, a Buy rating continues to be assigned.