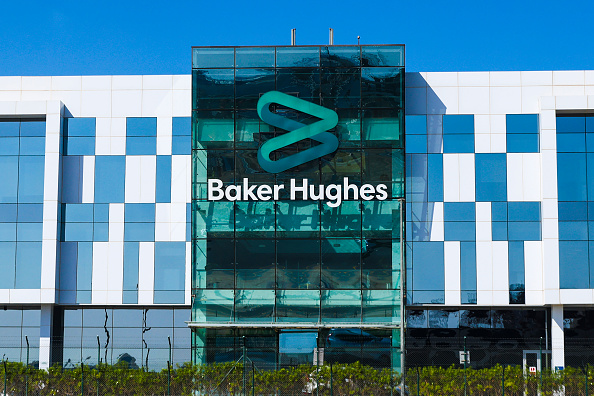 Introduction
It's time to talk about Baker Hughes (NASDAQ:BKR). What used to be a General Electric (GE) holding between 2017 and 2020 is now an independent energy company. The company is one of the world's largest oilfield service companies, operating in more than 120 nations. In this case, there are two major reasons to look into this energy giant.
We want to know how Baker Hughes is doing. After all, it has major plans for its future, like margin expansions and growth in emerging energy segments.
This energy giant can tell us a lot about the direction of growth in energy markets.
The second point is especially important, as energy has been the cornerstone of my research since 2020. Also, I have close to 20% energy exposure, so any comments I can get my hands on are valuable.
So, without further ado, let's dive into the stock behind the BKR ticker.
A Huge Energy Footprint
Baker Hughes, which is a result of the 1987 merger between the Hughes Tool Company and Baker Oil Tool Company, has become one of the world's leading suppliers of drilling equipment.
Employing more than 50,000 people, the company has two major operating segments based on the nature of its markets and customers.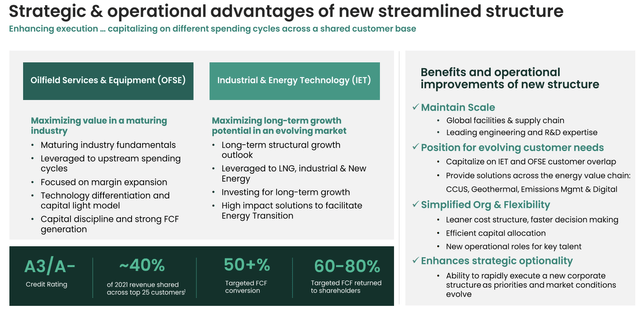 The biggest segment is oilfield services and equipment.
The OFSE segment provides products and services for onshore and offshore oilfield operations across the lifecycle of a well, ranging from exploration, appraisal, and development; to production, rejuvenation, and decommissioning.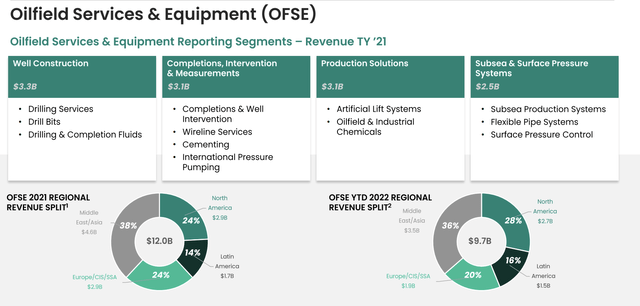 The second segment is industrial and energy technology.
The Industrial & Energy Technology (IET) segment combines a broad array of domain expertise, technologies, and services for industrial and energy customers. Our solutions unlock the ability to transform, transfer, and transport energy efficiently, while capturing and cutting emissions, solving a fundamental challenge behind the energy transition: reducing environmental impact, while maximizing efficiency, productivity, and reliability.
In its industrial segment, the company offers gas solutions for pipelines, LNG terminals, storage facilities, and more. The company also works on carbon capture systems, hydrogen hardware, and other areas that work on net-zero energy.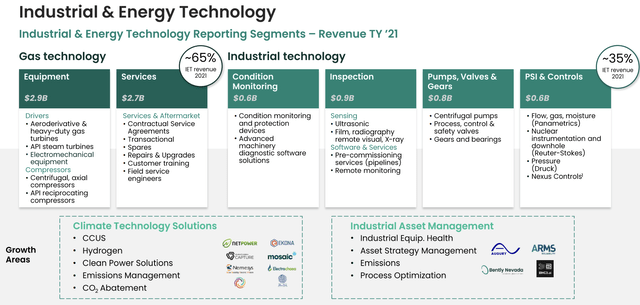 Both segments are poised for long-term growth. In its oil and gas segment, the company aims for 20% EBITDA margins between 2024 and 2025. In the first half of 2022, that number was 14%.
In its industrial segment, the company aims to double its revenues between 2021 and 2030 from $8.5 billion to $17 billion. The company has massive tailwinds in hydrogen, liquid natural gas, and other related industries that require hardware.
Looking at the bigger picture, analysts expect Baker Hughes to generate $4.3 billion in EBITDA in 2024 with an EBITDA margin of 16%. That's up from less than 13% before the pandemic.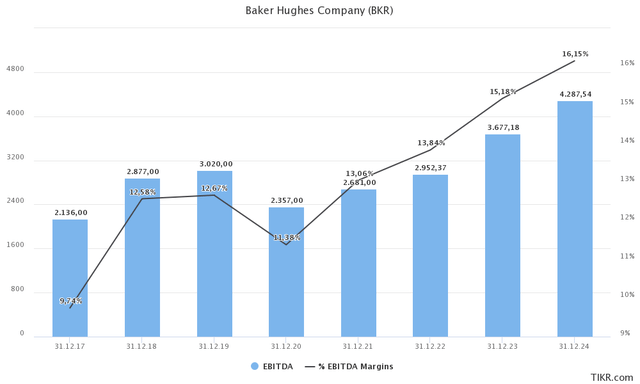 The company is also expected to lower net debt to less than $2.0 billion by then, resulting in a sub-0.5x net leverage ratio. BKR has an A-/A3 credit rating.
With all of this in mind, BKR just reported its 4Q22 earnings, which tells us a lot about the company and its view on energy (not just oil).
What Happened In 4Q22, And Why Does It Matter?
The headline numbers were far from spectacular. The company generated $5.91 billion in revenue, which is 7.8% higher compared to 4Q21 and $160 million lower than expected.
Adjusted GAAP EPS came in at $0.38, which is two pennies below analyst estimates.
The good news is that these misses can be neglected. The company is doing very well. In oil services and equipment, it sees strong growth in the Middle East, growth in offshore activities in LATAM nations and West Africa, and easing supply constraints in chemicals. In its industrial segment, the company received a major order to provide an LNG system for the second phase of a project of Venture Global.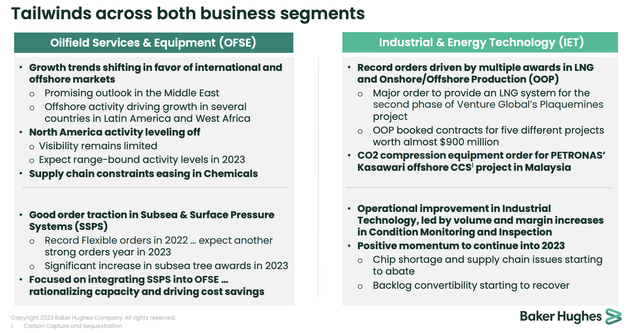 Even better, the company achieved a record in new orders in its industrial segment. Total 4Q22 orders were valued at $4.3 billion, driven by LNG, onshore/offshore, and New Energy. New Energy orders alone were $400 million in 2022, a gain of 50% versus 2021.
Total orders were $8.0 billion in the fourth quarter, a gain of 20% year-on-year and 32% higher versus 3Q22. According to the company:
Total company orders for the quarter were $8 billion, up 32% sequentially driven by industrial and energy technology, up 82% versus the prior quarter. Oilfield Services and Equipment orders were flat sequentially. Year-over-year, orders were up 20%, driven by an increase in both segments. We're extremely pleased with the orders performance at IET during the quarter, following strong orders throughout 2022.
Energy companies are eager to invest in their businesses - but not *that* eager. One of the things we've frequently discussed (for example in this article) on Seeking Alpha is subdued oil supply growth. Companies aren't willing to return to the production growth we witnessed before the pandemic to support prices.
That's bullish for oil and one of the reasons why I prefer drillers over providers of equipment.
Baker Hughes confirmed my thesis in its earnings call. The company sees:
Early stages of multiyear growth cycle in energy … supported by underlying economics, security concerns and decarbonization goals
This is the result of:
Global oil and gas spare capacity near historic lows.
China reopening and the need to refill Europe's gas storage. This keeps LNG markets tight.
The Inflation Reduction Act and potential new EU legislation to support significant growth in New Energy investments.
In November 2022, the company also made these claims based on its industry CapEx prediction. As we can see below, BKR expects investments in the industry to rebound. However, we won't likely go above pre-pandemic levels until at least 2025.
The reasons are capital discipline, ESG measures causing companies to prioritize shareholder returns, OPEC production discipline, and lower inventories.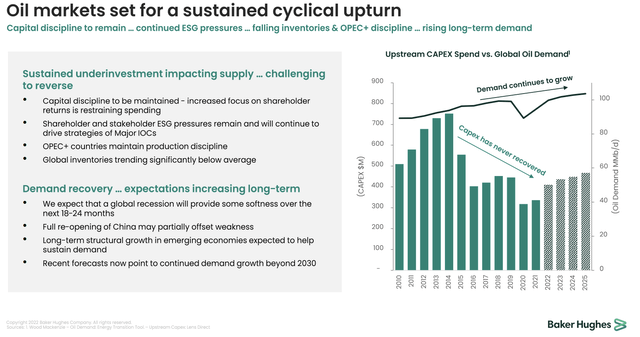 Moreover, it's interesting that the company does see a recession, causing softness over the next 18-24 months. However, the company notes that China's reopening demand could partially offset these headwinds.
The company also sees consistent demand growth beyond 2030.
On a full-year basis, the company expects to generate at least $24 billion in revenue. The market expects $24.2 billion (implying 13.6% growth), which leads me to believe that we are likely to see analyst upgrades if oil prices remain steady.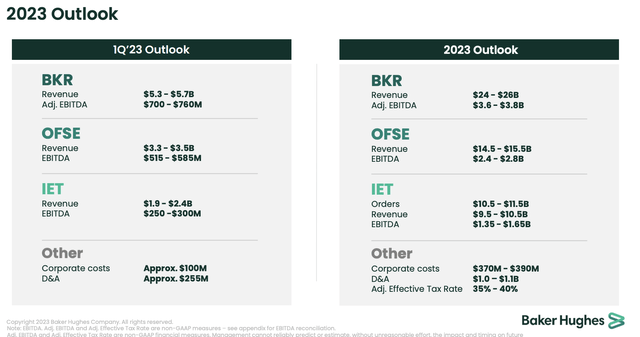 The company's EBITDA is expected to grow by roughly 25% to $3.7 billion, which is the company's guidance midpoint.
Moreover, the company will prioritize dividend growth as its industrial segment is growing rapidly. In 2022, the company distributed $1.6 billion to shareholders. $700 million was distributed through dividends. Buybacks doubled from $400 million in 2021 to $800 million. Total 2022 free cash flow was $1.1 billion with a conversion rate of 37%. BKR aims to improve that number to 50%, which should indicate rapidly accelerating FCF due to higher margins and top-line growth.
Valuation
Baker Hughes is trading at a 9.5x 2023E EBITDA ($3.7 billion) multiple. This is based on a $35.3 billion enterprise value, consisting of its $31.2 billion market cap, $2.9 billion in net debt, $1.0 billion in pension-related liabilities, and $200 million in minority interest.
Given the bullish long-term outlook, I believe that BKR should not trade below 11x EBITDA, meaning I see fair value at $35 per share using 2023 estimates. However, in 2024, EBITDA growth is expected to be close to 17% again.
Hence, I see a way for BKR shares to reach $42 without coming close to being overvalued.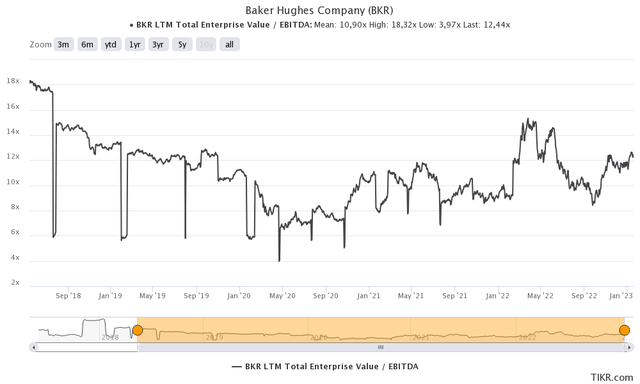 With all of this said, here's my takeaway.
Takeaway
Baker Hughes is doing a tremendous job transforming its business. The company is way more than an oilfield supplier, as it owns fast-growing assets in alternative energy segments. The company is now benefiting from:
Slowly rebounding oil and gas capital investments.
Tight oil supply, which is unlikely to change anytime soon. This puts a floor under prices.
The ongoing LNG boom, which requires new infrastructure.
An accelerating adoption of hydrogen technologies.
Increasing margins and rapidly improving free cash flow.
An attractive valuation.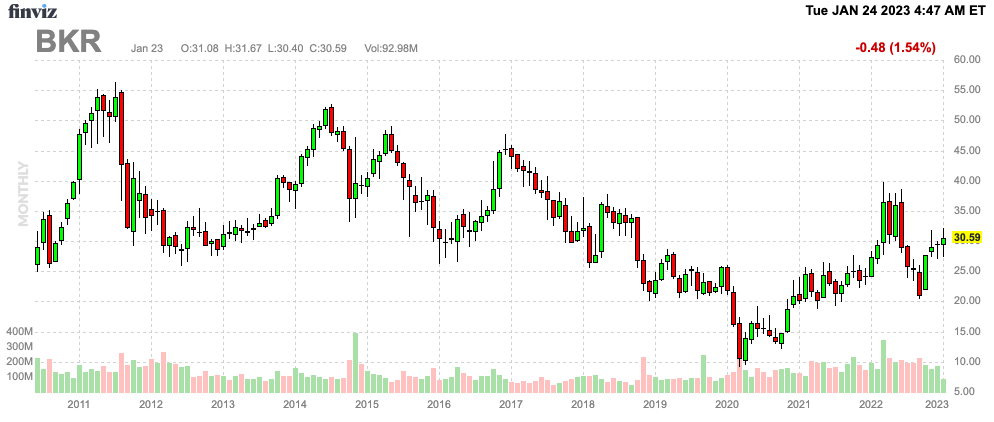 The only reason why I don't own BKR is that I have close to 20% energy exposure. Also, I prefer high-quality drillers over equipment providers, as CapEx is only expected to grow gradually.
Investors looking for diversified exposure might enjoy buying BKR for their long-term portfolios.
(Dis)agree? Let me know in the comments!